Mathew's Top 25 Matches of 2019: #20-16
Mathew's 16-20 matches of 2019, and even a special wildcard addition!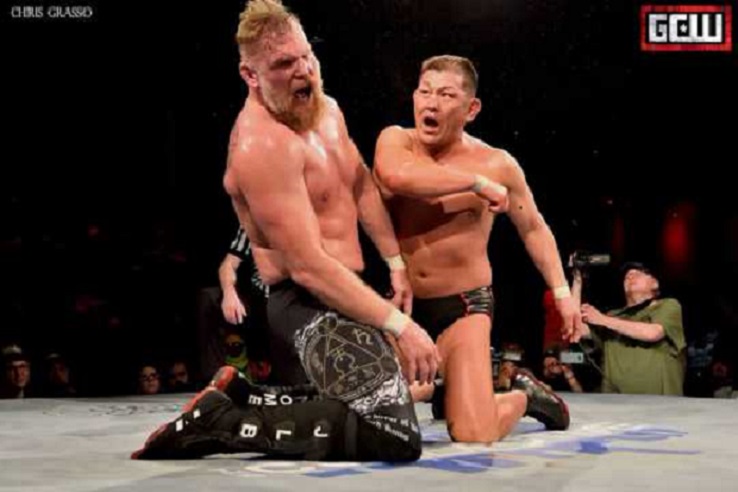 Hello everyone, just coming in here to wish you all a Merry Christmas and I hope it was a wonderful holiday to all of you.
You already saw my first five and now it's time to start your holiday off with another set of five matches as we continue with this countdown. Which matches are the next five?!
20. PAC vs. Kzy (Dragon Gate: Truth Gate 2/10/2019)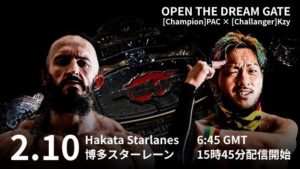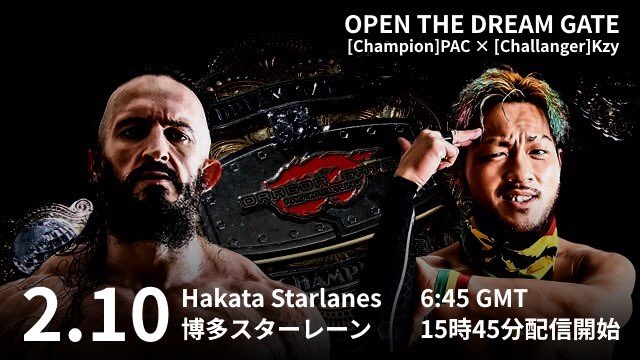 – If I had to pick one match that was my favorite from Dragon Gate, it would have to be the battle between PAC and Kzy for the Open the Dream Gate Championship. PAC seemed like he was struggling a little bit ever since he returned in October of last year and wasn't fully meshing, but this was the match that made me feel like he would be fine.
Kzy is an underrated performer that it's a shame he never won the top title in the company but he still does what he has to do for the business. PAC was able to show some great heel work and picked up a few things from WWE during his time there to help him out in the longer run. Plenty of sequences that made you fall in love with Dragon Gate, they were able to handle pacing in the match when they needed to, and my god that Tombstone off the turnbuckles. I thought Kzy was badly injured when he took it but thankfully he wasn't injured and sold it like a champ. PAC's best match this year and if you're a fan of him and you haven't watched it, do it immediately.
19. Kaito Kiyomiya vs. Naomichi Marufuji (Great Voyage in Yokohoma 3/10/2019)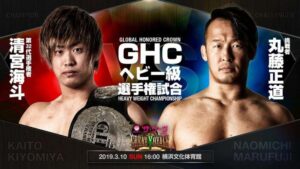 – Kaito Kiyomiya has been working hard to climb the ranks as the future ace of NOAH and would defeat Takashi Sugiura last year for the GHC Championship. After winning the belt, the challenge was to prove himself with his worth and for the company. One of the biggest tests of his career would be to defend the title against the symbol of NOAH, Naomichi Marufuji.
The two would put on a classic as the new chapter for NOAH and something to add to Kaito's legacy. Kaito was able to retain the title in his third defense during his first reign which will lead to many more great matches, but this match was the very start to something big. Marufuji didn't have a hot year when it comes to wins but he would always give you a great match and expect something big for him in 2020 in a payoff for the story he's going through right now.
18. Kazuchika Okada vs. Kota Ibushi (G1 Climax 8/10/2019)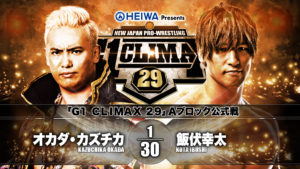 – The G1 Climax was a huge success this year and there were so many great matches on here that it would've taken over a good half of the list, but I will be talking about my favorite match from each block and it looks like mine for A Block was Kazuchika Okada taking on Kota Ibushi on the final day for A Block in general. The last time they fought in a singles match was on March 6, 2014, and was a lot of hype going into this match with five years in the making. The match didn't disappoint as it had the feel of a title match if the IWGP Heavyweight Championship was on the line but it still delivered in every aspect.
2019 was the year for Kota Ibushi as he was the NEVER Openweight Champion and IWGP Intercontinental Championship, and now gets one of the biggest wins of his career when he pinned Okada cleanly to advance to the finals and win the G1 Climax to top off the year he's had. Both of them looked strong where Okada taking the pin didn't hurt him and the best part about this is that it left people wanting more. We now have them fighting again for the IWGP Heavyweight Championship on January 4th and I'll be at the event live and I have no doubt that they'll have another MOTYC contender during their encounter, so they could have a chance to make it to my list next year.
17. WALTER vs. Tyler Bate (NXT UK Takeover: Cardiff 8/31/2019)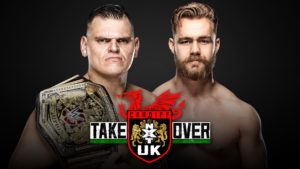 – I was originally going to have WALTER vs Jordan Devlin from OTT this year but this one was able to top it off. The story was similar for these two matches but the delivery for this one to me was slightly better. These two have had battles before but this one was probably their best together. WALTER has dominated the NXT UK scene ever since he arrived and defeated Pete Dunne, ending his long reign as NXT UK Champion. Tyler Bate, however, wanted to stand up to the giant and try to take him down to size.
WALTER is perfect in the David vs Goliath scenario since he can perform at a high level while making the little guy look good. Tyler looked like he was struggling a little before the match as a singles star but he was able to shut the critics up with the performance of his life here. You knew Tyler wasn't going to win the match but he sure did his damn best to make the fans believe that he would and sold it perfectly. This would've been ranked a bit higher but my complaint was the length. I don't mind long matches at all but it felt like five to ten minutes could've been shaved off and would've been perfect. Still a great match with two of UK's best going at it.
16. Tetsuya Endo vs. Konosuke Takeshita (DDT Wrestle Peter Pan 7/15/2019)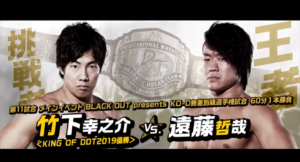 – I gotta admit that I don't follow DDT as much as I would like to, but that's mostly due to not having their streaming service and was just an acquired taste. Due to this, I'm not too familiar with most of the wrestlers in DDT but I was told to watch this match for various reasons and I figured why not. I'm glad I did because this was an amazing match and shows that DDT can deliver quality matches despite being just comedy, so it was a very pleasant surprise.
Another thing that made me enjoy the match more was that it made me a fan of two people and that was the two people involved in this match. There's a backstory between these two that I am unfortunately not familiar with and I'm sure it would've ranked higher. Konosuke was able to win the KO-D Openwieght Championship for the 4th time and gave us a memorable match. Maybe I might watch more DDT in the new year and see what else they'll provide for me to become a fan of it more.
For this list, I would like to give you all a little Christmas present that was also my mistake. I wanted to add this match and I accidentally miscounted due to missing a match graphic. So, that's my B and I wanted to add this as a Wildcard pick that would be placed right here instead of getting rid of it completely since it's a great match and deserves recognition.
Wildcard: Minoru Suzuki vs. Josh Barnett (GCW Josh Barnett's Bloodsport 4/4/2019)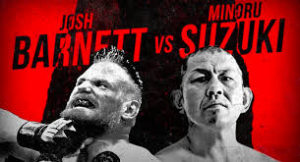 – After last year's Bloodsport during Wrestlemania week being a success, they would do another one and this was a show that I regretted not going to due to my job. However, this was one match I was highly interested in that I couldn't wait to watch it once it was uploaded and I do wish I was there. The crowd was electric, especially during Suzuki's entrance alone since him coming to America is always a treat.
It had the feel of a fight and this is something that you should expect for these Bloodsport shows and they would deliver in every aspect to what makes these shows great. The show ended in a no contest and it was the right call but left them wanting more. Great fight and I hope they cross paths again. If you're around anywhere during these shows going on, do yourself a favor and go to them as they appear to be a big treat for the fans.
That's it for the next set of five matches and I hope you've enjoyed them!
That's ten down and fifteen more to go as we find out the next five. Have a Merry Christmas and a safe holday!