Mathew's Top 25 Matches of 2019: #25-21
Mathew's 25-21 with a tiny nugget of a hint towards the rest of his Top 25.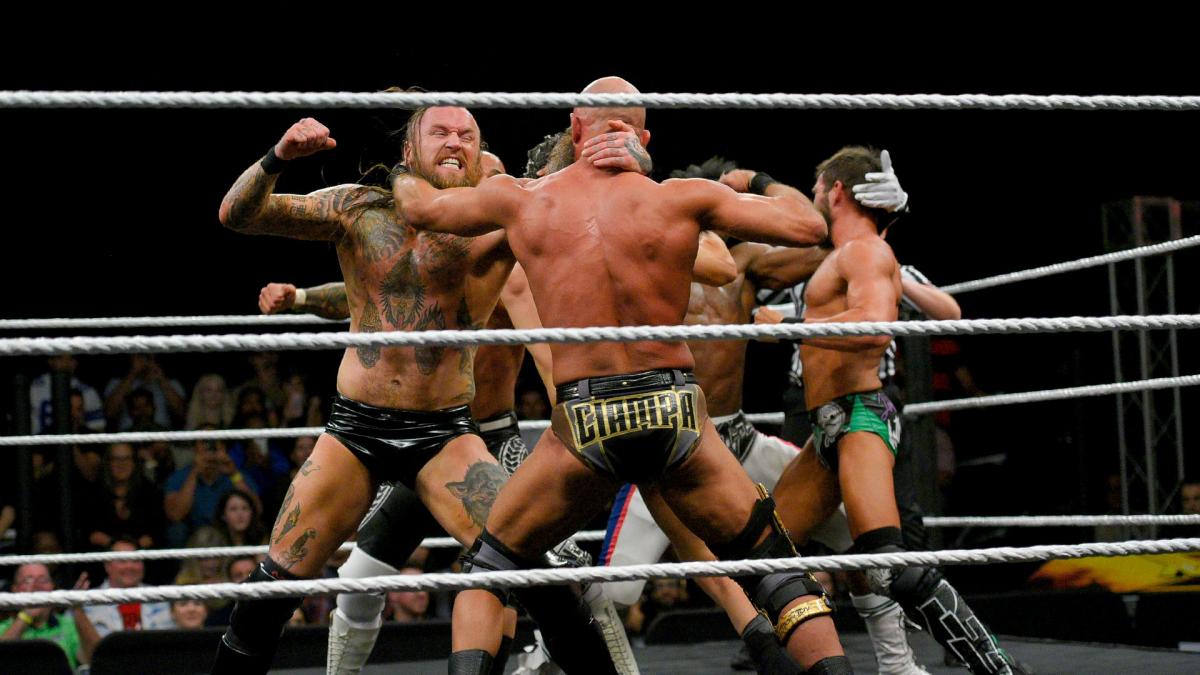 Well, the time has come to begin the countdown. I'm sure you've seen my honorable mentions from my previous article and you might have a good idea by now for what might be on my list. But the real question is, where did they rank?
Before I begin, I gotta point out that I do my lists differently, otherwise it would just be a unbalance list from the same person in a quarter of the list. So because of this, if someone is on here more than once, they'll have two of their best matches here. The only time you'll see them more than that is if it was a tag match or a multi-man one but it doesn't seem to be the case this year.
Anyway, let's get this countdown started!
25. War Raiders vs. Ricochet & Aleister Black (NXT Takeover: New York 4/5/2019)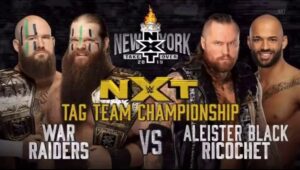 – This one would just barely make the list but the fact that I was at this show live was what helped boost it up by quite a margin. Who knew that Aleister and Ricochet would work so well as a tag team together? War Raiders have been stepping up their game during their time in NXT to deliver some memorable matches but this one to me was their best work and showed how great they are in the ring. Plenty of action, there were times that they made me believe that War Raiders would actually drop the belts but they would somehow find a way to barely survive. It was an emotional send-off for both Black and Ricochet after the bell was rung before they officially made their way to the main roster. Great match, excellent performances, and what a way to exit.
24. Isami Kodaka vs. Masaya Takahashi (BJW Endless Survivor 5/5/2019)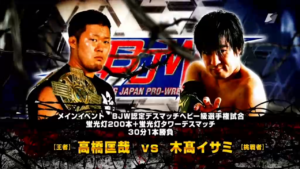 – I usually have a deathmatch or two find its way into my list and it looks like one was able to grab onto the list. Isami Kodaka is someone I've followed recently for a good year now and I have enjoyed his work in deathmatches. I also enjoy how BJW does these matches because it's not just a stupid hardcore style of wrestling, these guys are also able to wrestle on top of what they could already do in that ring and it's just a treat to see how they perform overall. Plenty of weapons, wrestling, and a good environment to top it off. Kodaka as able to win his second Death Match Heavyweight Championship after a grueling fight between two deathmatch warriors and was able to have a memorable reign that lasted for 227 days. Plenty of violence, they were able to tell their story and got the job done with the right payoff. If you're a fan of this type of wrestling, definitely give it a look as you won't be disappointed.
23. Aleister Black, Velveteen Dream, & Ricochet vs. Tommaso Ciampa, Johnny Gargano, & Adam Cole (NXT Halftime Heat 2/3/2019)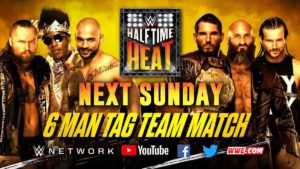 – Shockingly enough, this is also the last NXT (not UK) match that made it on the list since a lot of great matches happened elsewhere, but this one was still able to stand out. During the Super Bowl, WWE would host this match when the Halftime show was going on and it was like how they did it for The Rock and Mick Foley twenty-years ago. You had six of the top names in NXT at the time just put on a great show for the people to see and was well worth it since it was better than the Halftime show. All six of these men had equal time in the ring and was nothing but quality. As you would expect, the faces stood tall to make the fans happy and plenty of hype to come for NXT afterward.
22. Mayu Iwatani vs. Momo Watanabe (Stardom 5 Star Grand Prix 9/22/2019)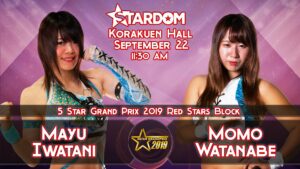 – I was able to cover this match during my coverage of the tournament and was still my favorite match of the whole tournament. Mayu never disappoints in big matches and Momo has established some credibility from the past year when they fought the last time and these two were able to make magic in the ring together. The best part about this encounter was that it didn't end in a time limit draw unlike last year and we were able to get a clear winner with Momo getting the victory, but was still unable to advance in the tournament. Another exciting chapter they could add to their little story with Stardom's Ace and Stardom's Icon. Great match and shows why most Joshi women are probably better than your favorite male wrestler right now.
21. Ben-K vs. Masaaki Mochizuki (Dragon Gate: Gate of Victory 10/8/2019)

– Ben has had an incredible year in Dragon Gate. He won the King of Gate Tournament after being betrayed by his unit, the one to end the undefeated streak of PAC since his WWE departure, and had three successful title defenses before dropping it a little over a week ago. The ironic thing is that these two were able to make it to my list last year and now appears to have happened twice in a row as they delivered another great match for the Dragon Gate books.
The year difference you could see from Ben in this match shows how much he's improved in that time and as someone that could be a future star of the company if they choose to stick with him, which they should. Mochizuki never disappoints as well as he was able still to go for a guy his age and bring out the best of his opponent. How was Ben able to win? He would defeat him by hitting him with just a headbutt and it was a brutal headbutt on top of that you would think that he knocked him out with it. Ben is here to stay at the top and this match would prove that as one of the best in his career right now and be sure to keep an eye out on his growth since 2020 will be a big year for him.
That's all the time we have for right now on the first set of matches on the list. Did some of them surprise you?
I'm already waiting for the backlash of no more NXT matches on here and you're just gonna have to wait and see who else made it. Until next time and Happy Holidays!