Mathew's Top 25 Matches of 2019: #5-1
We've reached the top of the charts! Mathew's Top 5 matches of 2019!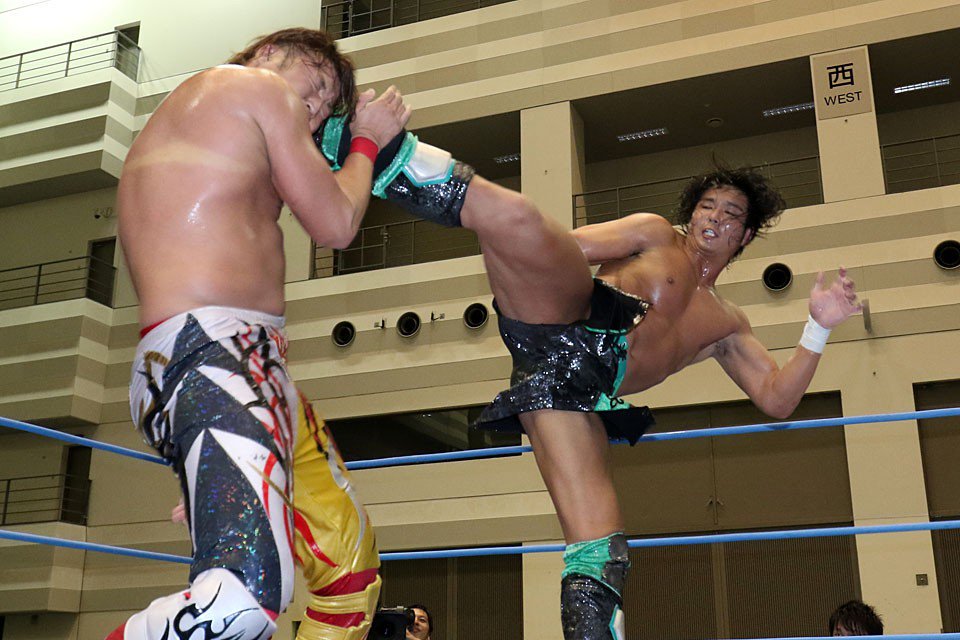 Well, everyone, this is it. We're now down to the final five matches from the list and it has been an incredible ride with so many great matches.
I'm sure some people will agree or disagree but that's the great thing about an opinion, we all have different ones along with tastes in wrestling. I had to re-watch these five matches to make sure about the order I wanna put them in.
Let's not waste any more time and bring this countdown to a close.
For those that are new to the countdown, here are the previous lists.
#25-21
#20-16
#15-11
#10-6
5. Tomohiro Ishii vs. Shingo Takagi (G1 Climax 8/8/2019)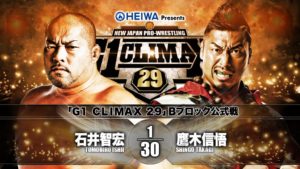 – If I had to pick what was my favorite match in New Japan Pro Wrestling, this would be the match right here between these two great talents. This had vibes from when Ishii fought Hirooki Goto in the Climax last year in a way of what a contest for the NEVER Openweight Championship would go. Shingo has proven here that he has what it takes to fight some of the biggest names New Japan has to offer and can expect big things from him within the next year.
The match was brutal with their strengths of power that made the fans wanna fall in love with it. Shingo picked up an impressive win over the champ at the time and if KENTA didn't have that heel turn, I would've loved to see this rematch at Wrestle Kingdom. This was a great match and one of the best New Japan had to offer this year with a long list of great matches they've had.
4. Kaito Kiyomiya vs. Takashi Sugiura (NOAH Global Junior Tag League 6/9/2019)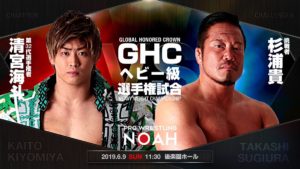 – They had another name for this show and that was the memorial show for one of the greatest of all time and founder of NOAH, Mitsuharu Misawa who passed away ten years ago. This was another test for Kaito as he defeated Takashi to win the GHC Heavyweight Championship in December of 2018 and needed to prove to himself that it wasn't just a fluke. Kaito has been built to lead the NOAH into the future as their new ace and he's had some great matches along the way and needed to win this to elevate himself.
The match was able to tell that exact story that they wanted to tell and one thing that made it better was the usage of their camera angles. There were times that the camera would point at a picture of Misawa and they were able to capture of Misawa looking down at the beauty of the match unfolding before him. Kaito was able to defeat Takashi again to solidify his claim as the new ace of NOAH. Fantastic match, beautiful tribute, and NOAH should be proud of their changes going forward.
3. Arisa Nakajima vs. Nanae Takahashi (SEAdLINNNG Dynamic Show Case! 11/2/2019)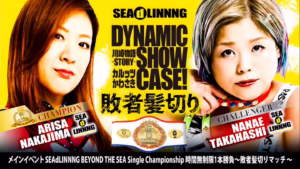 – Been a while since a Joshi match has made it to my top 5 and probably one of the best I've seen of this decade. SEAdLINNG was a promotion I've been new to since last year and I'm glad I've chosen to stick around with them since they do provide great matches. The two have a history together when Nanae won the Beyond the Sea Championship for the first time when she defeated Arisa in the tournament last year. When they fought on April 24th of this year, Arisa was able to win the championship. Now, they were having their rubber match and they would raise the stakes a bit where Nanae would shave her head if she loses the match.
Out of their three encounters in the calendar year, this was their best outing and with the stakes being so high, it added more drama to the story and you didn't know which way they wanted to go with it. Arisa would retain the title in the match and would shock a lot of people since people have claimed that Nanae isn't one to put people over, but she sure proved people wrong here. One thing I would've loved was if Arisa would be the one to shave Nanae's head instead of Nanae doing it herself since that would've made it a lot better. Great match and my Joshi match of the year.
2. Kento Miyahara vs. Jake Lee (AJPW Raising an Army Memorial Series 10/24/2019)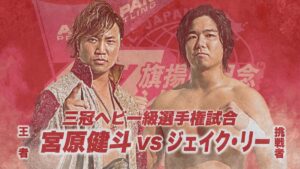 – This was extremely difficult to put as my number two as I kept on shuffling around between this and my number one pick since both are incredible matches in their own right. This was the one-year that Kento won the Triple Crown Championship for the fourth time and that match made it to my top five last year and here it is at number two. Much like Naoya Nomura, this was also the year of Jake Lee in All Japan Pro Wrestling with how much he's improved and is also someone that's a future Triple Crown Champion in 2020. This was the one time this year that Kento's reign fully felt like it was in jeopardy.
These two had three big matches together where they fought in the finals of both Champion Carnival, Odo Tournament, and now for the Triple Crown Championship. If I had it my way, I would've added the whole trilogy on here as one but I had to pick one and this was it. If it was for straight wrestling, I would've picked their match at the Carnival final but this match had a better overall story and development of Jake's character. When Jake kicked out of the Shutdown German Suplex Hold, it made me believe Jake had a chance to win the title but Jake would come out short-handed once again and Kento barely survives to keep his reign intact. While it didn't make it my number one match, it was my favorite in Japan at the very least. If you still haven't watched All Japan yet, then you're missing out on some great wrestling.
1. Jordan Devlin vs. David Starr (OTT Fifth Year Anniversary 10/26/2019)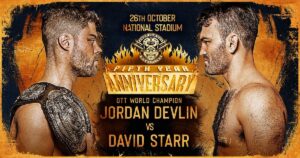 – Now I'm sure this is a shock to some people that this made it as my number one and again, I've been flipping back and forth between the two matches and this was my decision. The production of the rivalry before the match along with the little vignette was very well produced that made me care of a match I didn't one hundred percent follow to even begin with. When the match itself happened, I couldn't help but be blown away by it and deserves all the praise it's gotten by the people who told me to watch it. David Starr was someone I didn't follow due to not fully watching the indy scene in both the UK and the US but he was still able to impress me in the match and was able to give Devlin one of the best matches of his career.
Wanna know another thing that made it better? It was honestly the crowd that got me more into it and it's usually a shocker to me since I don't always care for the crowd and sometimes takes away from the matches I watch, but this did the exact opposite. Starr was able to defeat the Irish Ace to win the OTT World Championship for the first time and the crowd went crazy for it. The match from top to bottom with its production, atmosphere, chemistry, and the match itself was enough to win me over and make it my match of the year. If you haven't watched this match yet and are a fan of these two, go out of your way to watch it because it is something else.
That concludes our countdown of my Top 25 Matches of 2019. I hope you've all enjoyed it and I'm sure there are matches you agree with or disagree with here.
I will be heading to Japan for Wrestle Kingdom week to enjoy the great shows from various promotions and spend time with my partner at the same time. 2019 has come to a close and excited to see what we get in 2020.