NXT Minus 6 Year End Superlatives: Unsung Classics
As fans look back at the top matches of 2019, Bradley Jay points out the unsung classics that will undoubtedly get overlooked.
As fans look back at the top matches of 2019, Bradley Jay points out the unsung classics that will undoubtedly get overlooked.
More wrestlers from more promotions are working harder than ever for our eyes and hearts. With so much talent consistently putting on great matches, competition for the 2019 Match Of The Year will be fierce. It also means a lot of matches will go unrecognized. Here are 6 from the NXT Universe that won't show up on any best-of list but are absolutely worth your time.
6. Angel Garza versus Joaquin Wilde, June 19, NXT TV
This was the first match of the Breakout Tournament and the best. If NXT wanted to showcase how much talent they had in the pipeline and get us excited for the rest of the tournament, mission accomplished. It introduced us to Garza, a bona fide star. It also revealed that wrestling fans are surprisingly excited to watch a man take his pants off. Who knew? 4.5 stars
5. Jack Gallagher versus Chad Gable II, 205 Live, June 26
Their first match was good but indecisive, ending in a countout. The rematch started off with solid chain wrestling and ended in a knocker of slobber. Gable is a tough-as-nails little man cut from the same cloth as Shawn Michaels. Gallagher is entirely unique and a joy to watch. Kudos to both men for working their asses off in front of a Smackdown crowd that couldn't have cared less. They deserve better, which is why they made the list. 4.6 stars
4. Arturo Ruas versus Anthony Henry, Evolve 131, July 13
This was Takeover-worthy. These 2 have history, and that was obvious from the opening seconds. Ruas and Henry did a great job of mixing their respective martial arts and MMA backgrounds into the match. This fight felt very real. In the end, Ruas delivered what was one of the most unexpected, brutal and quick strike finishers I saw all year. 4.7 stars  
3. Trent Seven versus WALTER, NXT UK TV, July 24
This was a savage chapter in the saga of Imperium versus British Strong Style. Combine WALTER's ability to eviscerate human flesh with Seven's ability to fall like a sack of wet cement and this match was brutal, at times uncomfortable to watch. More importantly, it was the stepping stone to what would be a Match Of The Year candidate. Bonus points to Seven for skipping his pre-match mustache stroking, because that's not what you do in a blood feud. Storytelling. 4.7 stars
2. Noam Dar versus Trent Seven, NXT-TV, October 24
It was a simple and compelling story: was this the end of British Strong Style? Absolutely nobody bumps better than Seven, but I chose this match for Dar. He deserves all the praise he can get. If he was 3 inches and 30 pounds heavier, he'd be a star on the main roster. Guy is that good. It's also a great touch that Seven's finisher is called the Birming Hammer. In the end, Seven channels the spirits of Pete Dunne and Tyler Bate to secure a victory and prove BSS isn't dead yet. 4.7 stars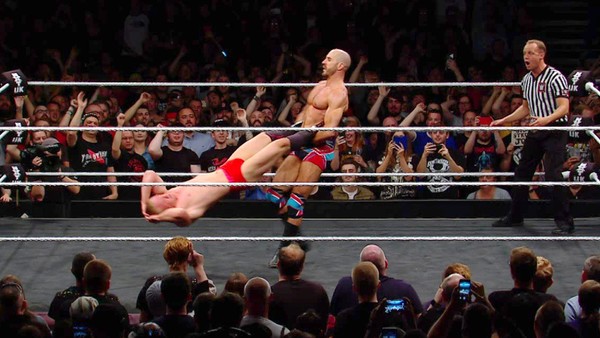 1. Cesaro versus Ilja Dragunov, NXT UK Takeover Cardiff
When you want to showcase a new talent, who do you call? The Swiss Cyborg. This felt like an old school, "rough up the new guy for real" kind of match. Cesaro really stretched the kid, but Dragunov more than held his own. When given the time, Cesaro always proves why he's one of the most universally respected wrestlers around. As for Dragunov, there's something quirky and weird about him; he has a very bright future. The show of respect from Cesaro at the end was well deserved and genuine. And by the way, a 40 Swing! 4.7 stars
Next week, we'll look at 6 wrestlers who need to come home to NXT in 2020.