NXT Minus 6: Yukon Eric, The Original Mick Foley
Leave it to Mauro Ranallo to reference a match almost 70 years old. That's why he is the Black & Gold Standard. (All that and more lies ahead in the NXT Minus 6!)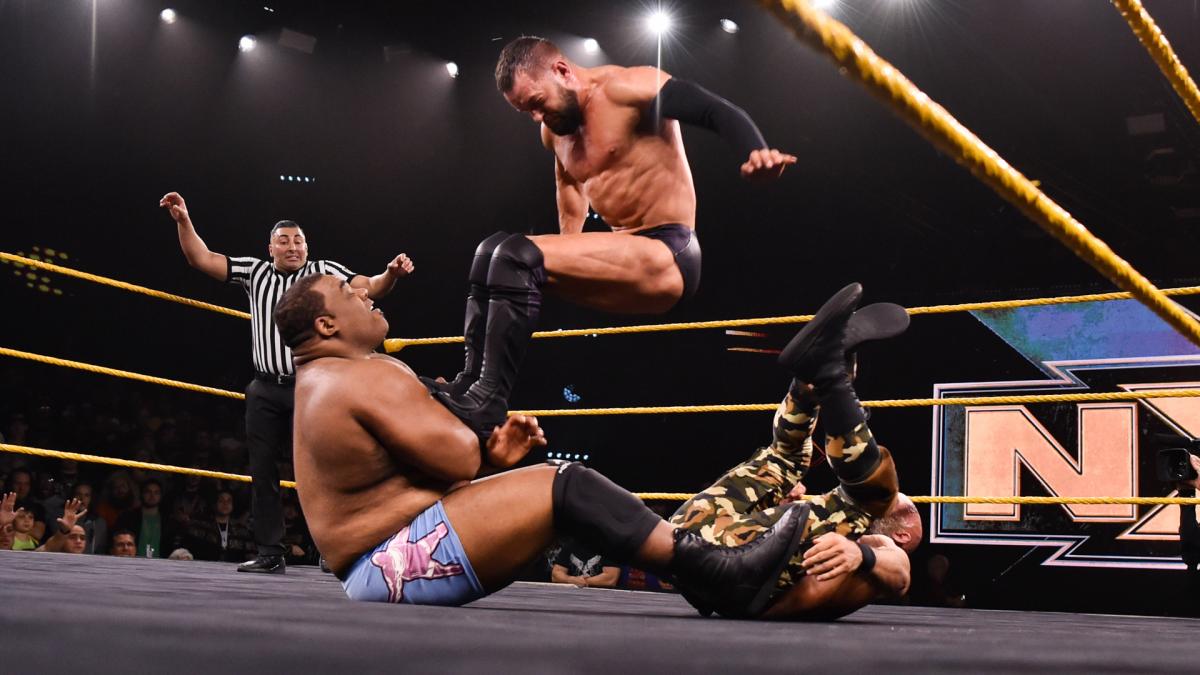 Leave it to Mauro Ranallo to reference a match almost 70 years old. That's why he is the Black & Gold Standard. (All that and more lies ahead in the NXT Minus 6!)
6. What other wrestling show opens with a MOTY candidate? Angel Garza versus Lio Rush was fantastic. I feel bad that Rush's title reign was so short because I thought he was the guy to reestablish 205 Live. I'm still happy for Garza, the real winner of the Breakout Tournament. He's worked his ass off to get over on his own. The crowd loves him for all the right reasons. 4.8 stars
5. I hate to see good talent wasted. Tyler Breeze and Fandango are both excellent in ring. I could see Fandango one day challenge for the North American Title. Sadly, NXT is not the place for the Breezango gimmick. They should be repackaged or broken up.
4. In a match in 1952, Wladek Kowalski accidentally severed part of Yukon Eric's ear with a botched knee drop. When Kowalski visited Eric in the hospital, he took one look at his bandaged head and started laughing. This cemented Kowalski's position as one of the era's top heels and prompted him to change his name to Killer. Fandango was trained by Killer Kowalski, which is why Mauro Ranallo slipped in the reference during his match. 
3. Quick hits:
Hood Rat in Charge. That is solid gold dipped in gold. Dakota Kai needs that on a t-shirt. 

Why didn't Tommaso Ciampa just invoke his rematch clause? 

BTW, his new t-shirt is freaking amazing.

Bad ass Finn Balor is so much cooler than Demon King. That's right…I said it.

WrestleMania main event: Nia Jax versus Mia Yim, loser gets crippled for life.

The Singh Brothers aren't as bad as you think. Their intro is annoying in a good way. Their boots are great. And they were trained in the Hart Dungeon. You gotta respect that.
2. Not sure why Jaxson Ryker isn't getting a bigger singles push. I don't normally go for the snarling, grunting muscle heads, but there's something about him that I like. Unless they're trying to make us forget him, there was no reason for him to lose to Travis Banks. That's what Kona Reeves and Shane Thorne are for.
1. Some day I'll do a list of the 6 things NXT does better than any other wrestling promotion. At the top of the list will be triple threat matches. There have been some good ones this year and the latest might be the best of the bunch. I got what I expected from Ciampa, Balor and Keith Lee: a match worthy of Takeover. Their ability to intertwine bodies into fresh and inventive combinations is so fun to watch. It's like they're playing human Tangoes. 4.7 stars