Sarpraicone: Top 5 Giulia Matches
Mathew returns from hiatus, to shine some light on Stardon's newest acquisition, Giulia!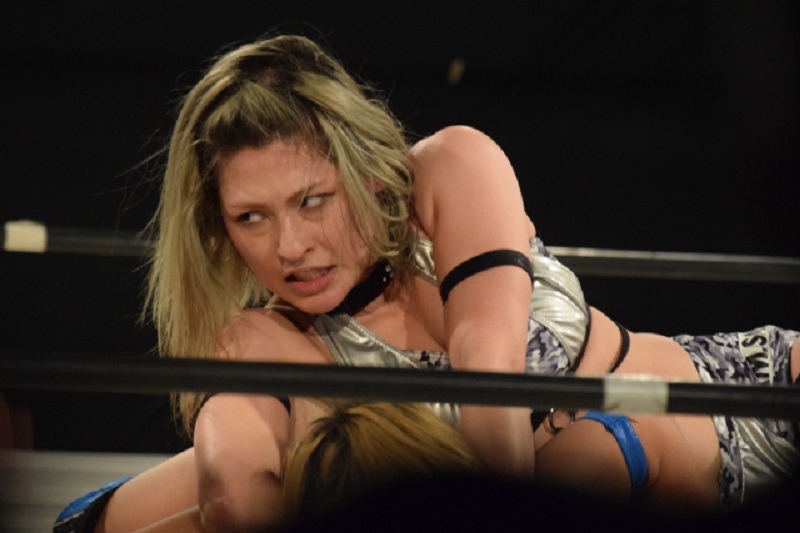 I swear, I'm not dead yet.
For those of you that have been following Stardom, Giulia would leave Ice Ribbon on October 13th and would make a surprise appearance to Stardom the next day. By now you're probably asking me or yourself, "who is Guilia?"
Well, Guilia is a twenty-five-year-old wrestler who has been wrestling for two years and was born in London with Italian and Japanese parents while raised in Japan. She was also trained by Io Shirai's sister, Mio Shirai and would make her start in Ice Ribbon. So I thought this article would be a good idea to get a little familiar with her before she makes her Stardom debut in a couple of days.
I feel like this was the year where she started coming out of her shell and now wants to wrestle in a promotion that gets more media attention.
These are Giulia's top five matches of 2019.
5. Giulia vs Risa Sera Ice Ribbon New Ice Ribbon #986 ~ Ice In Wonderland 2019 (8/24/2019)
– You got less than ten minutes to kill? Then this match has enough to fill your needs. This match was the quarter-final round of the ICExInfinity Title Tournament where Giulia has a chance to advance to the semi-finals as she would take on Risa Sera. Both of these women would show great wrestling for the time spam they were given and this would be one of the few breakout moments for Giulia to show she's considered one of the most improved wrestlers in the Joshi scene. Risa would get the victory over Giulia to advance to the semi-finals but she still showed signs of a future star either way. If you have the time in the day to give it a watch, I would recommend you do so if you're looking for a quick match to look through, you won't be disappointed.
4. Giulia & Risa Sera vs Tsukasa Fujimoto & Tsukushi Asuka Project at Korakuen Hall (3/18/2019)
– I thought this was an amazing tag team match with the people involved in it. Unfortunately, not many people would know about the match since this was an Asuka Project show which not many people watch unless you follow the Joshi scene pretty heavily. During this Asuka Project show, we had four women from Ice Ribbon facing off in a tag team match with Giulia and Risa Sera taking on Tsukasa Fujimoto and Tsukushi. It was another ten-minute match but there was still plenty of action to go around with all four of them in the ring. Giulia lost the match but she still showed that she had a lot of growing to do and she did it well in this match.
3. Giulia vs Tsukasa Fujimoto Ice Ribbon New Ice Ribbon #949 ~ Chiba Ribbon 2019 (3/17/2019)
– This one felt like more of a test for Giulia as she would have a singles match against someone who would be considered one of the greatest that Ice Ribbon has to offer, Tsukasa Fujimoto. This was something that could've been more special with another test to see if Giulia could be the future of the company but that doesn't be the case since she left the company months later. It does make you wonder what would happen if she didn't decide to leave Ice Ribbon the way she did and stayed for another year or so, think she would've made some great strides then. Giulia would lose the match but would leave an impression on Tsukasa to see the potential she has made in almost two years in her wrestling career.
Honorable mentions:
– Giulia vs. Sareee Minoru Tanaka Produce Minoru Tanaka Debut 25th Anniversary ~ The Special One Vol. 1 (6/18/2019)
– Giulia & Tequila Saya vs. Hamuko Hoshi & Ibuki Hoshi Ice Ribbon New Ice Ribbon #992 ~ Yokohama Bunka Gymnasium III (9/14/2019)
– Giulia vs Rina Yamashita Ice Ribbon New Ice Ribbon #954 In SKIP City (4/14/2019)
2. Giulia vs. Maya Yukihi Ice Ribbon New Ice Ribbon #962 ~ Osaka Ribbon 2019 II (5/25/2019)
– This was quite possibly the best match Giulia has had in her Ice Ribbon Career. This would be her first and only time she would battle for the ICExInfinity Championship as she takes on the ace of Ice Ribbon, Maya Yukihi. I would've rated it a little bit higher than my number one pick but the only complaint to prevent that from happening is a couple of rough patches and pacing. Nothing bad or anything but it was enough to take a couple of points away. Anyway, Giulia had some great submissions in the match to try and work on Maya's leg where she would sell it well. The final five minutes of the match was what helped elevate the match more with an exciting ending to give Maya that big win and a huge rub for Giulia. Great match that you could find online and a real way to show her what Giulia is all about, you won't regret it as this was considered a Joshi MOTYC by many people who are fans of the product.
1. Giulia vs. Saori Anou AgZ Act In Osaka (7/21/2019)
– So the one match that I enjoyed the most from her doesn't come from Ice Ribbon but from another promotion called Actwres girl'Z where Giulia would travel over to take on Saori Anou for the AgZ Championship. This was the match that made me a fan of her outside of her match against Maya a couple of months prior. This was a grudge match that would help Giulia take that extra step to the top since she seems to shine a lot more when she's in a big match situation, and this match was a great example of just that. This match was just a stiff fest from both of them and Saori was able to come out the winner of the match to retain her championship and left the audience with a match to remember.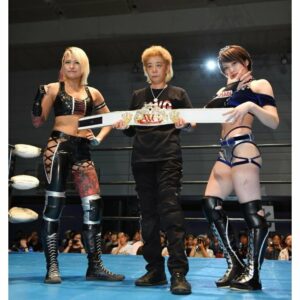 So this will conclude the list for Giulia's top matches in her career. On December 8th, she'll be making her official Stardom debut as she takes on the retiring Hazuki. Originally, she was going to have her debut on the December 24th show against Hana Kimura but due to Hazuki retiring on that day, she requested this match to make her wrestle a little bit earlier. I'm excited to see how Guilia will do in Stardom despite the issues that happened before she went, but still, be sure to check it out.
She's a promising talent that has yet to scratch the surface and 2020 could be her year to do it.