With the monthly voting done, see what matches comprise the 12 Matches of the Year. Help us narrow things down for next week by voting for your Top 5!
The pool is finalized, and now it's time to vote for your Top 5 of the pool!
2019 Match of the Year Pool:
January – NJPW Wrestle Kingdom 13 IWGP Heavyweight Championship: Kenny Omega (c) vs Hiroshi Tanahashi
February – NXT Halftime Heat: Ricochet, Aleister Black & Velveteen Dream vs Adam Cole, Johnny Gargano & Tommaso Ciampa
March – Stardom: Wonder of Stardom Title Match: Jungle Kyona vs Momo Watanabe (c)
April – WrestleMania 35: WWE Championship: Kofi Kingston vs Daniel Bryan (c)
May – AEW Double or Nothing: Cody Rhodes vs Dustin Rhodes
June – NJPW BOSJ 26 Finals Day: BOSJ 26 Finals: Shingo Takagi vs Will Ospreay
July – NJPW G1 Climax Night 6: Jon Moxley vs Tomohiro Ishii
August – NXT UK TakeOver: Cardiff: WWE UK Championship: WALTER (c) vs Tyler Bate
September – AJPW Summer Explosion Day 13: Triple Crown Championship: Kento Miyahara (c) vs Naoya Nomura
October – NXT: North American Championship Triple Threat: Dominik Dijakovic vs Keith Lee vs Roderick Strong (c)
November – NXT: The Revival vs The Undisputed Era (Bobby Fish & Kyle O'Reilly)
December/Second Chance – NXT Takeover XXV: NXT Championship: Johnny Gargano (c) vs Adam Cole
Much like last year, we do have a few matches that aren't just New Japan or NXT. Stardom and AEW are both first timers in the final voting pool. In keeping with how I've done the article the last two years, I will list out my Top 5 choices.
5. WWE WrestleMania 35: WWE Championship: Kofi Kingston vs Daniel Bryan (c)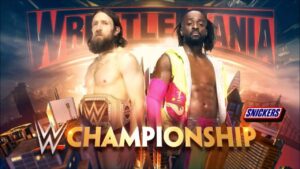 The story that had casual fans and IWC rabble-rousers interested for one reason or another. Be it if you cared because Kofi has worked his ass off for 11 years, with no real chance to be World Champion, or, if you related more with the racial aspect of the narrative…this was story was told well.
This was one of the few WWE "main roster" matches where the spectacle and story outweighed the work in the ring. While it was a solid match, adding the story into the mix made this something people will remember for years. Great moment in wrestling history and had people raving about WrestleMania for the first time in a while.
4. NJPW Wrestle Kingdom 13: IWGP Heavyweight Championship: Kenny Omega (c) vs Hiroshi Tanahashi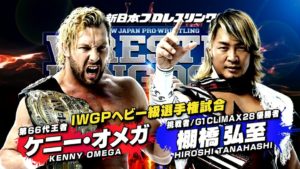 Some may be surprised that this held up for me, but again, story is a integral part of wrestling. Tanahashi had two years worth of injuries and high profile losses, but he finally started putting things together and even won his third G1 Climax, en route to trying to cut the wings off the One Winged Angel.
Yes, Omega's side of the story was a bit lackluster and his entire reign was really generally disappointing, but he still managed to turn things into an Undertale homage while using a version of Hopes and Dreams for the meta commentary. Hell, Omega referenced it all on AEW, so that proves the weight it all had on him.
The match was a Tanahashi classic, and it helped him add another reign for Okada to have to live up to.
3. AJPW Summer Explosion Day 13: Triple Crown Championship: Kento Miyahara (c) vs Naoya Nomura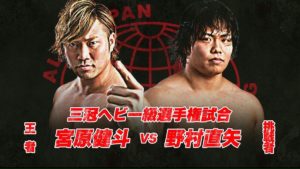 Stories are the name of the game so far, and this is no different. Naoya was a former member of NEXTREAM trying to find a foothold in the current landscape of AJPW. With a failed attempt to take the title earlier in the year, coming up JUST short of winning B Block in the Champion Carnival…many thought this was finally his time.
Naoya showed a lot of heart, and Kento made him look great…but just not on his level. Between this match and Kento's match with Jake Lee (also former NEXTREAM), we saw the blossoming of what could be All Japan's new pillars. It all started with this match, Naoya stepped up, Jake stepped up and Yuma Aoyagi is the only NEXTREAM member to still be aligned with Kento.
Big things should be coming for all four men in 2020, so watch this to understand where the future of AJPW lies.
2. NJPW BOSJ 26 Final Day: BOSJ 26 Finals: Shingo Takagi vs Will Ospreay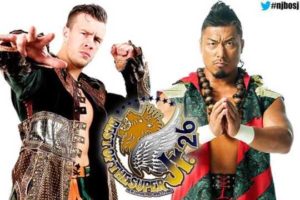 Alright, this had a little bit of story, but was more just an in-ring clinic that most people have on their Match of the Year short list. Shingo was running roughshod through the Juniors since everyone made mention that he was on the borderline of making weight. Shingo held every belt in Dragon Gate before coming over to New Japan, and was undefeated in over 90 matches since his debut at King of Pro Wrestling 2018.
Ospreay already started dabbling in openweight matches, so Ospreay had less troubles with Shingo's power than most juniors. It was a fantastic match, with great work from both men, solidifying Ospreay as the Top Gaijin in New Japan. The loss also was the kick Shingo needed to move up to Heavyweight, and now we have potential to see Shingo face Tanahashi, Okada and we already saw great matches with Naito and Goto. So this was a fun jumping off point for how these two men finished out their 2019.
1. AEW Double of Nothing: Cody Rhodes vs Dustin Rhodes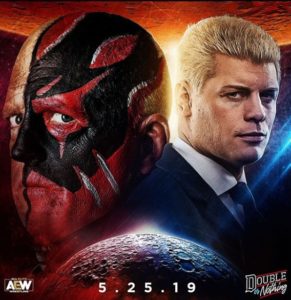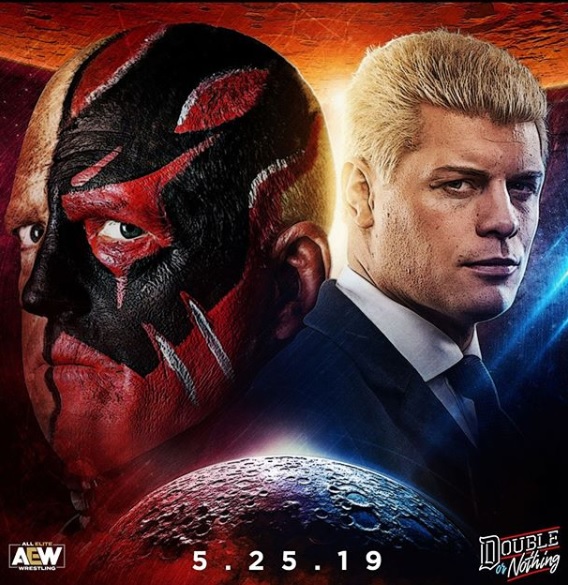 STORY!! Brother will kill brother, spilling blood across the land…oh wait, those are Megadeth lyrics. This was just tremendous. As we've grown to understand, Cody learned the art of storytelling from Dusty, and he gets most of us to buy in. Using their basically a generation worth of age gap, their rocky history in WWE and a little fluff and pepper, and we get the match that sold Double of Nothing.
So story alone, we were all invested, but Dustin bleeding, pulling off great moves we haven't seen him do, and both men fighting with a lot of heart…the emotion was palpable. Then Cody capped it all off with his version of the Walk Behinders promo from Dusty, and it was just amazing, powerful and all together what wrestling is.
Thoughts:
If you haven't been voting, now is the time. Leave comments on Twitter or Facebook, or vote in the Polls where you see them. Any of these 12 are well worth a vote, so don't feel like anything has more sway than another.
Join The Chairshot Facebook group to make sure you see the polls!