These Dates In Wrestling History: December 15th & December 16th
Two jam packed days: Bret Hart debuts in WCW, WWE announces a change in creative direction, a record setting 153rd title win, AJ leaves TNA and so, so much more!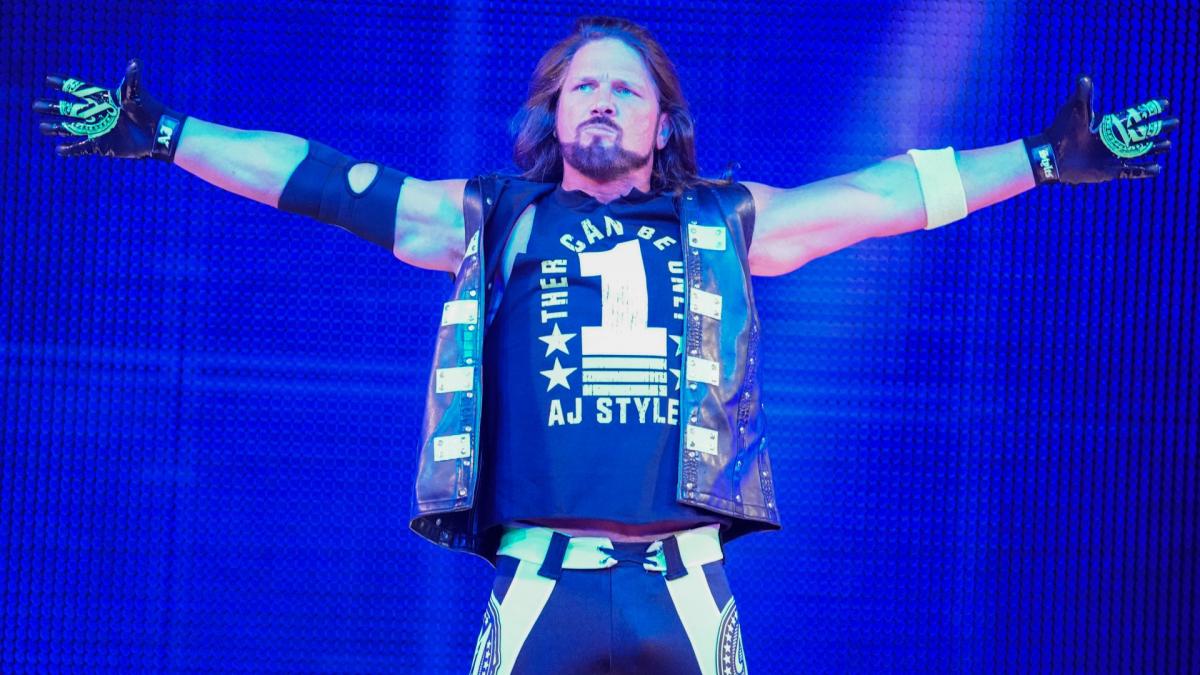 Two jam packed days: Bret Hart debuts in WCW, WWE announces a change in creative direction, a record setting 153rd title win, AJ leaves TNA and so, so much more!
A doubleshot for my Chairshot history buffs! Get your beverage, snack and settle in because these are two historic days…
Born On These Days
December 15th
1967 – Kendall Windham
1977 – Elix Skipper
1983 – Rene (Dupree) Gougen
December 16th
On These Days In Wrestling History
December 15th
1977 – In one of the most famous matches in Japanese wrestling history, Terry & Dory Funk Jr. defeat Abdullah The Butcher & The Sheik to win the first All Japan Pro Wrestling Real World Tag League tournament at Sumo Hall in Tokyo. For years, the Real World Tag League Final would be considered the biggest event of the year for All Japan.  The Funks had become hugely popular in the country, breaking the unwritten rule that American wrestlers were always the heels in Japan.  The tag tournament would go on to become the annual highlight and biggest money making tour of All Japan's year.
1979 – Abdullah The Butcher defeats Carlos Colon in Bayamon, Puerto Rico to win the WWC Puerto Rican Heavyweight Title, ending Colon's fourth reign as champion, and starting his own second run with the belt.
1995 – A tribute show to Stu Hart tribute was held at Calgary Corral, the homebase for many Stampede Wrestling events. In the featured bout, WWF Champion Bret Hart defeated Davey Boy Smith.
1996 – WWF presented In Your House 12: It's Time  from the West Palm Beach Auditorium in West Palm Beach, Florida. 9,649 were in attendance, with 121,000 homes watching on PPV. That's up from 110,000 homes for the December 1995 offering, In Your House 5: Season's Beatings.
In a Free For All preshow match, Rocky Maivia defeated Salvatore Sincere by disqualification.
Flash Funk defeated Leif Cassidy.
Owen Hart & The British Bulldog defeated Fake Diesel & Fake Razor Ramon to retain the WWF World Tag Team Championship.
Marc Mero defeated Hunter Hearst Helmsley by countout in a WWF Intercontinental Championship match.
The Undertaker defeated The Executioner in an Armageddon Rules match.
Sycho Sid defeated Bret Hart to retain the WWF Championship.
In a post-show dark match, Brakkus defeated Dr. X.
In a post-show dark match, Steve Austin defeated Goldust.
In a post-show dark match, Shawn Michaels defeated Mankind.
1997 – Bret Hart makes his WCW debut on Nitro as the announced special referee for Larry Zbyszko versus Eric Bischoff at Starrcade.
1997 – Vince McMahon released the following announcement marking a change in direction for creative at WWF:
"It has been said that anything can happen here in the World Wrestling Federation, but now more than ever, truer words have never been spoken. This is a conscious effort on our part to "Open the Creative Envelope", so to speak, in order to entertain you in a more contemporary manner. Even though we call ourselves "Sports Entertainment" because of the athleticism involved, the keyword in that phrase is "Entertainment".
The WWF extends far beyond the strict confines of sports presentation into the wide open environment of broad based entertainment. We borrow from such programs niches like soap-operas, like "The Days of Our Lives", or, music videos such as those on MTV, Daytime talk-shows like "Jerry Springer" and others, cartoons like "The King of The Hill" on FOX, Sitcoms like "Seinfeld", and other widely accepted forms of television entertainment. We, in the WWF, think that you, the audience, are quite frankly, tired of having your "intelligence insulted".
We also think that you're tired of the same old simplistic theory of "Good Guys VS Bad Guys". Surely the era of "The super-hero urge you to say your prayers and take your vitamins" is definitely, passe. Therefore, we've embarked on a far more innovative and contemporary creative campaign, that is far more invigorating and extemporaneous than ever before.
However, due to the live nature of "RAW" and the "WarZone", we encourage some degree of parental discretion, as relates to the younger audience allowed to stay up late. Other WWF programs on USA, such as "The Saturday Morning LiveWire", and "Sunday Morning Superstars", where there's a 40% increase in the younger audience obviously, however, need no such discretion. We are responsible television producers who work hard to bring you this outrageous, wacky, wonderful world known as the WWF.
Through some 50 years the World Wrestling Federation has been an entertainment main-stay here in North America, and all over the world. One of the reasons for that longevity is: As the times have changed, so have we. I'm happy to say that this new vibrate, creative direction has resulted in a huge increase in television viewership, for which we thank the USA Network and TSN for allowing us to have the creative freedom. But most especially, we would like to thank you, for watching. RAW and the WarZone are definitely the cure for the common show."
2000 – What wound being the last ECW Hardcore TV was taped in Queens, NY.  With money becoming increasingly harder to come by following TNN's decision to cancel ECW, the decision was made to end the series following the December 30, 2000 episode, just a week before Guilty as Charged, ECW's final PPV. The series, dating back to September 1993 when the E in ECW stood for Eastern, ended with 401 total episodes aired.
2002 – WWE held their Armageddon Pay-per-view in Ft. Lauderdale, Florida at the Office Depot Center, featuring three title changes, including a Triple H vs. Shawn Michaels two out of three falls match where each fall had a different stipulation. In a pre-PPV Heat match, Jeff Hardy defeated D' Lo Brown.
2005 – It was announced Chris Jericho signed a book deal to publish his autobiography "A Lion's Tale."  The success of the book would lead to a sequel "Undisputed" and a three book is currently in development.
2006 – WWE released Danny Doring, who had been hired as part of the ECW relaunch.
2006 – CBS issued the following press release with details on reality series "Armed and Famous", which will feature former WWE Women's champion Trish Stratus, among other celebrities who train and become police officers in Muncie, Indiana:  As it turned out, the series was yanked after just two episodes.
2007 – The Atlanta Journal-Constitution reported that WWE has rejected a deal offered by the estate of Chris Benoit where the family asked that WWE pay $2 million to Benoit's two surviving children.  The offer came from the lawyer for Benoit's father Michael, saying that WWE should pay the amount as "recognition of their father's contributions to the company."  The paper reported that they expect Michael Benoit to sue WWE, but as of 2011, no suit was ever filed.
2013 – WWE presented Tables, Ladders, and Chairs from the Toyota Center in Houston, Texas. 14,120 were in attendance, with 181,000 homes watching on PPV. That's up slightly from 2012's event with 175,000 buys. The show's main takeaway was the unification of the WWE and World Heavyweight Championships. Randy Orton defeated John Cena in a TLC match to unify the titles.
December 16th
1970 – Bill Robinson defeats The Destroyer (Dick Beyer) for the Hawaii version of the NWA North American Heavyweight Title.
1971 – Ole Anderson defeats Jack Brisco in Tampa, Florida for the NWA Florida Television Title, ending Brisco's second reign with the belt.
1972 – George Gordienko and Super Hawk defeat Danny Babich and Michel Martel for the Stampede International Tag Team Title.
1975 – Rock Riddle and John Tolos defeat Micky Doyle and Mando Lopez to win the NWA Americas Tag Team Title.
1977 – The Canadian (Roddy Piper) wins his fourth NWA Americas Heavyweight Title by ending the 11th reign of Chavo Guerrero in Los Angeles, California.
1978 – Bobby Eaton and George Gulas defeat Gypsy Joe and Tojo Yamamoto for the NWA Mid-America Tag Team Title in Chattanooga, Tennessee.
1980 – Jackie Sato defeats Nancy Kumi to win the vacant WWWA World Singles Title in Tokyo, Japan, beginning her third reign.
1983 – Mike Rotundo defeats Greg Valentine in a tournament final for the vacant NWA Florida Heavyweight Title in St. Petersburg, Florida.
1984 – Blue Panther defeats El Matematico in Mexico City, Mexico for the UWA World Welterweight Title.
1986 – Hacksaw Higgins and Kareem Muhammad defeat The Fabulous Ones (Steve Keirn and Stan Lane) for the Florida version of the NWA United States Tag Team Title in Tampa, Florida, ending the Fabulous Ones' second reign. Higgins and Muhammad would be the final champions.
1986 – Bad News Allen defeats The Falcon in Orlando, Florida to become the final NWA Bahamas Heavyweight Champion. The title would be abandoned in 1987.
1987 – The WWF held their second annual "Slammy Awards" in Atlantic City, New Jersey
1988 – Terry Gordy and Stan Hansen win the vacant AJPW Unified Tag Team Title for the second time, by winning the 12th annual World's Strongest Tag Team League.
1990 – WCW held their Starrcade Pay-per-view at the Kiel Auditorium in St. Louis, Missouri.  The show centered around the Pat O'Conner International Tag Team Tournament, and also featured an end to the months-long storyline of the "Black Scorpion" that had been hounding WCW World Champion Sting, claiming to be someone from his past.
1994 – The Cowboys (Silver King and El Texano) defeat Emilio Charles, Jr. and El Satanico to win the vacant CMLL World Tag Team Title. The title had been vacated the previous month when Canek, who held the title with Dr. Wagner, Jr., chose to no longer appear for the promotion.
1995 – Tony St. Clair and August Smisl defeat Cannonball Grizzly and John Hawk in Bremen, Germany for the Catch Wrestling Association Tag Team Title.
1999 – Ultimo Vampiro ends Bombero Infernal's second reign as IWRG Intercontinental Middleweight Champion in Naucalpan, Mexico. At the same event, Scorpio, Jr. defeats Super Parka for the IWRG Intercontinental Heavyweight Title.
2000 – Thunder and Lightning win their second WWC Tag Team Title, defeating The West Texas Rednecks (Barry and Kendall Windham) in Carolina, Puerto Rico.
2000 – Hy-Zya defeats Todd Morton for the vacant IWA Mid-South Light Heavyweight Title in Charlestown, Indiana, beginning his fifth reign.
2003 – T.J. Dalton and J.T. Stahr defeat The Riggs Brothers (Johnny and Jason) to win the HWA Tag Team Title.
2004 – Masaaki Mochizuki defeats CIMA for Dragon Gate's Open The Dream Gate Title in Tokyo, Japan.
2005 – Karachi Vice (Tiger Raj Singh and Gama Singh, Jr.) defeat Ravenous Randy and Pete Wilson to win the Stampede International Tag Team Title, beginning their second reign.
2006 – Don Jardine, better known as The Spoiler, dies from complications from a heart attack and leukemia in Wetaskiwin, Alberta, at age 66.
2006 – Carlito defeats Jon Heidenreich to win the WWC Universal Heavyweight Title in Caguas, Puerto Rico, beginning his short-lived 11th reign. Heidenreich would win the title back the same night.
2006 – Two German Stampede Wrestling titles change hands in Oberhausen, Germany, as The Absolute Alliance (Steve Allison and John Kay) defeat Steve Douglas and Emil Sitoci for the GSW Tag Team Title, and Chris Colen defeats champion Absolute Andy and Murat Bosporus in a Falls Count Anywhere match to win the GSW Breakthrough Title.
2006 – Shinobi defeats Sayoko Mita, a female newscaster, to win the DDT Ironman Heavymetalweight, for apparently the 153rd time.
2013 AJ Styles posted the following on his official website and Facebook that it was the first time in 11 years he did not have a professional wrestling contract. He spoke about wondering how he got to that point, his and families decision not to renew and their faith leading them to these decision.
Died On These Days
December 15th
1963 – Kim Sin-Nak (Rikidozan)
2001– Thomas Russell Haas Jr.
December 16th