This Day In Wrestling History: December 14th
A Hero returns. Slammys. Tribute to the Troops. Armageddons. Final Battles. Jeff Hardy wins the world title. So much more.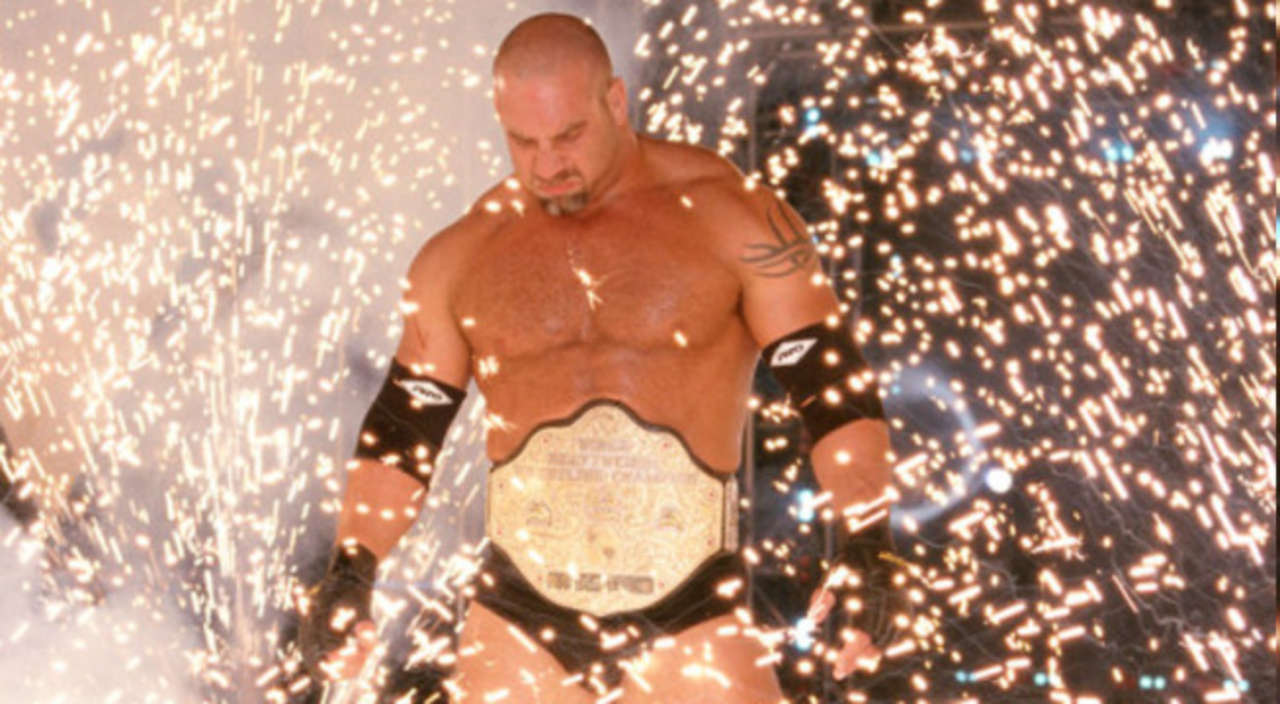 A Hero returns. Slammys. Tribute to the Troops. Armageddons. Final Battles. Jeff Hardy wins the world title. So much more.
We are in the count down to Christmas and Hannukah, my gift to you each day will be more historical moments in Wrestling. Yay! You are most welcome. Be sure to check in on the 25th as I have something special planned. Anyway, today's Ghost of Days past brings us visions of Jeff Hardy winning the WWE Championship, a Hero returns home and the end of Goldberg's title reign.
Born On This Day
1924 – Kim Sin-Nak (Rizidozan)
1930 – Shirley Crabtree Jr. (Big Daddy)
1934 – Nicholas Warren Francis "Nick" Bockwinkel
1965 – Adolfo Tapia Ibarra (L.A. Park)
1972 – Matthew Jason Bloom (A-Train, Albert)
1986 –  Emanuel Rodriguez (Kalisto)
This Day In Wrestling History
1956 – Jerry Graham defeats Bobby Wepner to win the NWA Southern Heavyweight Title in Florida.
1963 – Verne Gagne becomes a six-time AWA World Heavyweight Champion, defeating The Crusher in Minneapolis, Minnesota, ending Crusher's second reign as champion.
1979 – Gino Hernandez & El Gran Markus defeats Jose Lothario & El Halcon for the NWA American Tag Team Title in Houston, Texas, ending Lothario & Halcon's second title reign, and beginning the second reign for Hernandez & Markus.
1983 – Dick Slater defeats Greg Valentine in Shelby, North Carolina for the United States Heavyweight Title, ending Valentine's third, and final, reign with the belt.
1986 – WWF taped the ninth Saturday Night's Main Event program for NBC during a show at the Hartford Civic Center in Hartford, Connecticut.
Hulk Hogan defeated Paul Orndorff in a steel cage match to retain the WWF Championship. The match was restarted when both men hit the floor at the same time when they escaped the cage.
Macho Man Randy Savage defeated George "The Animal" Steele to retain the WWF Intercontinental Championship.
The Junkyard Dog defeated King Harley Race by disqualification.
Adrian Adonis defeated Roddy Piper by countout.
Blackjack Mulligan defeated Jimmy Jack Funk.
1992 – The Hellraisers (Road Warrior Hawk and Power Warrior Kensuke Sasaki) defeated Scott Norton and Tony Halme (who would go on to a small degree of fame in the WWF as Ludvig Borga) to win the IWGP Tag Team Championship.
1998 – The Big Bossman and Ken Shamrock defeat The New Age Outlaws to win the WWF Tag Team Championship on an airing of RAW is WAR.
2003 – WWE presented Armageddon  from the TD Waterhouse Center in Orlando, Florida. About 9,000 were in attendance, with 200,000 homes watching on PPV. Goldberg's loss in the main event ended his title run,
In a Sunday Night Heat preshow match, Rico defeated Heidenreich in just 88 seconds.
Booker T defeated Mark Henry.
Randy Orton defeated Rob Van Dam to win the WWE Intercontinental Championship. Mick Foley was the special referee.
Chris Jericho and Christian defeated Trish Stratus and Lita in an intergender tag team match.
Shawn Michaels defeated Batista.
Evolution (Ric Flair and Batista) last defeated The Dudley Boyz in a Tag Team Turmoil match to win the World Tag Team Championship. Other participants in order of elimination were La Resistance (Rene Dupree and Robert Conway), The Hurricane and Rosey, Val Venis & Lance Storm, Mark Jindrak & Garrison Cade, and Test & Scott Steiner.
Molly Holly defeated Ivory to retain the WWE Women's Championship.
Triple H defeated Goldberg and Kane in a triple threat match to win the World Heavyweight Championship.
2002 – The Messiah defeats Justice Pain in Philadelphia, Pennsylvania for the CZW World Heavyweight Title, ending Pain's fourth reign and starting the second run with the belt for Messiah.
2003 – Hiroyoshi Tenzan & Osamu Nishimura defeat Hiroshi Tanahashi & Yutaka Yoshie in Nagoya, Japan to win New Japan's IWGP Tag Team Title.
2008 – Armageddon rolled around again, this time in Buffalo, New York. Estimated 12,500 in attendance with over 190,000 homes watching. In the main event Jeff Hardy defeated Triple H to win the WWE Championship.
2009 – WWE presented the 2009 Slammy Awards on a special edition of RAW from Corpus Christi, Texas.
Superstar of the Year: John Cena
Breakout Star of the Year: Sheamus
Match of the Year: Undertaker vs. Shawn Michaels at Wrestlemania 25
RAW Guest Host of the Year: Bob Barker
OMG Moment of the Year: Michael Cole vomits on Chris Jericho at Decade of Smackdown
Extreme Moment of the Year: Jeff Hardy jumps from tall ladder onto CM Punk at Summerslam
Tag Team of the Year: Jerishow
Shocker of the Year: CM Punk retires Jeff Hardy
Diva of the Year: Maria
2013 – Ring of Honor presented Final Battle from the Hammerstein Ballroom in New York City.
In a dark match, Brutal Burgers (Bob Evans & Cheeseburger) defeated Team Benchmark (Bill Daly & Will Ferrara).
Matt Hardy defeated Adam Page.
Silas Young defeated Mark Briscoe in a strap match.
The Young Bucks (Matt Jackson & Nick Jackson) defeated Adrenaline RUSH (ACH & Tadarius Thomas).
Kevin Steen defeated Michael Bennett in a stretcher match.
reDRagon (Bobby Fish & Kyle O'Reilly) defeated Outlaw Inc. (Eddie Kingston & Homicide) to retain the ROH World Tag Team Championship.
Tommaso Ciampa defeated Matt Taven to win the ROH World Television Championship.
BJ Whitmer & Eddie Edwards defeated Jay Lethal & Roderick Strong. This was Edwards' final match with Ring of Honor. Post-match, Whitmer turned on Edwards and along with Strong and Jimmy Jacobs, they formed the heel stable known as The Decade.
Adam Cole defeated Jay Briscoe and Michael Elgin in a three-way match to retain the ROH World Championship. Post-match, Chris Hero returned to Ring of Honor after a stint in NXT.
2014 – WWE presented TLCS: Tables, Ladders, and Chairs…and Stairs  from the Quicken Loans Arena in Cleveland, Ohio.
In a preshow match, The New Day (Kofi Kingston and Big E) defeated Goldust & Stardust.
Dolph Ziggler defeated Luke Harper in a ladder match to win the WWE Intercontinental Championship.
The Usos (Jimmy & Jey Uso) defeated The Miz & Damien Mizdow by disqualification in a WWE Tag Team Championship match.
Big Show defeated Erick Rowan in a stairs match.
John Cena defeated Seth Rollins in a tables match. ( A loss by Cena would have cost him his #1 contender spot for the WWE World Heavyweight Championship.)
Nikki Bella defeated AJ Lee to retain the WWE Divas Championship.
Ryback defeated Kane in a chairs match.
Rusev defeated Jack Swagger to retain the WWE United States Championship.
Bray Wyatt defeated Dean Ambrose in a Tables, Ladders, and Chairs match.
2015 – On RAW from Philadelphia, Pennsylvania, Roman Reigns defeated Sheamus in a career versus title match to win the WWE World Heavyweight Championship. Had Roman lost, he would have been fired.
2016 – Tribute to the Troops aired on the USA Newtork after being taped the previous day.  This was the first multi-branded special event since the 2010 edition, after the reintroduction of the WWE brand extension.
2018 – ROH returned to the Hammerstein Ballroom for Final Battle. It was highlighted by Jay Lethal defeating Cody to retain the championship and Bully Ray losing an "I Quit" match.
Died On This Day