Tiffany's AEW Dynamite Takes: Seasons Beatings From Texas
It's the final Dynamite of 2019! How will the Elites cap off their first year as a company?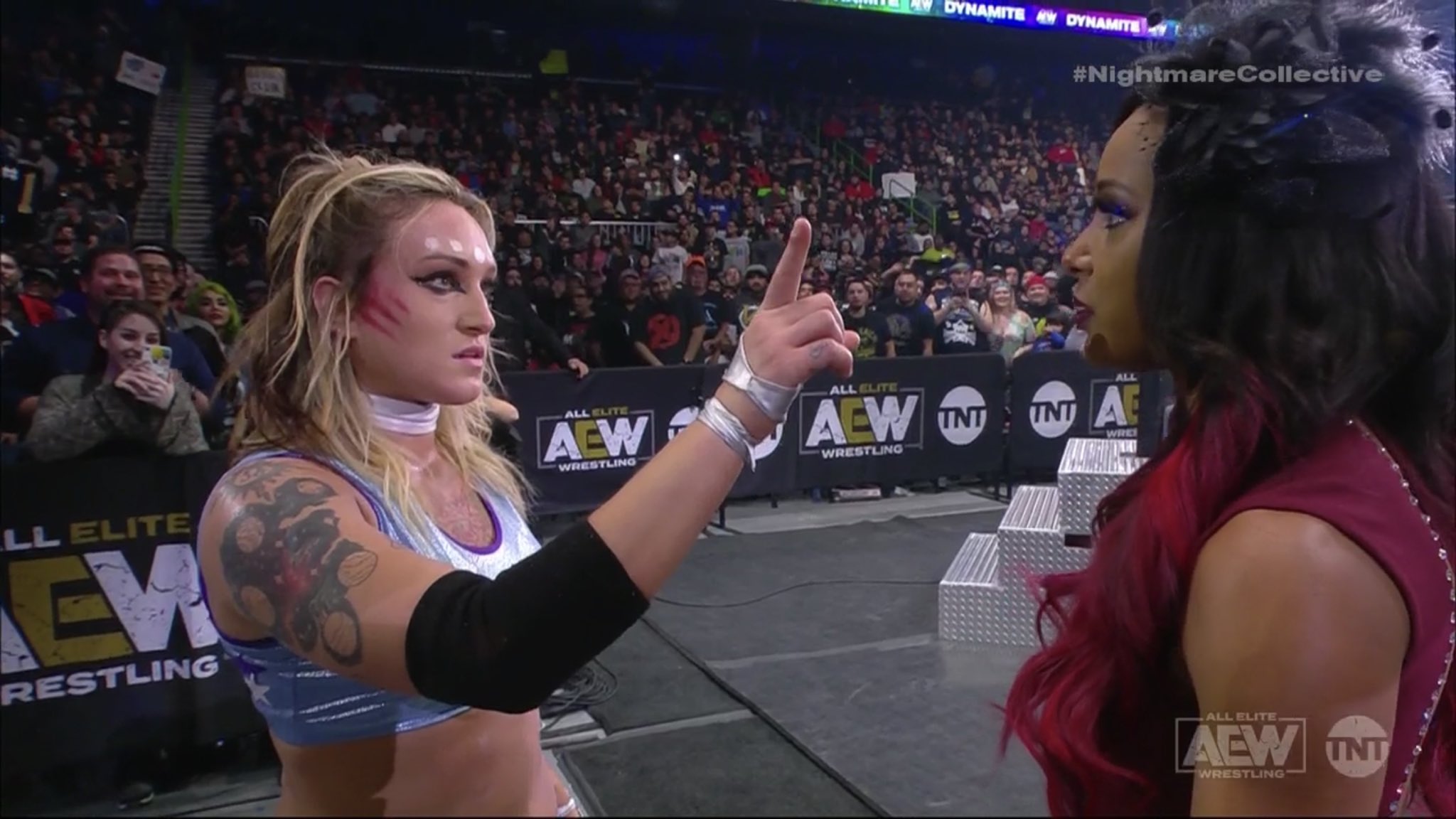 It's the final Dynamite of 2019! How will the Elites cap off their first year as a company?
Hangman Page and Kenny Omega vs Lucha Brothers
No fucking around, we start in the ring. Not thrilled about the thirty minute time limit, but at least we're getting the Kenny match out of the way early. I appreciate the commentators picking up on Omega trying to end the match early so he doesn't have to depend on Page.
This was a really good match. The bigger story of Omega not trusting Page gave an interesting cast to the match. It looked like there were some technical troubles…or it was the Dark Order trying to take over.
Overall, this was a really good match. I'm a little surprised Omega/Page lost, but I think we're building for something between them. Not a fan of PAC sticking his nose in places it's not needed. Oh, is he attacking Nakazawa because he can't stand that Omega won his rematch? Or are he and Page working together?
Cody and Darby Allin vs Butcher and Blade (with the Bunny)
Cody is so amazingly over. I'm glad I came around to him. That scar over his eyebrow is nasty AF. I like that Allin's condition was that if he and Cody won, he and Cody would have a round II in their feud.
This was a really good match. I find it interesting that Cody is the one selling like a fire sale in this match and not Allin. Allin finally nailed the Coffin Drop. Very nice having Cody getting the win. Now we're getting Allin vs Rhodes II, we all win.
I love the training montage for Jungle Boy. I like that he gets what an opportunity he's getting and is preparing for it. His dad would be so proud.
Awesome Kong (with Brandi Rhodes) Vs Miranda Alizay
I'll give Miranda credit, she was game. Not that it helped, but she was game. So, we're stealing hair from jobbers now too?
I love Jungle Boy's interview with JR. He's got the potential to be a great in the business. Luke Perry is probably beaming from wherever he is, knowing his son has such a big opportunity.
Chris Jericho vs Jungle Boy – Non Title Match, 10 Minute Time Limit
Hey, TNT, it looks like Jericho is doing a promo, I'd like to be able to hear it and not the commercials.
I'm honestly surprised that this isn't the main event, however, it shouldn't take away from a really great match. All Jungle Boy had to do was last ten minutes with Chris Jericho. He did that and then some. He knew he had the chance of a lifetime, even with the title not on the line. One thing I've loved about Jericho's run in AEW is him putting over the young talent.
Jericho throwing a tantrum was hilarious. I also loved that he wasn't satisfied with the draw. Doesn't matter, Jack Perry lasted ten minutes with one of the true GOATs. Congrats, kid.
I love the promo on Moxley. I don't think Mox will join the Inner Circle. I love Jericho bringing Renee and Mox's mom into this. I love that bit of real life in this.
I love the story about Daniels still bothered by his botch and Lucha Brothers rubbing it in.
Kris Statlander vs Britt Baker – #1 Contender's Match
This was probably the best match of the night because both women got to shine. People have complained that Britt Baker isn't very good, but she showed how good she was against Statlander. I'm really disappointed that Statlander won, I wanted Britt to get another chance at Riho and I'm not a big fan of Statlander since I don't get her gimmick and her voice annoys me. However, this was one of the best Women's Division matches in AEW.  Love the continuation of the Nightmare Collective storyline. That shoe shot look like it hurt, at least it wasn't a mic.
I could go for Spears and Blanchard teaming up to make a run at the tag titles. Can't imagine anyone else wanting to team with Spears.
AEW Tag Team Championship Match – SCU vs The Young Bucks
This is for the marbles. This is the Bucks' chance to get their hands on the tag titles for the first time since the tag team tournament. As expected, the match was really good. Young Bucks seem to finally be tapping that fire of frustration at not being the top dogs…bucks. I was very disappointed the Bucks didn't win, but the big story is that the Dark Order is trying to take over AEW. They've got Alex Reynolds and John Silver, which is neither here nor there, BUT they seem to also have Hangman Adam Page, who seems to have turned on his friends and left them to get beat up during the locker room clearing brawl that broke out after the Tag Title Match. So, we'll be getting the fallout of that in two weeks at Homecoming!
That's it for Tiffany's Dynamite Takes! Stay tuned for ongoing coverage