Adam's NWA Hard Times Results & Ratings
NWA's first PPV of 2020, Hard Times daddy! Let's see who has good times and bad times, to go with their Hard Times.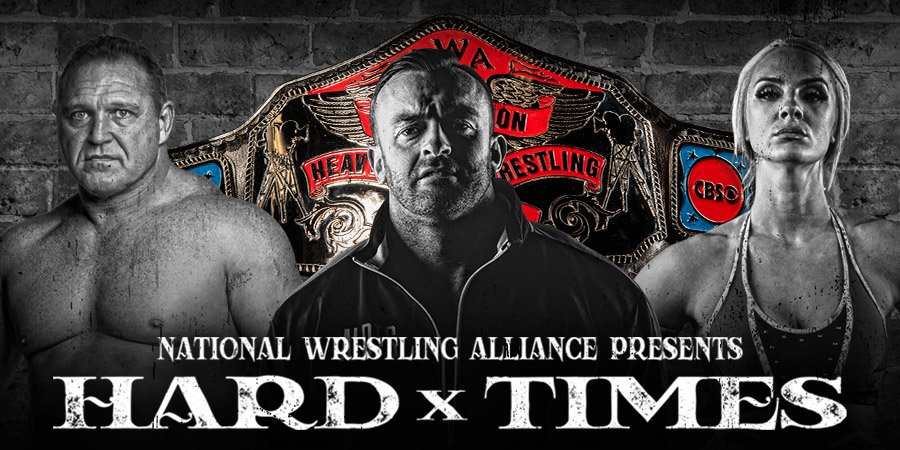 NWA's first PPV of 2020, Hard Times daddy! Let's see who has good times and bad times, to go with their Hard Times.
It's finally here! The Nation Wrestling Alliance will crown their inaugural Television Champion, The Third Degree National Champion, Aron Stevens has a difficult task going up against "Big Poppa Pump" Scott Steiner and Allysin Kay has to defend her Women's Championship against the red-hot Thunder Rosa.
Plus, the NWA Tag Team Championships have to be defended against the newest team of Eli Drake and James Storm along with The Wildcards, the former Tag Champions. Will Rock n Rock live on or will they be facing Hard Times of their own? Let's find out NOW!
Ratings
Trevor Murdoch vs Question Mark for NWA Television Championship Tournament: Trevor Murdoch def. via Diving Bulldog- **
Zicky Dice vs Dan Maff for NWA Television Championship Tournament: Dan Maff def. via Running Senton- * 3/4
Ricky Starks vs Matt Cross for NWA Television Championship Tournament: Ricky Starks def. via The Stroke- ** 3/4
Wildcard vs Drake & Storm vs Rock n Roll Express(c) for the NWA Tag Team Championship: Eli Drake & James Storm win Via Gravy Train- ***3/4 – TITLE CHANGE!!
Thunder Rosa vs Allysin Kay(c) for the NWA Women's Championship: Thunder Rosa wins via Thunder Driver- **** – TITLE CHANGE!
Dan Maff vs Trevor Murdoch for NWA Television Championship Tournament: Trevor Murdoch def. Dan Maff via Diving Bulldog- **
Tim Storm vs Ricky Starks for NWA Television Championship Tournament: Ricky Starks def. Tim Storm via Crucifix Pin- * 3/4 –
Scott Steiner vs Aron Stevens(c) for the NWA National Championship: Scott Steiner wins via Disqualification- *1/2
TITLE DEFENSE!
Flip Gordon vs Nick Aldis for the NWA World Championship: Nick Aldis wins via Roll Up- *** 1/2 – TITLE DEFENSE!
Trevor Murdoch vs Ricky Starks for the Inaugural Television Championship- Ricky Starks wins via The Stroke- *** – TITLE VICTORY!!
Analysis
Trevor Murdoch vs Question Mark– Explosive start by Trevor Murdoch, coming at The Question Mark with an explosive dropkick but, Question Mark quickly takes control of Murdoch. It looked like The Question Mark would take this whole match but much like Murdoch, he's rough and tough and takes the momentum again, hitting The Question Mark with a Diving Bulldog. The Question Mark instantly pops up and no sells it! After another Bulldog, it was all she wrote. Murdoch advances.
Zicky Dice vs Dan Maff- Zicky tried to out power Maff but, failed miserably with trying a Shoulder Tackle. Zicky found an opening and exploited it well, actually taking control. Looked to taking a good roll of the die as he sets up his finish, Shake Rattle and Roll but Maff had none of that and took over fully, putting Zicky away with a Running Senton. That's what happens when you roll snake eyes, Zicky. Maff advances.
Ricky Starks vs Matt Cross- Both men bring a flurry of offense in the air, much like everyone expects. Very back and forth with their match but in the end Ricky Starks pulls off the win, rolling out of Cross' Death From Above (Shooting Star Press) and hitting him with the Stroke (Butterfly Facebuster). Valiant effort by Matt Cross but, he couldn't cause enough havoc. Ricky advances.
David Marquez talks to Tim Storm about his match that he is supposed to have with Ken Anderson, due to injury so as much as Tim Storm doesn't want to take the easy win, he takes the first round bye, facing Ricky Starks.
Stu Bennett giving us a little bit of "Breaking News" telling us that April 2020 will give us a biggest venue outside of Georgia and will be the 2020 Crockett Cup.
Wildcard vs Drake & Storm vs Rock n Roll Express- Ricky and Eli have mutual agreement, teaming up against Tom Latimer in the ring, no matter how many times they want to try to go toe to toe. Even when Royce Isaacs gets in, Ricky and Eli tag Robert and James, respectively and team against Wildcard again. All goes well for the two teams on the Wildcard but since Camille is in their corner, she takes Robert Gibson out with a heel maneuver… as in she struck him with her heels. Wildcard got the advantage against James Storm but momentum took over and Gibson finally came into the ring. Eli gets the tag in, taking it to Wildcard before Ricky finally gets the tag too. A Canadian Destroyer to Tom Latimer and attempt on another to Eli until Isaacs gets involved to distract Morton, getting taken out shortly by James Storm and Eli Drake took Ricky Morton on a one way trip down with the Gravy Train.
Thunder Rosa vs Allysin Kay- Both women give it everything from the start. Allysin takes the first advantage, out powering Thunder Rosa at every stop until Rosa pulled Allysin's arm on the rope, neutralizing her right arm for the match. High spots and attacks from Rosa along with multiple Fujiwara Armbars to take Allysin's arm out of the equation. Reversals and momentum changes all around, from Allysin's AK47, catching Thunder Rosa from the top rope to Thunder Rosa guillotine choking Allysin in the corner. You can tell they left everything in the middle of the ring but in the end, Rosa dealt enough damage to Allysin Kay's arm to keep her out of the fight and deliver the Thunder Driver (Modified Michinoku Driver) to secure the victory.
Joe Galli asks The Villain to come out for an interview about the match-up. Marty comes out saying he wants his shot at Sweet Charlotte and will not stop torturing the champ until he gets a Championship opportunity. After Marty berates Nick for not defending the Ten Pounds of Gold, Nick comes out to ask him who he thinks he is saying he calls the shots. Nick will put the title on the line one one condition. Marty must not be in the arena, if Flip wins, he's the champion but if Nick retains, he calls the shots with any dealing with Ring of Honor and himself.
Trevor Murdoch vs Dan Maff- Well this was just big men beating each other up with punches and chops. Maff hits a spear to cut Murdoch down, all looks lost but the elusive Trevor Murdoch… wait elusive? What the… ahem. Anyway. Murdoch sidesteps out of the way of a corner splash, hitting the Diving Bulldog. Murdoch goes on the to Finals.
Tim Storm vs Ricky Starks- Tim Storm looked to coast into the finals since he got a first round bye, taking it to Ricky in the early goings but, Storm hits the Perfect Storm onto Ricky and uses too much momentum and rolls off the pin. Ricky able to take a breather and tries various pinning variations to beat Tim Storm. After the crucifix pin, Ricky picks up the win with less than two minutes left and advances against Trevor Murdoch.
Scott Steiner vs Aron Stevens- This was… not a wrestling match. This was just Scott Steiner doing Scott Steiner things. Suplexes, overpowering Aron Stevens after his display of Ka-Ra-Te. This was so one sided that there needed to be shenanigans for a finish. As Scott Steiner applies the Steiner Recliner, The Question Mark attacks him from behind to get the DQ Victory.
Aftermath- Now as thirty or so years has explained, you don't mess with Steiner. You don't piss off Scott Steiner EVER. The Question Mark was quickly taken down and put in the Recliner himself as Aron Stevens grabs the NWA National Championship and high tails it out. If I was the Question Mark, I'd take a degree way and make him a second degree student for fleeing his Sensei
Flip Gordon vs Nick Aldis- It looked like Flip knew how to stop Nick Aldis in the beginning. Even if Nick got separation and a breather, Flip Gordon was always there. It took a while for the World's Champ to realize, he might not be faster than Flip or evasive as Flip, he can out power him. Stopping Flips progress with a pair of Fallaway Slams and grounding him with a suplex and Figure Four, it seemed like Flip was down and out. Flip however, is resilient as ever and comes back with a faster flurry of attacks, moonsaults and kicks to get the advantage, giving Aldis a little ground game with a Crossface and Fujiwara Armbar. Flip giving it to Aldis with a pair of Star Spangled Stunners (Springboard Stunner). After a kick out from the pair, Aldis looks for the Cloverleaf and gets counter instantly by the pulling of fingers. Nick Aldis though, too quick and too cleaver for his adversary and rolls him up to defend his World Championship.
Trevor Murdoch vs Ricky Starks- For those that actually don't know, Ricky's first match was against Trevor in the NWA so the Justice behind this is oh so sweet. Trevor Murdoch took it to Ricky early on, trying to out muscle and out maneuver Starks, showing off the veteran instincts and maneuvers to take it to the younger competitor. Looking like he will get an easy victory, Trevor takes Ricky to the outside for a count out victory, knocking Ricky Starks loopy a couple of times throughout the match but, Ricky constantly comes back inside the ring at the count of 9. After a shot that looked to knockout Ricky, he finds a way to retaliate and rally in the corner, countering Murdoch's corner punches with a Sky High Sitout Powerbomb. After a kickout at two, Ricky mustered up all the strength he had left to deliver The Stroke and secure the victory.
Final Rating- 7.5/10
Well, what can I say? The tournament ran pretty smoothly, even though Ken Anderson was unable to compete so they might put that into a story going forward. Marty's influence worked out and gave us a World Title match between Flip and Nick even if Flip fell short. Stevens was… there and kept the National Championship after being beaten pillar to post by Big Poppa Pump thanks to the Question Mark. Thunder Rosa won the Women's Championship after a fantastic match against Allysin Kay and we crowned a new Tag Team Champions with Eli Drake and James Storm. Wonder what their team name would be? Drunken Champs? Drinking Buddies? BEER DUMMY?! Who knows. Then for the main event, "Stroke Daddy" Ricky Starks won the tournament and claimed the Television Championship.
Finally, after almost twenty years, there is a Television Champion since Jim Duggan. Guess what they say is true, one man's trash is another man's treasure.