Adam's NWA Powerrr Review & Ratings 1/21/20
Will the NWA turn back the clock and have the Old Times lead into Hard Times?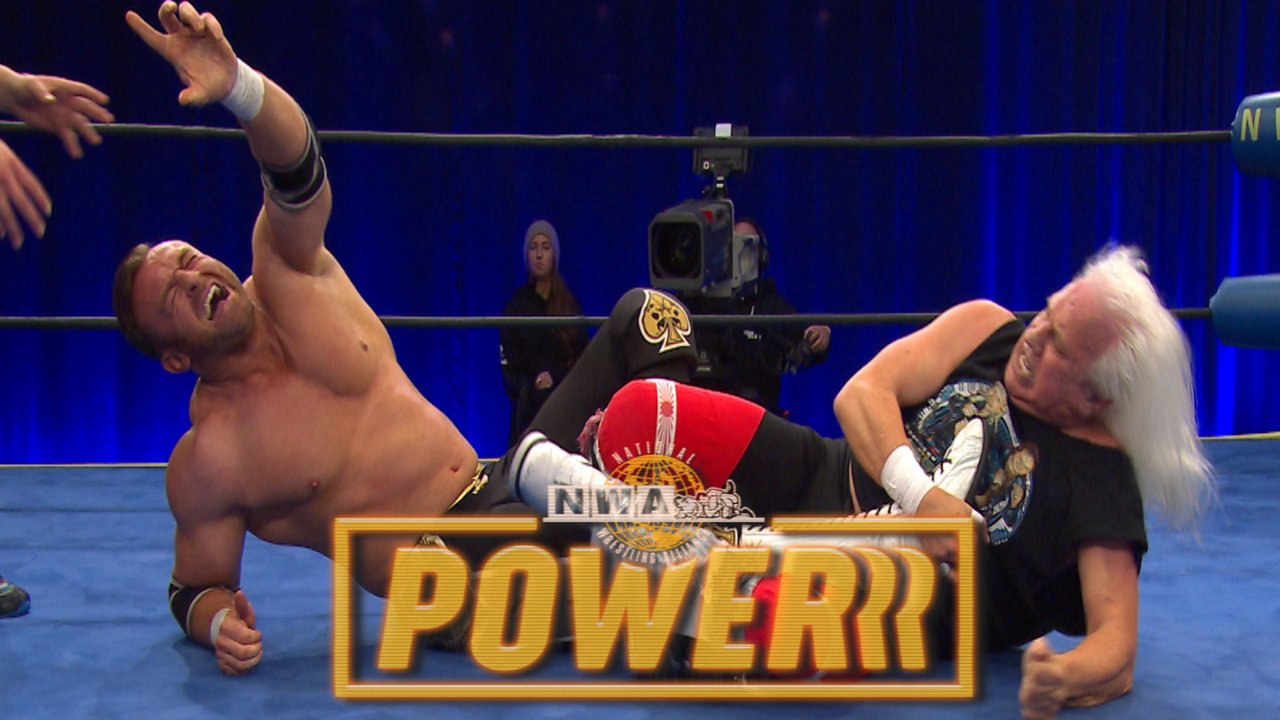 Will the NWA turn back the clock and have the Old Times lead into Hard Times?

With Hard Times happening this Friday, will Nick Aldis walk into the event with Sweet Charlotte around his waist or will Rock n' Roll live on and Ricky Morton obtain the Ten Pounds of Gold to become Ricky Two Belts? What? Everyone else does it anymore. Ricky can get with the times. Anyway, Generations Collide for this show before Hard Times!
Ratings
Tasha Steelz vs Thunder Rosa: Thunder Rosa def. Tasha Steelz via Deadlift Michinoku Driver- **
Tom Latimer vs Trevor Murdoch Qualifying Match for the NWA TV Championship: Trevor Murdoch def. Tom Latimer via School Boy Roll Up-  *1/4
Allysin Kay vs Marti Bell: Allysin Kay def. Marti Bell via AK47- ** 1/2
Last Chance Gauntlet: CW Anderson, Caleb Conley, Jocephus, Colt Cabana, Dave Dawson, Aron Stevens, Sal Rinauro, Ken Anderson: Ken Anderson wins the Gauntlet by last Eliminating Colt Cabana- **
Ricky Morton vs Nick Aldis (c) for the NWA World Championship: Nick Aldis def. Ricky Morton via Small Package Roll-Up- *** 1/4 – TITLE DEFENSE
Analysis
David Marquez opens the show by conducting an interview with Robert Gibson on the later bout for the World Championship. Gibson giving his praise and adoration to his long time tag team partner and wishing him the best in his match before getting to our first match of the night.
Tasha Steelz vs Thunder Rosa: Very quick back and forth between the two competitors. The crowd very split between the two, Tasha getting a quick burst of offense on Rosa after getting harassed in the corner but a quick Dropkick interception from the sky cut that all off before Thunder Rosa gets the win.
Joe Galli calls in Royce Issacs and May Valentine about Strictly Business and his losing ways. Royce starts getting frustrated and annoyed and Joe reminds him with his losses to Tim Storm and ducking out of the match with James Storm. implying the connection with May Valentine is giving him some bad luck. May cuts Joe Gally off and cuts the interview short as we go on to our next match up.
Tom Latimer vs Trevor Murdoch: Latimer starts off before the bell even begins, delivering sucker punches to Murdoch into the corner as the bell rings. Tom Latimer takes it to Trevor from pillar to post, even outside of the ring but, the resilience of Trevor is too much after kicking out at two. Latimer tosses Trevor into a corner and goes for a splash but it's all for not as Trevor Murdoch side steps out of the way and rolls up Tom Latimer with a school boy, A WRESTLING MOVE.
Melina and Allysin Kay meet face to face about their heat against each other. Melina tells her to quiet down and tells her that Thunder Rosa will face Allysin Kay at Hard Times but for now, she has a match with Marti Bell later on.
Allysin Kay vs Marti Bell: The match starts off with a quick back and forth before spilling into the outside. Marti gets the advantage by planting Allysin into the Steel Steps to derail the back and forth between them. As Allysin writhes in pain on the outside, Marti goes out behind the curtain to grab a chair to use but Allysin quickly takes it out of her hands but to no avail, getting hit with it and placing Allysin on it for a Running Knee. Allysin slides out one more time and causes Marti to go into the chair knee first, causing the momentum to change as they take it to the crowd. Allysin bringing the action to the crowd shortly, bringing Marti back to the ring with the chair as she is about to swing. Marti begs her not to swing but, tricks Kay into not attacking her. Allysin sees through the trick and drops Marti Bell with the AK47.
David has The Pope and Eddie Kingston out about the loss last week. Pope trying to raise the spirits of Eddie and tells the crowd that he will help out and searching for his purpose within NWA. Eddie admitting that him and Homicide messed up and needs to take this loss as a learning lesson.
Aron Stevens is on after the interview with Eddie and Pope and giving a Mongrovian Karate Lesson, bringing the Question Mark out. The corwd as always, popping and loving The Question Mark as he makes his way down. The Question Mark going on with how to do Mongrovian Karate on their students and finally on Mongrovian Oak Wood showing that it is no joke. Aron cuts him off saying he is ready for his fourth degree stripe. As the crowd starts to pump up Aron Stevens by chanting "Use your Head" (Big Chairshot fans I see). One of the students hits Stevens with the Wood to unmask to reveal it's the Stroke Daddy himself, Ricky Starks, telling the pair, "Ricky Starks doesn't forget."
Last Chance Gauntlet: Caleb Conley and CW Anderson start off the match and get a feel for each other early on, showing their prowess in the ring before the next competitor comes out. Jocephus, who is still banned in NWA competition, runs in and is instantly taken out because… why not. Next up is Colt Cabana and is always a fan favorite, giving Conley and CW the elbows and keeps the momentum alive for himself. The next man that enters is Dave Dawson and is going to take his losing frustrations out on the three, stacking them up and taking each person out with a Corner Splash. Struggling to eliminate Colt, next to come out is Aron Stevens who is obviously reeling from getting hit with Mongrovian Wood a few moments ago. Aron doing the typical cheeky maneuver and hides under the ring as the others duke it out. Zicky Dice shows up for… some reason and brags that he is still undefeated, they can't beat him and is going to a Hair Metal show and leaves. Ok…? Anyway, the timer begins to wind down and onto our next competitor, Sal Rinauro. After a quick flurry, all four men attack Dawson and eliminate him. The last man comes out and it's Misterrrrrrrrrrrrrrrrrrrrrrrrrr *Cough* Sorry. Mr. Anderson. Anderson proceeds to take out Rinauro and Conley with Mic Checks, eliminating them. CW takes it to Anderson but Colt catches CW, to help his buddy before Supermaning CW Anderson for an elimination. Stevens comes back after The Question Mark distracts Colt and Ken but, strikes Aron with a Double Mongrovian Spike, basically paralyzing him. After Colt and Ken eliminate him, they shake hands but, Anderson swings him shortly after and rolls up Colt for the final elimination.
After the match, Colt and Anderson extend hands and hug until Anderson attacks Colt and driving his head with a Mic Check into the post.
Eli Drake and James Storm are out to give their opinion about Ricky Morton's Championship match. Eli Drake talking about how they will celebrate later and how Ricky influenced James Storm as a Tag Team Competitor, giving their support to Ricky.
Joe Galli with breaking news about the TV Tournament this Friday where the two empty slots are revealed, being Non-NWA Talent. Ricky Starks will face against Matt Cross and Zicky Dice will face against Dan Maff, representing Ring of Honor. If Ricky Morton wins, he will defend Sweet Charlotte at Hard Times but if he loses, The Rock n Roll Express have to defend against The Wildcards and the newest pairing of James Storm & Eli Drake. Scott Steiner returns to Hard Times to face the Third Degree NWA National Champion Aron Stevens. Now onto the Main Event of the Evening!
Ricky Morton vs Nick Aldis (c) for the NWA World Championship: Before the match starts, Stu is told by William Patrick Corgan, who is also on the announce team for the main event, that all outside interference must leave to keep this match clean and pure before this match can get it on. Robert Gibson and Strictly Business leave the ringside, the bell rings and Aldis rolls out to try to reevaluate a game plan against Morton. Aldis begins to take him lightly and pays for it as Ricky gets the advantage early on with Headlock Takedowns, Ten Punches in the Corner and cheeky eye pokes to get out of the corner from Collar and Elbow tie ups. After they take the action to the outside, Aldis turns the momentum, raking the eyes of the Tag Champ and taking firm control of the match. With calculated attacks and strikes, Aldis tries to ease his way into the win before Morton puts the Figure Four onto Aldis but as Ric Flair has told us, nobody wins with the Figure Four. Aldis gets out and after countering a Small Package attempt from Morton, Aldis rolls it into his own and gets the pinfall, retaining the Ten Pounds of Gold.
Show Rating- 6.5/10
Final Thoughts– This was a good way to wrap up the show and wrap things up perfectly for Hard Times around the corner. The matches built up the feuds, got everything perfectly set up. Now the questions remain… Will Allysin retain the Women's Championship against Thunder Rosa? Who will leave Hard Times as the new NWA Television Champion after the tournament? Can Rock n Roll live on against The Wildcards and Storm and Drake? Are Japanese Tables made out of Mongrovian Wood? Well… I'm thinking that last one, I'm not sure about you but, we will find out this Friday at Hard Times.