Adam's NWA Powerrr Review & Ratings 1/28/20
Nick Aldis is still the Dealer after the Hard Times wager with Marty Scurll. How will Nick stack the deck against Marty now?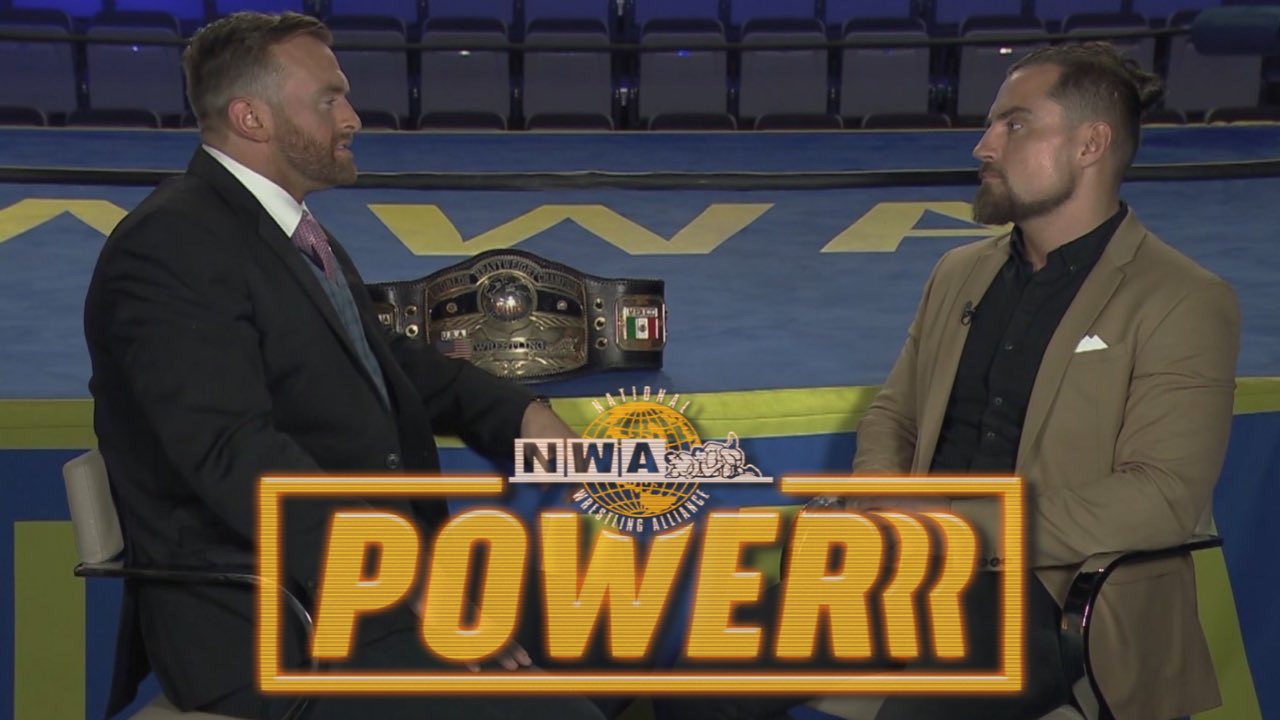 Nick Aldis is still the Dealer after the Hard Times wager with Marty Scurll. How will Nick stack the deck against Marty now?
After Marty Scurll made his presence felt at Hard Times, Nick Aldis has a bit of a problem with the Ring of Honor representative in his company. Will Aldis and Strictly Business get rid of the plague of Villain Enterprises or will The Villain win in the end of this story?
Let's see how it will unfold and who will deal the first attack now that they are face to face.
Ratings
Royce Issacs (w/ May Valintine) vs Andre Guhn: Royce Issacs def. Andre Guhn with Hush Money – **
Zicky Dice vs Ricky Starks(c) for the NWA Television Championship: Ricky Starks retains via The Stroke – ** 3/4
Review
The start of the show, Sean Mooney conducts an interview with Nick Aldis, beginning with congratulating him on his Hard Times victory. Aldis gives Flip Gordon his props with their match at the Pay-Per-View, calling him formidable… unless he faced The National Treasure. Calling out, each and every member of Villain Enterprises, saying he can lay out each one of them. Mooney tries to remind him about the ejection of Scurll from the building but, Aldis cuts him off by saying it isn't true to keep the integrity of the Championship and he calls the shots with anything involving Marty Scrull. There will be a sit down interview with Nick Aldis and Marty Scurll at the end of the hour.
Royce Issacs (w/ May Valentine) vs Andre Guhn- Sal Rinallo is on commentary with a sling as the match begins and gives his input on the match. Issacs has the full advantage of match, hitting the Money Clip (Fisherman Suplex) but only coming up with a two count. Andre gets a slight advantage of separation from Royce as Sal begins to say that Royce looks "neutered" and gets the ire of Isaacs. Valentine is trying to tell him that he will be counted out and barely comes back in at the count of nine and continues the assault on Andre Guhn. As much of a valiant effort Andre had in the ring, Royce hits the Hush Money (Full Nelson into German Suplex) and that was the last card to do Andre in.
Kyle Davis calls an interview with the new Women's Champion, Thunder Rosa and accompanied with Melina and Marti Belle. Melina takes over the interview, saying she opened the doors for Thunder Rosa but, Kyle interrupts her half way through Melina and tells Thunder Rosa that she will have a match with Allysin Kay again next week for the Title. Rosa comes in and says, no matter how many times she will face Allysin Kay, she will always come out on top.
After a recap of the Television Tournament, Marquez has Ricky Starks come out about his championship victory. He says it was Hard Times and he will live up to the tradition and defend the championship each week like those before him. He is determined to make his name in the Television Championship history. He calls out Zicky Dice to have a little… chat. Zicky gives him his congratulations but then goes on saying, "If it wasn't for NWA giving him someone who doesn't work for the company (Dan Maff), he'd be Champ." Zicky is making his challenge for the Television Championship and after a war of words, we have a Television Championship match!|
Zicky Dice vs Ricky Starks – The bell rings and Zicky actually takes control of the match up fairly early. Now, with every TV Championship match, it has a Six Minute and Five second time limit. Zicky takes it to Ricky, putting him to the corner and tries to stop any momentum from going in Ricky Starks' favor. Ricky though, takes over shortly and keeps the aerial offense to the ground and pound, Zicky Dice and even though Zicky tried to use the Shake, Rattle and Roll, Ricky countered it into the Stroke and retains. Maybe Zicky should stick to the Roulette Table.
Joe Galli has the new Tag Champions, Eli Drake and James Storm. Still no team name but, they will take on who ever whatever because they don't need a name, they are the Champs. Aron Stevens and The Question Mark, for some reason. Stevens talks about his triumphant victory over Scott Steiner… okay I can't take that seriously… after The Question Mark attacked Steiner so Aron Stevens retained and they say, they should get a Tag Championship match. James Storm and Eli take jokes and jabs on Aron Stevens for his Mongrovian Ka-Ra-Te Gi and how much of a goof Stevens is. Eli tells them to wait in line and take a number as Drake and Storm leave. Trevor Murdoch comes out next and we are told that we have ANOTHER Championship match on next weeks Powerrr. From his valiant efforts, making it to the finals of the Television Championship Tournament, Trevor Murdoch will challenge Aron Stevens for the National Championship! Aron then puts him down and high tails it out of town as James Storm and Eli Drake come back to scare the Kung-Fools away.
To wrap up the night, Nick Aldis and Marty Scurll have their face to face interview as announced at the top of the hour. Nick goes on and tells Marty that he is trying to give the boys in the back their come upings and asks why is he called the bad guy. Bringing up their past since they were teenagers and Nick brings up how proud and happy he is of Marty's position in wrestling right now, trying to sweeten Marty up. Nick then turns it around saying their match for the NWA World Championship last year is what made Marty, Marty. How he is trying to get his glory again by facing Aldis again. Marty cuts him off and tells him, this has nothing to do with money and nothing to do with positioning. He wants to be champion because he has never felt the adulation of being a World Champion. Nick interrupts him saying, he dictates the terms and conditions saying, he will defend Sweet Charlotte at the Crockett Cup. If Marty wins, he is Worlds Champion. If Nick wins, he must refund EVERY AUDIENCE MEMBER their ticket for the event.
Final Score: 6.5/10
This was a wrap up of Hard Times, giving coverage of what happened and the openings of new storylines and continuations of some as well. Stevens has the looming issue with defending his National Championship against another Juggernaut in Trevor Murdoch. Ricky Starks is living up to the Television Championship tradition and will defend it each week and now Marty gets the opportunity to face Nick Aldis one more time, on the anniversary of their first match up, The Crockett Cup. Since we have two Championship Matches coming up, will Trevor Murdoch taste gold in the NWA? Will Stevens retain through the Power of Ka-Ra-Te? Will Allysin Kay show that Hard Times was a fluke or will Thunder Rosa prove why she is the top female in the NWA? Tune in next week for NWA Powerrr!