Andrew's Ratings & Analysis: Impact Wrestling Hard to Kill 1.12.2020
Impact Wrestling kicks off 2020 with a little wink to IWC comments. HARD TO KILL is here!!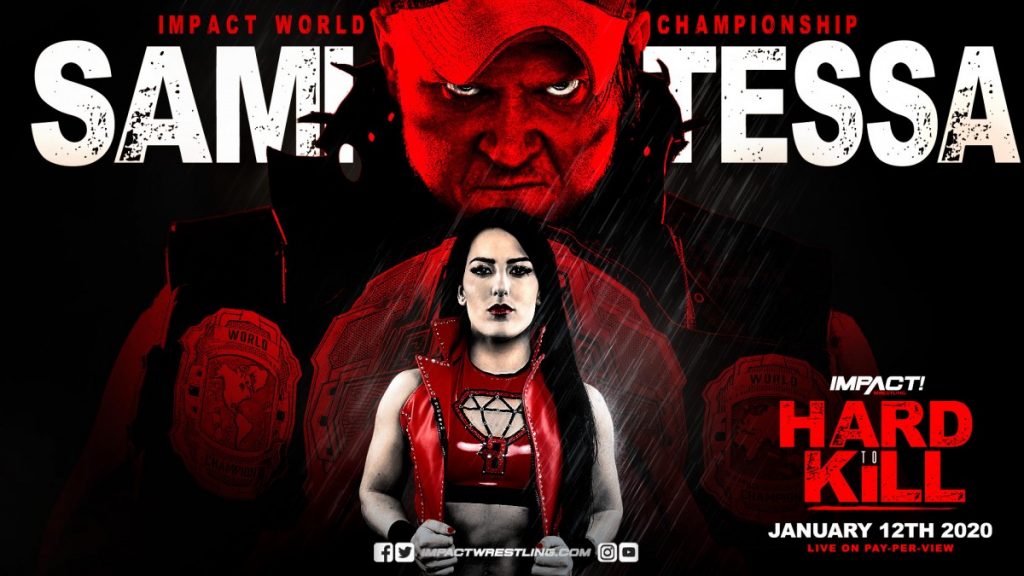 Impact Wrestling kicks off 2020 with a little wink to IWC comments. HARD TO KILL is here!!
To many people this is a one match PPV, Tessa Blanchard versus Sami Callihan is the marquee match of the event. Now most of us are aware of information that popped up for Tessa yesterday, so it adds a new layer of intrigue. Will that change the finish? Will it be acknowledged?
Of course there are other matches, like RVD and Brian Cage being a possible dream match. Eddie Edwards and Michael Elgin will be an great match and The North are always a pleasure to watch.
With everything we get on the card, it's not really fair to let the specter of bad press bring down the excitement for the card. Let's pocket the Tessa hatred for right now, and try to see what Impact gives us on this PPV.
Ratings:
Ken Shamrock vs Madman Fulton: Shamrock wins via Rings of Saturn @9:20 – ** 1/4
X Division Championship: Trey vs Ace Austin (c): Ace retains via The Fold @12:55 – *** 1/2
Knockouts Championship Triple Threat: Jordynne Grace vs ODB vs Taya Valkyrie (c): Taya retains via Grace Driver @11:40 – *** 1/4
RVD w/Katie Forbes vs Brian Cage: No Contest  – N/A
RVD w/Katie Forbes vs Daga: RVD wins via 5 Star Frog Splash @4:10 – **
Call Your Shot Trophy: Eddie Edwards vs Michael Elgin: Eddie wins via Sunset Flip Counter Cradle @19:55 – ****
NoDQ Match: Rhino vs Moose: Moose wins via No Jackhammer Needed @13:00 – ***
Tag Team Championship Match: The North (c) vs Willie Mack: The North retain via Argentine Backbreaker/Spinebuster Combo @10:35 – *** 1/2
Impact World Championship: Tessa Blanchard vs Sami Callihan (c): Tessa wins via Buzzsaw DDT @23:50 – **** 1/4 – TITLE CHANGE!!
Analysis:
Ken Shamrock vs Madman Fulton – Well this is interesting when you've got OVE's monster against the World's Most Dangerous Man. Both men got in solid offense, which we saw more amateur wrestling from Fulton. This match was slow and a little clunky at points, but the finish was cool. After fighting out of a Double Wristlock, we can see Fulton's shoulder visibly dislocated or broken. He tells the referee not to stop it, uses his gear to sling the injured arm and wants to keep fighting. Shamrock manages to roll a pin attempts into the Rings of Saturn and Fulton taps out with his head. Gutsy performance from Fulton, be it legit or worked to a degree, it showed something we don't usually see from Fulton.
X Division Championship: Trey vs Ace Austin (c) – We saw Ace use Trey's mom and the whole situation to his advantage early on. Ace controlled things, until Trey managed to slip out and throw together a lot of good offense. Backflip kicks, Cheeky Nandos, Tiger Feints, Handsprings and that fairly unique low rope springboard Flatliner. But sadly for Trey, he wasn't able to keep Ace down long enough to hit the Diving Meteora, and Ace used the ropes to his advantage. Crotching Trey, before going from the outside of the ring, back in, while flipping Trey off the turnbuckle, then hitting The Fold. Not sure where this leads for X Division challengers, but it was a solid match.
Knockouts Championship Triple Threat: Jordynne Grace vs ODB vs Taya Valkyrie (c) – So this match went the way we all kinda figured. It was a decent match where all three got in a good amount of offense, but it was mostly different versions of pairing off until towards the end. I appreciated the Modified Steinerizer that Grace and ODB pulled off, and Grace looked great in the match. By the way we all figured, I meant ODB ate the pin. Jordynne hit the Grace Driver, Bravo distracted the referee, Taya slipped into the pin after Grace confronted Bravo, and Bravo tripped her up so Taya could get the 1-2-3. Decent match, just a little awkward at times.
RVD w/Katie Forbes vs Brian Cage – The match started before the bell when RVD had his girlfriend's girlfriend in the audience, to grab Cage and distract him when he was slapping hands during his entrance. RVD played the hits, Van Daminator, and Van Terminator, but I don't think the bell ever rang. You could see visible tape on Cage's inner bicep down to his forearm, so this could've been a good way to protect him. This could also be a way to just write him off TV since it's being "reported" that he's AEW bound. Daga came out to try and diffuse things, but an impromptu match happened.
VAN TERMINATOR TO THE MACHINE! #HardToKill @TherealRVD pic.twitter.com/PeicCegILZ

— IMPACT (@IMPACTWRESTLING) January 13, 2020
RVD w/Katie Forbes vs Daga – RVD dominated a good portion of this match, until Daga caught an opening and sent RVD to the outside. Big Triangle Plancha gave Daga some momentum, but RVD rolled away from the corner, and then moved causing Daga to miss a Diving Footstomp. From this point, Katie got involved a little and RVD managed a fairly easy win with help from his girlfriend and her girlfriend. Looking forward to the live sex show/bong party in the middle of the ring.
Call Your Shot Trophy: Eddie Edwards vs Michael Elgin – These two are just great together. Elgin dominates for a good portion of time, but the Die Hard aspect of Eddie's personality kicks in. Elgin throws him around outside, but Eddie just absorbs the punishment and tries to dish it back out. Chops, Lariats, Submission attempts, counter punching, this was a great match done in King's Road style. Eddie couldn't land the Boston Knee Party, but he used the momentum coming out of the Buckle Bomb to roll through the Elgin Bomb and pick up the surprise cradle victory. So Eddie keeps his trophy and opportunity to challenge any belt holder. This is also Elgin's first pinfall loss in Impact. Great match.
"Tonight I'm going to show you a move and I call it No F***s Given!" @Rhyno313 is FIRED UP for his match against @TheMooseNation. #HardToKill pic.twitter.com/DyUsXvLzwu

— IMPACT (@IMPACTWRESTLING) January 13, 2020
NoDQ Match: Rhino vs Moose – This was a solid hardcore match. Rhino had some great power spots, one being when he caught Moose out of the air and Powerbombed him through a table. Just good brawling, set up good spots with chairs, and Moose protected his chances by pulling the referee in the way of the Gore, so it took time for a replacement to show up. After we get the new referee, Moose kicks out and catches Rhino with a few kicks and then No Jackhammer Needed gets us to the tag team match! Really not a bad match at all, just nothing overly fantastic. I did appreciate Moose wearing the Macho Man style attire.
Tag Team Championship Match: The North (c) vs Willie Mack – Unsure if Rich Swann's injury is legit or kayfabe, but that turned this match into a Handicap match. The North got a little cocky, but also pulled off great tag team maneuvers. Alexander accidentally landed on Page's shoulders which allowed Mack to hit a Doomsday Destroyer, wipe out Page on the outside and give us a very close near fall. Page pulls out the referee and tries to get DQ'd, but the referee is too smart to just throw out the match. Mack chases Page a little and takes on both members of The North. A few strikes exchanged until The North started rocking him with kicks and forearms. Alexander struggled to lift up Mack, which was great to the story of the match since Mack killed him with the Doomsday Destroyer. But one more tandem high impact move kept the titles on The North.
Impact World Championship: Tessa Blanchard vs Sami Callihan (c) – Early on, both competitors hit finishing moves Cactus Special and Magnum, but each person kicked out. We got a nice callback to the Slammiversary match with Tessa going for the triple dives, Sami catching the third and trying to bash her into the barricade, but Tessa Frankensteinered out of it. Sami tried to make a point, hit her with a fan's drink, threw her knees first into a barricade and even Powerbombed her through a table, but she got up. After hitting Magnum on the apron (which is a terrible spot since she takes more damage landing on apron) there was a 10 count spot. Tessa was selling her knees well through the match, but took too long and was visibly a little late, but the referee didn't count 10.
Aside from that obvious slip, the match was pretty solid. Tessa did great selling and firing up to challenge Sami, while Sami tried to keep his same level of violence and vile behavior…treating her equally. Both stories played well, and both kicked out of finishers again later in the match. This got a good amount of time, told a great story, and Tessa managed to catch Sami often enough, to daze him into setting up the Buzzsaw DDT and Tessa makes history!
Overall Score: 7/10
Well look at that, they went through with putting the belt on Tessa even amidst the whirlwind Twitter drama. Not downplaying the accusations, but let's be honest, someone is always willing to dig up stuff on people in Twitter court. So it just gets old, super super old.
Anyway, the show was pretty entertaining and the matches were decent quality. With a bunch of the older talent winning in their matches, Eddie keeping the Call Your Shot trophy and Taya retaining, there's not a lot of established challengers to look to for the near future. So in a sense, it's a little exciting that this will be seemingly a fresh start.
If Brian Cage leaving is true, it's really not a huge blow. I love Cage, don't get me wrong, but his title reign was pathetic because of his injury so they already had to start focusing on other talent while he was mostly inactive for those 3 months. So it shouldn't hurt Impact too much, but it's a great boon for AEW since Cage gets a new start and he looks like a million bucks.
So let's see where things go in 2020 with the first ever female World Champion!