Andrew's Ratings & Analysis: Impact Wrestling Hard to Kill 1.12.2020
Impact Wrestling kicks off 2020 with a little wink to IWC comments. HARD TO KILL is here!!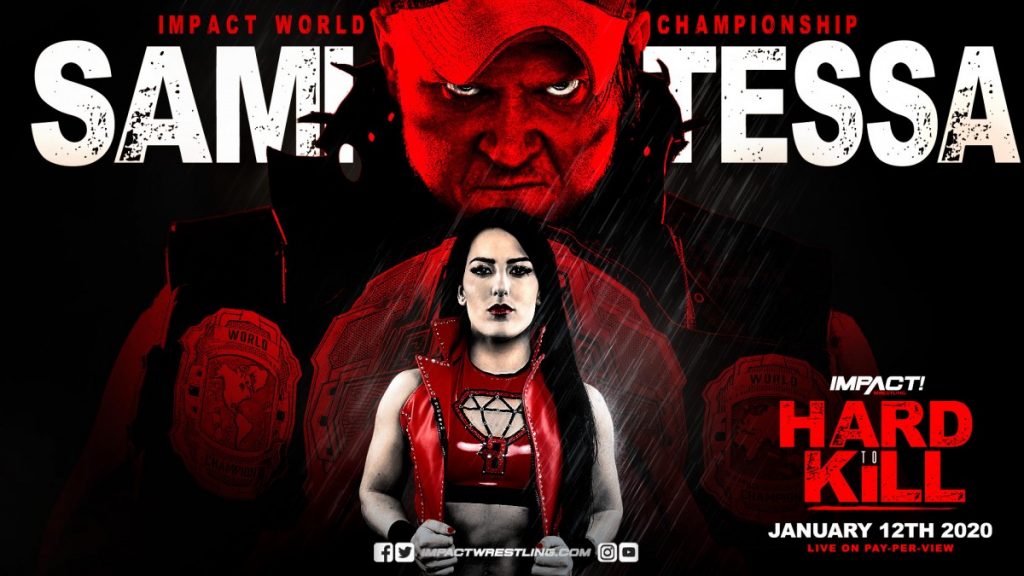 Impact Wrestling kicks off 2020 with a little wink to IWC comments. HARD TO KILL is here!!
To many people this is a one match PPV, Tessa Blanchard versus Sami Callihan is the marquee match of the event. Now most of us are aware of information that popped up for Tessa yesterday, so it adds a new layer of intrigue. Will that change the finish? Will it be acknowledged?
Of course there are other matches, like RVD and Brian Cage being a possible dream match. Eddie Edwards and Michael Elgin will be an great match and The North are always a pleasure to watch.
With everything we get on the card, it's not really fair to let the specter of bad press bring down the excitement for the card. Let's pocket the Tessa hatred for right now, and try to see what Impact gives us on this PPV.
Ratings:
Ken Shamrock vs Madman Fulton: Shamrock wins via Rings of Saturn @9:20 – ** 1/4
X Division Championship: Trey vs Ace Austin (c): Ace retains via The Fold @12:55 – *** 1/2
Knockouts Championship Triple Threat: Jordynne Grace vs ODB vs Taya Valkyrie (c): Taya retains via Grace Driver @11:40 – *** 1/4
RVD w/Katie Forbes vs Brian Cage: No Contest  – N/A
RVD w/Katie Forbes vs Daga: RVD wins via 5 Star Frog Splash @4:10 – **
Call Your Shot Trophy: Eddie Edwards vs Michael Elgin: Eddie wins via Sunset Flip Counter Cradle @19:55 – ****
NoDQ Match: Rhino vs Moose: Moose wins via No Jackhammer Needed @13:00 – ***
Tag Team Championship Match: The North (c) vs Willie Mack: The North retain via Argentine Backbreaker/Spinebuster Combo @10:35 – *** 1/2
Impact World Championship: Tessa Blanchard vs Sami Callihan (c): Tessa wins via Buzzsaw DDT @23:50 – **** 1/4 – TITLE CHANGE!!
Analysis:
Ken Shamrock vs Madman Fulton – Well this is interesting when you've got OVE's monster against the World's Most Dangerous Man. Both men got in solid offense, which we saw more amateur wrestling from Fulton. This match was slow and a little clunky at points, but the finish was cool. After fighting out of a Double Wristlock, we can see Fulton's shoulder visibly dislocated or broken. He tells the referee not to stop it, uses his gear to sling the injured arm and wants to keep fighting. Shamrock manages to roll a pin attempts into the Rings of Saturn and Fulton taps out with his head. Gutsy performance from Fulton, be it legit or worked to a degree, it showed something we don't usually see from Fulton.
X Division Championship: Trey vs Ace Austin (c) – We saw Ace use Trey's mom and the whole situation to his advantage early on. Ace controlled things, until Trey managed to slip out and throw together a lot of good offense. Backflip kicks, Cheeky Nandos, Tiger Feints, Handsprings and that fairly unique low rope springboard Flatliner. But sadly for Trey, he wasn't able to keep Ace down long enough to hit the Diving Meteora, and Ace used the ropes to his advantage. Crotching Trey, before going from the outside of the ring, back in, while flipping Trey off the turnbuckle, then hitting The Fold. Not sure where this leads for X Division challengers, but it was a solid match.
Knockouts Championship Triple Threat: Jordynne Grace vs ODB vs Taya Valkyrie (c) – So this match went the way we all kinda figured. It was a decent match where all three got in a good amount of offense, but it was mostly different versions of pairing off until towards the end. I appreciated the Modified Steinerizer that Grace and ODB pulled off, and Grace looked great in the match. By the way we all figured, I meant ODB ate the pin. Jordynne hit the Grace Driver, Bravo distracted the referee, Taya slipped into the pin after Grace confronted Bravo, and Bravo tripped her up so Taya could get the 1-2-3. Decent match, just a little awkward at times.
RVD w/Katie Forbes vs Brian Cage – The match started before the bell when RVD had his girlfriend's girlfriend in the audience, to grab Cage and distract him when he was slapping hands during his entrance. RVD played the hits, Van Daminator, and Van Terminator, but I don't think the bell ever rang. You could see visible tape on Cage's inner bicep down to his forearm, so this could've been a good way to protect him. This could also be a way to just write him off TV since it's being "reported" that he's AEW bound. Daga came out to try and diffuse things, but an impromptu match happened.
VAN TERMINATOR TO THE MACHINE! #HardToKill @TherealRVD pic.twitter.com/PeicCegILZ

— IMPACT (@IMPACTWRESTLING) January 13, 2020
RVD w/Katie Forbes vs Daga – RVD dominated a good portion of this match, until Daga caught an opening and sent RVD to the outside. Big Triangle Plancha gave Daga some momentum, but RVD rolled away from the corner, and then moved causing Daga to miss a Diving Footstomp. From this point, Katie got involved a little and RVD managed a fairly easy win with help from his girlfriend and her girlfriend. Looking forward to the live sex show/bong party in the middle of the ring.
Call Your Shot Trophy: Eddie Edwards vs Michael Elgin – These two are just great together. Elgin dominates for a good portion of time, but the Die Hard aspect of Eddie's personality kicks in. Elgin throws him around outside, but Eddie just absorbs the punishment and tries to dish it back out. Chops, Lariats, Submission attempts, counter punching, this was a great match done in King's Road style. Eddie couldn't land the Boston Knee Party, but he used the momentum coming out of the Buckle Bomb to roll through the Elgin Bomb and pick up the surprise cradle victory. So Eddie keeps his trophy and opportunity to challenge any belt holder. This is also Elgin's first pinfall loss in Impact. Great match.
"Tonight I'm going to show you a move and I call it No F***s Given!" @Rhyno313 is FIRED UP for his match against @TheMooseNation. #HardToKill pic.twitter.com/DyUsXvLzwu

— IMPACT (@IMPACTWRESTLING) January 13, 2020
NoDQ Match: Rhino vs Moose – This was a solid hardcore match. Rhino had some great power spots, one being when he caught Moose out of the air and Powerbombed him through a table. Just good brawling, set up good spots with chairs, and Moose protected his chances by pulling the referee in the way of the Gore, so it took time for a replacement to show up. After we get the new referee, Moose kicks out and catches Rhino with a few kicks and then No Jackhammer Needed gets us to the tag team match! Really not a bad match at all, just nothing overly fantastic. I did appreciate Moose wearing the Macho Man style attire.
Tag Team Championship Match: The North (c) vs Willie Mack – Unsure if Rich Swann's injury is legit or kayfabe, but that turned this match into a Handicap match. The North got a little cocky, but also pulled off great tag team maneuvers. Alexander accidentally landed on Page's shoulders which allowed Mack to hit a Doomsday Destroyer, wipe out Page on the outside and give us a very close near fall. Page pulls out the referee and tries to get DQ'd, but the referee is too smart to just throw out the match. Mack chases Page a little and takes on both members of The North. A few strikes exchanged until The North started rocking him with kicks and forearms. Alexander struggled to lift up Mack, which was great to the story of the match since Mack killed him with the Doomsday Destroyer. But one more tandem high impact move kept the titles on The North.
Impact World Championship: Tessa Blanchard vs Sami Callihan (c) – Early on, both competitors hit finishing moves Cactus Special and Magnum, but each person kicked out. We got a nice callback to the Slammiversary match with Tessa going for the triple dives, Sami catching the third and trying to bash her into the barricade, but Tessa Frankensteinered out of it. Sami tried to make a point, hit her with a fan's drink, threw her knees first into a barricade and even Powerbombed her through a table, but she got up. After hitting Magnum on the apron (which is a terrible spot since she takes more damage landing on apron) there was a 10 count spot. Tessa was selling her knees well through the match, but took too long and was visibly a little late, but the referee didn't count 10.
Aside from that obvious slip, the match was pretty solid. Tessa did great selling and firing up to challenge Sami, while Sami tried to keep his same level of violence and vile behavior…treating her equally. Both stories played well, and both kicked out of finishers again later in the match. This got a good amount of time, told a great story, and Tessa managed to catch Sami often enough, to daze him into setting up the Buzzsaw DDT and Tessa makes history!
Overall Score: 7/10
Well look at that, they went through with putting the belt on Tessa even amidst the whirlwind Twitter drama. Not downplaying the accusations, but let's be honest, someone is always willing to dig up stuff on people in Twitter court. So it just gets old, super super old.
Anyway, the show was pretty entertaining and the matches were decent quality. With a bunch of the older talent winning in their matches, Eddie keeping the Call Your Shot trophy and Taya retaining, there's not a lot of established challengers to look to for the near future. So in a sense, it's a little exciting that this will be seemingly a fresh start.
If Brian Cage leaving is true, it's really not a huge blow. I love Cage, don't get me wrong, but his title reign was pathetic because of his injury so they already had to start focusing on other talent while he was mostly inactive for those 3 months. So it shouldn't hurt Impact too much, but it's a great boon for AEW since Cage gets a new start and he looks like a million bucks.
So let's see where things go in 2020 with the first ever female World Champion!
Andrew's IMPACT Results & Match Ratings: 1.20.2022
We're coming to the end of their first set of tapings. So I wonder what IMPACT has cooked up since the Florida tapings are supposed to have a few Bullet Club favorites. Let's find out!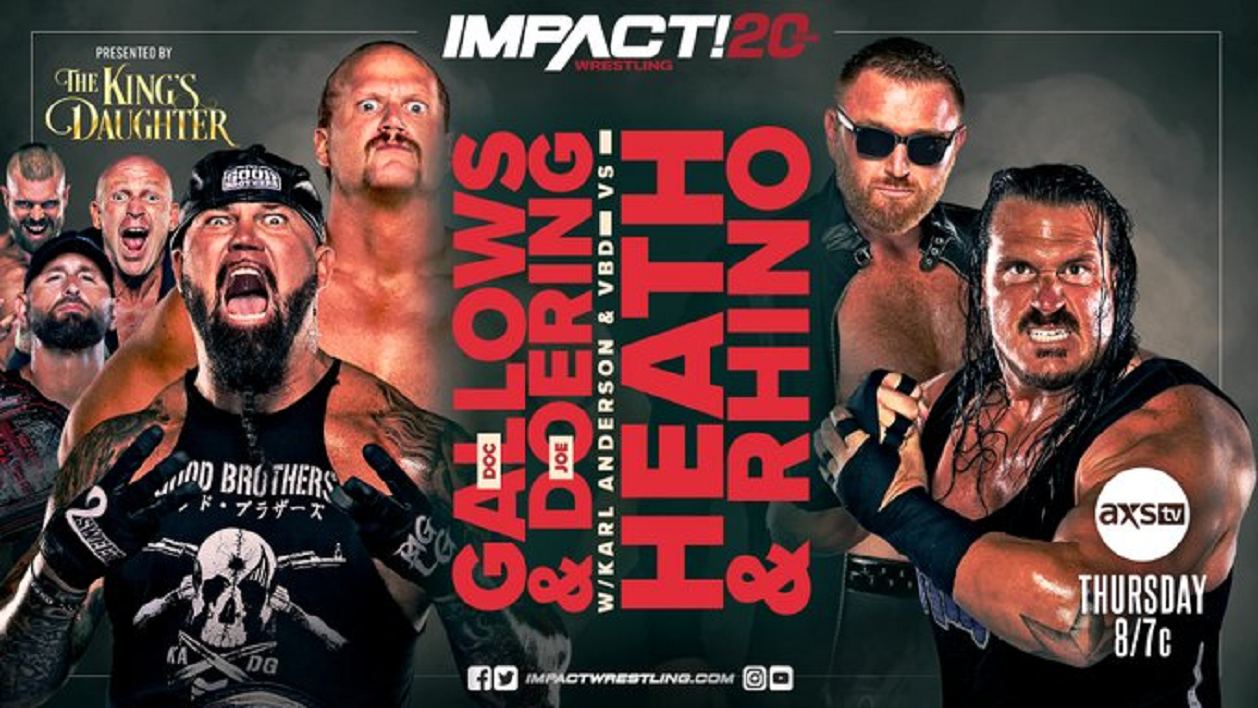 We're coming to the end of their first set of tapings. So I wonder what IMPACT has cooked up since the Florida tapings are supposed to have a few Bullet Club favorites. Let's find out!
Another week with Tom Hannifan as the play by play, and he just sounds right. We've got Charlie Haas' first match in IMPACT, Tasha Steelz versus Chelsea Green and Steve Maclin is aiming for the ROH Heavyweight Title.
There should be other things, but those take most of the initial attention. Let's see what else goes on!
.@MickieJames has arrived in the IMPACT Zone!#IMPACTonAXSTV pic.twitter.com/5PeTzlYyym

— IMPACT (@IMPACTWRESTLING) January 21, 2022
Ratings:
Tasha Steelz w/Savannah Evans vs Chelsea Green: Tasha wins via Crucifix Bomb – **
The Influence (Tenille Dashwood & Madison Rayne) w/Kaleb vs Decay (Havok & Rosemary): Influence wins via Kiss Kiss Bang Bang – *
The Learning Tree (Zicky Dice & VSK) w/Brian Myers vs Massive Cassidy: Cassidy wins via BQE – SQUASH
ROH Heavyweight Title: Steve Maclin vs Jonathan Gresham (c): Gresham retains via Rope Assisted Figure Four – *** ½
Doc Gallow & Joe Doering w/Karl Anderson & VBD vs Heath & Rhino: Gallows & Doering win via Double Chokeslam – **
Charlie Haas vs Josh Alexander: Alexander wins via Ankle Lock w/Grapevine – *** ¼
Results:
Tasha Steelz w/Savannah Evans vs Chelsea Green
Tasha is jawing with the crowd as the bell rings, Chelsea goes right at her and hits the Shotgun Dropkick as Tasha is turning to face her opponent. Chelsea stays on the offensive, baits Tasha to the apron, drops her on her face, Curb Stomp, attempt at an Unprettier…but no counter into a Codebreaker from Tasa and we see Chelsea's momentum slow down a little.
After some back and forth with Tasha having a lot of advantage, Chelsea makes her comeback. Chelsea hits a middle rope Crossbody but Tasha continues to rotate and rolls it into a pin attempt. Chelsea kicks out and pulls off a Package Flatliner, but only for a near fall. Chelsea goes to grab Tasha, Tasha kicks her to stun her, looks to get caught in a Crucifix, but turns it into a Crucifix Bomb. Tasha picks up the win with the Crucifix Bomb again.
After the win, Tasha cuts a promo that doesn't seem to really fit. Trying to portray herself as a savage, from the wrong side of town, but she's a smack talking 5 foot nothing brat. So the second half of the promo works a lot better than the first. She also took some shots at WWE's women's division being Barbie Dolls, NWA, Nick Aldis and then brought the son into the mix, so of course that got Mickie fired up. Things look bad for Mickie, but Chelsea Green manages to recover and make the save for Mickie.
Video Package courtesy of Ring of Honor showcasing some of Charlie Haas' work with Shelton Benjamin and CM Punk involved in certain clips.
The Influence (Tenille Dashwood & Madison Rayne) w/Kaleb vs Decay (Havok & Rosemary)
The Influence attack while Havok and Rosemary are distracted by Kaleb. Rosemary clutches her shoulder after the mugging, the doctors throw up the X and tell her she can't go. Rosemary asks if Havok can go, the doctor says yes, so Rosemary tells Havok to go destroy the Influence.
Havok put up a valiant fight but the heels prevail! Cross Rayne into a Spotlight Kick into…whatever their tandem finish is called. I'm going to call it Kiss Kiss Bang Bang.
The IInspiration have a reactionary video promo which is pretty solid. I do enjoy their work. Hopefully their match ends up being pretty solid because I'd like to see The IInspiration start getting over their abilities in the ring as much as their abilities on the mic.
The Quintessential Diva is Coming!#IMPACTonAXSTV pic.twitter.com/SUiLvfFeRu

— IMPACT (@IMPACTWRESTLING) January 21, 2022
The Learning Tree (Zicky Dice & VSK) w/Brian Myers vs Massive Cassidy
The highlight of this match is Hannifan and Myers on commentary. There was a like 4 second spot where the Learning Tree landed a move, but then Cassidy kills them. So we're in and out, double Pinfall murder happened.
Post-Match the Massive one goes on his search for Moose, D'Amore stops him in the back and says he's got a title shot coming. Then we see the OGK ROH invaders have tickets this time around, and I'm going to be sick saying this…but Matt Taven is pretty great in this segment. Jesus Christ, I popped for Taven. Shoot me now.
ROH Heavyweight Title: Steve Maclin vs Jonathan Gresham (c)
Early on it looked like Gresham was toying with Maclin as he forced early rope breaks, but Maclin returned the forced rope breaks in kind. Maclin eventually started coming into his own when he utilized the one closed fist warning rule. Maclin really worked over Gresham's back after a Butterfly Backbreaker, Boston Crab, Camel Clutch, and a lot of back work.
Gresham was really on the back foot until he managed to force Maclin to use his final rope break. Then we saw Gresham hyper extend Maclin's knee, and keeps working on the knee. It all made sense as we saw Gresham utilize the Figure Four for the victory. It was entwined in the ropes, Gresham used it for leverage and Maclin's will power gave out as he couldn't get his shoulders up fast enough and succumbed to the three count.
IMPACTPlus Flashback Moment: No Surrender 2009: Sarita & Taylor Wilde vs The Beautiful People – Innaugural TNA Knockouts Tag Team Championship Match
"We're gonna see ourselves out"

🤔@MattTaven @TheHorrorKingVM @RealMikeBennett @MariaLKanellis @PCOisNotHuman #IMPACTonAXSTV pic.twitter.com/UrfqiYdiwc

— IMPACT (@IMPACTWRESTLING) January 21, 2022
Doc Gallow & Joe Doering w/Karl Anderson & VBD vs Heath & Rhino
So Good Brothers and VBD looked really sloppy. Gallows got rocked by Rhino, Doering was caught off guard often by Heath and there was just a ton of odd moments where it looked like they tried to regroup and until we saw the extra members get involved, Heath and Rhino dominated the legitimate tag team aspects.
I'm wondering exactly how much of a shift the Guerrillas of Destiny will have in the tag scene and if we'll need to see the Good Brother and VBD implode first before we get the Bullet Club foundation match.
Charlie Haas vs Josh Alexander
They start with a classic grounded start with headlocks, hammerlocks, leg picks and positioning advantages. Alexander managed to take some early momentum before the commercial break, but when we come back we see Haas pop over out of the corner, striking Alexander's knee and starts focusing a body part. A very methodical attack on knee comes off far more aggressive and cruel than Haas usually goes for. Haas locks in the Indian Deathlock, and they begin slugging at each other. The hold breaks, Alexander goes for the Finlay Roll but Haas counters into a Crucifix Cradle for 2.
Alexander locks in the German Suplex, hits 2, obviously going for 3 to make a point, but Haas blocks the third. Haas pulls off 2, before Alexander blocks and hits one more German before Haas grabs the ropes, feeds in for a lariat but gets caught in another German Suplex this time with the bridge but only for 2.
Haas manages to charge Alexander in the corner, stumbled a bit but lands in the legs that he's been aiming for, and then goes back to the other corner and hits the mid-section. Haas looks for a leg pick, Alexander counters into his own Ankle Lock. Charlie tries to counter it a few different ways but Alexander holds on and locks in the Ankle Lock with the Grapevine so Haas taps out.
Things moved a little too quickly, so it was alright but could've been better. After the match they shake hands and the ROH invaders hit the ring. Haas, Alexander, Chris Sabin comes in, then Rich Swann and Willie Mack, Heath and Rhino…finally Eddie Edwards hits the ring with a kendo stick and drives the ROH guys out.
Overall Score: 6.25/10
I think Maria named the invading stable as Honor No More, so I suppose for like a Pop Punk or Emo band that sounds cool…but it's a bit dumb for a faction name. Can't really chant it, the abbreviation is dumb, H.N.M. sounds like a clothing company, but I guess this is them distancing themselves from ROH.
Either way, this was kind of a janky episode. The matches weren't great, a lot of stories were touched upon but left wide open, and the next major event being No Surrender on Feb. 19th, feels like a lot of time to fill. So maybe it was just a little too redundant, maybe it was also that the general match quality was down to further storyline angles…not sure. This still wasn't bad, just definitely felt extremely lacking.
Andrew's IMPACT Results & Match Ratings: 1.13.2022
Hard to Kill was well received and caused a bit of buzz from Mickie retaining to ROH invading. Where does this episode of IMPACT take us from there?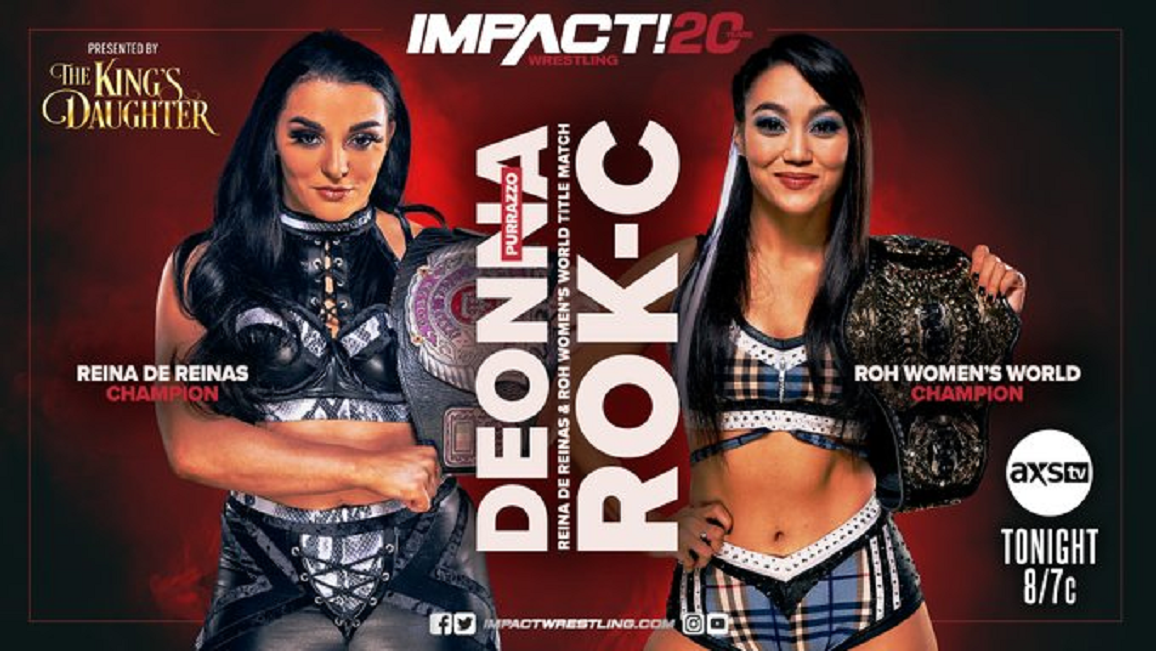 We come out of Hard to Kill with no new champions but a lot of new opportunities. Deonna gets a shot at Rok-C and the ROH Women's Championship. Moose is handing out title shots and Mike Bailey is working on increasing his early stock in IMPACT.
Should be interesting to see where this first episode out of a major PPV takes us!
Ratings:
Chris Bey vs Laredo Kid: Kid wins via Laredo Fly – *** ¼
Jake Something vs "Speedball" Mike Bailey: Speedball wins via Ultima Weapon – ** ¾
Masha Slamovich vs Vert Vixen: Masha wins via Northern Lights Bomb – N/A
IMPACT World Championship: Moose (c) vs Zicky Dice w/VSK & Brian Myers: Moose retains via Uranage – N/A
Raj Singh vs Jonah: Jonah wins via Tsunami – N/A
Winner Take All: ROH Women's World Championships vs AAA Reina de Reinas Campionship: Rok-C (c) vs Deonna Purrazzo w/Mattew Rehwoldt (c): Deonna wins via Venus de Milo – *** ¾ – TITLE CHANGE!!!
Results:
The show kicks off with a very mad Massive Cassidy. He storms the ring, calls out Moose, but Moose doesn't bite. Instead he appears on the tron, states that there will be a World Title match tonight but not involving Cassidy. The big man storms to the back to try and lay into Moose, but Scott D'Amore stops him and then ROH resurfaces!
Matt Taven and Vincent are at commentary trying to get the headsets off D'lo and Tom "New Name" as Taven keeps calling him. D'lo starts to comply but eventually gets sick of them and fights back. Mike Bennet grabs him, they all lay him out on a table for PCO to dive and ROH makes an early statement.
Chris Bey vs Laredo Kid
Trey Miguel is out on commentary and of course to fill in blanks since he needs a number one contender. Early back and forth action starts to swing after Chris Bey pulls off the Tiger Wall on the post, to flip behind Laredo and take control of the match. Coming back from commercial we get a lot more of Chris Bey having his way.
Bey stays in control until we get to the outside again and Bey starts trading barbs with Trey. Bey slips a little between his Pump Kick so Laredo uses the fact it wasn't flush to Back Body Drop Bey into the top rope as Bey bounces off the rope, the apron and then onto the floor. Bey gets run around a little, and Laredo goes for a High Speed Suicide Dive right as Bey starts to turn and situate himself. Laredo hits a driver for a near fall and we just get some solid action from Laredo.
Trey Miguel is a little cringe, but the fact that he just speaks in memes and Tom Hannifan is more than willing to play in that space actually makes commentary pretty amusing through this match. Bey fights back with a Spinebuster, big Brain Buster, but only a near fall. Bey tries to finish things off but Laredo fights back, rocks Bey on the corner, and we get a Laredo Fly and a 1-2-3 for Laredo Kid.
After the match we see the IMPACT squad from Hard to Kill looking to find the ROH crew. So there will be some random brawling to look forward to!
Jake Something vs "Speedball" Mike Bailey
Ace and Madman Fulton are doing guest commentary for a match between the two guys that beat them on the Countdown to Hard to Kill show. You know, I'm aware of who Mike Bailey is…but looking at how he enters the ring he reminds of a young Eric Bischoff steering into the martial arts gimmick.
Rope run early spot turns into Bailey showing his speed but Jake's strength gives him an early advantage until a Dropkick sends Jake to the outside. Back Handspring fake out bow just annoys Jake. So when Bailey goes to hit the ropes again, Jake grabs the legs, pulls him to the outside and hits the Apron Powerbomb. Jake starts throwing around Bailey, rocks him with a bit Forearm, for a 2 count. Bailey tries to make a comeback but the big Thesz Press keeps Jake's momentum mostly intact. Once they hit the ring, Bailey flies, Jake catches him, Bailey gets out of the Powerbomb, Sole Butt, Axe Kick, Buzzsaw Kick into a Corkscrew Senton.
Jake starts working his way back into the match, Speedball catches him with that corner Tornado Kick and then the Shooting Star Double Kneedrop, which he calls Ultima Weapon. Speedball is 2-0.
Masha Slamovich vs Vert Vixen
Good Masha gets to kill more Indie talent. What kind of name is Vert anyway? Masha makes light work, ending with her Nothern Lights Bomb and looks like a potential threat to Mickie James.
Josh Alexander walks out as Masha is walking up the ramp and they exchange nods before Josh makes it to the ring. Josh basically goes over the laundry list of what he's been through to prove he deserves his World Title shot. He makes very similar claims that Massive Cassidy made about having to go through him to get to the ring. Then Charlie Haas' music plays.
Charlie eludes to World's Greatest Tag Team and similar pedigrees between both of them. Then issues a challenge. Josh starts nice saying he'd gladly give him the match after he gets his title shot. Haas cold cocks Josh to make a point, pull apart and I guess we all know where this is headed.
.@CharlieHaas is here and just challenged @Walking_Weapon!

#IMPACTonAXSTV pic.twitter.com/e78EG0rgxG

— IMPACT (@IMPACTWRESTLING) January 14, 2022
IMPACT World Championship: Moose (c) vs Zicky Dice w/VSK & Brian Myers
Zicky cocks his fist, Superman Punch is….ineffective. Zicky tries again, gets caught in an Uranage and Moose pins him with one foot. Oh yeah, Moose came out in street clothes, disrespecting the hell out of Zicky.
Massive Cassidy storms the ring after, Zicky stumbles into the crossfire to give Moose and out but Moose forgot the title…so Cassidy makes his intentions very clear. And then decides to make an example out of VSK as Moose collects the belt and then retreats.
Raj Singh vs Jonah
Well Raj is gonna die and we can prove that Rohit was the talent in the Desi Hit Squad. Jonah comes out to eat Raj because who cares about Raj. I'm just glad we get more of Jonah's theme. Send him to the Morgue Jonah!
Raj maybe did a thing or two but it wasn't close. Jonah murdered a man and capped it off with the Tsunami. He did play a classic game of Fling the Singh.
Backstage, Decay and Inspiration have a moment while we find Eddie Edwards laid out. Then Jonathan Gresham gets questioned about his involvement with the attacks and Steve Maclin pokes the bear to get his chance at the ROH Title.
Winner Take All: ROH Women's World Championships vs AAA Reina de Reinas Campionship: Rok-C (c) vs Deonna Purrazzo w/Mattew Rehwoldt (c)
Early on we see Rok-C show her skills basically just playing Deonna's game better than Deonna. It takes Deonna until she catches the younger champion on the ropes, pushes her off and manages to take some control with a more sadistic approach.
The Suzuki style of approach works perfectly as she finds different ways to attack Rok-C's arm, and we even get an interesting World of Sport style of spot that leads to Deonna working over the arm again. Deonna posts herself though and that gives Rok-C option to his a Flying Thesz Press, Snapmare, a few quick attacks, a Satellite Rusian Leg Sweep and attempts the Rok-Lock but her arm gives out.
Fujiwara attempts from Deonna, Rock-C turns it into a cradle, a little bit of back and forth, Code Rok from Rok-C, but Deonna kicks out. Code Rok attempt, Deonna blocks that, Mexican Arm Drag, into a Fujiwara attempt, Cradle Counter, Rok-Lock, Rok-C kicks off the bottom rope to try and reapply, but Deonna turns it into a Fujiwara. Rok-C refuses to tap, grabs the referee's pants to stop him from calling for the bell, so Deonna breaks Rok-C's grip, changes the Fujiwara into the Venus de Milo and Rok-C verbally submits.
ROH people hit the ring, attack Rehwoldt, TNA style group brawl to go off the air.
Overall Score: 7.25/10
So the major thing we drew from this episode was a great main event, solid story beats moving forward with the guest commentary and that IMPACT isn't afraid to allow Hannifan a little creative freedom in referencing his old job and relationships. Rehwoldt and Myers both had amusing things to say, Trey Miguel was tolerable and Ace with Fulton wasn't too terrible either. Hannifan really adds an interesting wrinkle that hasn't been in IMPACT commentary in a long time.
Aside from that, a few squashes don't give us much to elaborate on, but Speedball looking great and Rok-C really making a great first impression on the IMPACT crowd was something special. Watch at least the main event, the rest of things were more building blocks to bigger things. Solid show though.