Andrew's Ratings & Analysis: NXT UK TakeOver: Blackpool II
NXT UK Blackpool II…let's all hope this is better than the first one.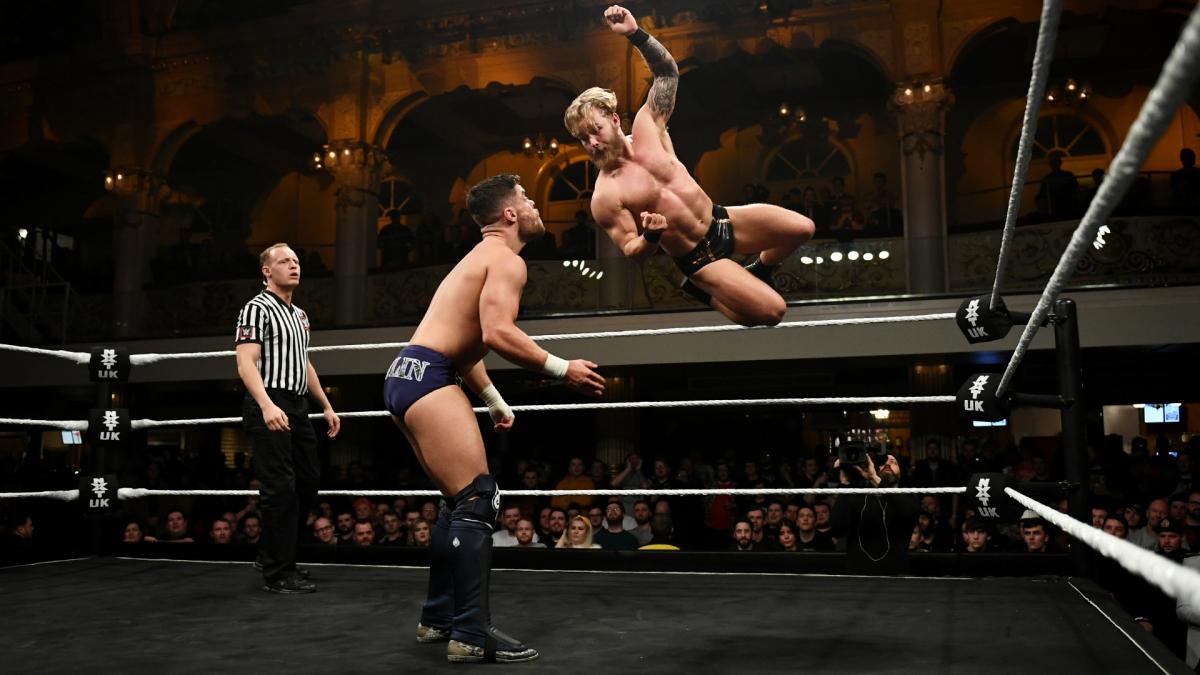 NXT UK Blackpool II…let's all hope this is better than the first one.
Now, since it comes on at a time when I'm at work, and I have other things to watch, NXT UK always falls by the wayside for me. So seeing that there's a gap between NFL Playoff games, and Hard to Kill, I decided I might as well watch this.
WALTER versus Joe Coffey makes no sense to me since Coffey was punked out by WALTER and never seemed like a credible threat to anything aside from a Dairy Queen. Devlin and Bate is positioned to steal the show, especially since I don't tend to care for these cluster ladder matches in NXT.
So let's see if the Dairy Queen slayer of Gallus can prove me wrong.
Ratings:
Trent Seven vs Eddie Dennis: Dennis wins via Neck Stop Driver @8:15 – ** 3/4
UK Women's Championship: Piper Niven vs Toni Storm vs Kay Lee Ray (c): KLR retains via Opportunistic Pin @13:10 – *** 1/4
Tyler Bate vs Jordan Devlin: Bate wins via Spiral Tap @22:25 – **** 1/2
NXT UK Tag Team Championship 4 Way Ladder Match: Gallus (Mark Coffey & Wolfgang) (c) vs South Wales Sub Culture (Flash Morgan Webster & Mark Andrews) vs Grizzled Young Veterans (Zack Gibson & James Drake) vs Imperium (Fabian Aichner & Marcel Barthel): Gallus retains @25:00 – **** 1/4
NXT UK Championship: Joe Coffey vs WALTER (c): WALTER retains via Gojira Clutch @27:30 – *** 3/4
Analysis:
Trent Seven vs Eddie Dennis – Eddie Dennis came in trying to make an example of Trent Seven, and I suppose it worked. Granted, he looks like utter crap. Imagine if Johnny Gargano and Kanyon combined, yet forgot to eat for a month. Dennis' offense looked forced and slow at times, but Trent did a good job fighting from underneath and trying to prove he wasn't washed up. Short cuts from Dennis helped put him over, in classic heel fashion and the Razor's Edge to the outside was a big fun spot…but generally a meandering match. Nothing bad, a few fun spots, but Dennis doesn't convince me with his offense.
UK Women's Championship: Piper Niven vs Toni Storm vs Kay Lee Ray (c) – Kay Lee had her work cut out for her in this match. Trying to turn two faces is usually volatile and comes to bite the heel, and this was no different. The work early was a little stop/start and slow at times, but told the story well enough that KLR was trying to pick her spots after the other two started swinging on each other. Piper hit a Scottish Destroyer on KLR, KLR hit a Gory Bomb on Piper and Toni blocked the referee's count to break the pin; which shows how much she wanted the match. Storm Zero got hit pretty flush on KLR, but Piper broke up that pin. It looked like Toni was about to put things away after a Pedigree and then Frog Splash, but KLR slide in, kicked Toni in the face and stole the pinfall. Some things didn't work and felt a little bloated, but it wasn't a bad match at all.
Tyler Bate vs Jordan Devlin – Now this was a great match with a simple enough story that Devlin wanted to prove he was better than Bate. Granted, a few spots bothered me like the Hurricanrana that stalled waiting for feet for the counter and even the referee didn't count right away. Then there was the terrible spot where they threw bad punches and no one came away with any bruising. Cause you know, you can get punched a dozen times in reality and walk out with no marks what-so-ever.
Aside from those nitpicks, the match was great. I loved Devlin blocking the stupid Bop and Bang early on, and Bate kept blocking the Devlin Side move. The fact that they were aware of signature moves, fought to block them and it was still a great back and forth, makes this match a great early contender on MOTY lists. But still, the nit picks I had dropped it a little for me personally, but I know others will overlook them.
NXT UK Tag Team Championship 4 Way Ladder Match: Gallus (c) vs Flash Morgan Webster & Mark Andrews vs Grizzled Young Veterans vs Fabian Aichner & Marcel Barthel – Now I haven't been a big fan of how either NXT brand does multi-people ladder matches, but this was surprisingly different. There were a ton of spots and general carnage, but nothing felt like an over extended build your own TLC ring moment. When all the teams were on a ladder and the Welshmen were adding extras, it still worked well because there wasn't lull in the action.
I loved how the one ladder pinned Gibson and then when he got freed, he did a great job at cleaning things up. Great close spots for all teams, it just all made sense. Hard to find anything to complain about since it was supposed to be organized chaos.
NXT UK Championship: Joe Coffey vs WALTER (c) – Joe Coffey had one of Pete Dunne's worst matches as UK Champion and when WALTER debuted he punked him out pretty solidly. So given those facts and the fact that I don't watch NXT UK weekly, this really seems like a stretch. Now I guess we get to see if Coffey can at least put together something respectable with WALTER, or if he should stay in mid card hell forever.
Coffey came out with some solid offense and looked to have a real shot for the first half of this match. Then WALTER reminded everyone who the hell he is. We saw a clunky spot on a missed boot, but both men saved it well to make it look more like MMA trying to find an opening, than groping for an out. The referee bump led us to something that felt unnecessary, because it just caused the match to last another 4 or 5 minutes.
Since Coffey got dinged because of the run in, I suppose we're lead to believe that if it wasn't for Ilja Coffey had a better shot, but come on. Coffey didn't even get the visible 3 count when the ref bumped and he was fighting from underneath during the important portions of the match. WALTER asserted his dominance, rag dolled Coffey a bit and made the little girl tap out. Now let's never put him in the main event again, okay NXT UK?
Overall Score: 7.5/10
All in all it was a fun show, capped off with Undisputed Era doing a run in on Imperium, heating up their World's Collide angle. Bate and Devlin stole the show early, and sadly WALTER/Joe Coffey was pretty good but nothing to really close the show on. So it was a good thing that Undisputed Era had their run in to raise the energy level and punctuate the show.
So even without the weekly information, the video packages set the table nicely and the matches delivered well enough. A few pieces to build off of, like perhaps Dragunov has to go through Gallus, maybe even Bate to get a title shot. Devlin has to figure out where he stands in the big picture of NXT UK all while Trent Seven has to figure out his future in general.
Pieces of things to build off of, solid matches and a generally enjoyable show.