Andrew's Ratings & Analysis: WWE Royal Rumble 1.26.2020
Royal Rumble is here, so the road to WrestleMania starts clearing up! Who earns the illustrious right to challenge any champion of their choice?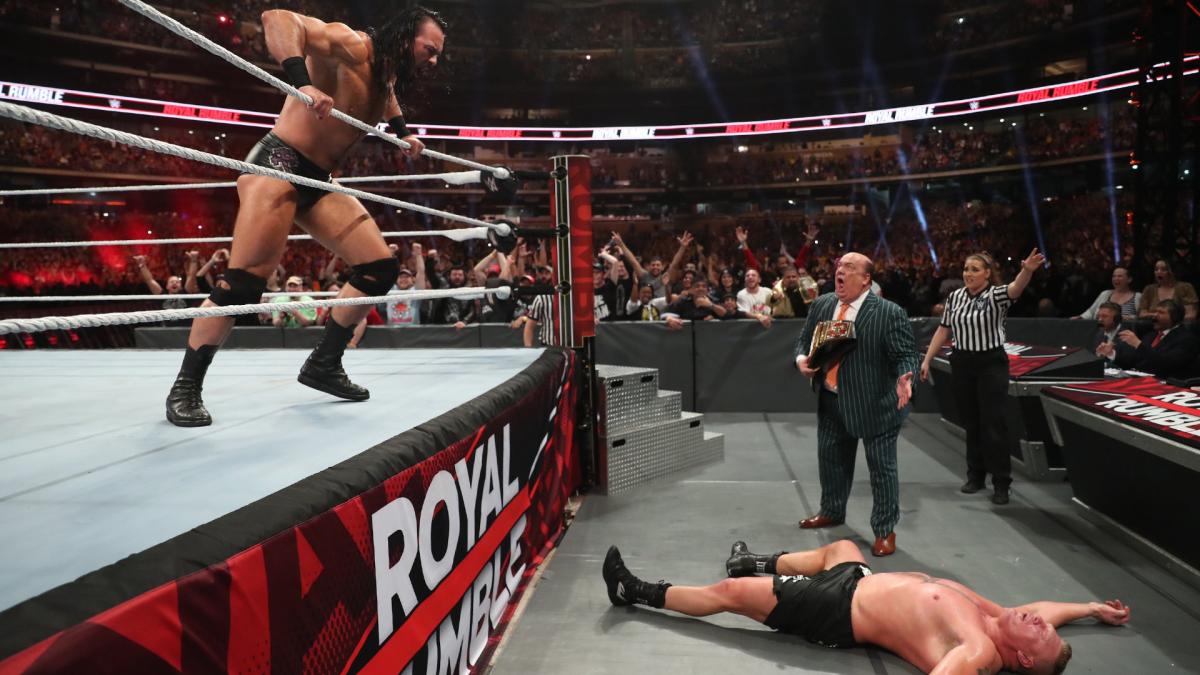 Royal Rumble is here, so the road to WrestleMania starts clearing up! Who earns the illustrious right to challenge any champion of their choice?
This article is slightly delayed, because most of the Big Four I spend with friends and basically do a watch party. So it makes writing difficult.
I'm pretty sure the aspect that has the most intrigue is Brock Lesnar inserting himself at number 1, into the Royal Rumble. Will he run the table? Who might eliminate him?
Let's get to the show!
Ratings:
Falls Count Anywhere: Roman Reigns vs King Baron Corbin: Reigns wins via Spear @21:20 – ** 1/2
Women's Royal Rumble: Charlotte wins @54:20 – ***
SmackDown Women's Championship: Bayley (c) vs Lacey Evans: Bayley retains via Roll-Up with the Tights @9:20 – **
WWE Universal Championship: The Fiend (c) vs Daniel Bryan: The Fiend retains via Mandible Claw Hold @17:35 – *** 1/2
Raw Women's Championship: Asuka vs Becky Lynch (c): Becky retains via DisArm-Her @16:25 – *** 1/2
Men's Royal Rumble:  Drew McIntyre wins @60:50 – ****
Analysis:
Given the fact that I had to get myself together to leave for the get together and drive to the location, I missed most of the Pre-show, so whatever happened on there won't be covered in this article.
Falls Count Anywhere: Roman Reigns vs King Baron Corbin – Early outside brawling and clearing off the Spanish announce table within the first like 5 minutes of the match felt a bit much. Like we know the joke, but so quick, really? Roman does get put through the table, and then we get some brawling through the crowd. Fast forward a bit through intermittent strikes and walking, Roode and Ziggler come out for the sneak attack. The Usos make the save and then the camera focuses on the brawling helpers. I didn't really like the fact that the main participants weren't seen for a little bit, but between Uso death from above coming into screen and Roman hitting a cool Superman Punch from outside of camera shot, it was helped a lot by clever shot selection. The porta potty spot got a big pop, but the fact that Corbin didn't come out with crap or blue stuff on him, it felt a little too gimmicked. Also a huge missed opportunity when Corbin was pulling at the tarp over the dugout, and it didn't reveal someone on a headset with a tablet or something. Either way, Roman Spears Corbin on the World Series letters on the dugout for the win, and it's a nice looking spot. The match was slow at times, and struggled to get to the end with general lack of crowd energy or even urgency from the wrestlers. Decent, but underwhelming.
Women's Royal Rumble – This match really suffered from an obvious gap between the women's abilities. Dana, Kelly Kelly, Tamina, Lana and Zelina made everything they did look a bit rough. Hell Sarah Logan looked like she tripped coming into the ring and just kinda groped and threw hands randomly until she stopped flailing. Liv Morgan's spot was fine since she really just wanted to go after Lana. Mighty Molly put on a decent showing, Bianca Belair looked great and got made a little being the Iron Woman of the match. I give a lot of credit to Beth Phoenix for sticking in the match even though she was cut and bleeding pretty bad. Santina was a solid comedy spot and callback with Beth even if people are up in arms that it took shine away from a potential someone. Charlotte looked pretty decent in the match, but also never really was a crowd favorite during the back and forth. Shayna is an interesting situation, because we all realize her age should play into her getting brought to Raw or SmackDown, but she never seems to win in the situations the IWC deems fit. The match was fine, but some things were just rough. Oh and yes yes, Otis was funny and I realize Sonya falling into Otis and Mandy to cause the elimination could cause a split in Fire and Desire. But it's not like those two are really moving the needle anyway, so a split could help.
SmackDown Women's Championship: Bayley (c) vs Lacey Evans – This poor match was in the death spot. After nearly an hour Rumble the crowd was dead and it's not like either of these two light the world on fire. Bayley had her trademark awkward moments and Lacey continues to literally slip during some of her bigger spots. She saved herself after a Wrecking Ball Dropkick nearly dropped her on her head, and then slipping off the top rope, she saved into a Discus Forearm (or something, the camera angle was very convenient). Bayley winning via Dirty Roll-Up I suppose leaves a door open for Lacey to say it was shenanigans. But hopefully Charlotte just uses her Rumble win to challenge Bayley, pay back the cash in and maybe revive that dreary SmackDown Women's division.
WWE Universal Championship: The Fiend (c) vs Daniel Bryan – NO RED LIGHT! YAY! We haven't seen a strap match in a while, and for good reasons, these are odd. Short momentum dives,lots of whipping moments and Bryan's desperation kicks to the balls were kinda dumb honestly. I get the win at all costs mentality, but it seems like the only answer WWE has to dire situations is the crotch shot. Bryan had some solid hope spots, and it wasn't really bad, especially since Fiend matches have been kinda lame. But we get a solid match, Knee Plus, Labell Locks, Bryan hit him with everything, and then as the camera pans out, The Fiend is standing and you can see the "you've got to be kidding me" paint across Bryan's face. So story was solid, emotion was there, just the dynamic had the match feel a little clunky to me. All in all, Bray's best title defense so far.
Raw Women's Championship: Asuka vs Becky Lynch (c) –  I give Becky a lot of credit here. The match was patterned more like a Joshi match with stiff strikes, snapping suplexes and fun times on and off of the apron. Becky wrestled a match a little different than what she usually does, and it played well with the fact that she felt like Asuka was on a different level. However, the Elevated Rock Bottom, took too long to set up, looked awkward and far too cooperative. Then things got a little awkward, and I really don't like that during the referee bump spot, the referee was in such a safe spot, he looked like an idiot trying not to turn during the mist attempt. Yes the finish looked cool, and it was still a solid match, but it could've been better if it weren't for that one spot setting some odd pacing and breaking things down a little. Still good, but it could've been great.
Men's Royal Rumble – Very clever entrants here. Elias is still over and he has to come out at 2, while there's nothing going on for his gimmick to sink in. Rey, Kofi and Big E effectively trying to be the Avengers and take down the big bad guy, but fell a little short. Brock was getting cocky, and even had a nice moment with Keith Lee. The fact that Brock was impressed and surprised with the new challenger is a decent rub, even if the moment didn't last very long. Ricochet having to do the nut shot, to set up Drew McIntyre for the Claymore elimination looked great, but again, that damn nut shot. Yes, that could've just been seen as a receipt from Monday, but still, start poking people in the eyes or pulling out notebooks and give paper cuts, just get clever. Drew had a huge Rumble moment just staring down and eliminating Brock, much less how the match ended.
After the Brock elimination erupted the crowd, things were paced out well for the second huge moment with Edge returning to the ring. I did appreciate the moment when Seth realized he was outnumbered and tried to appeal to Roman, even though he hit him with a Stomp earlier.The fact he got a few finishers and then dumped out like the garbage he is, was beautiful. Edge reminding people why he was the Ultimate Opportunist, by eliminating Orton before he could strike on him, was classic. Even Orton wasn't really angry as he walked passed the ring mics and you just got a dismissive grumble. Edge lasting until the final 3, and Roman being the last one that Drew eliminated was so perfect. This was a great crowning achievement for Drew, and should turn into him beating Brock at WrestleMania…but that part we'll have to wait and see.
Overall Score: 7.5/10
This was pretty enjoyable through and through. Aside from feeling like the Roman/Corbin match was a little long and plodding…and Bayley's match is well, Bayley's match – the rest was good! Even though I was probably more unimpressed by the Women's Rumble than others, it wasn't bad. Just the bad wrestlers stuck out far more than in the men's match. I mean if any other match happens, and you hear you have to tolerate Kelly Kelly, Tamina, Lana, Dana Brooke and Zelina Vega…I'm taking the cyanide pill and I think you would too.
Still, Becky gets the monkey off her back with the big win and the show ends with the Drew standing victories to a very happy crowd. Sending the crowd home happy is always a good way to improve show reception.
Lastly, the prospect of Rated RKO possibly coming back for WrestleMania, is a nice nostalgia moment, if for no other reason than I get to hear a little Burn in My Light again. RANDY GO BACK TO BURN IN MY LIGHT DAMMIT!
*breathes*
Okay I'm better. Good show, leaves some room for future main roster events to do better, but a nice bar to set.