Andrew's Top 5 Matches: Week Ending 1/26/2020
We're coming off a solid weekend of action! What made the Top 5 this week?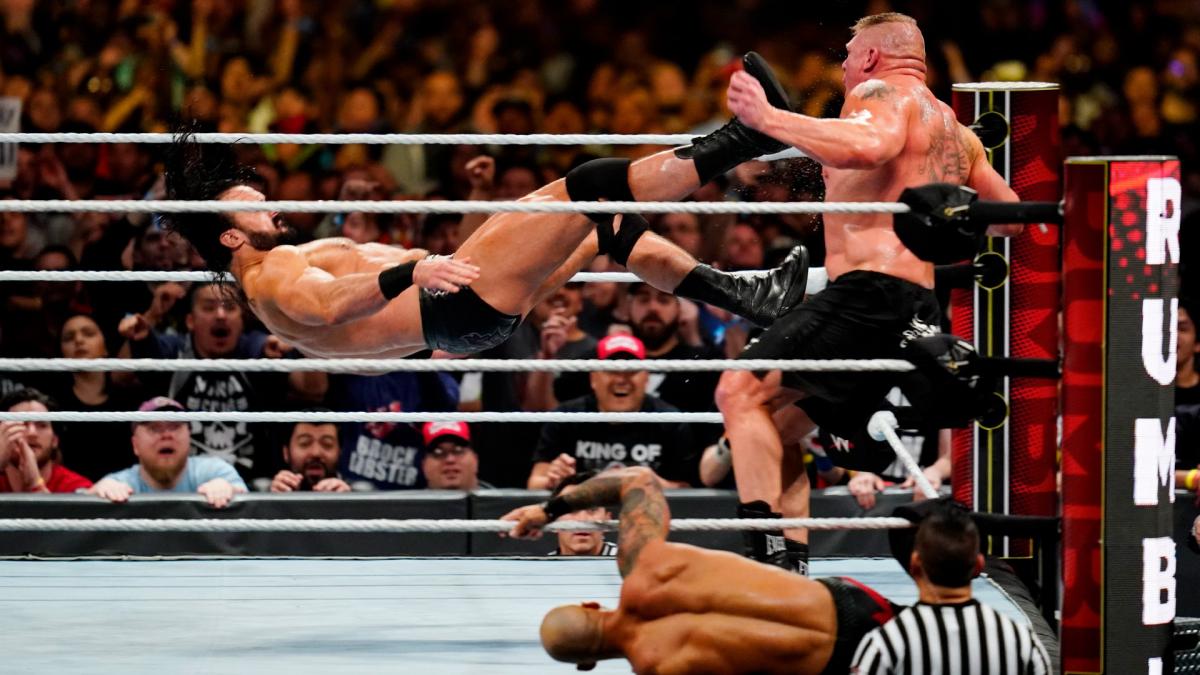 We're coming off a solid weekend of action! What made the Top 5 this week?
Last week's vote went the way I mostly expected. No disrespect to the match that won, but visibility definitely played a part in voting. South Wales Subculture vs The BROserweights, were successful in last week's voting.
This week should be interesting since it's all pretty easily accessible and there's a tie for fifth place. So we're going to get six matches to choose from!
Quick Top 5:
Worlds Collide: DIY (Johnny Gargano & Tommaso Ciampa) vs Moustache Mountain (Trent Seven & Tyler Bate)
Rating: **** ¼
Worlds Collide: Imperium (WALTER, Alexander Wolfe, Marcel Barthel & Fabian Aichner) vs The Undisputed Era (Adam Cole, Kyle O'Reilly, Bobby Fish & Roderick Strong)
Rating: **** ¼
NWA Hard Times: NWA World Women's Champion: Allysin Kay (c) vs Thunder Rosa
Rating: ****
Worlds Collide: Ilja Dragunov vs Finn Balor
Rating: ****
WWE Royal Rumble: Men's Royal Rumble
Rating: ****
Worlds Collide: Cruiserweight Championship 4 Way: Isaiah Scott vs Jordan Devlin vs Angel Garza (c) vs Travis Banks
Rating: ****
Honorable Mentions:
NXT: NXT North American Title: Roderick Strong (c) vs Keith Lee
Rating: *** 1/2
NWA Hard Times: NWA World Championship: Nick Aldis (c) vs Flip Gordon
Rating: *** 1/2
WWE Royal Rumble: Raw Women's Championship: Asuka vs Becky Lynch (c)
Rating: *** 1/2
WWE Raw: US Championship Ladder Match: Andrade (c) vs Rey Mysterio
Rating: *** 1/2
NWA Hard Times: NWA Tag Team Championships: Wildcard vs Drake & Storm vs Rock n Roll Express(c)
Rating: *** 1/2
WWE Royal Rumble: WWE Universal Championship: The Fiend (c) vs Daniel Bryan
Rating: *** 1/2
AEW Dynamite: PAC vs Jon Moxley
Rating: *** 1/2
WWE Raw: Randy Orton vs Drew McIntyre
Rating: *** 1/4
NXT: BROserweights vs Imperium
Rating: *** 1/4
IMPACT!: Trey & Tessa Blanchard vs Taya Valkyrie & Ace Austin
Rating: *** 1/4
Worlds Collide: NXT Championship: Rhea Ripley (c) vs Toni Storm
Rating: ***
WWE Royal Rumble: Women's Rumble
Rating: ***
NXT: Grizzled Young Veterans vs The Undisputed Era
Rating: ***
NWA Hard Times: Vacant NWA TV Title: Trevor Murdoch vs Ricky Starks
Rating: ***
WWE SmackDown: John Morrison vs Kofi Kingston
Rating: ***
WWE Raw: Becky Lynch vs Kairi Sane
Rating: ***
5t. Worlds Collide: Cruiserweight Championship 4 Way: Isaiah Scott vs Jordan Devlin vs Angel Garza (c) vs Travis Banks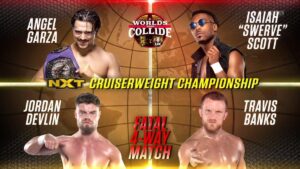 From My Analysis:
Usually multiple person Junior style matches have their issues, but this was surprisingly fantastic. The moves made sense, no real cliche spots and each man got a decent chance to shine. Travis Banks looked great, he had a decent chunk of time where he was taking people out and stacking them in the corner for a big Cannonball Splash. He also had a great near fall after Slice of Heaven and a Kiwi Crusher (is that just the move of New Zealand wrestlers). Scott had a few late moments to grab the win, but a Doomsday Dropkick/Poison Rana combo messed that up a bit. Garza hit the Wing Clipper on Scott, but Devlin slides in, breaks up the pinfall with a deliberate Headbutt. Devil Inside on Swerve and we have a new champion! Great stuff, fun match, innovative spots but never felt like gymnastics for no reason.
Winner: Devlin via Devil Inside
5t. WWE Royal Rumble: Men's Royal Rumble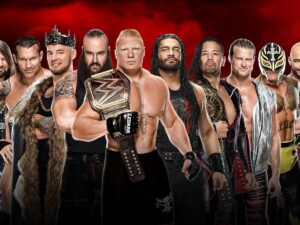 From My Analysis:
Very clever entrants here. Elias is still over and he has to come out at 2, while there's nothing going on for his gimmick to sink in. Rey, Kofi and Big E effectively trying to be the Avengers and take down the big bad guy, but fell a little short. Brock was getting cocky, and even had a nice moment with Keith Lee. The fact that Brock was impressed and surprised with the new challenger is a decent rub, even if the moment didn't last very long. Ricochet having to do the nut shot, to set up Drew McIntyre for the Claymore elimination looked great, but again, that damn nut shot. Yes, that could've just been seen as a receipt from Monday, but still, start poking people in the eyes or pulling out notebooks and give paper cuts, just get clever. Drew had a huge Rumble moment just staring down and eliminating Brock, much less how the match ended.
After the Brock elimination erupted the crowd, things were paced out well for the second huge moment with Edge returning to the ring. I did appreciate the moment when Seth realized he was outnumbered and tried to appeal to Roman, even though he hit him with a Stomp earlier.The fact he got a few finishers and then dumped out like the garbage he is, was beautiful. Edge reminding people why he was the Ultimate Opportunist, by eliminating Orton before he could strike on him, was classic. Even Orton wasn't really angry as he walked passed the ring mics and you just got a dismissive grumble. Edge lasting until the final 3, and Roman being the last one that Drew eliminated was so perfect. This was a great crowning achievement for Drew, and should turn into him beating Brock at WrestleMania…but that part we'll have to wait and see.
Winner: Drew McIntyre
4. Worlds Collide: Ilja Dragunov vs Finn Balor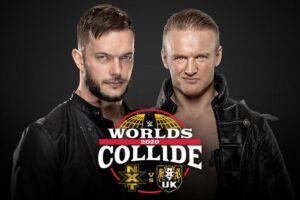 From My Analysis:
Well..wow. Nigel did a great job painting the picture of Ilja's backstory. Explaining how he was homeless and had nothing, added to excitement when he started coming back at different points. The dive fake, that turned into an interesting Bottom Rope Splash to the outside was really interesting. Dragunov's Roman Style Deadlift Suplex Hold looks great, and Finn sold dead during the execution. Simple but exciting Splash style dives, the rope hung Coast to Coast looked good, and this really did a great job at getting Ilja over to a bigger audience. Finn was able to quell the younger wrestler and put just enough together to escape with the win and maybe a broken nose. Damn great match that helps Ilja build to future glory.
Winner: Finn Balor via Bloody Sunday
3. NWA Hard Times: NWA World Women's Champion: Allysin Kay (c) vs Thunder Rosa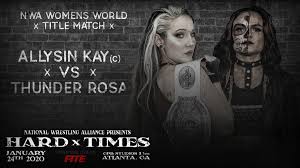 From Adam's Review:
 Both women give it everything from the start. Allysin takes the first advantage, out powering Thunder Rosa at every stop until Rosa pulled Allysin's arm on the rope, neutralizing her right arm for the match. High spots and attacks from Rosa along with multiple Fujiwara Armbars to take Allysin's arm out of the equation. Reversals and momentum changes all around, from Allysin's AK47, catching Thunder Rosa from the top rope to Thunder Rosa guillotine choking Allysin in the corner. You can tell they left everything in the middle of the ring but in the end, Rosa dealt enough damage to Allysin Kay's arm to keep her out of the fight and deliver the Thunder Driver (Modified Michinoku Driver) to secure the victory.
Winner: Rosa via Thunder Driver
2. Worlds Collide: Imperium (WALTER, Alexander Wolfe, Marcel Barthel & Fabian Aichner) vs The Undisputed Era (Adam Cole, Kyle O'Reilly, Bobby Fish & Roderick Strong)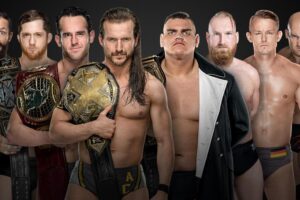 From My Analysis:
Well now, holy different kind of a match Batman. Alexander Wolfe got knocked out of the match after a double team move from Roddy and Fish, and it looked legit. At that point the match felt a bit more on the fly/called in the ring, whatever you want to call it. Imperium was rattled early on, some moves weren't perfect and there was a lot of talking between faction members which was either wonderful acting that they had to improvise, or them actually improvising. Either way, the fact that Imperium was a man down early, behind the eight ball and obviously shaken this made for an interesting story.
We saw the pack mentality of Undisputed Era in full effect, where Imperium stood strong to their gimmick of "the mat is sacred". They never took shortcuts, Aichner and Barthel got a good amount of shine for themselves, but WALTER was the star of this show. Every time he got in the ring, he was a difference maker. So much so that Roddy, Bobby and Kyle all focused him to find a way to put him through an announce table. Era realized that they needed to win while WALTER was down, and that's when Aichner and Barthel showed that the team wasn't just all WALTER. Great pin break ups, double teams and awesome work from the main tag team of Imperium. WALTER is then seen on the apron, he gets the tag, we get a lot of chaos that ends in everyone except Fish and WALTER doing big wipe out dives. Fish attempts a Moonsault, misses, John Woo Dropkick from WALTER, Powerbomb and Imperium survives the deficit.
Winner: WALTER via Powerbomb
1. Worlds Collide: DIY (Johnny Gargano & Tommaso Ciampa) vs Moustache Mountain (Trent Seven & Tyler Bate)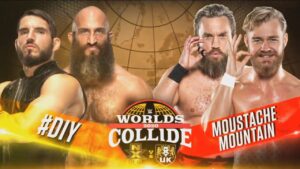 From My Analysis:
 So they really play up the nostalgia and dueling babyfaces for the first part of this match. Lots of respect, lots of old classics and playful spots before the match gets more serious. Nice callbacks to each team's history when DIY had the stereo submissions, like when they beat The Revival, but Moustache Mountain fights out. Moustache Mountain hits the Knee Drop/Burning Hammer combo that won them so many matches early on in the WWE matches, but that gets broken up. Given that this was really just a dream match with a bunch of feel good/nostalgia callbacks, there's not a ton to extract story wise; it was really just a great match between four guys who are pretty damn good at what they do.
Winner: DIY via Meet in the Middle
Thoughts:
So this was a pretty fun week. Hard Times was great, World Collide was fantastic and the Royal Rumble was damn good with nice moments. It should be no surprise they each had some place in the Top 5.
When it comes to my vote, I'm gonna vote for, NWA Hard Times: Thunder Rosa vs Allysin Kay. Great match, that got a good amount of time and told a fantastic story. Rosa is also a great choice as champion to carry the banner for the near future.
Mitchell's Wednesday Night War Review! The End!
The Wednesday Night War… is DONE!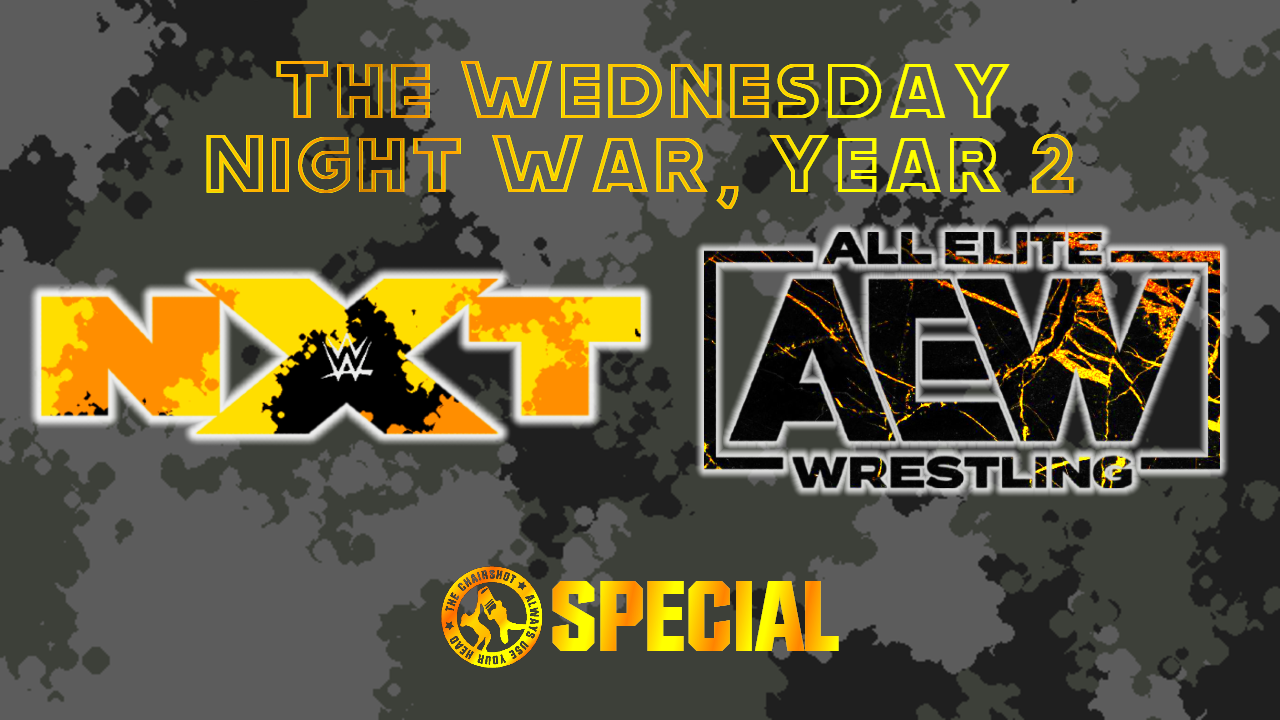 Thank you, Wednesday Night War! It was fun while it lasted!
With NXT moving to Tuesdays, the wrestling war on Wednesday nights is no more! But let's see where both sides stand now that the dust settles!
Let's recap Year Two's first phase.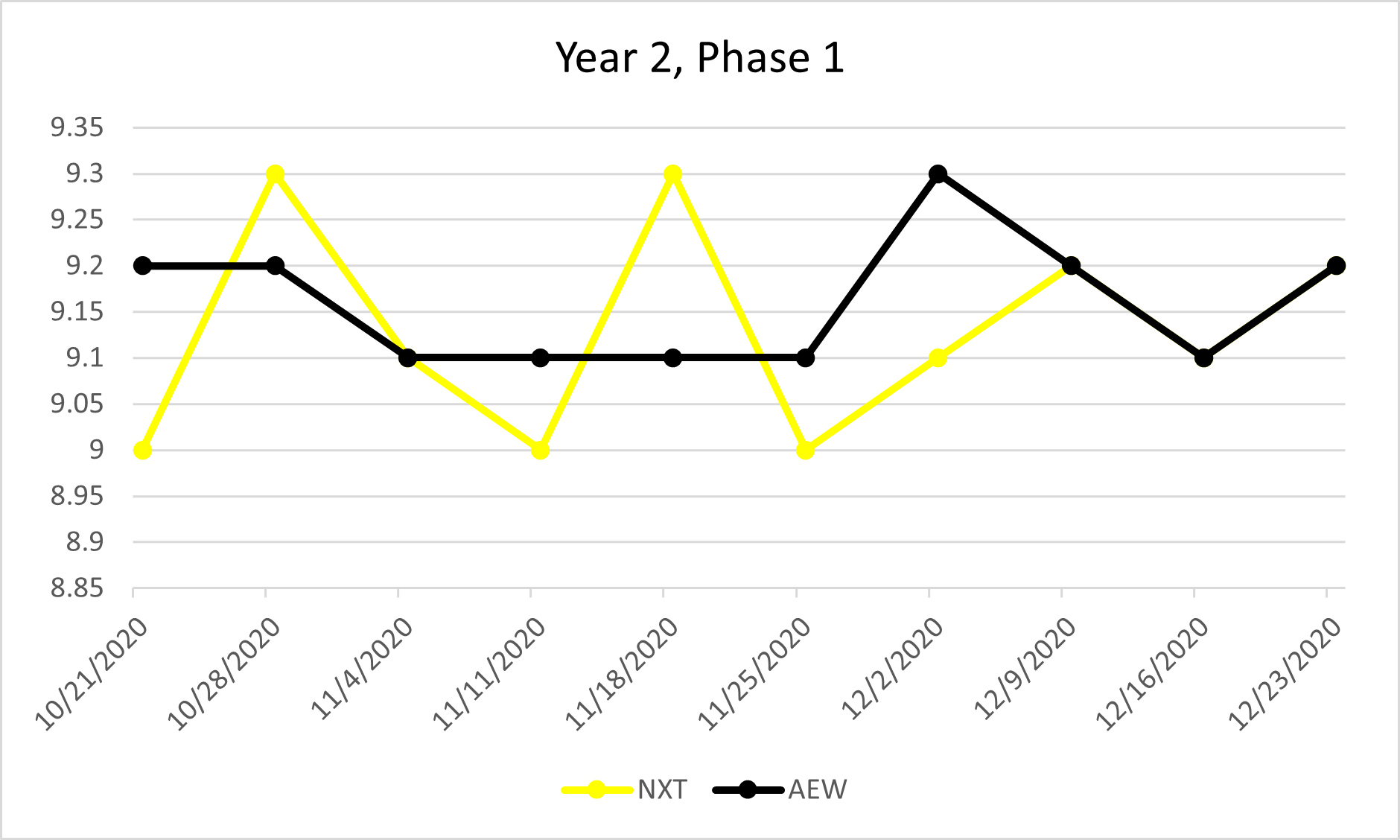 Year Two, Phase One Final Scores: NXT – 9.13; AEW – 9.16
The margin was close as ever, but AEW inched out the win to continue their dominance from Year One! Don't worry, NXT went past 12/9/20, it's just that they and AEW tied those last three weeks. And you'll notice that I left 12/30/20, the last Wednesday of the year, off because of the circumstances. Jon Huber, aka Brodie Lee aka Luke Harper, past away just days before that night, and AEW changed their plans to give us a "Celebration of Life" tribute episode. It did not feel right trying to give that show a score, because it wasn't supposed to be about AEW but about Jon Huber. And to be fair to AEW's score, I left off NXT's episode for that night, even though NXT did have great action on their Year-End Award episode.
Now, for Year Two's Phase Two, the WNW FINALE!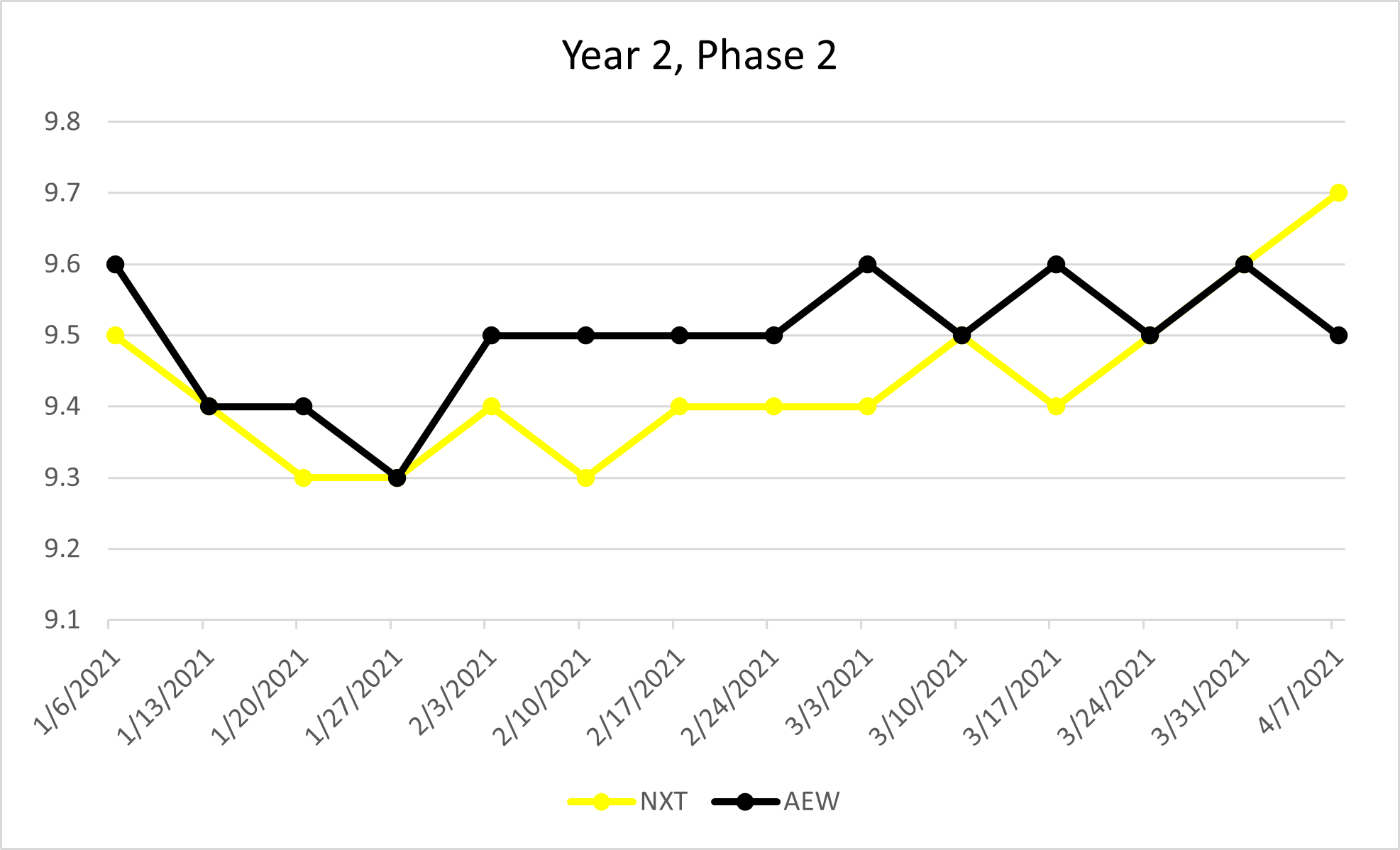 Year Two, Phase Two Final Scores: NXT – 9.44; AEW – 9.50
Year Two, Overall: NXT – 9.31; AEW – 9.36
Much stronger numbers from both sides this time, but these two companies started hard and kept going hard from New Year's Evil VS New Year's Smash all the way to TakeOver: Stand & Deliver and… Well, the AEW Dynamite put up against it. Just looking at it, that string in February for AEW made all the difference. They were just on fire right there, building towards AEW Revolution 2021, which itself was an awesome PPV (even with the pyro mishap at the end).
The margins were still close, but bigger than last phase's, and even with TakeOver: Stand & Deliver Night One bringing NXT up to a high level, it was not enough! AEW wins again! They win two phases to zero, and are therefore the overall winner of the Wednesday Night War!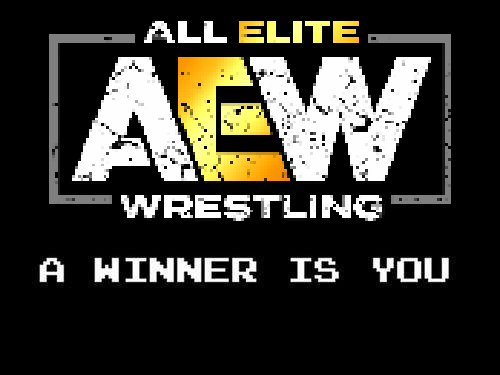 My Thoughts:
The Wednesday Night War may not have been as epic as the Monday Night War, or as long, but it was a lot of fun. NXT and AEW were giving us great wrestling every week, not just in-ring action but the promos and segments. The wrestlers on these shows are now stars because they got to be on cable network television, and literally kept me up late at night because I could not let either show wait until Thursday morning. But now, #NXTuesday is going to be how it is going forward, and we can all argue one way or another why the move happened but it doesn't really matter, I'm still going to be watching both anyway.
Cook's WrestleMania 37 Night One Gambling Picks
Who's trying make money on guessing the predetermined scripts? If that's you, Cook gots all the lines you need. This isn't Breaking Bad; we only do betting lines!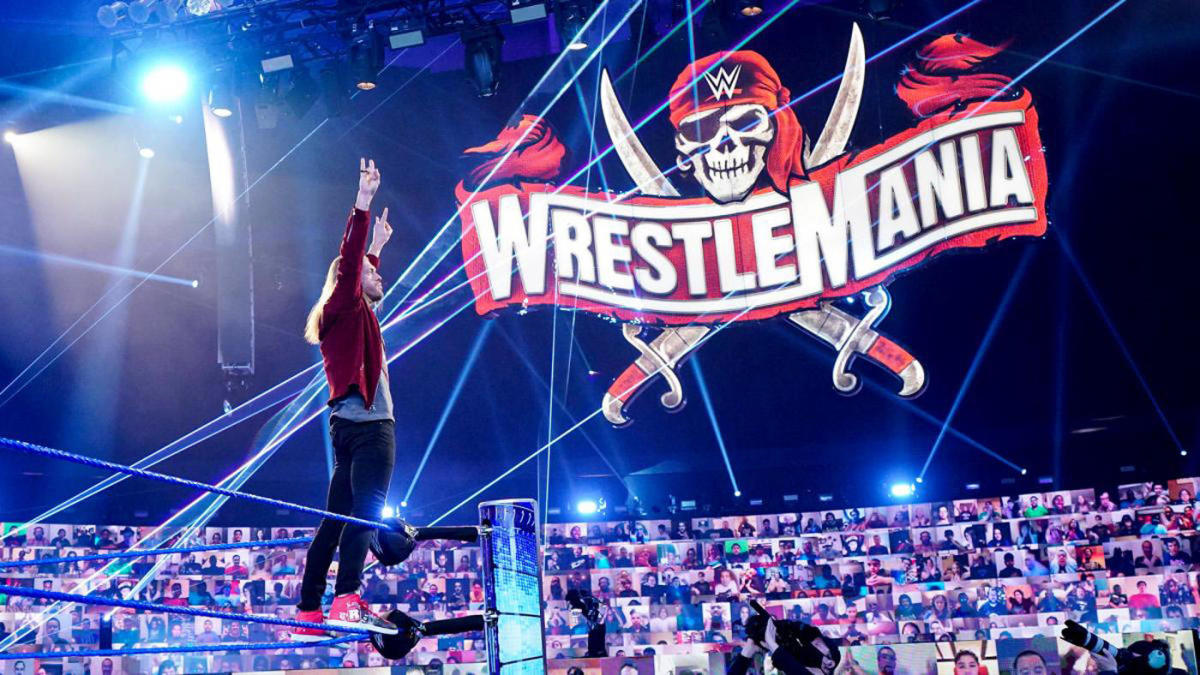 This is one of those columns that needs no real intro or explanation. Its WrestleMania! What else do you need me to tell you? Today we're talking Night One, tomorrow it'll be Night Two. Easy peezy lemon breezy.
I know that some of you prefer a 12 hour WrestleMania event, but to me, two nights is definitely the way to go. Think of it this way: instead of one night to watch the biggest show of the year, you get two. What's the downside?
Also, you can get two days to make money, if you're into the kind of thing we're talking about here. Though, I am contractually obligated to mention that my look at these matchups, with odds provided by BetOnline, is for entertainment purposes only.
Tag Team Turmoil
Lana & Naomi vs. Dana Brooke & Mandy Rose vs. The Riott Squad vs. Natalya & Tamina
History always repeats itself. #WrestleMania @TaminaSnuka pic.twitter.com/ss9FjOGYks

— Nattie (@NatbyNature) April 7, 2021
We've got a match setting up a Night 2 match here, as Nia Jax & Shayna Baszler will face the winners for the Women's Tag Team Championship. They've had some amount of issues with each team, so we can't really use that as an indicator of who will win. We also can't base it off of who will have the best match with Nia & Shayna, as that seems like a push.
We also don't have odds on this match as I write this. If some do get posted, my guess would be that Natalya & Tamina will have long odds and could be a good pick as a team WWE might want to give a little reward for their service over the years.
Bad Bunny & Damian Priest (-950) vs. The Miz & John Morrison (+500)
Dude…….#WWERaw pic.twitter.com/hE5sGI5YKC

— WWE (@WWE) April 6, 2021
We all know how this one is going, right? Bunny & Priest are the easiest pick on this two day extravaganza. I'm sure an outside celebrity lost a WrestleMania match at some point, but one isn't immediately coming to mind. I assume some are still complaining about Bad Bunny getting a WM match, I choose to be good with it since it gets Damian Priest a match too. Hopefully this all works out well for him.
Braun Strowman (-500) vs. Shane McMahon (+300)
We do this together!!!!!! #WrestleMania pic.twitter.com/rbYHQzUbm5

— Braun Strowman (@BraunStrowman) April 6, 2021
Braun is the natural pick here for obvious reasons (he's actually a wrestler), but one can easily make an argument for Shane. The usage of a steel cage rarely keeps interested outside parties out of a match, and surely Shane will have a few allies looking to make an impact on WrestleMania. We'll see Elias & Jaxson Ryker, and we'll likely see somebody else. Any big stiffs in the Performance Center not otherwise occupied could be an option for Shane here.
The thing about gambling picks: we're not always going to pick what we think will happen. I think Braun will destroy whoever gets put in his path here. But the object of this game is to make some money, and I think Shane McMahon at +300 is a good bet. Especially since I don't think this feud will be ending at WrestleMania. Still some more heat to get on this issue.
Cesaro (-300) vs. Seth Rollins (+200)
"I'm on fire. Don't touch me you'll get burned!" – @WWERollins on his #WWEHOF drip. pic.twitter.com/qNrAFkqCu5

— WWE on FOX (@WWEonFOX) April 7, 2021
Speaking of feuds that I think will extend beyond WrestleMania and will likely have the evildoer squeaking out a victory by nefarious means. I can easily talk myself into Cesaro getting a big win here, one which will lead to declarations that he's a made man and finally on the level he deserves to be at. I certainly wouldn't have a problem with that.
I think it's far more likely that Seth Rollins gets the win, and the issue between these two continues. Cesaro's big win is coming, but not at WrestleMania.
Raw Tag Team Championship Match
The New Day (+250) vs. AJ Styles & Omos (-400)
AJ Styles vs. Xavier Woods – straight out of 2008 TNA. A reminder WWE is a TNA nostalgia company. pic.twitter.com/VNU9VULZ7N

— Garrett Kidney (@garrettkidney) April 6, 2021
I've lost track of how many times I've been burnt by picking against Xavier Woods & Kofi Kingston. They have a knack for overcoming all obstacles at these major events and coming out on top. Its a good idea to keep these men featured on television, as they're positive role models for the community and I can only think of one time that one of them did something a bit embarrassing for the company.
I mean….that Jamaican accent. What were they thinking? Never mind, we got more accent stuff to talk about for Night 2, let's move on.
It is tempting to pick AJ & Omos, as there's an obvious story there hopefully leading to Omos' breakout as a singles star. That can easily be drug out though, and we don't pick against The New Day here. Their victory will be a good way to pop the crowd early in the evening.
SmackDown Women's Championship Match
Sasha Banks (+250) vs. Bianca Belair (-400)
IMPOSSIBLE, THINGS ARE HAPPENING EVERY DAY. pic.twitter.com/7iXlEA4gAe

— Mercedes Varnado (@SashaBanksWWE) April 8, 2021
This is a huge moment for Bianca, and for the Women's division in general, as the significance of two women of color fighting for a championship on the biggest show of the wrestling year can't be overlooked. Its a big f'n deal, as politicians would say.
A win here would put Bianca Belair over the top as a star in this company, and I think that's what happens here. Sasha doesn't need the championship to retain her relevancy, and it's not like any losses have hurt her standing with the people yet. She'll do whatever she can on this evening to make Bianca a star.
WWE Championship Match
Bobby Lashley (+150) vs. Drew McIntyre (-200)
"@fightbobby, how can you beat a man that will sacrifice everything?!" – @DMcIntyreWWE #WrestleMania pic.twitter.com/dFsnaKdtLl

— WWE (@WWE) April 7, 2021
People seemed legit shook when it was mentioned on Raw that this would be the main event of Night 1. Like…that wasn't obvious? As much as I like Sasha & Bianca & think they will have a fantastic match, the build of their match hasn't exactly gotten me any more excited than I was the moment after the women's Royal Rumble Match ended. Maybe y'all are more into TAG TEAM PARTNERS THAT SECRETLY HATE EACH OTHER than I am, but zero part of that whole thing seemed inspired to me. To be fair, it seemed even less inspired when Asuka & Rhea Ripley did it.
Meanwhile, this is the WWE Championship, dating back to the days of Bruno Sammartino & Buddy Rogers. Drew & Bobby's issue has been building since the Royal Rumble, and now is the time for Drew McIntyre to get the WrestleMania coronation they wanted to give him last year. Will it work?
Well, the mystery is one of the reasons we'll be paying attention.
Thanks for reading! Join me next time for Night Two!