Carol: AEW's Women's Division Needs Improvement
Carol gives some of her recommendations on how to fix AEW's weakest link.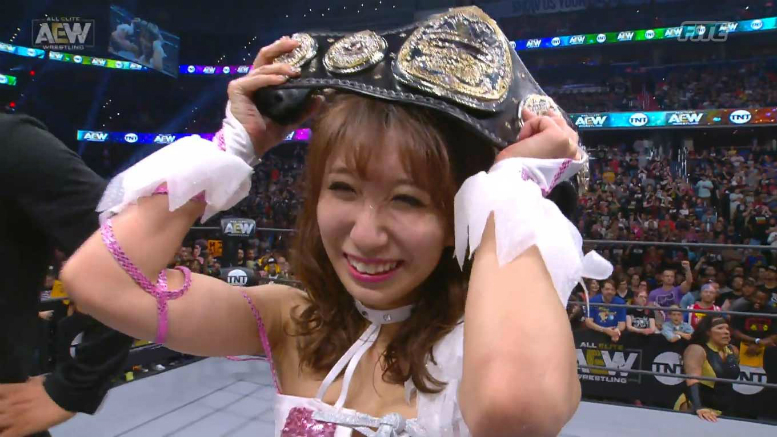 AEW has been credited with giving fans a break from the repetitive and often ridiculous storylines offered by WWE.
The company has been doing a good job of making stars out of these wrestlers and providing fans with lots of entertainment. However, there's one area that AEW needs to work on.
Their women's division has come under scrutiny since the show's debut. They have a stacked roster of female talent which includes Riho, Britt Baker, Nyla Rose, Hikaru Shida, and Kris Statlander.
Last week, it looked like AEW was finally taking a positive step in improving the women's division. Fans were going to be treated to a huge match as Kris Statlander challenged Riho for the AEW Women's Championship.
In the audience, Hikaru Shida and Britt Baker watched, curious to see who'd they eventually challenge for the women's title.
Kris and Riho were putting on a good match until The Nightmare Collective interfered. The stable consists of Brandi Rhodes, Awesome Kong, and Mel. The trio was getting back at Kris for her refusal to join the stable.
The segment wouldn't have been too bad, but they had to go and had the kooky guy Luther, who fans didn't know.
The segment was blasted by fans on social media. And one has to wonder if it did more harm to the already lackluster women's division.
During last night's episode of Dynamite, Kris Statlander and Hikaru Shida teamed up to take on Mel and Brandi Rhodes. Despite putting on a good effort, the women's match was met with lukewarm reactions from the audience.
AEW is a new company and it's going to take time to build up their stars. They're doing a good job with the men's division and the tag division, now they need to concentrate on the women.
There are a few ways they can help bring some attention to the women. The first is to make the AEW Women's Championship feel important. No offense to Riho, she's a great wrestler, but I sometimes forget she's champion. With her on a part-time schedule, she's not featured on AEW every week. I believe it's time to give the title to another girl, one that will give the championship a boost.
The next recommendation I have is to have less Brandi Rhodes. As the Chief Brand Officer, I understand it's important for Brandi to make appearances on AEW. However, I feel that she's hogging the spotlight. She's involving herself in every storyline in the women's division, and I feel she's taking time away from other girls.
Another recommendation I have for AEW is to start using more of their female roster. Currently, the show is focusing on Riho, Kris, Britt, and of course The Nightmare Collective. However, they also have Sadie Gibbs, Shanna, and Big Swole. These ladies aren't featured on Dynamite much, they're mostly seen on the YouTube show AEW Dark. It's time these ladies move from the internet to the cable show that way they can build their presence.
With a little more time and effort, I believe that AEW can build up their women's division. They've got the talent, all they need is a bit of creative direction to get fans invested in these girls.