Chairshot Wrestling News(z) Shuffle: Owen Hart, Rocky Johnson, Tessa Blanchard and More! (1/20/19)
Get caught up to speed with the biggest wrestling news stories of the week involving Owen Hart, Rocky Johnson, Tessa Blanchard and More!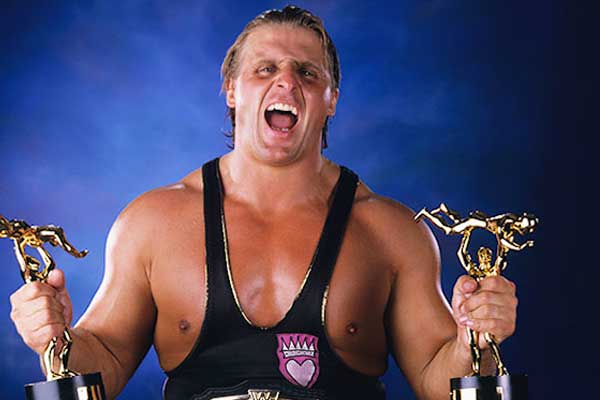 Get caught up to speed with the biggest wrestling news stories of the week involving Owen Hart, Rocky Johnson, Tessa Blanchard and More!


Dark Side Of The Ring Season II
Some of the more surprising, and watchable wrestling related programing in 2019 came from Viceland's Dark Side Of The Ring series. Earlier this summer, it was announced that there would be a second season of the critically acclaimed show. So far, the following episodes have been announced:
Brawl For All
The Benoit tragedy
Dino Bravo
The Mass Transit Incident in ECW
According to the Owen Hart Foundation Facebook page and Twitter account, Vice Media just finished interviewing both Owen's wife Martha, and son Oje for an episode discussing Owen Hart's tragic death.
Filming with NY Vice Media wrapped up in T.O. this weekend with OHF's Oje Hart & Dr. Martha Hart. Much thanks to Oscar nominated producer Evan Husney & his fab crew for all of their hard work. Dark Side Of The Ring airs this Spring on CRAVE TV! #owenhartfoundation pic.twitter.com/caJl82QHir

— The Owen Hart Foundation (@owen_foundation) January 19, 2020
Jason's Take
I thought the first season of Darkside Of The Ring was excellent, not just for long time fans, but for wrestling fans in general. It's not affiliated with WWE, which means you are going to mostly get an unbiased opinion in each episode. I am looking forward to the Owen Hart episode. While the topic has been covered in various books or podcasts, I do believe this is the first time in a long time that Martha Hart has commented on the tragedy, and will be one of the first time Oje has commented on it.
More On Tessa Blanchard
In the shuffle last week, I took a look at the racism and bullying allegations against Tessa Blanchard. Since then, even more information has come out regarding the allegations. Blanchard released an official statement via her Twitter account:
I hope everyone will take a moment to read this. pic.twitter.com/gRPUlCYd6a

— Tessa Blanchard (@Tess_Blanchard) January 17, 2020
According toe Fightful, a member of the Women Of Wrestling roster has come forward with allegations that Blanchard had a poor attitude, and confrontations with wrestlers and trainers.
Jason's Take
Many people have come forward with their thoughts on this situation, and while I think there is some validity to it, Blanchard has been the hottest name in women's wrestling since Becky Lynch, and when you are in that position, you are going to have people putting a target on your back. Obviously, Impact wasn't too worried about it and made her the company's world champion at the Hard To Kill pay per view last week.
AEW Receives Television Extension
This past Wednesday, AEW announced that the weekly Dynamite show has been extended to 2023 by WarnerMedia. Also, the companies weekly AEW Dark YouTube programming would also be moving TNT.
"When we launched AEW one year ago, we wanted to start a revolution that would disrupt the wrestling business, but everyone said that it would take a strong weekly television partner to make AEW real in the eyes of everyone – above all, the fans," said Tony Khan, president and CEO of AEW. "What virtually no one realized at the time was Kevin Reilly and TNT were committed to this very same movement from Day One, and their belief in us made it possible for AEW to think and act big from the start. Here we are, only three months into Wednesday Night Dynamite, and now we've been extended through 2023! We're now making the ultimate statement that the team of AEW and TNT is here to stay and to bring fans more of the great wrestling that the fans demand and deserve."
Jason's Take
Regardless of what many fans, and Chairshot writers, think of AEW, I find it fresh, coherent, and easy to watch. The storylines make sense, and the in ring action moves at a quick pace. You can argue that with me, and when you do, I will point you to the Lashley/Lana/Morgan/Rusev storyline in WWE. If you can coherently explain that storyline to me, then kudos.
Another Passing
Sadly, this week we mourn another passing in the wrestling world as Rocky Johnson passed away at 75. According to friends, Johnson passed away from a blood clot that traveled from his leg to his lung.
We changed wrestling by paving a new path,knocking down doors while showing what movin' n groovin' is all about!It takes two and I never would've done it without you. It showed me alot while learning more . I pray for @TheRock and his family ,I'm so sorry for your loss. pic.twitter.com/r5g9YMi3S3

— Tony Atlas (@RealAtlas) January 16, 2020
Jason's Take
A rough start to 2019 with all the losses in the wrestling world. Our thoughts and prayers with the Johnson family in this difficult time.