Chris Deez's 2020 WWE Royal Rumble Predictions
Chris Deez is back! And he's brought his own personal Royal Rumble predictions with him!
Chris Deez is back! And he's brought his own personal Royal Rumble predictions with him!
How about this for a surprise entrant? It has been nearly 2 years but the medical team have cleared me after a few too many bumps to the head and I'm back to active competition! What better way to mark my return than by sharing my predictions for my favourite WWE pay per view of the year – The Royal Rumble. What surprises will we see, if any? Can Daniel Bryan finally overcome The Fiend? How will WWE start to build towards The Showcase of the Immortals during this, the first stop, on the Road to WrestleMania? 3… 2… 1… *buzzer*
---
Sheamus vs. Shorty G
I'm not going to give this one too much attention, just like WWE Creative clearly haven't either. In what I'm sure will be a run of the mill squash match, Sheamus will go over pretty quickly to remind us all what he is capable of. Don't get me wrong, I'm a huge Sheamus fan, but I'm sick to death of this whole "You are short and I am tall, so we must fight!" crap. We saw it with Corbin vs Finn, Corbin vs Gable and now this. It's boring and it screams of not knowing what to do with the talented guys involved. It's not big and it's not clever… pun very much intended. I could work for Creative!
Winner – Sheamus
---
Bayley (c) vs. Lacey Evans
Smackdown Women's Championship Match
Lord give me strength. What is the point of Bayley holding this belt still if all they're going to do is keep building for what happens when she loses it already? Sure, her heel turn late in 2019 was a revelation but boy did it fall short quickly. I'm a big fan of Lacey and I can see exactly why Vince wants her as the face of the Smackdown women's division (Wait am I allowed to say that anymore Becky?) but I've not been a fan of this rivalry at all. Not because of the talent involved, not at all, but because of just how unimportant this feud feels. It's painfully obvious that this is heading toward Lacey as champion taking on Sasha Banks, hence why WWE keep protecting Banks while having Lacey go over Bayley clean. Lacey should win this one clean, though I'm sure we will see Sasha at some point, and set up Lacey's first defense at WrestleMania.
Winner – Lacey Evans
---
Andrade (c) vs. Humberto Carillo
United States Championship Match
If Andrade loses the title here, I'll strongly consider cancelling my WWE Network sub, until I inevitably don't and just go back to watch WrestleMania 17 instead. WWE have slept on Andrade for such a long time and while Humberto may be extremely talented, there is nothing marketable about him. Nothing outstanding. Nothing to get people tuning in. Andrade, with Zelina Vega by his side, is one of the top attractions in all of WWE right now. Look no further than his incredible programm with Rey Mysterio over the last few months, putting on MOTY contenders every single week. 2020 is a big year for Andrade, let's start it off right with a lengthy and entertaining US Championship reign.
Winner – Andrade
---
Becky Lynch (c) vs. Asuka
RAW Women's Championship Match
This is a tough one as I like both women involved. Becky has had a fantastic 2019 and fully deserves to continue for the foreseeable future as champion, but if she beats Asuka here who is there left to challenge her? The logical choice would be the winner of the women's Royal Rumble match, especially with Lacey v Sasha lined up on the blue brand, but surely then we need somebody new? Shayna Baszler would make the most sense or a returning Ronda Rousey. Please god, not Charlotte Flair again. My prediction here is a bold one but I can see Asuka taking the belt from The Man so that we get some new and fresh matches. It would certainly make a nice change as the product seems to be full of rematches at the moment. How about Asuka vs Ronda? Yes please!
Winner – Asuka
---
Roman Reigns vs. King Corbin
Falls Count Anywhere
Also known as Roman & The Uso's vs Corbin, Dolph Ziggler & Robert Roode in a 3 v 3 tornado tag team match. That's exactly where this is heading and I'm quite fine with that. Though the feud has been going on for way too long, I for one have found it thoroughly entertaining but that may be because I absolutely adore King Corbin. This match should be a blast and follow much the same formula as the majority of these matches do. My prediction though is another bold one as I'm going to plump for Corbin to come out victorious. The win would set him up nicely with WrestleMania around the corner and frankly he deserves it a damn sight more than most of the roster. Cast your mind back to a couple years ago… Baron Corbin, or the Lone Wolf if you INSIST, was a hot pile of stinking garbage. Sloppy and slow in the ring. Horrendous with a microphone in his hand. The guy couldn't catch a break. Fast forward to today and he is cutting funny promos, showing greatly improved in ring work and has become the stand out heel in the business as a whole. Long may the King rule over us! Don't get me wrong, I have no issue with Roman Reigns, but he simply doesn't need this one. Corbin losing here would crush all of his momentum, whereas Roman would recover quite easily due to favourable booking.
Winner – King Corbin
---
The Fiend (c) vs. Daniel Bryan
Universal Championship Strap Match
Am I the only one who has cooled off on The Fiend? I love the character and most of the execution, but it is starting to feel like we have a part time champion again. This storyline has been nothing short of fantastic, with a more focused and driven Bryan back to his babyface best while Bray continues to be absolute fire in his promos and vignettes. I expect this match to go much the way of all The Fiends previous bouts, with him being overpowered by the challenger, no selling most of the offence before a final flurry of offence secures him the victory. Why am I so confident? Because Roman will 100% win the Rumble and finally be the one to take down the Fiend. It's painfully obvious and just not what we want or need right now. The Fiend should defend more often and keep the belt for as long as possible, until it becomes stale and uninteresting. The character has been such a breath of fresh air and a much deserved push for the immensely talented Bray Wyatt that stopping the reign anytime soon would once again kill all momentum he has built and further reduce his stock in the company.
Winner – The Fiend
---

Women's Royal Rumble
Two days to go until the Royal Rumble and we literally know 4 of the women who will be entering the match, which makes it quite hard to makes an informed prediction, though i do find it quite refreshing. We watch the Royal Rumble for the surprises, for the drama, for the unexpected moments and by only announcing four competitors we have the potential for a match full of surprises. Compare this to the men's Rumble where we have had 22 competitors announced, plus the obvious inclusion of NXT superstars and it logically only leaves us with a couple of surprises at most.
I sincerely hope that Shayna Baszler steps up from NXT permanently, enters the Rumble and wins the whole thing from fairly early on, maybe around the number 10 spot. It would also be nice to see a couple of feuds start off or reignite here as there is so little storytelling in the women's divisions currently. Unless you count Lana, Lashley, Liv and Rusev, which I don't. Main roster women's wrestling has never felt so unimportant. We need to see more than just the four horsewomen featured heavily. The the most logical outcome that I can think of is Shayna winning to reignite the feud with Becky that was started at Survivor Series when Shayna went over both The Man and Bayley. Some things that I think will happen along the way:
Nia Jax returns
A few legends spots for the likes of Lita & Trish Stratus.
Lots of NXT entrants such as Candice, Io Shirai, Shotzi Blackheart, Scarlett Bordeaux.
Losers of championship matches to enter.
One of The Kabuki Warriors to eliminate the other.
Paige does NOT return.
Probably some more BS with Lana and Liv.
Final Four – Shayna, Charlotte, Sasha, Shirai
Winner – Shayna Baszler
---
 Men's Royal Rumble
Here we go. The big one, and one of the most intriguing for a long time. From Brock Lesnar declaring himself as the first entrant, to heavy involvement from NXT, there are a lot of questions around this year's Rumble and a lot of potentially awesome moments. Most people have Roman Reigns down as the winner here and it's easy to see why. He has remained out of ay title scene since returning from Leukaemia and has certainly paid his dues over the last year with some quite awful booking, which is why he remains my choice to win. There are a few other names worth mentioning such as Drew McIntyre who is another strong favourite to win and in my eyes the most deserving potential winner. Drew has really turned a corner in his WWE career, involving the crowd in his matches, spitting absolute gold on the mic and maintaining his high level of in ring talent which once had Vince McMahon dubbing him as The Chosen one. Let's get one thing straight though… Brock is not winning this match. Whoever eliminates him will likely end up being his WrestleMania opponent, so him winning makes zero sense at all.
Keith Lee winning the NXT North American Championship this week pretty much confirms he won't be winning, but aside from the question of who will win we also have some mouth-watering potential match ups to come. How about Brock squaring off with long-time critic Matt Riddle? Keith Lee and Samoa Joe slugging it out? This might be the most excited I've ever been for the Rumble!
Things I'm expecting to see:
Cain Velasquez eliminating Brock
Mysterio to eliminate Andrade
I'm still 50/50 on Edge returning or not
More hi-jinks from Kofi
Ricochet to equal those hi-jinks
Titus to pretend he's going to slide under the ring… again
No comedy spots or entrants. The pool is too crowded with legitimate talent this year
Final Four – Roman, Drew, Ricochet, Tommaso Ciampa
Winner – Roman Reigns
Bodeen's Top 5 Moments: WWE NXT 7/20/21
Even if the verdict is out on what Kross' venture to Raw will have in store for the future; NXT still did a good job keeping the bus moving forward! Check out Bodeen's Top 5 Moments from the Black and Gold brand!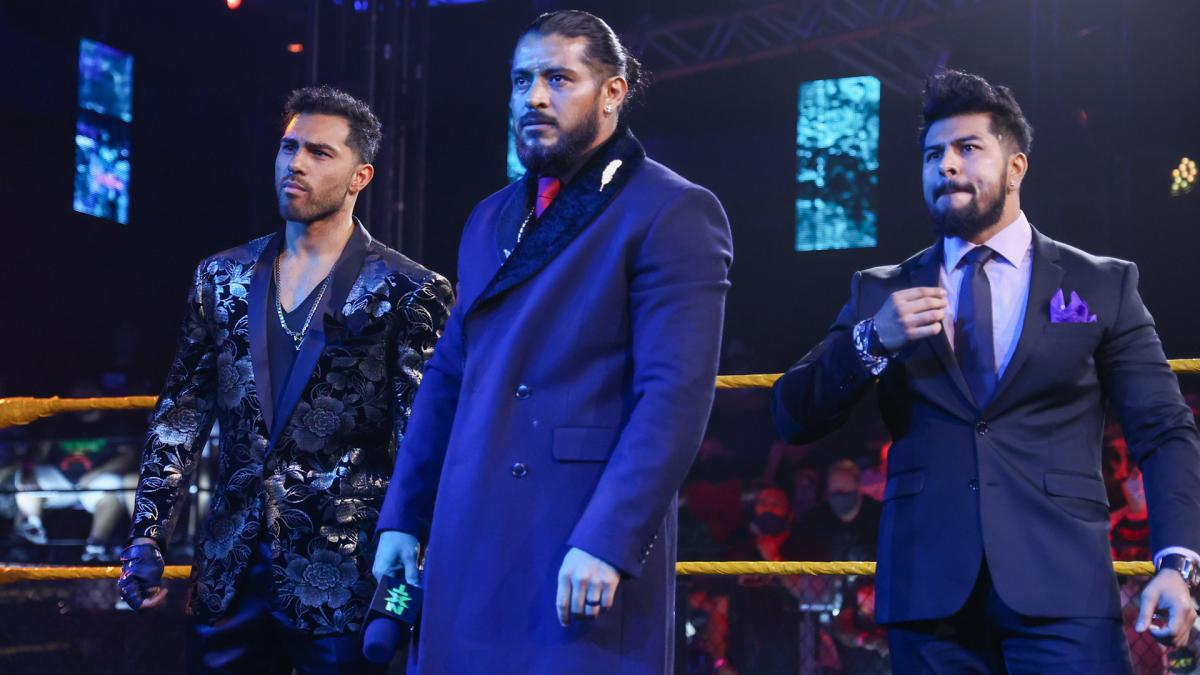 With last week's episode of NXT ending with NXT Champion, Karrion Kross choking out enforcer, Samoa Joe after Kross's match with Johnny Gargano for the NXT Championship, it was finally time to see the aftermath and result of Kross's actions this week on NXT. We would also see former Undisputed ERA members Roderick Strong and Bobby Fish battle in tag team action and more on another great episode of the black and yellow brand.
So, without further ado, I am Bodeen Green and I am here once again to look at the good and do my best to ignore the bad and the ugly as I bring you my top 5 moments from this week's edition of NXT.
5. NXT General Manager William Regal tries to calm down a furious Samoa Joe to open the show 
After NXT Champion, Karrion Kross choked out special guest referee Samoa Joe next week, revenge would be on the mind of the Samoan Submission Machine as he opened the show to call out Karrion Kross. Unfortunately for Joe, William Regal would come out and tell Joe to calm down and told him that he wanted things to be settled peacefully as Samoa Joe was actually a referee last week and not an enforcer, thus meaning his rule about being allowed to attack someone after he has been provoked didn't mean anything.
A furious Samoa Joe told William Regal that Regal could not control Kross, referencing Kross' appearance on Monday Night Raw the night before. Joe told things that we would end things tonight out of respect for the NXT General Manager but Joe could not promise that things would end peacefully between the two men.
This was an amazing segment as Samoa Joe proved once again why he is one of the best of the mic. The fact WWE released Samoa Joe feels so weird considering how good Joe is at everything he does. While he may have more matches behind him than in front of him, Joe still is amazing on the commentary table and has also proven he is great on the mic as an authority figure.
4. Former Undisputed ERA members collide as Bobby Fish teams up with Kushida to take on Diamond Mine  
Former Undisputed ERA members, Bobby Fish and Roderick Strong would get a chance to face off against each other as Fish teamed with the NXT Cruiserweight Champion, Kushida to take on  Roderick Strong and Tyler Rust of The Diamond Mine with all 4 men putting on a strong match (pun intended). Before the match could start Fish and Kushida attacked The Diamond Mine, getting into the head of Strong and Rust which proved to be effective as Kushida and Fish were able to control Strong and Rust until Strong hit a backbreaker on Kushida to turn the tides.
After a great showing of technical wrestling between all 4 men involved Kushida and Fish would be victorious after Kushida managed to lock the hoverboard lock in on Tyler Rust with Roderick Strong being nowhere to be found after Strong and Fish brawled outside the ring, forcing Rust to tap out.
This was a great example of hitting 2 birds with one stone, not only were NXT able to advance the storyline between Strong and Fish, but they were also able to push Rust and make him a potential future threat for Kushida somewhere down the line.
3. A huge upset win is ruined as LA Knight forces Cameron Grimes to attack Drake Maverick  
Last week on NXT, Cameron Grimes would be forced to become LA Knight's personal butler. Despite being in a weak position, Grimes managed to make LA Knight regret his decision to make Grimes his personal butler has Grimes smiled and laughed every insult off as he managed to humiliate The Million Dollar Champion by sending him into his own pool. Unfortunately, for Grimes, LA Knight would have payback on his mind this week. Early in the night, LA Knight forced Grimes to carry multiple bags for him. Drake Maverick tried to help Grimes but LA Knight told off Drake prompting a match between the two men later in the night.
During his entrance Knight told Cameron Grimes to stop interacting with the crowd, giving more orders to his butler as he told Grimes to hold the Million Dollar Championship up to the crowd at the start of the match. Maverick used this opportunity to attack Knight but Knight managed to turn it around. Knight tried telling Grimes to hold the belt again, allowing Maverick to get back into the match yet again and hit a crossbody on LA Knight for a close nearfall. Late in the match, Knight told Grimes to hold the Million Dollar Championship up yet again, but the third time would prove to be the charm for Drake Maverick as he managed to hit dropkick Knight headfirst into the belt, following it up with a roll-up for a shock upset victory. Grimes warned Maverick to leave the ring after the match but Knight managed to intercept Maverick before he could leave the ring as Knight beat down Maverick, telling Grimes this was his fault as Grimes began to feel guilty for putting Maverick into this position.
A beat down wasn't enough for The Millian Dollar Champion, as he then instructed Grimes to punch Maverick with Grimes having no choice to punch Maverick as Grimes felt more guilty. This was an amazing segment and continued to help Grimes look like such a sympathetic babyface that fans can get behind. This, without a doubt, is one of my favourite storylines in wrestling right now as LA Knight and Cameron Grimes have great charisma and chemistry together and it has been entertaining to see both men try to get into the head of the other man.
2. Kyle O'Reilly finds his killer instinct against Austin Theory as the way starts to drift apart  
During the night Johnny Gargano and Austin Theory were interviewed about Gargano's loss to the NXT Champion, Karrion Kross last week on NXT. After telling interviewer, McKenzie Mitchell that the loss was tough but Gargano was ok, Kyle O'Reilly walked in and addressed Austin Theory's comments on Twitter about Kyle O'Reilly as he challenged Theory to a match which Theory accepted. Gargano told Theory that he would be on his own tonight as Papa John left Theory to take on Kyle O'Reilly alone.
Both men would go back and forth in an amazing match. While Theory may not have the best win record, just like Johnny Gargano he manages to look strong in defeat and somehow looks better after every single match. During the match, Wade Barrett talked about his interview with Kyle O'Reilly last week and how Kyle O'Reilly wanted to find his killer instinct. Late in the match, Theory looked to have the match won hitting a TKO in the ring for a close nearfall, frustrating Theory. A furious Theory sent O'Reilly outside the ring. Theory tried using the steps against Kyle but decided not to, however, this would prove to be a mistake for Theory as Kyle found energy out of nowhere and unloaded multiple strikes out his opponent outside the ring as the steel steps made Kyle remember the moment Adam Cole hit a brainbuster on him on the steps. After bringing Theory back into the ring, Kyle hit the flying knee drop on Theory and followed it up with a heel lock with Kyle not letting go of the submission even after the bell was rung.
This was an amazing match between Theory and O'Reilly that made both men look strong. The story of O'Reilly finding the killer instinct he had at NXT TakeOver: Stand And Deliver were great to watch and it is fun to see Kyle go from being a cool, charismatic character to a brutal submission machine. Later in the night, things went downhill for The WAY as the group argued back and forth with Indi Hartwell accidentally mentioning Dexter Lumis's name. As the group continued to argue. A sad Theory walked away from the group, teasing a potential split between the group as Johnny Gargano continues to look more like a babyface while Candice LeRae continues to be a heel, not allowing Indi to have interactions with Dexter Lumis.
1. Karrion Kross sends a message to Samoa Joe and takes out William Regal to close the show
After Joe called out the NXT Champion earlier in the night, Karrion Kross would get the last laugh, sending a sadistic message to Joe. After the match for the NXT Women's Championship match between Xia Li and Raquel Gonzalez, Samoa Joe came out and called out the NXT Champion once again but Joe would regret his words as the NXT Champion appeared on the Titantron screen, Kross told Joe that NXT has now different and that Kross now runs NXT, saying that he can do whatever he wants to anyone he wants as he then moved the camera he was holding to reveal NXT General Manager, William Regal knocked out on the floor as the show finished with Karrion Kross driving away as a furious Samoa Joe ran outside to chase Kross.
This was a great series of segments between the two men as well as William Regal. It is very rare for William Regal to be involved inside storylines in NXT, apart from segments where he is announcing a match, so Kross attacking Regal in such a devastating way has some great storyline potential, especially when with William Regal who will be conflicted with the choice of staying professional or sending Joe out to attack Karrion Kross for revenge. Kross also looked good in this segment as he managed to find a little bit of redemption after his terrible debut on Monday Night RAW against Jeff Hardy.
In a Youtube segment, tensions would also continue with Samoa Joe and Pete Dunne, after both men stared at each other after Samoa Joe checked on William Regal in the medical room. While this could be teasing a match somewhere down the line between the two men I would not be surprised with Dunne sides with Joe to taking on Kross due to Kross' actions against William Regal.
These were my top 5 moments from this week's edition of the black and yellow brand. What were your top 5 moments from NXT this week and how excited are you to see a match between Samoa Joe and Karrion Kross for the NXT Championship? Let us know in the comment section down below.
BWN Nerds' Movie Review: Space Jam: A New Legacy (2021)
Well the Nerds are more like…A nerd this week. Patrick and his German Judge powers get full creative control! Space Jam: A New Legacy…oh no. Does it stand a chance with Patrick?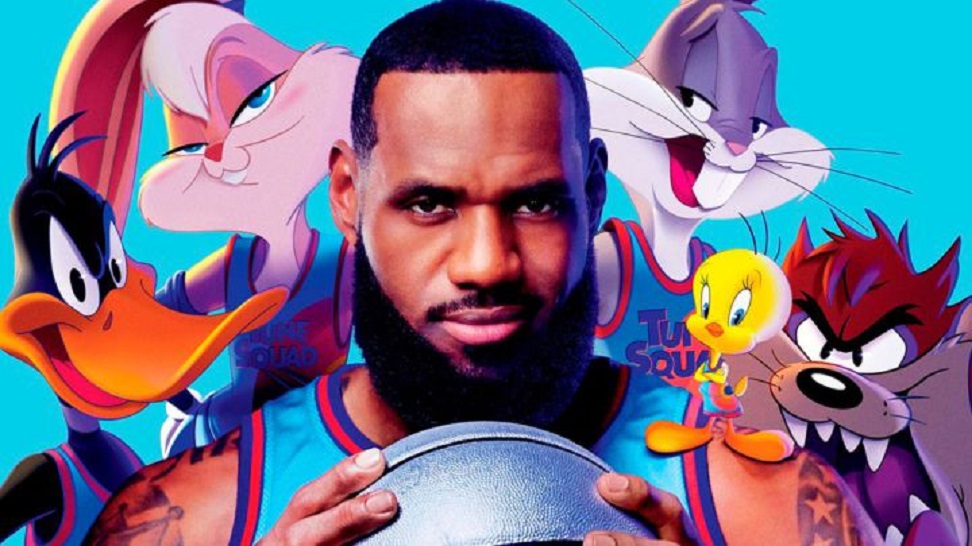 Welcome to this week's edition of the Nerd Review!  Every week the Nerds give you their take on a different movie from the Nerdosphere.  This week, Patrick flies solo and reviews the Lebron James/Looney Tunes film Space Jam A New Legacy
The Flick:  Space Jam: A New Legacy
What's it About: Angry at being rejected by Lebron James, an angry Artificial Intelligence kidnaps, James and his son into the virtual world.  The AI challenges James to a basketball game or be deleted forever.  James must team up with Bugs Bunny and the rest of the Looney Tune gang to defeat the evil AI and save the world.
Metacritic Score: 36
The Nerds' Take on Space Jam: A New Legacy (2021):
Patrick:  Dave decided Disneyland was more important than the Nerd Review this week so, dear reader, you are stuck with me and my lone review of Space Jam: A New Legacy.  The little O'Dowd made it inevitable I would be catching this sequel on HBO Max come release day.  I had some interest in the movie as I have some affection for the Michael Jordan original.  Space Jam: A New Legacy is nowhere near as good as its predecessor.  I didn't hate it, but the film is loaded with some seriously annoying flaws.  Those flaws weren't enough to turn off the little O'Dowd, which left me thinking kids will enjoy the movie in ways adults may not.
The plot of the film is similar to the Michael Jordan original with the twist that Lebron needs the help of the Looney Tunes to join his team this time around as opposed to Bugs and company needing Jordan's help.  You see, a self-aware algorithm named Al G. Rhythm (get it?) chooses Lebron James as the perfect celebrity to endorse him.  Al manipulate Warner Brothers executives into reaching out to James and pitching him to utilize Al's technology to feature him in their next film.  When Lebron turns them down and calls the technology stupid, Al devises a way to bring James and his son into the virtual world.  Al Promises Lebron that he can be let go if, of course, Lebron can beat his evil basketball team.  Al then tells Lebron he can assemble his players from any characters in the Warner Brothers Universe…before sending James to Looney Tunes World.
There Lebron meets Bugs Bunny, the lone inhabitant of Looney Toons land.  It turns out, Al tempted all of Bugs' friends away with promises of better lives in other WB properties.  Bugs tricks Lebron into helping him regain his friends by "helping" Lebron find players.  Bugs does, but only by sending Lebron to lands where other Looney Tunes are living.  Naturally, Al has assembled a team of super evil players by using Lebron's son Dom's video game program to make players based on real pros.  Al also manipulates Dom into siding with the goons by playing on Dom's resentments of his father.  Everything culminates in a basketball showdown between the Tune Squad and the evil Goon Squad.  I won't spoil the ending, but I am sure you can guess which team won.
I'm going to start with the good here.  The animation in this film is first rate.  Audiences are treated to a classic Looney Tunes look, including an animated Lebron James, to some higher tech appearing computer graphics designed to make the Tunes "real".  It is pretty well done and the overall look of the movie was the better for the animation work.  There is also plenty of Looney Tune slapstick for audiences to enjoy.  As I mentioned earlier, the little O'Dowd was all for watching this movie and it was the fun Looney Tune characters that engaged him.  None of the jokes/sight gags/etc. are particularly ground breaking, but they were certainly fresh for my child.  Wile E. Coyote and his multiplier machine was a particularly high note.
As far as the cast, the voice acting is very good, with a specific hats off to Jeff Bergman who had the daunting task of voicing Bugs.  Simply stated he nails it.  The real highlight of the movie though has to be the villainous Al G. Rhythm played by the great Don Cheadle.  Cheadle hams it up so, so well and you can tell the dude was just out there having the time of his life.  He's silly, sneaky, maniacal and fun for the duration of the movie.
Lebron James however was…fine?  He didn't struggle delivering lines, and he did well interacting with his animated green screen counterparts.  So, what was the problem here?  Lebron James the Space Jam character is kind of a terrible person and father.  He is obsessed with molding his sons into future basketball stars even when it is clear that Dom has no interest in the game.  LeBron goes all Mommy Dearest on Dom when he reveals he doesn't want to go to basketball camp.  Frankly, I completely understood why Dom would so quickly side with Al.  His dad was an asshole.  It really took away from the movie because I struggled to cheer for the hero.
The other big problem with this film is that it is a two hour long Warner Brothers love fest.  Look, I get that there was going to be some property placement.  That becomes clear from the moment Al pulls Lebron his world.  But, man, they really drill the audience over the head with it.  Did you know Warner Brothers owned the rights to Harry Potter movies?  Well, if you didn't Voldermort is at the big game to let you know.  DC?  Hey!  They've got Wonder Woman too! Although I have to admit, I liked her sequence of scenes with Lola Bunny.  The audience sees King Kong, The Iron Giant, Hanna Barbara characters like Yogi Bear.  I mean Pennywise the dancing f'n Clown makes an appearance.  That's right, a child eating alien clown is front and center at the big basketball game for no reason I can fathom other than Warner Brothers could use him.
Which brings me to my rating.  If I were rating Space Jam A New Legacy solely on its merit as a film, I would rate it far lower than where I landed.  It's hard for me to get behind a movie that is little more than a billboard for a giant corporation.  Couple that with a protagonist who is a pretty terrible parent and a fairly mundane story, I should be giving this movie a score under a 2.  But I have to step back and look at this film through the eyes of its intended audience.  So I asked, the Little O' Dowd what he would score Space Jam and his response, "7/5."  That tells me that despite my problems with the movie, children will likely love it.  My son isn't even all that into basketball, yet after watching A New Legacy he demanded we immediately watch the original.  Therefore, I'm going to split the difference here and score Space Jam: A New Legacy just a shade over 2.5.
Nerds' (Patrick's) Rating on Space Jam: A New Legacy: 2.63/5.0