Chris Deez's 2020 WWE Royal Rumble Predictions
Chris Deez is back! And he's brought his own personal Royal Rumble predictions with him!
Chris Deez is back! And he's brought his own personal Royal Rumble predictions with him!
How about this for a surprise entrant? It has been nearly 2 years but the medical team have cleared me after a few too many bumps to the head and I'm back to active competition! What better way to mark my return than by sharing my predictions for my favourite WWE pay per view of the year – The Royal Rumble. What surprises will we see, if any? Can Daniel Bryan finally overcome The Fiend? How will WWE start to build towards The Showcase of the Immortals during this, the first stop, on the Road to WrestleMania? 3… 2… 1… *buzzer*
---
Sheamus vs. Shorty G
I'm not going to give this one too much attention, just like WWE Creative clearly haven't either. In what I'm sure will be a run of the mill squash match, Sheamus will go over pretty quickly to remind us all what he is capable of. Don't get me wrong, I'm a huge Sheamus fan, but I'm sick to death of this whole "You are short and I am tall, so we must fight!" crap. We saw it with Corbin vs Finn, Corbin vs Gable and now this. It's boring and it screams of not knowing what to do with the talented guys involved. It's not big and it's not clever… pun very much intended. I could work for Creative!
Winner – Sheamus
---
Bayley (c) vs. Lacey Evans
Smackdown Women's Championship Match
Lord give me strength. What is the point of Bayley holding this belt still if all they're going to do is keep building for what happens when she loses it already? Sure, her heel turn late in 2019 was a revelation but boy did it fall short quickly. I'm a big fan of Lacey and I can see exactly why Vince wants her as the face of the Smackdown women's division (Wait am I allowed to say that anymore Becky?) but I've not been a fan of this rivalry at all. Not because of the talent involved, not at all, but because of just how unimportant this feud feels. It's painfully obvious that this is heading toward Lacey as champion taking on Sasha Banks, hence why WWE keep protecting Banks while having Lacey go over Bayley clean. Lacey should win this one clean, though I'm sure we will see Sasha at some point, and set up Lacey's first defense at WrestleMania.
Winner – Lacey Evans
---
Andrade (c) vs. Humberto Carillo
United States Championship Match
If Andrade loses the title here, I'll strongly consider cancelling my WWE Network sub, until I inevitably don't and just go back to watch WrestleMania 17 instead. WWE have slept on Andrade for such a long time and while Humberto may be extremely talented, there is nothing marketable about him. Nothing outstanding. Nothing to get people tuning in. Andrade, with Zelina Vega by his side, is one of the top attractions in all of WWE right now. Look no further than his incredible programm with Rey Mysterio over the last few months, putting on MOTY contenders every single week. 2020 is a big year for Andrade, let's start it off right with a lengthy and entertaining US Championship reign.
Winner – Andrade
---
Becky Lynch (c) vs. Asuka
RAW Women's Championship Match
This is a tough one as I like both women involved. Becky has had a fantastic 2019 and fully deserves to continue for the foreseeable future as champion, but if she beats Asuka here who is there left to challenge her? The logical choice would be the winner of the women's Royal Rumble match, especially with Lacey v Sasha lined up on the blue brand, but surely then we need somebody new? Shayna Baszler would make the most sense or a returning Ronda Rousey. Please god, not Charlotte Flair again. My prediction here is a bold one but I can see Asuka taking the belt from The Man so that we get some new and fresh matches. It would certainly make a nice change as the product seems to be full of rematches at the moment. How about Asuka vs Ronda? Yes please!
Winner – Asuka
---
Roman Reigns vs. King Corbin
Falls Count Anywhere
Also known as Roman & The Uso's vs Corbin, Dolph Ziggler & Robert Roode in a 3 v 3 tornado tag team match. That's exactly where this is heading and I'm quite fine with that. Though the feud has been going on for way too long, I for one have found it thoroughly entertaining but that may be because I absolutely adore King Corbin. This match should be a blast and follow much the same formula as the majority of these matches do. My prediction though is another bold one as I'm going to plump for Corbin to come out victorious. The win would set him up nicely with WrestleMania around the corner and frankly he deserves it a damn sight more than most of the roster. Cast your mind back to a couple years ago… Baron Corbin, or the Lone Wolf if you INSIST, was a hot pile of stinking garbage. Sloppy and slow in the ring. Horrendous with a microphone in his hand. The guy couldn't catch a break. Fast forward to today and he is cutting funny promos, showing greatly improved in ring work and has become the stand out heel in the business as a whole. Long may the King rule over us! Don't get me wrong, I have no issue with Roman Reigns, but he simply doesn't need this one. Corbin losing here would crush all of his momentum, whereas Roman would recover quite easily due to favourable booking.
Winner – King Corbin
---
The Fiend (c) vs. Daniel Bryan
Universal Championship Strap Match
Am I the only one who has cooled off on The Fiend? I love the character and most of the execution, but it is starting to feel like we have a part time champion again. This storyline has been nothing short of fantastic, with a more focused and driven Bryan back to his babyface best while Bray continues to be absolute fire in his promos and vignettes. I expect this match to go much the way of all The Fiends previous bouts, with him being overpowered by the challenger, no selling most of the offence before a final flurry of offence secures him the victory. Why am I so confident? Because Roman will 100% win the Rumble and finally be the one to take down the Fiend. It's painfully obvious and just not what we want or need right now. The Fiend should defend more often and keep the belt for as long as possible, until it becomes stale and uninteresting. The character has been such a breath of fresh air and a much deserved push for the immensely talented Bray Wyatt that stopping the reign anytime soon would once again kill all momentum he has built and further reduce his stock in the company.
Winner – The Fiend
---

Women's Royal Rumble
Two days to go until the Royal Rumble and we literally know 4 of the women who will be entering the match, which makes it quite hard to makes an informed prediction, though i do find it quite refreshing. We watch the Royal Rumble for the surprises, for the drama, for the unexpected moments and by only announcing four competitors we have the potential for a match full of surprises. Compare this to the men's Rumble where we have had 22 competitors announced, plus the obvious inclusion of NXT superstars and it logically only leaves us with a couple of surprises at most.
I sincerely hope that Shayna Baszler steps up from NXT permanently, enters the Rumble and wins the whole thing from fairly early on, maybe around the number 10 spot. It would also be nice to see a couple of feuds start off or reignite here as there is so little storytelling in the women's divisions currently. Unless you count Lana, Lashley, Liv and Rusev, which I don't. Main roster women's wrestling has never felt so unimportant. We need to see more than just the four horsewomen featured heavily. The the most logical outcome that I can think of is Shayna winning to reignite the feud with Becky that was started at Survivor Series when Shayna went over both The Man and Bayley. Some things that I think will happen along the way:
Nia Jax returns
A few legends spots for the likes of Lita & Trish Stratus.
Lots of NXT entrants such as Candice, Io Shirai, Shotzi Blackheart, Scarlett Bordeaux.
Losers of championship matches to enter.
One of The Kabuki Warriors to eliminate the other.
Paige does NOT return.
Probably some more BS with Lana and Liv.
Final Four – Shayna, Charlotte, Sasha, Shirai
Winner – Shayna Baszler
---
 Men's Royal Rumble
Here we go. The big one, and one of the most intriguing for a long time. From Brock Lesnar declaring himself as the first entrant, to heavy involvement from NXT, there are a lot of questions around this year's Rumble and a lot of potentially awesome moments. Most people have Roman Reigns down as the winner here and it's easy to see why. He has remained out of ay title scene since returning from Leukaemia and has certainly paid his dues over the last year with some quite awful booking, which is why he remains my choice to win. There are a few other names worth mentioning such as Drew McIntyre who is another strong favourite to win and in my eyes the most deserving potential winner. Drew has really turned a corner in his WWE career, involving the crowd in his matches, spitting absolute gold on the mic and maintaining his high level of in ring talent which once had Vince McMahon dubbing him as The Chosen one. Let's get one thing straight though… Brock is not winning this match. Whoever eliminates him will likely end up being his WrestleMania opponent, so him winning makes zero sense at all.
Keith Lee winning the NXT North American Championship this week pretty much confirms he won't be winning, but aside from the question of who will win we also have some mouth-watering potential match ups to come. How about Brock squaring off with long-time critic Matt Riddle? Keith Lee and Samoa Joe slugging it out? This might be the most excited I've ever been for the Rumble!
Things I'm expecting to see:
Cain Velasquez eliminating Brock
Mysterio to eliminate Andrade
I'm still 50/50 on Edge returning or not
More hi-jinks from Kofi
Ricochet to equal those hi-jinks
Titus to pretend he's going to slide under the ring… again
No comedy spots or entrants. The pool is too crowded with legitimate talent this year
Final Four – Roman, Drew, Ricochet, Tommaso Ciampa
Winner – Roman Reigns
King: Dominik Mysterio Needs To Do This At WrestleMania
Chris King is here with what WWE should do with Dominik Mysterio at WrestleMania in his long-awaited match against his father Rey Mysterio Jr.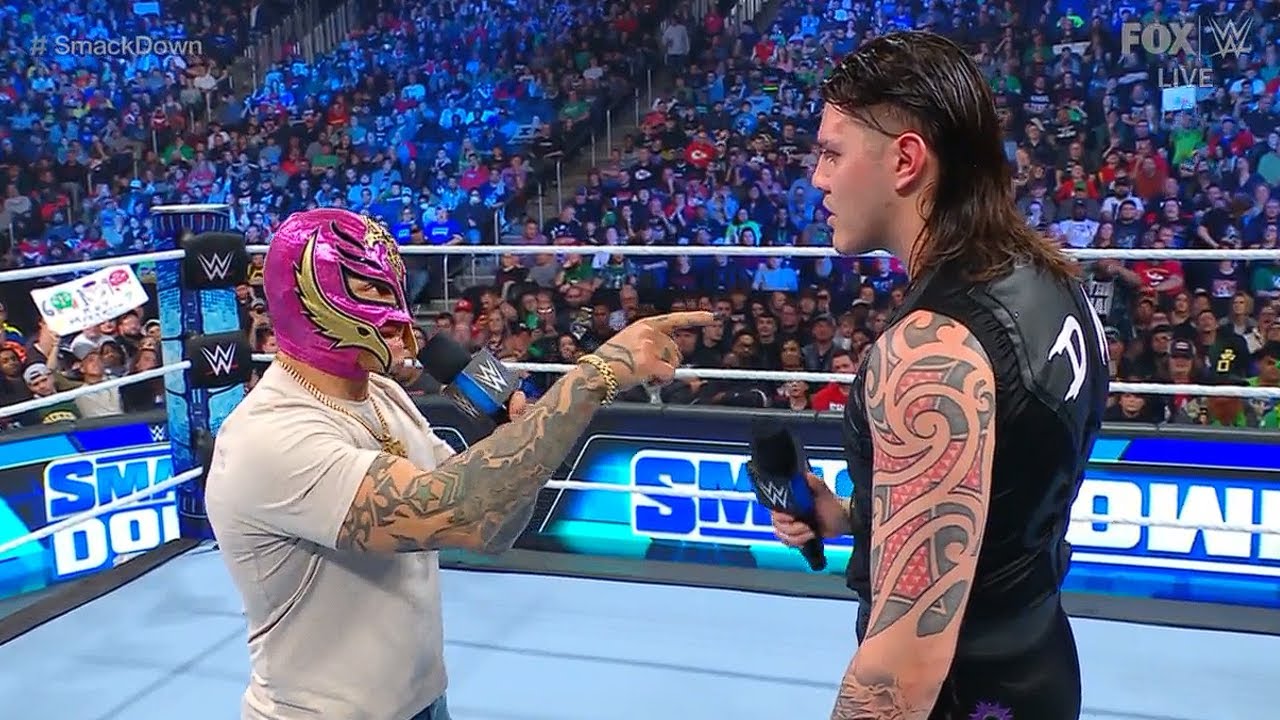 Chris King is here with what WWE should do with Dominik Mysterio at WrestleMania in his long-awaited match against his father Rey Mysterio Jr. 
On this week's episode of Friday Night SmackDown, Rey Mysterio finally snapped and beat some sense into his disrespectful punk-ass kid Dominik. The member of the Judgement Day came out to push his father again for a match on the Grandest Stage of Them All, this time with his mother and sister at ringside. The ungrateful punk told his mom to "Shut Up," as a father even I wanted to jump through the screen and whoop his ass.
Back in October of last year, Mysterio made the emotional decision to possibly quit the company but, instead, Triple H persuaded the Lucha libre superstar to move over to SmackDown to avoid his son. This came after Dominik shockingly turned on his father at Clash at the Castle. Mysterio did everything he could to refuse his despicable son's challenge for Mania but, a man can only be pushed so far. Mysterio will be inducted into the 2023 WWE Hall of Fame and I expect Dominik to embarrass his father during his speech to further this personal feud.
Yes, the WWE Universe hates Dominik and wants to see him get the ever-loving crap kicked out of him but, this feud is missing a special ingredient to capitalize on the biggest heat possible. Throughout this feud, Dominik has made mention of the legendary Eddie Guerrero on several occasions going back to the "iconic" 2005 feud.
I know WWE might not want to go this route but, Dominik MUST come out to Eddie Guerrero's theme at Mania. The disrespectful punk needs to come out in a lowrider to garner nuclear heat. It doesn't matter if The Judgement Day comes out and causes interference for Dominik to get the win, all that matters is that both superstars get the biggest payoff of this nearly year-long feud. Just imagine the Roman Reigns heat after he defeated The Undertaker and multiply that by ten. Dominik portrays the perfect heel and he truly is the missing ingredient that The Judgement Day needed to grow and evolve into a top faction.
King's WrestleMania Rewind: Eddie Guerrero vs. Rey Mysterio (WrestleMania 21)
In the next WrestleMania Rewind, Chris King takes us back to WWE WrestleMania 21, and Rey Mysterio vs Eddie Guerrero in a battle of tag team champions!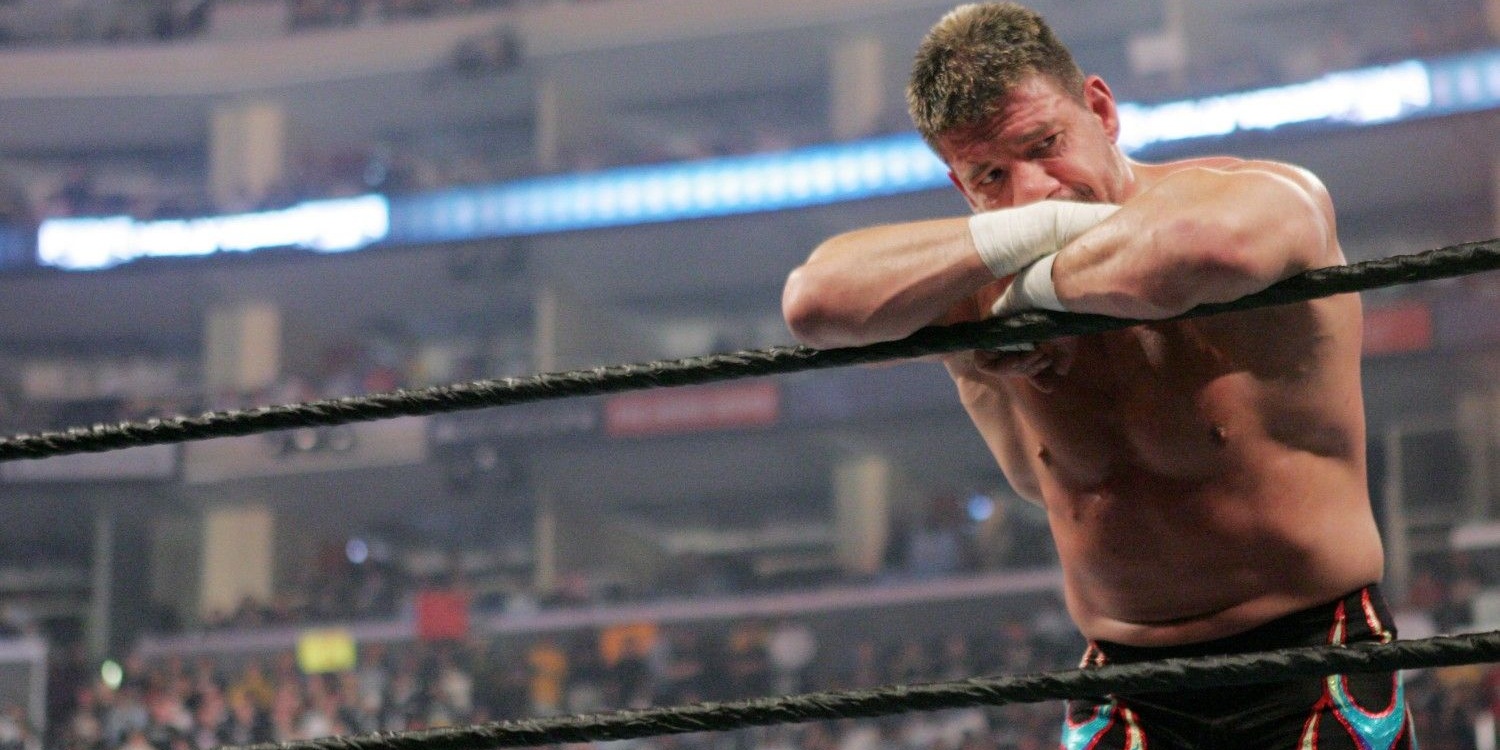 In the next WrestleMania Rewind, Chris King takes us back to WWE WrestleMania 21, and Rey Mysterio vs Eddie Guerrero in a battle of tag team champions!
Chris King is back with his third edition of WrestleMania Rewind. This week he's bringing us back to some 'Latino Heat.' We're rolling back to WrestleMania 21 where Eddie Guerrero faced longtime friend and rival Rey Mysterio.
This would be Guerrero's last Mania match caused by his unfortunate death. Over on SmackDown, Mysterio and Guerrero would become the tag team champions at No Way Out where they defeated MNM.
Chavo Guerrero would get into the head of Latino Heat by making him believe Mysterio was trying one-up his tag team partner. Chavo went as far as to tell his uncle to stop using the Guerrero name.
Guerrero would finally give in to his nephew's manipulation and went on to challenge Mysterio to a one-on-one match at WrestleMania 21. I For the first time in history, both tag team champions would face each other. Guerrero vs. Mysterio was the first match on the stacked card. Both partners threw everything at each other including the kitchen sink in a battle of one-up-manship.  In an incredible high-octane match that saw both superstars delivering counter for counter, Mysterio pulled off the win with a surprise pin roll up.
A few months later, what once was a friendly battle turned into a nasty fight involving the custody of Mysterio's real-life son Dominik Mysterio. After several torturous weeks, both former tag team champions would face off in a ladder match with the custody of Dominick on the line. I forgot how amazing this rivalry was and it's definitely worth a watch. Sadly, we would lose Latino Heat in November of 2005. There will never be another Eddie Guerrero. Viva La Raza!