Chris King's Takeaways For NXT 1/22/20
Chris King is here with his takeaways for the final WWE NXT before the US and UK brands collide!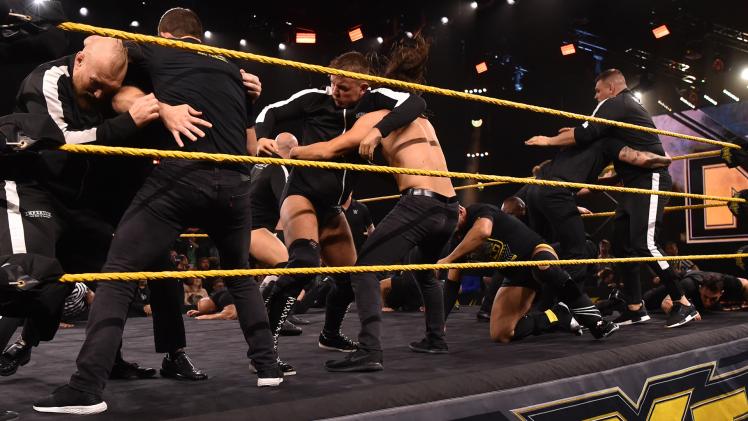 Chris King is here with his takeaways for the final WWE NXT before the US and UK brands collide!
As we get closer to Worlds Collide, what will The Undisputed Era have to say about Imperium ahead of their colossal clash? Who will advance to the finals of the Dusty Rhodes Tag Team Classic, and last but certainly not least, will the prophecy remain intact or will Keith Lee become the new North American Champion? Let's get right into the action!
The Undisputed Era vs. The Grizzled Young Veterans
Second Round Dusty Rhodes Tag Team Classic
The first thing I want to point out is this was tag team wrestling at it's best. Everything was perfectly-timed and so deliberate. Each maneuver was hard-hitting and it was everything you'd expect from two of the best tag teams in NXT today.
With that said, UE lost to a perfectly-timed distraction from Imperium that will only add more fuel to the fire of an already red-hot brand warfare collision!
Io Shirai vs. Toni Storm
As an avid viewer of AEW, it always brings a smile to my face while watching the NXT women's division. All of their matches are must-see and keep you on the edge of your seat. AEW just doesn't have that yet but I'm hoping that changes really really soon.
Shirai and Storm were on the cusp of having a fantastic match until Bianca Belair interfered out of nowhere to cause a disqualification. The EST of NXT hit her finisher on Storm and the chaos continued as Rhea Ripley appeared.
The NXT Women's Champion and her challenger for TakeOver: Portland waged war. The Genius Of The Sky took out everyone with a stunning moonsault. Storm stood tall with the Women's Title to close the segment.
Finn Balor vs. Joaquin Wilde
The Prinxe made an example out of the young up-and-comer by unleashing a relentless attack. Balor's strikes were vicious and relentless. Wilde never stood a chance as the 1916 DDT was all she wrote for a decisive victory.
Shayna Baszler vs. Shotzi Blackheart
Say what you want about Baszler, but one thing that The Queen of Spades excels at is selling for her opponents. Blackheart was given a tremendous amount of time to show the Full Sail Arena what we can hope to see from her in the future.
Baszler took advantage of an ill-timed top rope senton splash to lock in the Kirifuda Clutch. I was shocked to see the young up-and-comer almost break the hold but all it did was give The Queen of Spades to choke her out!
Damn! I am loving this build between the former friends turned rivals Dakota Kai and Tegan Nox who are set to clash next week. We all know this is heading to Portland in a chaotic and violent match and I can't wait!
Pete Dunne & Matt Riddle vs. Imperium
Second Round Dusty Rhodes Tag Team Classic 
Holy freaking crap! It's hard to believe that less than an hour ago I saying that UE vs. Grizzled Young Veterans was amazing and yet this one blew it out of the water! It's astonishing to think that Riddle and Dunne have only wrestled one match together as a tag team. The Broserweights gelled together so nicely.
Bartel and Aichner though, are on a whole other level with their impeccable in-ring chemistry and timing. Each time you felt like things couldn't get any more vicious they turned it up a notch. Imperium had the match in the bag but Dunne made the tag and they executed a GTS/Stiff kick combo for the hard-fought victory! What a match!
Keith Lee vs. Roderick Strong
NXT North American Championship
Stong was getting his ass handed to him and tossed around like dirty laundry until UE provided the typical distraction. The North American Champion manipulated Lee's ankle and trapped it in the steel steps. The big man was unable to put weight on his foot which Strong took full advantage of.
Strong hit an Avalanche Olympic Slam for only a one-count as Lee power lifted him back up! Absolutely insane. Strong utilized the Ankle Lock to wear the big man down but he refused to give up.
UE went for the last attempt to keep the prophecy alive but to no avail. Lee picked up Strong and delivered the Big Bang Catastrophe to become the brand-new North American Champion!!! After the match, Imperium came back to get their comeuppance against UE from their blindsided attack at TakeOver: Blackpool II to close the show!
I watched both Dynamite and NXT this week and while the ratings show that AEW won this week, I can tell you 100% that NXT was a much better show. I felt like it had more explosive matches and a dramatic finish that made you excited for Worlds Collide!
News From Cook's Corner 9.20.21: The Column From Hell
Plane rides aren't the only thing on the docket! Cook's News corner is definitely unique this week!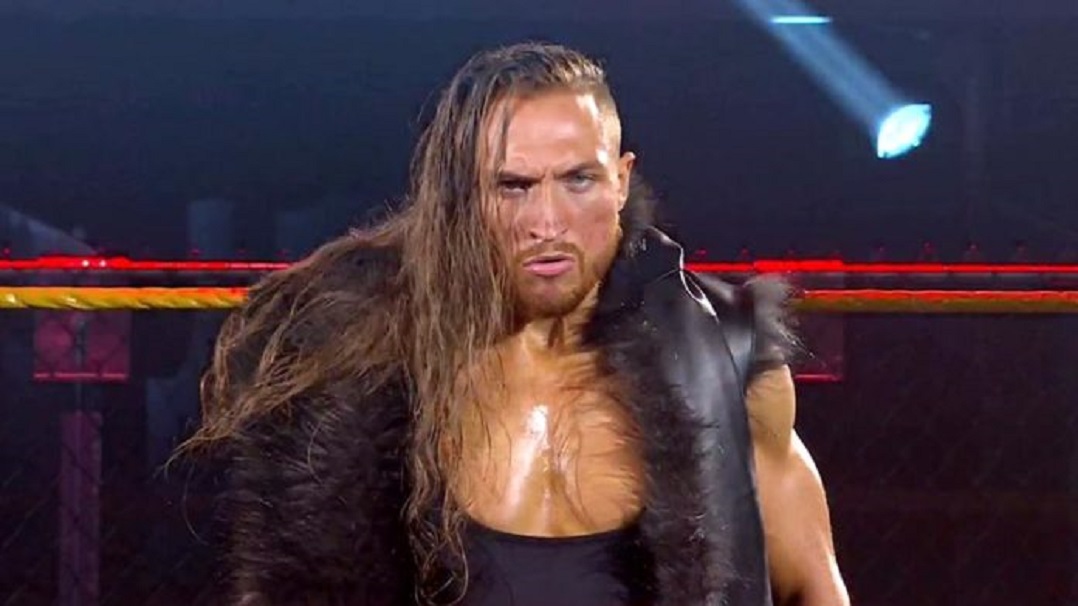 Hi, hello & welcome to News From Cook's Corner! I'm Steve Cook, and it's been a rather eventful week in the world of wrestling. Big E became WWE Champion on Monday night. The new NXT debuted Tuesday night & had a pretty eventful outing that got their best rating in quite some time. About 85 million things happened on Dynamite, as is typically the case. There are no shortage of current wrestling events to talk about here.
So of course we're talking about the Plane Ride From Hell instead of all that stuff.
This might be a first. I don't think previous Dark Side of the Ring episodes led to people getting punished at their workplace. We've had some people come off poorly on that show, but nothing led to anybody getting any sort of punishment other than being yelled at on the Internet. Which, as somebody that's been yelled at on the Internet pretty often, I can say isn't the biggest deal. Annoying, sure, but you move on.
WWE once created a whimsical web animation about "The Flight From Hell," an incident recently profiled on true crime documentary series "Dark Side of the Ring." It was in fact the first story they chose for their cartoon series. They were proud of it. https://t.co/a79PLpnQaC

— L., MA (@leslieleeiii) September 19, 2021
One had a feeling that a re-visit of the Plane Ride From Hell could lead to issues for some people. You know how it is…we tend to forget things. Those of us around back then heard most of the steamy details. Since it was the early to mid-2000s, most of us didn't think too much about it. We laughed at Michael Hayes getting his ponytail cut off. Curt Hennig & Brock Lesnar getting into a fight seemed amusing. Nobody was surprised to read about Scott Hall falling off the wagon. We laughed at Dustin Rhodes singing to his ex-wife…and yep, we laughed at Ric Flair doing his signature robe spot. As detailed in the documentary, Ric had done the "naked under the robe" thing on numerous occasions. It was part of what made Ric Flair Ric Flair. Wrestlers & wrestling writers told us this, so we believed them.
Now, this is the part where I have to plead ignorance, which annoys those wishing to excuse Ric's behavior by telling us that everybody already knew this stuff, and we're just getting hot & bothered now because it's 2021. I didn't really follow up on the story when the lawsuit went down, didn't look at the legal documents or anything like that. I was just a 411 wrestling writer with a weekly "news report" where I took the piss out of everything. So, I had no idea that Ric Flair did anything on that flight other than the robe stuff, which is pretty gross in its own right because who needs to see that?
As for the the point that peoples' reactions to this type of stuff have changed in the nearly two decades since this all happened…well, duh? Some people do evolve. When the Plane Ride From Hell happened on May 5, 2002, I was a senior in high school. I was no different from most high school boys, a sex-crazed idiot that didn't know anything about anything when it came to sexual harassment or inappropriate behavior. As most of my 411 columns from the 2000s will show, that phase lasted awhile. As I got older & learned things I should have learned a long time ago but didn't for a myriad of reasons, my viewpoints have changed. Some people don't understand how it's possible to change your mind on something over the course of twenty years, as we see in politics. They keep their head in the sand & believe the same things they believed before they had any type of life experience, which must be nice.
Just because I say Ric Flair is the greatest wrestler of all time doesn't mean he was the greatest person to ever lace the boots. Two different things.
For those of you that didn't see the broadcast, I recommend you do so since I won't be able to paint the full picture here. We'll run down some of the major points here.
-Tommy Dreamer has been suspended from his position with Impact Wrestling, where he serves on the creative team & wrestles fairly often on television. Dude got a title match on his 50th birthday not that long ago, which was made a big deal of because everybody in the business loves Tommy Dreamer. At least they did until he went on this program and made an ass of himself. Dreamer somehow managed to make himself come off worse than the actual subjects of the show, which is fairly impressive.
I've seen some people upset over Dreamer being punished because it's not like he was one of the people forcing themselves on the flight attendants or anything like that. Thing is, when you're in a position of authority, as Dreamer is with his role on creative and as a veteran leader of the locker room wherever he goes, people have higher expectations for you. When you go on national television blaming sexual assault victims for what happened & bemoan the fact your ugly hairstyle probably offends people since everybody gets offended these days, your reputation is going to take a hit. Some people in Tommy Dreamer's locker rooms aren't going to look at him the same way now. That lessens his value as a "locker room leader" greatly.
Dreamer did the social media apology thing that everybody does now. I figure he'll be back in Impact eventually & will say the right things to rehab his image with most of his wrestling peers. It'll take some time though. It's interesting that Dreamer will probably get the biggest punishment out of anybody involved here…but at the same time, at least the people that actually did the acts can claim that they're different people now. Scott Hall & Dustin Runnels have talked openly about their past and the fact they've changed for the better without substances controlling them. As far as we know, they have. They also got punished at the time, Hall being fired & Runnels getting fined.
Dreamer doesn't have that as an excuse. He's just an idiot who wishes he could go back to the ECW Holiday Inn.
-Ric Flair's future could be a little murky. CarShield has "paused" their national commercials featuring him for the time being. More importantly, one has to wonder how this affects his future plans within pro wrestling. Everybody figured he would end up in AEW pretty soon, as he's friends with Tony Khan, his son in law needs a manager, and a good percentage of his old friends already work there.
The question will be if Tony thinks it's worth the potential backlash that could happen if Flair makes an appearance. It was already kind of debatable if a Ric Flair in his early 70s would add a ton to AEW's presentation. Add in the current heat on his name, and AEW's probably best served to wait until this thing dies down. One has to think that WWE isn't too sad to have Ric off the payroll at the moment.
Also of note: Flair recently said on Renee Paquette's podcast that if this program tries to paint him in a bad light, he's going to take everybody down with him. So be on the lookout for that. Could be an interesting week.
-Brock Lesnar showed Terri Runnels his penis. Jim Ross apparently heard of multiple incidents involving Brock Lesnar's penis appearing at inappropriate times. This one's flying under the radar mostly because…well, do you want to get Brock mad at you? I wouldn't mention it myself if I had a larger audience.
-Scott Hall has no recollection of any of this. Not surprising.
-One possible issue for Dark Side: Was Vince McMahon on this flight? Multiple people on the show say he was, but reporting from the time period suggests that Vince did not make the Europe trip. Vince not being there would explain why certain members of the talent roster felt more emboldened to do dumb things. Or at least dumber than usual, since Vince was on a number of other flights where things got hairy. One untruth on a documentary is enough for many to cast aspersions on everything else on the program. The producer stated on Jim Cornette's podcast that everybody they talked to said Vince was on the plane.
-Another possible issue for Dark Side: Getting people to go on their show in the future! Jeez, if I was a wrestler and saw how poorly most of these people on this show came off, the last thing I'd want to do is go on it myself.
Definitely one of the most interesting Dark Sides yet, with the most fallout from a given episode. Next week's will feature the story of Chris Kanyon, and there's a good chance that some people will look bad there too. I think most of them are retired, but there may be somebody I'm forgetting!
NXT Contract Update
Contract updates have become a weekly feature of Internet reporting, as it seems like our favorite Internet reporters have a better idea of when these things come up than WWE does. Wild, isn't it? All I can say about it is that Fightful must have quite the mole in that front office.
Pete Dunne re-signed with WWE for three years. It's fair to wonder what Dunne's ceiling is in WWE. He's a talented wrestler, but is much smaller than the athletes WWE tends to feature, and doesn't seem to have the charisma to make up for it. It's still the right move for Dunne, as when you're a foreign talent wrestling in America, it makes sense to stick with your current company as long as possible. Otherwise, you'll get sent home. If Dunne wants to stay in America, staying with WWE is the easiest way to do that.
Johnny Gargano's contract is set to expire in early December. I could see keeping him around as a veteran to work with the young guys that WWE sees potential in, but don't be surprised if Dexter Lumis carrying an axe around with him leads to something. Not that WWE does murder.
Yang Time?
Remember Andrew Yang? Yeah, the guy that ran for President in 2020, then later promised to go after WWE for their third party policy that kept their "independent contractors" from using certain sites for profit. He went off to do other things for a minute, including a run for Mayor of New York City that went nowhere. Now he's talking about wrestling again, which is good because there were a ton of people that got fired during this pandemic that might have used some help. Fortunately, Andrew Yang is with us now!
Had a call with the Department of Labor. If you are a current or former @WWE performer who feels you were misclassified as an independent contractor contact @lkmiddleb and let's get you what Vince owes you. Been a long time coming but this storyline is real.

— Andrew Yang🧢🗽🇺🇸 (@AndrewYang) September 16, 2021
Yang says that early returns are positive. He also used the phrase "bolieve", so we can only hope that Bo Dallas becomes the star witness in whatever happens here. I don't think we'll get much, especially since it involves a politician.
Welp, that's all we have time for tonight. We've got a big week coming up though, with the Week 3 NFL Picks (actually done on time this week!) and some Extreme Rules Gambling Picks! Yep, that show's next Sunday! Thanks for reading, and until next time, keep your stick on the ice.
Rob: End the Brand Split?
Rob was inspired by some of the current IWC clamoring for an end to the brand split. How does he feel about that rhetoric?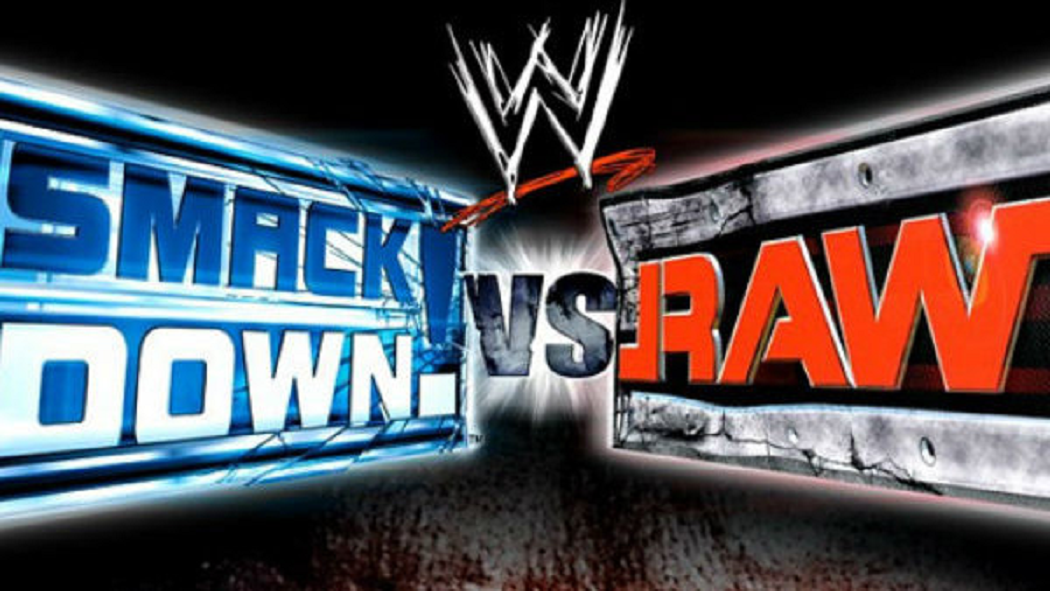 Some weird stuff happened on Twitter after SmackDown went off the air this past Friday.  A match was announced for Monday Night RAW this week featuring the Bloodline vs The New Day, and with it came two bizarre groups of tweets.  One was accusing WWE of hotshotting a pay per view worthy match out ratings fears (which is so dumb that I'm not going to even bother discussing it) and the other was a bunch of calls to end the brand split, which I find to be equally dumb but more of a worthy discussion topic.
Now before I go any further let me just say this:  the brand split is not ending.
As long as WWE is getting a billion dollars from both Fox and NBC they are going to book two shows with two separate rosters.  The only way the brand split ends is if one of the two shows gets cancelled and can't find a new home.  But as long as they are getting paid big money for each show then there are going to be two shows.  And those shows are going to have separate rosters, separate creative, etc.  But just for the sake of playing along, what exactly would it look like if they ended the brand split?  Here are some possibilities:
Double Duty
I looked at four weeks of Raw and SmackDown from  January of 2016, before the brand split happened, and what I found was that on average nine people would work both shows in one week.  But in addition to that, on average two people worked four shows over a two week period, eight would work three out of four shows over two weeks, and twelve would work two shows over a two week period. And finally one person worked seven out eight possible shows over the four weeks while four more did six out of seven over that time.  And that's not counting people who were at ringside for a tag team partner or stablemate.  There's no reason to think that would be different this time around which means that your top men and women would be working two shows lots of weeks while the rest of the roster filled in the gaps.  And since the roster usage would revert to how it was that would mean………
More releases
Please understand that were the brand split to end there would be no need for the roster to remain at it's current size.  The usage rate of talent that existed before just does not require as many people to make it work.  And remember a no brand split world is one where they are getting less TV money, which means less to pay people, which means some people will have to go.  And don't make the mistake of thinking that the only people who will get released are the ones you think aren't good enough to keep.  There will be another Braun Strowman or Aleister Black in that group.  And unlike today's landscape there will likely be fewer places for them to work because a world in which the WWE has to downsize for financial reasons is one where some of the existing companies have already gone under or have already downsized.
More wear and tear
Going back to my first point; a no brand split world is one where people are working more dates.  The top third of the roster would be working anywhere from four to seven times a month on TV; by contrast this year only Matt Riddle is working at that kind of pace.  A full brand split schedule is around 150 to 160 matches a years counting TV, pay per views and house shows.  By contrast pre-brand split Roman Reigns had 204 matches in 2013 and 213 matches in 2015.  Those 50 extra matches along with the travel that accompanies them make for a shorter career for everyone who has to do them.  They also lead to more injuries – remember WrestleMania 32 where John Cena, Seth Rollins, Randy Orton, and Cesaro were all out with injuries and the entire main event angle had to be rebooked?  Anybody want a redo of that?  I didn't think so.
A harder glass ceiling
If you think it's hard to move up now, then a no brand split world would be worse.  The last full year with no brand split, 2015, saw the pay per view main event slots split among nine people and the World title matches split among ten people.  By contrast in 2021 to date the main events have been split between 13 men and the World/Universal Title matches have been split between 16 men, with a 17th on the way in Finn Balor. In the post unification, pre brand split world 13 guys by my count were in World title matches across just over two years.
And then there's the women's side.  In 2015 the Diva's title matches were split between four women.  In 2021 the Raw and SmackDown's women's title matches were split amongst nine soon to be ten with Alexa Bliss challenging at Extreme Rules.  Ending the brand split likely would mean unifying the top men's and women's singles titles, which would in turn would mean less room in the title picture afterwards and ultimately fewer roster spots.  Why?  Because you wouldn't need as many.  Look at the current match distribution across Raw and SmackDown; that's not likely to change with no brand split so that begs the question of whether you need 10 plus women for each show (short answer: you don't).  Which means more releases, and again you can't assume that it will just be people you're not interested in seeing.
The same logic goes for tag teams, by the way.  One title means fewer title matches which means fewer teams needed which means more releases.
What's it all mean?
To be honest when I hear 'End the Brand Split', I can't think of anything that would solve.  Do you want bigger matchups more often?  A look back at the past would shoot that down real fast.  You would still get the same kind of stalling moves in the booking so as not to burn big matches out too fast.  Fewer rematches?  Not going to happen with the smaller roster that would result.  More opportunities?  Again, with a smaller roster how exactly would that happen?  A smaller roster is more likely to mean a double down on the people in the top tier not a more open door to reach it.  If the problem you have is that you only want to watch the bigger guns go at it and not be bothered with what you consider to be filler matches then I suggest you watch Main Event to get a quick recap or watch the Hulu versions of the shows on fast forward or just watch the pay per views.  But wishing to end the brand split is some short sighted thinking because for all intents and purposes you're asking for some bad times to come through to necessitate it.  There is no scenario in which business is going well AND they end brand split just because.  So think about what you really want and then try to adjust your viewing habits accordingly.
I'll end with this.  The brand split exists because the WWE is being paid to provide enough live TV content to warrant it.  Until that is no longer the case then it's going to stay, and a world where that's no longer case is one that is not as good for anyone actually working there.  So be careful what you wish for.  And that's all I got on that.  Until next time….