DeMarco: Can Elias Be A World Champion In WWE?
Will "The Drifter" drift his way to the top of WWE? Elias has everything needed to be a world champion.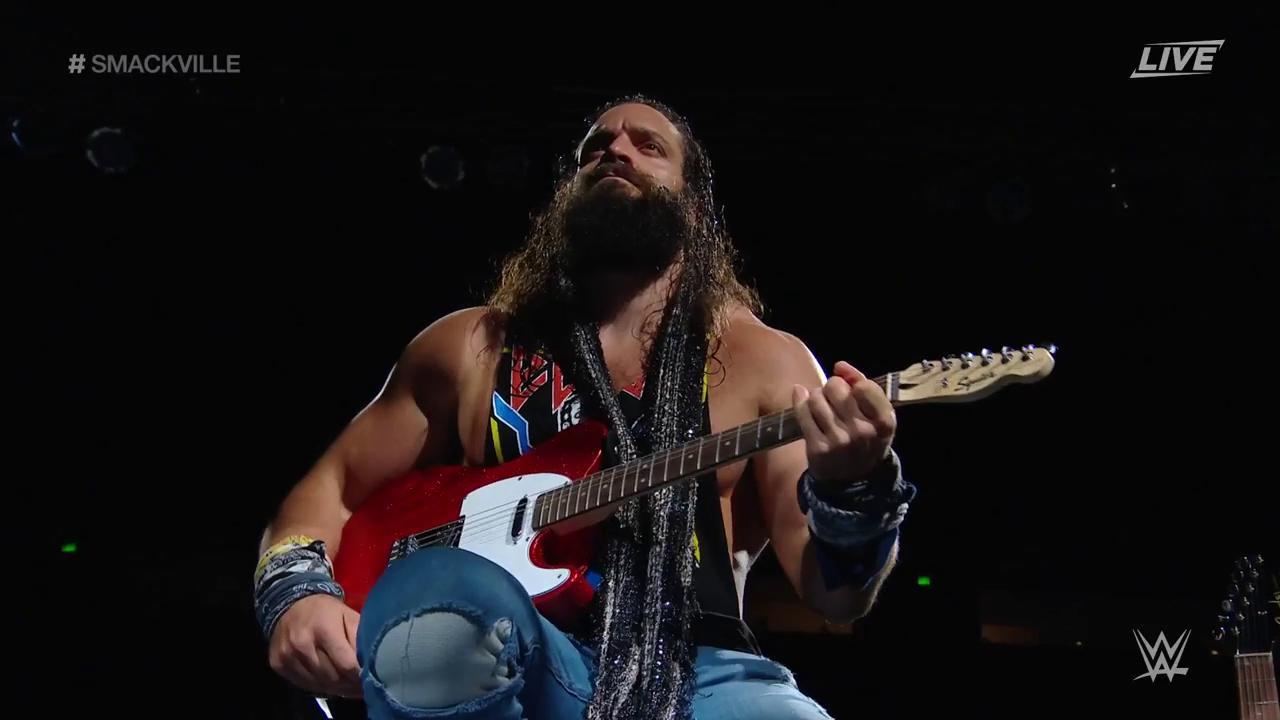 Will "The Drifter" drift his way to the top of WWE?
Elias, the guitar toting "drifter" formerly known as Elias Sampson, has been able to capture the imagination of the WWE Universe for quite some time now. He was completely comfortable in front of huge WrestleMania level crowds using simply a guitar and a stool, and has shared the spotlight with some all time greats. But can he become one himself?
That's the tricky question!
In an interview with Memphis outlet The Commercial Appeal, Elias said he wanted to progress to the Intercontinental Championship and to the Universal Championship. And he's certain he can be a world champion.
"I've got every tool you could imagine to get there, so it's just a matter of opportunity and timing, as far as I'm concerned."
That's a level of confidence I love to see in any WWE superstar, especially one as over as Elias. But confidence alone won't get you to the top. Does he have every tool?
I've always looked at wrestlers as a "five tool player," an analogy used primarily in baseball. Here are the five tools—my five tools—needed to be at the top of the wrestling world:
Look
In-Ring Ability
Promo skills
Charisma
The "IT" Factor
Some would immediately question the fact that three of the five—60%—have little to do with what happens in the ring. And that can be argued. But four of the five—80%—sell what happens in the ring. And this is a sales oriented business.
Look – Elias definitely has the look needed to be a top talent. He's big enough and is easily recognizable.
In-Ring Ability – This one is the trickiest, especially for the online wrestling fanbase. You don't need to be AJ Styles to be a top talent. In fact, in-ring ability is a threshold. Once you are "good enough," the other four tools can take you to the top. Elias has reached the necessary threshold.
Promo Skills – Yep. I mean, I won't even entertain any arguments on this one. It's obvious.
Charisma – Elias opened the 2019 Royal Rumble at #1, sitting in the center of the ring in the dark. He spoke to the emptiest side of the baseball stadium, and controlled a crowd of 48,000+. He can share spotlight with anyone and not seem out of place. He belongs.
"It" Factor – This is easiest the most subjective of the five tools, and the hardest to define. It's also impossible to train…either you have IT, or you don't. And Elias has IT. Watch his documentary on the WWE Network titled "Elias: Live From Bourbon Street" and you'll see it. If you don't see "IT," watching that, you don't know what "IT" is.
So even if we can agree that Elias is a five tool player (let's just agree, okay?), there is still another factor: booking. A wrestler rarely books him or herself, so their career trajectory is largely dependent on someone else to make that decision. That's no different than getting a new job, a promotion at a current job, or dating someone. Someone else ultimately has to make the decision.
So Can Elias Be A World Champion In WWE?
That is the million dollar question, and the title of this article, right? Well the answer—to me—is yes. And me is who you are reading!
He has the tools, he just needs the right story. He has other factors in his favor, namely that guitar, that aids in the fan investment in his character. You can argue that Jeff Jarrett never wins a world title if he never blasts someone with a guitar. That's a hook, and that's all Elias really needs to take off. He already has it!
On the most recent edition of WWE Backstage, The Miz agrees that Elias can make it to the top.
"I think Elias has what it takes to be a top talent in WWE."
It's hard to argue with the A-Lister, as he himself got off to a rocky start only to have a Hall Of Fame career that isn't nearly done. Miz knows what it takes, and he's lived it.
So How Do You Do It?
That's the magic question, because it's all about storytelling. For me, Elias needs to be a heel, and needs the right opponent. Say Roman Reigns wins the Universal Championship at WrestleMania (I think he will), could Elias be the guy to oppose him moving forward? I completely believe he could, as his weapon of choice could provide "The Big Dog" with the weakness and vulnerability to tell the story.
And that's what it's all about: telling the story. You can tell a story with Elias. You can tell a lot of stories, actually. And you can tell them at the highest level with Elias.
I want to know what you think: Can Elias be a World Champion in WWE? Leave a comment on this content, hit me up on social media @ChairshotGreg or email me at gregdemarco@thechairshot.com!