DeMarco: Top 5 Things That Need To Happen At The 2020 WWE Royal Rumble
It kicks off the Road to WrestleMania, and here are 5 things WWE needs to do on Sunday night at the Royal Rumble.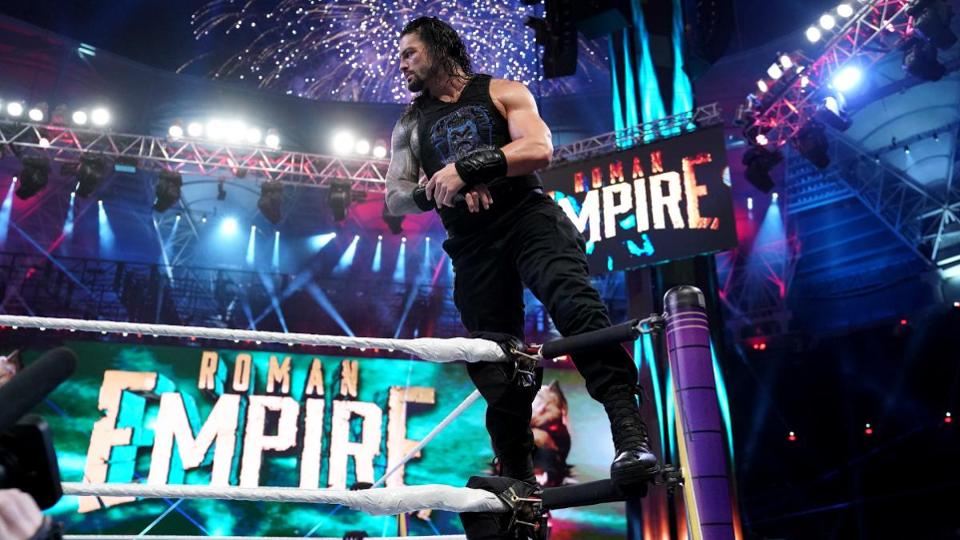 It kicks off the Road to WrestleMania, and here are 5 things WWE needs to do on Sunday night at the Royal Rumble.
The Royal Rumble is one of the most exciting events on the WWE calendar. It's usually the second most important show of the year behind WrestleMania. That should serve as a great reminder as to just how important WrestleMania is—the show that kickstarts the build to WrestleMania is the second biggest show of the year! It's also in it's second straight year as a stadium show, proving it's worth on the calendar.
I was lucky enough to attend the 2019 edition live here in Phoenix, and this year I'll be watching my big ass TV sitting on my comfy couch. Can't go wrong either way, IMO.
How, let's get to it: here is what I need to see happen Sunday night to kick off the Road To WrestleMania. Seriously, these are non-negotiables. I mean, if WWE doesn't do exactly what I am suggesting, I am cancelling me WWE Network subscription on Monday.
(HAAAAAHAHAHAHAHAHAHAAAAAAAAA! I'm not doing that. C'mon. Neither are you. We love this too much! Consider these strongly worded suggestions, k?)
Shayna Baszler Wins The 2020 Women's Royal Rumble Match
Shayna Baszler lost two matches in 2019. TWO. She got pinned by Rhea Ripley at War Games in November, and then lost her NXT Championship to the same Rhea Ripley to finish off 2019. She pretty much dominated for a two year stretch, barely losing at all, and she was the catalyst for rebuilding the women's roster in NXT.
She was the reason Io Shirai turned heel. She sent Dakota Kai into madness. She elevated Bianca Belair. She legitimized Rhea Ripley. Shayna Baszler has done it all in NXT, and now it's time for her to shine.
Winning the 2020 Royal Rumble and going on to face Becky Lynch at WrestleMania 36 is the obvious move, especially after the build to and execution of 2019's Survivor Series main event. A main event which Baszler won, by the way.
And that's totally okay. Sometimes obvious is the way to go, and that's the case here. Baszler needs to challenge—and beat—Becky Lynch at WrestleMania. Hell, it might help both her and Becky if Shayna is dominant in that match, too.
Ricochet Eliminates Brock Lesnar From The Men's Royal Rumble
Seems obvious, right? That's perfect. That's Paul Heyman booking, and it can open the door for the right Cain Velasquez moment at WrestleMania.
Ricochet, who Brock Lesnar hit with a low blow on Raw, fits the profile of a great Brock Lesnar opponent. He's smaller, he can bump his ass off, and most importantly he's one of the most beloved competitors on the roster. He can get a crowd of 75,000+ behind him with ease as the underdog, and even in a loss he can come out looking amazing.
Plus you have Elimination Chamber and FastLane (plus quite a few editions of Raw) for Ricochet to earn and defend his spot in the match. Kofi Kingston laid out the blueprint last year, and there's no reason you can't tweak that and use it with Ricochet with massive success.
It also sets up the return of Cain Velasquez for after Lesnar wins, as he continues to beat Ricochet down until Cain makes the save. To me it's the perfect storm, we've already been hit over the head with it on Raw, and I see no reason to stop now.
Roman Reigns Wins The 2020 Men's Royal Rumble Match
Headed into the 2020 Royal Rumble, there is no obvious challenger for Bray Wyatt, The Fiend, and his Universal Championship. To me, that's where the Royal Rumble comes into play—in setting up his challenger. We all know Brock Lesnar is entering at #1 and can assume that sets up his WrestleMania opponent (I mean, see above lol!), so it leaves us with the Smackdown side to get handled via the Rumble.
After Roman Reigns ends his feud with Baron Corbin, he can focus solely on The Fiend. It's the perfect time for Roman to return to the world championship picture, and the fans will be behind him more than ever.
It was last winter that Roman Reigns returned after his fight with Leukemia, a fight he has won so far. It's a story of inspiration and determination, which perfectly suits a program with The Fiend. Bray Wyatt has been unstoppable since adopting this new persona, and Roman Reigns is the perfect foil.
I also think Roman could be the first person to beat The Fiend, but that's another bit of content for another day. 🙂
Keith Lee Has A Monster Night In The Royal Rumble
If you know me, you know I love me some Keith Lee. I kicked things off with the newsletter with Keith Lee, and haven't looked back.
Keith Lee just won the WWE NXT North American Championship, after his great showing at Survivor Series, where he eliminated Seth Rollins before going toe-to-toe with Roman Reigns before The Big Dog emerged victorious.
Lee has mainstream star written all over him, and at 35 years old you can't wait forever on him. While he just won the North American Championship in NXT, he can still have a great showing in the Royal Rumble, possibly breaking the single-night eliminations record (or even tying it), and going on to have a match at WrestleMania.
Andrade Dominates Humberto Carillo
For as much of a Keith Lee fan I am, I am every bit as much a fan of Andrade. Maybe more so, in fact.
Andrade, formerly Andrade Cien Almas, is the reigning WWE United States Champion and will be defending his championship at the Royal Rumble against Humberto Carrillo. Humberto has been a star on the rise, even having a program with AJ Styles when the latter was Champion of The United States. But this match needs to be all about Andrade.
Andrade should have a huge match at WrestleMania (Rey Mysterio's Hair vs Mask suggestion seems perfect to me). Let's set this up by establishing him as a dominant champion.
Let me know what you think about these five things! Hit me up on social media @ChairshotGreg, or email me at gregdemarco@thechairshot.com.