King's Top 5 Moments For Worlds Collide 2020
Chris breaks down his Top 5 moments from Worlds Collide!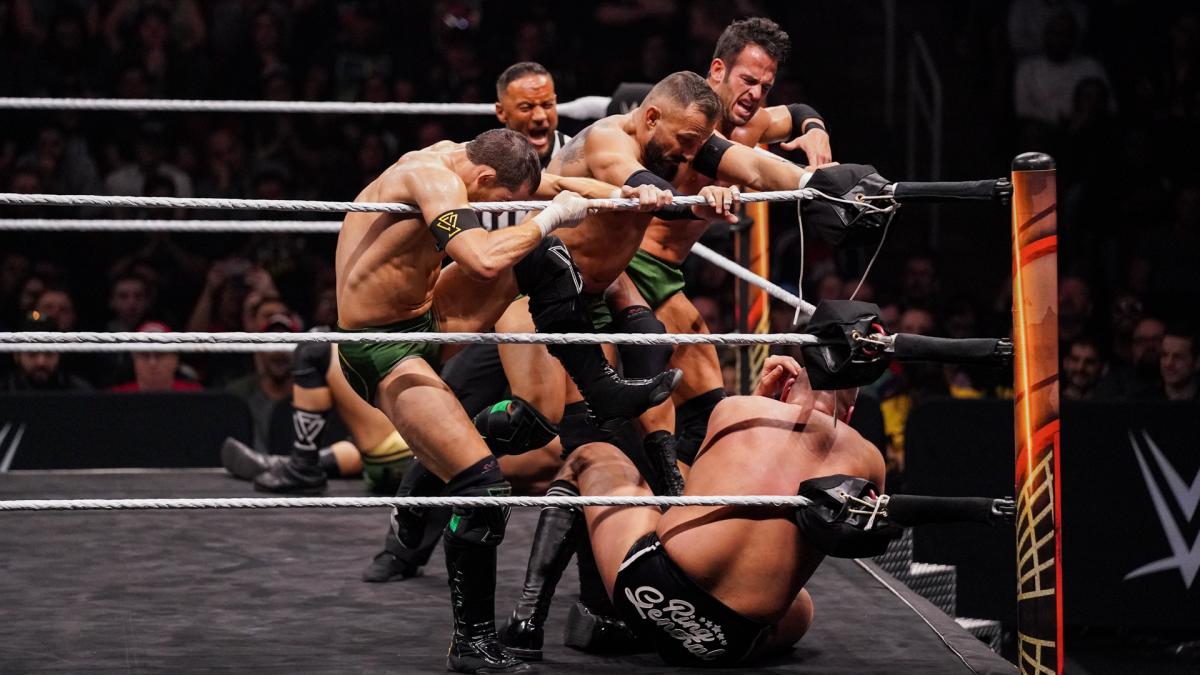 This past Saturday was a tremendous night of professional wrestling as NXT and NXT UK went into head-to-head competition.
The NXT Universe bared witness to some fantastic dream matches such as Finn Balor vs. Ilja Dragunov, DIY vs. Moustache Mountain, and finally the colossal clash between The Undisputed Era and Imperium. We also got a shocking title change too.
Typically, my top five moments are hard to choose from but every single match on the card blew me away which made my job super easy!
5. The Nightmare Continues
Typically, when someone says that it's in a negative context but this time it's awesome news. Rhea Ripley successfully defended her NXT (Women's) Championship against her long-time rival Toni Storm in a great match. If we're keeping score, this was their third encounter since the UK inception in 2017.
Storm was ready to become the brand-new champion but Ripley had other plans. A nasty-looking German suplex into the turnbuckle had "The Nightmare" reeling in pain. All it took though was one wrong move from Storm to be silenced by a thunderous Riptide!
4. The Irish Ace Is Champion
Putting this match as number four hurt a little but given the other contests that came afterwards, it's fitting. Take nothing away from all four competitors, as Angel Garza was defending his NXT Cruiserweight Title against Isaiah "Swerve" Scott, Travis Banks, and Jordan Devlin.
Every single superstar performed combo maneuvers and we're given a great amount of time to showcase their incredible talents. I was shocked to see Garza lose the title so quickly after he won it from Lio Rush. I never would have predicted that Devlin would win the title, and yet now that the Cruiserweight Championship is on the UK brand it opens up a plethora of options and a dozen questions.
Does this mean that the Cruiserweight Championship will get a new name or be exclusive to one specific brand? Will it be defended on all four shows and will it be added to TakeOvers? I'm excited to see what happens next!
3. The Prinxe Dominates
In one of the most highly-anticipated dream matches on the card Finn Balor was going one-on-one with IIja Dragunov. "The Russian Moscow"  has been on a roll recently, tearing it up with Cesaro, Alexander Wolfe, and making a name for himself on the UK brand.
The promos between Balor and Dragunov have been so red-hot that I knew the moment they battled it would be fantastic. Both superstars delivered on every front that made you question who ultimately would win. The Prinxe quite simply kicked the young up-and-comer down a peg or two by continuing his relentless and aggressiveness.
Balor is on a whole other level right now and it's crazy to say this, but he doesn't need to hide behind "The Demon" anymore he's so damn ruthless and vindictive. It's amazing to see how Balor coming back to NXT and turning heel has transformed his character so much!
2. DIY & Moustache Mountain Create Magic
I wonder if when wrestlers are having a match and the crowd goes nuts do they know that they've stolen the show or do they find out afterward? Johnny Gargano, Tommaso Ciampa, Tyler Bate, and Trent Seven told a beautiful story at Worlds Collide. I've watched every match from both DIY and Moustache Mountain and I knew it was going to be EPIC but had no clue how much.
From the impeccable in-ring chemistry to the double-team maneuvers to the little mannerisms like both Gargano and Ciampa doing the clap pose together made it feel special. There were dozens and dozens of near-falls and moments that made the NXT Universe chant "This Is Awesome" because it truly was!
1.WALTER IS A FREAKIN BEAST
You hear all this talk of Brock Lesnar being dubbed "The Beast Incarnate" yes he's a beast and can throw you around like nothing but damn Walter blows him out of the water! It was extremely hard after watching DIY vs. Moustache Mountain to put this at number one but it exceeded it. It was a colossal dream clash of the titans between two of the most unique and dominant factions in WWE today.
I know the heading is about Walter being a beast but all of the members of Imperium truly shined. Alexander Wolfe was taken out early which gave UE the numbers advantage. It quickly became a four-on-three scenario and after Roderick Strong obliterated Walter through the announce table it got worse for the quartet.
I thought for sure that UE had this match in the bag as they dominated and kept the pace slow and methodical. Out of freaking nowhere, "The Ring General" made it back to the apron for the hot tag and singlehandedly chopped the souls out of UE. I've seen and heard so many knife-edge chops but Walter's are so damn brutal.
I also truly love his powerbomb it's thunderous and very effective. Imperium standing tall was the absolute right call as I'm expecting an implosion of UE. Yes, I know it's something that we don't want to see but when it happens it's going to take the world of professional wrestling by storm.
There are millions of people that watched the same event and I would be interested in hearing your thoughts and comments. What match stood out to you and why? In my opinion, it wasn't technically a TakeOver but it still was and it was AWESOME!!!