King's Top 5 Moments For Worlds Collide 2020
Chris breaks down his Top 5 moments from Worlds Collide!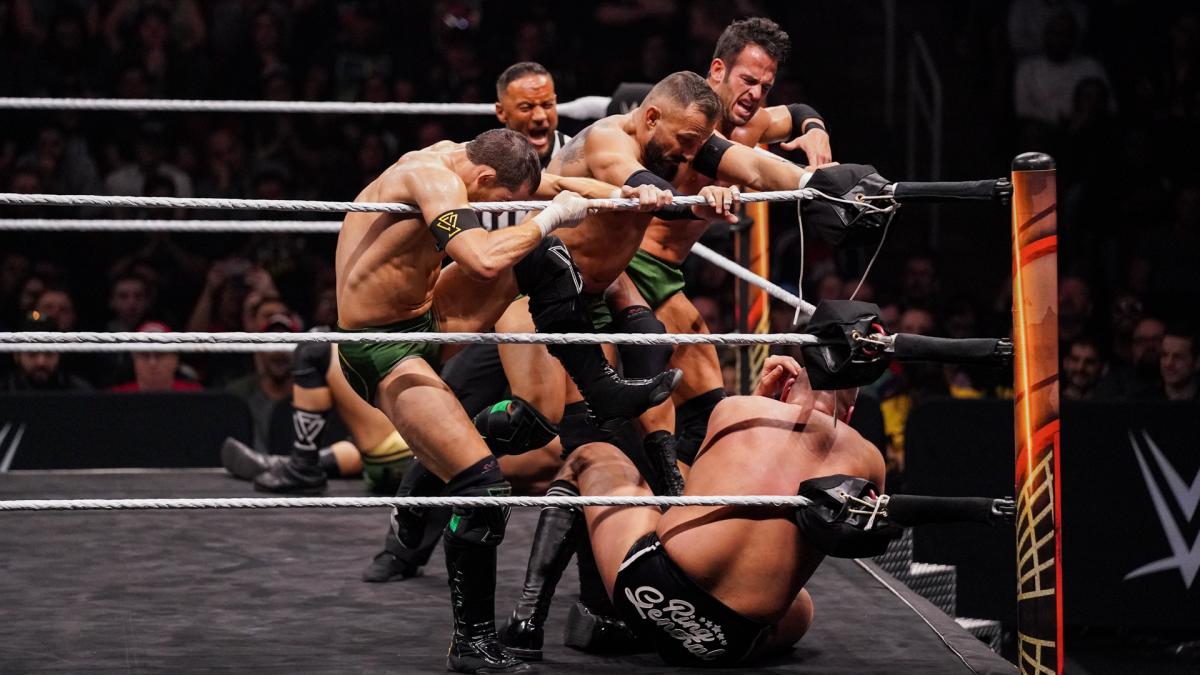 This past Saturday was a tremendous night of professional wrestling as NXT and NXT UK went into head-to-head competition.
The NXT Universe bared witness to some fantastic dream matches such as Finn Balor vs. Ilja Dragunov, DIY vs. Moustache Mountain, and finally the colossal clash between The Undisputed Era and Imperium. We also got a shocking title change too.
Typically, my top five moments are hard to choose from but every single match on the card blew me away which made my job super easy!
5. The Nightmare Continues
Typically, when someone says that it's in a negative context but this time it's awesome news. Rhea Ripley successfully defended her NXT (Women's) Championship against her long-time rival Toni Storm in a great match. If we're keeping score, this was their third encounter since the UK inception in 2017.
Storm was ready to become the brand-new champion but Ripley had other plans. A nasty-looking German suplex into the turnbuckle had "The Nightmare" reeling in pain. All it took though was one wrong move from Storm to be silenced by a thunderous Riptide!
4. The Irish Ace Is Champion
Putting this match as number four hurt a little but given the other contests that came afterwards, it's fitting. Take nothing away from all four competitors, as Angel Garza was defending his NXT Cruiserweight Title against Isaiah "Swerve" Scott, Travis Banks, and Jordan Devlin.
Every single superstar performed combo maneuvers and we're given a great amount of time to showcase their incredible talents. I was shocked to see Garza lose the title so quickly after he won it from Lio Rush. I never would have predicted that Devlin would win the title, and yet now that the Cruiserweight Championship is on the UK brand it opens up a plethora of options and a dozen questions.
Does this mean that the Cruiserweight Championship will get a new name or be exclusive to one specific brand? Will it be defended on all four shows and will it be added to TakeOvers? I'm excited to see what happens next!
3. The Prinxe Dominates
In one of the most highly-anticipated dream matches on the card Finn Balor was going one-on-one with IIja Dragunov. "The Russian Moscow"  has been on a roll recently, tearing it up with Cesaro, Alexander Wolfe, and making a name for himself on the UK brand.
The promos between Balor and Dragunov have been so red-hot that I knew the moment they battled it would be fantastic. Both superstars delivered on every front that made you question who ultimately would win. The Prinxe quite simply kicked the young up-and-comer down a peg or two by continuing his relentless and aggressiveness.
Balor is on a whole other level right now and it's crazy to say this, but he doesn't need to hide behind "The Demon" anymore he's so damn ruthless and vindictive. It's amazing to see how Balor coming back to NXT and turning heel has transformed his character so much!
2. DIY & Moustache Mountain Create Magic
I wonder if when wrestlers are having a match and the crowd goes nuts do they know that they've stolen the show or do they find out afterward? Johnny Gargano, Tommaso Ciampa, Tyler Bate, and Trent Seven told a beautiful story at Worlds Collide. I've watched every match from both DIY and Moustache Mountain and I knew it was going to be EPIC but had no clue how much.
From the impeccable in-ring chemistry to the double-team maneuvers to the little mannerisms like both Gargano and Ciampa doing the clap pose together made it feel special. There were dozens and dozens of near-falls and moments that made the NXT Universe chant "This Is Awesome" because it truly was!
1.WALTER IS A FREAKIN BEAST
You hear all this talk of Brock Lesnar being dubbed "The Beast Incarnate" yes he's a beast and can throw you around like nothing but damn Walter blows him out of the water! It was extremely hard after watching DIY vs. Moustache Mountain to put this at number one but it exceeded it. It was a colossal dream clash of the titans between two of the most unique and dominant factions in WWE today.
I know the heading is about Walter being a beast but all of the members of Imperium truly shined. Alexander Wolfe was taken out early which gave UE the numbers advantage. It quickly became a four-on-three scenario and after Roderick Strong obliterated Walter through the announce table it got worse for the quartet.
I thought for sure that UE had this match in the bag as they dominated and kept the pace slow and methodical. Out of freaking nowhere, "The Ring General" made it back to the apron for the hot tag and singlehandedly chopped the souls out of UE. I've seen and heard so many knife-edge chops but Walter's are so damn brutal.
I also truly love his powerbomb it's thunderous and very effective. Imperium standing tall was the absolute right call as I'm expecting an implosion of UE. Yes, I know it's something that we don't want to see but when it happens it's going to take the world of professional wrestling by storm.
There are millions of people that watched the same event and I would be interested in hearing your thoughts and comments. What match stood out to you and why? In my opinion, it wasn't technically a TakeOver but it still was and it was AWESOME!!!
NXT Minus 6: Anatomy of a Wrestling Match
Bradley Jay digs into the HISTORY MAKING night of WWE NXT. HISTORY! (And Timothy Thatcher is the only person to ever win in Fight Pit.)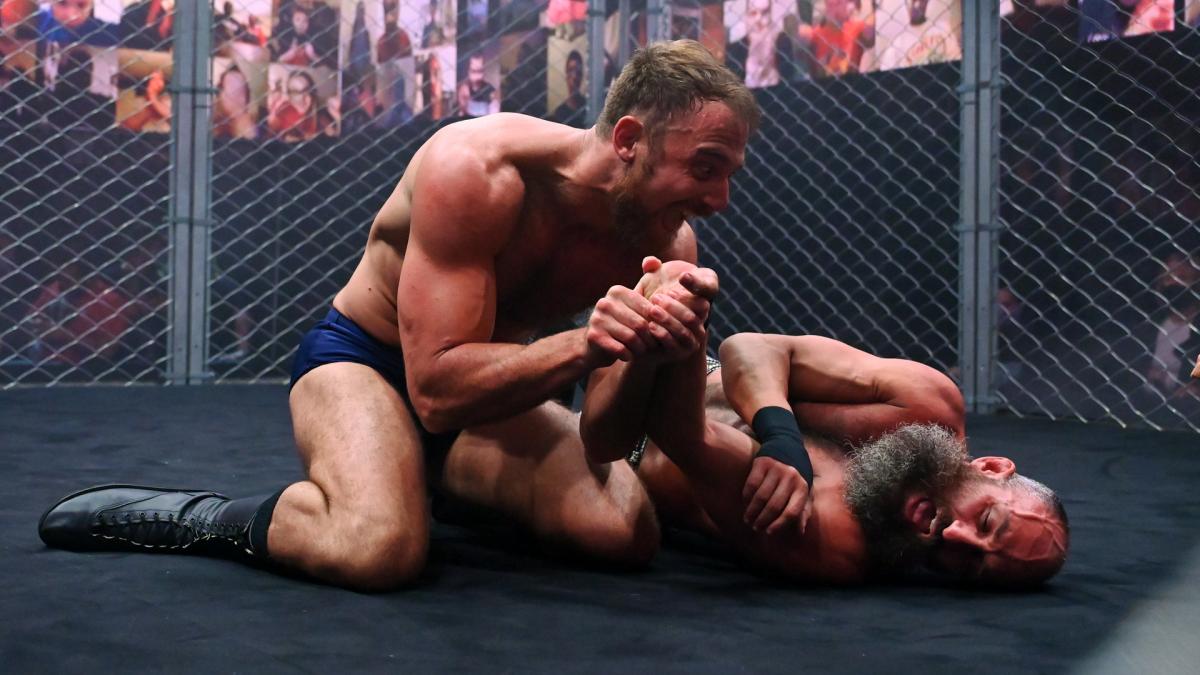 Bradley Jay digs into the HISTORY MAKING night of WWE NXT. HISTORY! (And Timothy Thatcher is the only person to ever win in Fight Pit.)
Other than in-ring action, there are a lot of factors that can make or break a match.
6. I'm running a new feature for the Dusty Rhodes Tag Team Classic: the History-O-Meter! How many times can lazy announcers reference making history in one show? This week, TWELVE!!! Every ten minutes that gaggle of human of microphone stands reminded us we are witnessing HISTORY MAKERS MAKING HISTORY EXCLAMATION POINT!!!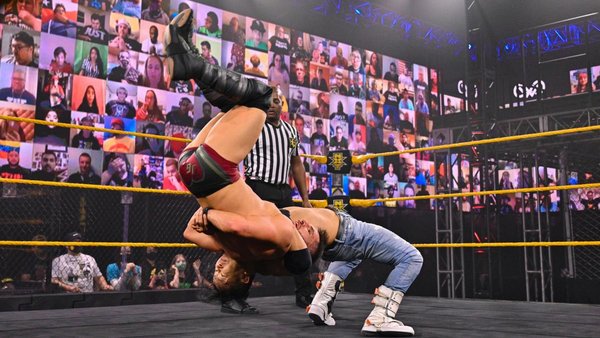 5. I have dubbed this year's DRTTC "3.5 Live." Most of the matches have been solid, nothing great. The best so far? The Way versus KUSHIDA and Leon Ruff. KUSHIDA gets an extra ½ star by himself. He hits an armbar suplex into a bridge for the 1-2-3. I've never seen that. It's too much fun watching him figure out how to twist his opponent into a pretzel. 
4. Pete Dunne cut a scorching promo this week. Clearly the Bruiserweight didn't spend all his time away getting shredded beyond belief. Finn Balor isn't going to pass the torch so much as Dunne will break his fingers and rip it out of his hand. Speaking of Balor…
3. The Prince needs a tag team partner to face the Brit-Am Brawlers. Of course he calls in a favor from Kyle O'Reilly. Everybody's favorite Canadian accepts but clearly isn't excited about it. Are they letting bygones be bygones? Oh Hell no. I've never been so happy to see two guys not shake hands. Gonna be some tense teammates Wednesday night. The little details take it from good to great. Balor and O'Reilly are two of the best. 
2. First and foremost, wrestling is about the story being told in the ring. However, it takes more than that to create a great match. One of those elements is production. We're having a nice Fight Pit match. Tommaso Ciampa is whomping Timothy Thatcher on the platform above the ring. Then we go to a commercial. When we get back, the two men are in the ring?!?! No explanation. No split screen with "Here's what happened during the break." The production crew could not have screwed that up any worse. It was like reading a 10-chapter book that's missing chapters 3-6. Awful.
1. Announcing is another element that can make or break a match. I can almost forgive Wade Barrett for screaming like he's watching his mom die in a house fire. Here's what I won't forgive. Did you know there's only been one other Fight Pit in history? And Timothy Thatcher is undefeated in the Fight Pit?? Did I mention that this was only the second Fight Pit in history? The second one! In history! And Thatcher is undefeated in the Fight Pit? Because this is only the second one in history! AND THATCHER WON THE FIRST AND ONLY OTHER FIGHT PIT!!!  I spent half the match wishing Ciampa and Thatcher would join forces to kick the crap out of the announce team. Better announcing and better production could have made this the match it deserved to be.
Cook's 2021 AEW Dynamite Awards Preview
Steve Cook is here to preview the 2021 AEW Dynamite Awards?!?! Check it out, you won't be disappointed.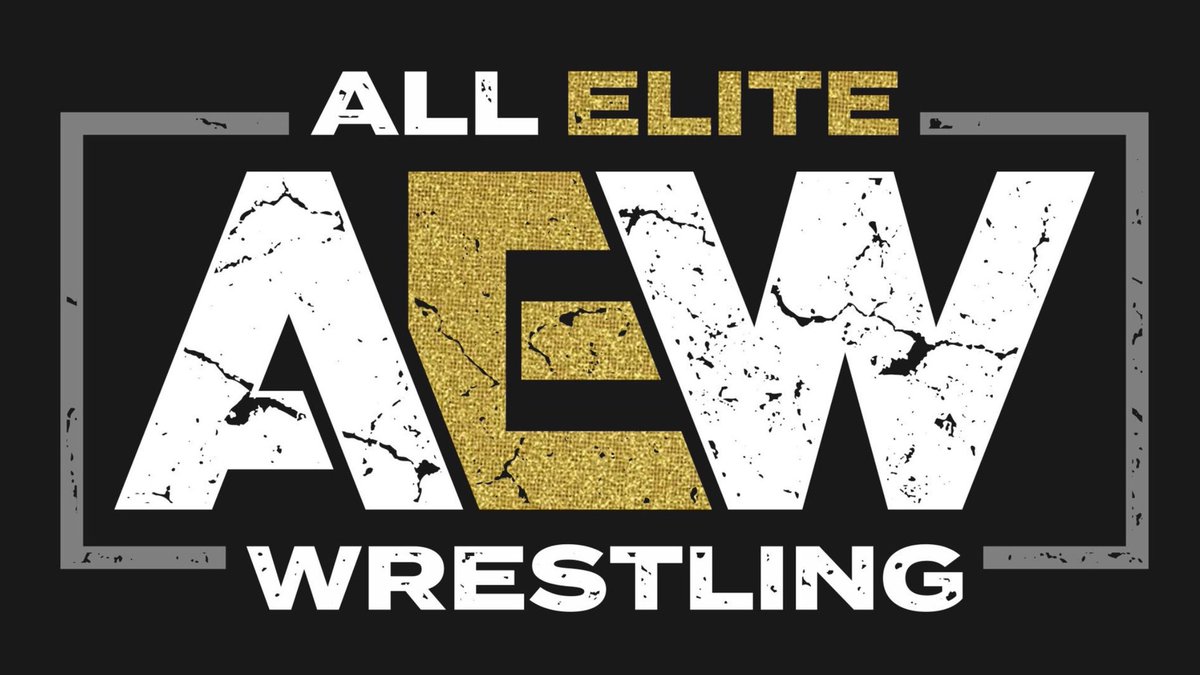 Steve Cook is here to preview the 2021 AEW Dynamite Awards?!?! Check it out, you won't be disappointed.
It's Awards Season! Maybe it's just me, but it feels like pro wrestling has more awards with each passing year. In addition to the Wrestling Observer, 411mania & countless other media outlets presenting awards, promotions do their own as well. WWE has the Slammys & the NXT Year-End Awards. Impact Wrestling has had their own awards since around the start of their company.
It only makes sense for AEW to add themselves to the mix. I'm a little confused by the Dynamite Awards, only because some of the moments nominated didn't take place in 2020. Some of the late 2019 stuff was included here, which I suppose was in the interest of fairness because early 2020 would have been too soon to do awards. Still kinda off, but this will take care of itself in 2022. Probably.
Let's take a look at this year's AEW Dynamite Awards! I'm going to tell you who should win and who will win, so you can win your AEW Dynamite Award pool. I don't know if people will be betting on these things, but just in case they are, here's some help!
Best Moment on the Mic:
MJF Campaign Speech "We Deserve Better"
Cody Rhodes Accepts Mr. Brodie Lee's Dog Collar Match Challenge
Jon Moxley "Accepts" The Inner Circle Invitation From Jericho
Brandi Rhodes Confronts Jade Cargill
Orange Cassidy Debates With Chris Jericho
Who Should Win: Orange Cassidy Debates With Chris Jericho
Honestly, one of the biggest travesties committed by the selection committee is the lack of Eddie Kingston in this category. Completely ridiculous. That being said, there aren't any duds listed here. Brandi's inclusion probably gets some heat from people, but her going off on Jade was tremendous. Orange's performance against Jericho in the debate was some pretty good stuff & showed a different side of Mr. Cassidy than we're accustomed to seeing. I'd give the award to him.
Who Will Win: Orange Cassidy Debates With Chris Jericho
We're talking about Pro Wrestling Illustrated's Most Popular Wrestler of the Year here, along with the Demo God. Their star power carries them to the top of the polling.
Biggest Surprise:
Matt Hardy's Debut
Jake "The Snake" Roberts Confronts Cody Rhodes
Brodie Lee Arrives As The Exalted One
Sting's AEW Debut
Miro Revealed As The Best Man
Who Should Win: Jake "The Snake" Roberts Confronts Cody Rhodes
Your vote here will largely depend on your fandom of the wrestler involved. Matt Hardy fans will vote for Matt Hardy. Fans of underutilized WWE talent may go for Brodie or Miro. Sting's popularity speaks for itself. For me, it goes back to Jake The Snake being my first favorite professional wrestler. Seeing him again, especially seeing him over the issues that had plagued him for decades, was a tremendous moment.
Who Will Win: Sting's AEW Debut
"IT'S STING!" is all that needs to be said here.
Biggest Beatdown:
The Inner Circle Jumps Orange Cassidy
The Dark Order Attacks the Nightmare Family
Nyla Rose Puts Riho & Shida Through Tables
Brian Cage Sneak Attack On Jon Moxley
The Nightmare Family And Inner Circle Brawl
Who Should Win: The Dark Order Attacks The Nightmare Family
Brodie Lee's destruction of Cody to win the TNT Championship really put Dark Order on the map as a force to be reckoned with. My favorite part of the beatdown: we didn't see all of it. Dustin Rhodes & QT Marshall were drug out from the back, explaining why they didn't come out to help Cody earlier. Arn Anderson took some shots like a champ, and Brandi got choked out by Anna Jay. By the time the old TNT belt had been deposited on Cody's carcass, the message had been sent loud & clear.
Who Will Win: The Nightmare Family And Inner Circle Brawl
This fight had a little bit of everything. MJF as a good guy. Cody smashing a window. Diamond Dallas Page looking like he could make one more run. Dippin' Dots. Chris Jericho screaming about how he had a ticket. A hot crowd. What's not to like?
High Flyer:
Rey Fenix
Marq Quen
Nick Jackson
Pac
Who Should Win: Rey Fenix
All four of these guys are insane, but nobody brings the insanity like Fenix. That guy just doesn't care as long as he does as many flips as humanly possible. He & Penta were deserving winners of most web sites' Most Underrated award, maybe he'll get some recognition here.
Who Will Win: Nick Jackson
Fenix & Pac split the vote of Death Triangle fans, enabling Nick to ride the support of Elite fans to the crown.
Hardest Moment To Clean Up After:
Orange Cassidy Drops OJ on Inner Circle
Parking Lot Brawl
Bunkhouse Match
Big Swole Dumps Garbage On Dr. Britt Baker
Who Should Win: Orange Cassidy Drops OJ On Inner Circle
The Parking Lot Brawl is my favorite moment on the list, but the damage was largely contained to the parking lot. Big Swole's garbage ended up in Dr. Baker's Popemobile, not scattered all over the place. The Bunkhouse Match went everywhere and definitely deserves consideration, but the OJ incident resulted in a ruined suit & ring canvas. Definitely tough to get that stuff out.
Who Will Win: Parking Lot Brawl
People get a chance to vote for this, they probably will. Orange is represented in this one too, so it's all good.
Biggest WTF Moment:
Cody Moonsaulting Off The Steel Cage
Sammy Guevara Is Hit By The Golf Cart
The Young Bucks Frog Splash Off The Stadium Railing
MJF Lashes Cody Rhodes
Bloody Dr. Britt Baker vs. Hikaru Shida
Kenny Omega Wins AEW World Championship and Walks out of AEW
Who Should Win: Sammy Guevara Is Hit By The Golf Cart
I am the golf cart.

The dumb "AEW needs to stop pushing ex-WWE guys!" arguments are Sammy Guevara. pic.twitter.com/ol2y9Qkzya

— Andy H. Murray (@andyhmurray) May 7, 2020
All these moments definitely had an element of craziness, but they all pale in comparison to Sammy getting hit by the golf cart. Like, who willingly does that? Definitely something people shouted "WTF?" at.
Who Will Win: Kenny Omega Wins AEW World Championship and Walks out of AEW
We certainly saw some funny business coming when Don Callis started appearing to call big Kenny matches. Nothing quite like what we've gotten, where AEW is regularly making their presence felt on Impact Wrestling's AXS TV show while Omega & Callis have joined forces with the Good Brothers to re-live their New Japan glory days. Recency bias & the general craziness of AEW & Impact crossing over make this a solid pick.
LOL Moment:
Jericho & MJF: Le Dinner Debonair
Dr. Britt Baker Waxes Tony Schiavone
Young Bucks Super Kick MJF Into Cruise Ship Pool
The Inner Circle Las Vegas Trip
Who Should Win: The Young Bucks Super Kick MJF Into Cruise Ship Pool
The #ExplosiveMomentOfTheWeek from #AEWDynamite: The #YoungBucks showed up and tossed @The_MJF into the pool! 💧

Watch the latest episode on the @tntdrama app: https://t.co/j3B0YYteML pic.twitter.com/b4CXshMUjj

— All Elite Wrestling on TNT (@AEWonTNT) January 25, 2020
I'm a simple man. Anytime somebody gets thrown into a pool on a wrestling show, I laugh and cheer. As creative as Jericho & MJF's musical number was, and as crazy as that Vegas trip was, and as much as I love Britt & Tony's chemistry together, give me the classics every time. Man gets thrown into pool. Simple, yet effective.
Who Will Win: Jericho & MJF: Le Dinner Debonair
MJF needs another plaque honoring his musical performance to carry around. As Owen Hart & Scorpio Sky could tell you, one trophy is always better than two.
Best Twitter Follow:
MJF
Orange Cassidy
Dr. Britt Baker
Nyla Rose
Who Should Win: MJF
Dude just talks shit about everybody under the sun. Even Negative One, for heaven's sake!
Who Will Win: Orange Cassidy
Twitter was made for people like Orange, who have no problem keeping their thoughts under 140 characters. I'm also good at it!
Breakout Male Star:
Orange Cassidy
Darby Allin
Eddie Kingston
John Silver
Who Should Win: Eddie Kingston
I can make a really good argument for every single nominee. We've already seen Orange's name pop up a few times here, it's no secret that he had an outstanding year. Darby is the current TNT Champion and has proven his worth every time we've seen him in the ring. The Brian Cage match took place after voting started, but it was evidence of why Allin deserves to win an award like this, and deserves his spot as TNT Champion and the man that Sting has chosen to carry on his legacy. Don't get me started on Johnny Hungiee, once he started showing his personality on Being The Elite, everybody fell in love with the guy.
Eddie Kingston only went from needing to sell his wrestling boots to pay the rent to being one of AEW's brightest stars. Those of us who were familiar with his work in the indies or in Impact wrestling knew about it. All Eddie needed was a chance, and he'd take care of business. That's exactly what he did, and he'll be in AEW as long as he wants to be.
Who Will Win: Darby Allin
It'll be well-deserved, too. Nobody can deny that Darby brings it every time he's out there. The man might be 170 pounds fully clothed with some chains, but his toughness and inability to quit can't be denied.
Breakout Female Star:
Anna Jay
Tay Conti
Big Swole
Penelope Ford
Hikaru Shida
Who Should Win: Anna Jay
Anna had less than ten matches before getting on AEW television, and she immediately proved that she belongs. She can only get better in the ring, and she already performs at an acceptable level. Her only weakness? She always corpses when John Silver is being peak John Silver. I can't really blame her for it.
Who Will Win: Hikaru Shida
I mean, she is the AEW Women's Champion. Which is at least the second most important championship in the women's division. It's no fault of Shida's, she does good work, but I don't really see that connection between her and the audience.
Bleacher Report PPV Moment of the Year:
Stadium Stampede
Jon Moxley Wins AEW World Championship
Shida Wins AEW Women's World Championship
Kenny Omega & Adam "Hangman" Page Defeat The Young Bucks
Darby Allin Defeats Cody Rhodes For TNT Title
Young Bucks Win AEW World Tag Title
Who Should Win: Jon Moxley Wins AEW World Championship
Tons of good contenders here, but it's tough to argue against Mox knocking off Le Champion at Revolution. He was the right man to take the title from Chris Jericho at the right time, and few champions could have carried AEW through this weird year like Moxley did.
Who Will Win: Stadium Stampede
I think the multi-man clustermess has the best chance of garnering the most votes. It was certainly one of the most unique offerings from AEW in 2020.
Will the AEW Dynamite Awards be a unique offering? Tough to say, but you can find out by streaming the show on BR Live next Wednesday! You can also find out how right I was on every single award. It's a gift.