Mitchell's WWE Backstage Report! (1/21/20)
The Man comes around!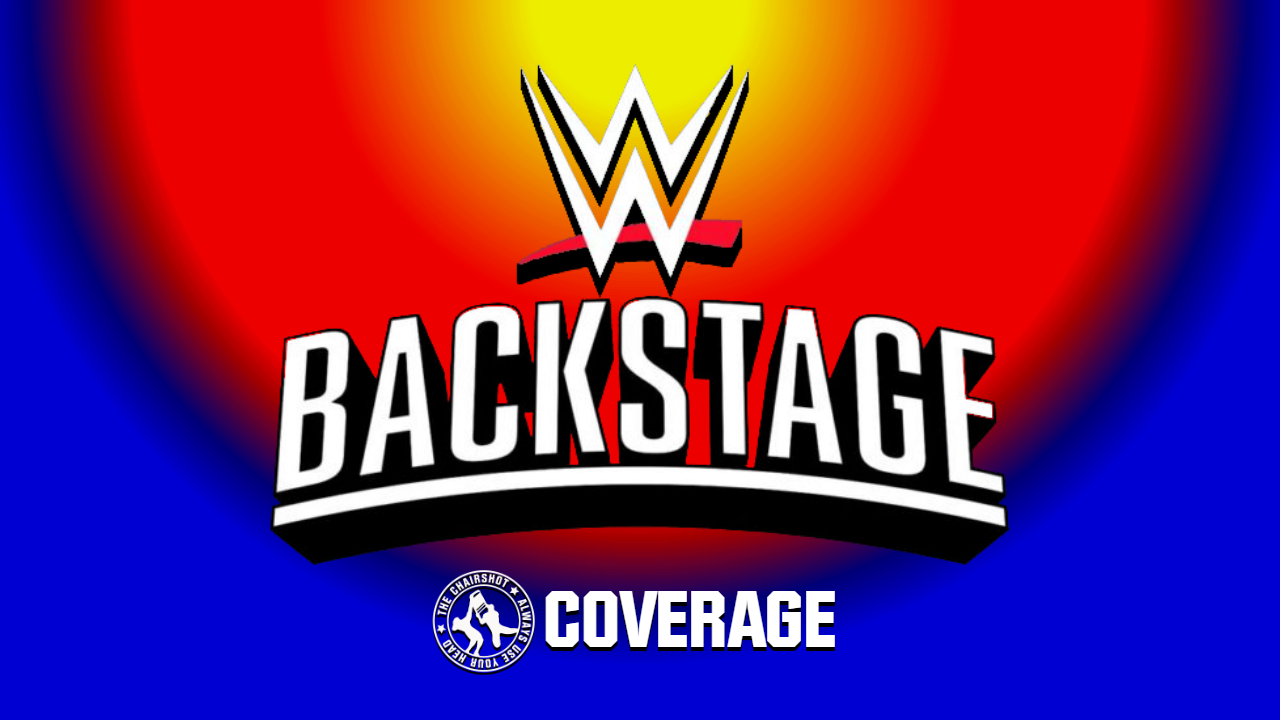 Backstage is Straight Fire!
With the Royal Rumble just days away, Raw Women's Champion, Becky Lynch, is here to talk her coming rematch with Asuka! Plus, CM Punk returns!
Renee Young and Christian welcome us to the show!
They're ready for the Royal Rumble and how the Road to WrestleMania begins. Speaking of the Rumble, countdown and "BZZT!" Paige is here! She can't do her side gallop in heels, but she makes it to the ring to join the panel again. There are rumors that she's in the Rumble to take on Lesnar, but no. And then, CM PUNK returns! "Should I do it, Renee?" "Do it, you coward!" It's CLOBBERING TIME!! College basketball ran long but Punk just used that time to get ready. Speaking of, Booker T tweets out that he's still in the gym. Is Booker going to be #RumbleReady in time? Christian says Booker's guns are from carrying his own luggage.
But speaking of a countdown, many superstars put in one last push for why they should be the favored men and women at the Royal Rumble this Sunday.
Just the Highlights!
For SmackDown: John Morrison went retro with that parkour flip onto Kofi Kingston! Then Starship Pain on Big E! Team Hell No reunited to get one over on The Fiend! A Woman's Right took down the champion, and the Bloodline took down the King's Court!
On Raw, Lesnar wasn't scared of Ricochet as he kicked him in the balls. The Kabuki Warriors proved Becky is still not ready for Asuka! El Idolo wasn't ready for the return of Ultimo Ninja! And destiny is coming true as we have NEW Raw Tag Team Champions!
The panel reacts.
New tag team champions were not expecting, CM Punk says these titles end up props. A certain someone doesn't like tag teams, because it's usually a big name bringing along another guy in these situations. But CM Punk does see the value in having the tag titles be put in the main angle, so this direction is intriguing. So far, thumbs up. For Buddy Murphy specifically, his losing streak to Aleister Black to becoming one half of the champs, Christian branches off CM Punk's thought. Why wasn't AOP the chosen team? But for Murphy's sake, he is getting to rebound alongside the self-anointed Messiah. And as the self-anointed leader of Backstage, Captain Charisma becomes Backstage Buddha.
Paige's reaction is that tag teams should hold the tag titles. But that's just her. Punk is just happy it isn't the cliched dysfunctional tag team of two guys who don't get along. Like Team Hell No? But Murphy is getting to this new level, and doing that should bring a gear change. Christian loves the flash, but sometimes a kick to the ribs with some grit adds so much more. Can't just look mean, you gotta be mean. Punk agrees, the flashy moves weren't enough, so Murphy needs to get dirty. Thumbs to the eye, perhaps.
Renee moves things to the huge ladder match, the first one on Raw TV in about 13 years. Almas VS Mysterio did great in kicking off the show, and Christian knows a thing or two about ladders. Almas has taken leaps and bounds, and he has nailed every challenge. This was one of those, and it's good to not over-saturate with ladders. You need to give meaning to the spectacle that is a ladder match, especially with the punishment your body goes through. Almas is just getting bigger each week. And then Zelina Vega moves up in the spotlight, and Paige thinks she's wonderful! That combo is great, especially since they both enjoy being in this spot. Punk feels like he had a ladder match less than 13 years ago. Not to make this about him or anything. But Zelina is great, too, mostly because she's AJ Lee in the Paige movie! Managers are fantastic, but Punk doesn't want to talk Sami Zayn, he wants to talk Zelina. Pent house first, out house later. But there is a lack of managers, and in such a sparse field, Zelina brings a great flavor.
To Becky's build, her win over Kairi turned right into a beating from Asuka. The rematch is coming, does it have that gravitas? Paige loves this whole thing. Becky's been the face, and she hasn't had that struggle. Asuka is that obstacle she has to overcome, and Asuka looks like the one to win. Punk says this is Becky's most important match. Batman has Joker, Becky has Asuka. Asuka is great, Punk is a big fan, so if she's the thorn in Becky's side that has her number, that's fantastic. You see the different elements in Becky when facing Asuka. The feud should continue. WrestleMania is still a long way away, so it's fun to keep this going. Christian says Asuka's confidence is what is helping, plus Becky's vulnerability. Such a great year for Becky yet there's still this doubt, that's adding layers to this. Asuka got pushed to the side, so there's that aspect, too. More on this and all of the Rumble build as we continue!
The Man, Becky Lynch, joins the panel!
A tie, shirt and the title. There's a quick argument about holding ropes and what it'd mean, but Becky is fine with getting through ropes on her own. But to get it from the source, did Becky feel when "The Man" clicked? It was a gradual thing for her. It was the culmination of years of frustration and neglect, and SummerSlam is when it went off. It was a "Heel turn," but it was also saying, "Enough is enough." She gained and lost momentum so many times, she freed herself with that slap! Plus, that reaction from the fans was so great. Punk is getting deja vu. Thinking of iconic moments, Hogan shaking hands with Savage, Austin with the blood in the Sharpshooter, and yes, to say it, #PipeBomb! Then, Becky and her own bloody face. That was another moment that changed the business forever.
Punk wants to know if she'd change anything about that. No, that was just part of the ever ongoing process. Becky does wonder when all that oversight piles on, the part of you that gets angry, and how it still happens, "Do I want that?" And she does. That chip on her shoulder, that competitive anger, it becomes motivation. You can sulk or you can use it, and so she chose to use it to take the fans on a journey. Booker has spoken to going 100% and Becky agrees. The nuances of character and story, people might be sick of her, but Paige having known Becky for a long, long time, she's seen Becky's progression. All these different forms, Becky's "The Man" has worked because it was the most true to her. It was everything she felt for so long and now she can just do it! No one was sure how to react to it, but she wasn't being monitored or contained, and then social media got it to the people.
Speaking of that history, Becky and Paige, there was a moment when Becky had quit, after facing Paige's mom. Becky remembers that hiatus, and the night it all went down. She was injured the night before that, and Paige's mom helped her a lot. Becky did come out to be the manager for Paige and her mom in Shimmer. Then Becky and Punk met because of Shimmer, if only because Punk was in the crowd watching Becky cut a promo. "It worked out." And to the present, Becky VS Asuka for some of WWE's most engaging TV these days, Becky knows Asuka is phenomenal. Her character work is especially amazing. That undefeated run in NXT but things got pulled out from under her, Becky's felt that. Becky wants to help make Asuka the monster she is, because Becky hasn't gotten a win on Asuka yet. It's a great story, dominance and doubt, things coming full circle for Becky. Is she going to win or lose, stay or go?
Before going to break, time to ask a question of Becky and Paige. Who wore the green mist better? The fans are split 50-50! Paige feels that's a bad thing. Punk says they're both so naturally pale that the green went with them so naturally. Hey, Becky's getting tanner. But where will the fans land at the end of the night?
Backstage looks back to Royal Rumble 2000's hardcore grudge match!
"Thumbtacks, barbed wire, tables, chairs, even the ring bell." Triple H and Cactus Jack Mick Foley pulled out all the stops in their Street Fight. 20 years later, Mick and Hunter recall that extreme WWE Championship match.
HHH says he was so geared up, Madison Square Garden being sold out, not much better than that. It was a proving point for HHH, but just as much for Mick with his career winding down. They both were on the same page in wanting to make something that would last forever. Mick loved going hardcore, because it'd take a toll physically and emotionally. HHH felt the chemistry between them, and knew it'd be magical. The suplex onto a wooden palate, the jagged piece that got his calf… HHH remembers feeling the hit, but not the stabbing. His adrenaline, he just took the piece out and kept going. There was just so much blood, that alone deserves a lot of credit. "Those types of matches" was Mick's thing, done them for years, so it was a lot for HHH to step up to that level. They were both very proud of that match, and Mick being proud was enough for HHH to be proud. And truly, it has stood the test of time.
Renee and Christian react to the match.
Renee still gets goosebumps over that feud. Christian was there to see it in person. The boys in the back seeing Cactus Jack again, "The Innovator of Hardcore," it was special even for them to watch it. Kudos to HHH for stepping up and beyond that level. You wanna go out with a "bang bang," and you want your last match to be memorable. Mick and HHH put the match before themselves for the sake of entertaining.
Shifting to Punk, Becky and Paige, what is the match Punk is most proud of in his career? Well he's had a great career both in WWE and out of it, but for having the nickname "Best in the World," he isn't usually one to talk about himself. He will say that his match with John Cena in Houston in 2013, that thrown-together match to face The Rock at Mania. Becky talking about chips on shoulders, being hot and cold, Punk equates this to Michael Jordan's "flu game" because he had the flu for this match. He just remembers being on the floor feeling exhausted and handing a baton to someone else. They ran out of moves and Cena whispered, "What do you want to do?" "I want to give you a piledriver, John." And so he did. They put it all out there, and the crowd that night helped. Punk was so out of it, physically and emotionally, but the fans made him care. Cena is one of the best opponents to have, that was basically Punk's Mania. They didn't even suggest Undertaker yet, so Punk just put it all out there for that one.
Paige's special moment would be with AJ Lee. It was her birthday at SummerSlam, and she was told AJ would take some time off. They got through the match without AJ taking one bump on her back. 15 minutes of just protection, and it worked out really well. Becky says the WWE can be like a live cooking show, with the ingredients all there, "you've got there minutes to make a meal that people are going to be talking about for weeks." You may not have time to build a story, but the things happening between the ropes, that is the story, too. Becky's two would be Last Woman Standing with Charlotte, Evolution 2018, and then Hell in a Cell with Sasha Banks just back in October of 2019. A brutal one to be sure. Does Renee have a favorite? She doesn't, though she did get to give Maryse a great slap. Happy birthday, Maryse!
Royal Rumble returns are always awesome!
Booker T in 2011, Trish Stratus in 2018, The Undertaker in 2017, and John Cena in 2008! Actually, Rumble debuts aren't just awesome, they're PHENOMENAL, such as when AJ Styles finally came to the WWE in 2016! Will we get returns or debuts that shock us all this Sunday?
Time to Pay It Off!
The Royal Rumble being of the Big 4, it is one of the biggest nights in the entire WWE year! Who does Punk think should win the Men's Royal Rumble? Punk's favorite segment right here, because he gets to audition to companies to get paid to book things. But he wants to be clear, who he thinks should and who he thinks will are two very different things. But to fantasy book, KEITH LEE should come in to win. And the reason why is that he's had a tremendous showing so far, but he's a big fish in a little pond right now. They need to strike when the iron is hot. Lee's moment in Survivor Series feels forever ago, so Lee needs to knock Lesnar out of the ring and win it all.
Paige's choice is OTIS! Dozer is so entertaining, he should have all the screen time. Plus his story with Mandy Rose is great. BLELELELELE! Punk doesn't trust Otis after he stole Peewee's bike. Christian's choice may be unpopular, but it should be Lesnar. Win as #1 and the champion to back up his/Heyman's words. Then we see what happens with Mania, going after the Universal Champion maybe. But where is the Drew McIntyre love?! Punk can't wait to see the comments when Lesnar does win.
And of course, the Women's Rumble returns, so who does everyone pick? Paige goes with Kairi Sane to double down on Kabuki Warriors. That or Piper the Viper Niven. Check her out on NXT UK. Punk asks if Renee or Paige are in it. We'll see~! Punk is going to go with Sasha Banks to get things going with her and Bayley for the title again. Would it be friendly competition or another backstabber? Christian would've gone with Renee if she's a surprise entrance, but he thinks Shayna Baszler. Much like Lesnar, when Baszler shows up, things get tense. Shayna can bring that to the Rumble after having been champion for so long in her own right. This would be a big move for her, for sure. The Road to WrestleMania begins Sunday, who takes pole position?
WWE Backstage pays tribute to Rocky Johnson.
One half of the first African-American tag team champions, "The Soul Man" and father of Dwayne Johnson passed away recently. The Rock himself has an Instagram video to say thank you to everyone outpouring their love and condolences to the family. Rocky would say "I taught you everything you know, but I didn't teach you everything I know." That's why Rocky will always be the best. Rock again thanks us all for the love and support. We'll never forget you, Rocky.
It's the Backstage Main Event!
Renee sits with Becky and Punk to discuss something. Punk is on record that the Women's Division is the best thing WWE has right now. What does Becky think of the current state of WWE Women's Wrestling? Becky agrees that the best thing right now is that it isn't even about being women or men. There's still talk of, "Oh, this is the women's segment. This is the women's thing." Why does that label have to be there? This is about people, characters, skills! It isn't about the top women's spot, but THE top spot! The main event spot! What is everyone doing to be worthy of the main event, the video game cover, the cereal boxes, etc. Gender shouldn't be the issue. Be past making history, because they've made so much history already. Yes, there are going to be other forms of history being made, but gender is not the equation. Let's get going!
Punk says the standout stuff is the representation. There's surely a little girl in Ireland watching wrestling on TV or YouTube and sees Becky. This could change that girl's life. Punk sees things in a new perspective. He was a straightedge kid that didn't do drugs but got into wrestling. He sees things on Twitter or when he's at autograph signings where kids, or those who were kids when watching Punk, are telling him that they were straightedge because of Punk. "That's powerful." So all these different women, such as the Four Horsewomen and Asuka, and thinks of all the groundswell of representation. Pro-wrestling has been male dominated for a long time, having women be as important as they are opens doors to a whole new demographic. It's exciting to see women who aren't just used as "pieces of ass," they have character and depth. That is the most exciting thing.
It isn't that there are no more awesome guys, it just feels like we've seen it all before. So women stepping up and being presented in a similar light is exciting. Renee remembers how Survivor Series felt, because that 15-Woman match was so great and then the Women's Champions all main-evented. How did it feel for Becky and the others in that match? The pool has gotten shallow on Raw and SmackDown, and the depth needs to be highlighted. But adding NXT's big names, and everyone was fighting, that got the excitement we needed from all the new match-ups! There isn't always the luxury of freshness, so that's what made Survivor Series season so exciting. Fans want this, and Becky is having such an important story with Asuka in more ways than one.
If you love this, you have to obsess. And you have to go, "How can I make this different?" There is SO MUCH wrestling content on TV around the world, so how does someone stand out in it all? The groundwork is being paved for another generation of women, it's time to kick some lass!
Someone Photoshops Christian INTO Backstage Buddha.
Christian jokes that's just his #DadBod when his shirt is off.
Backstage goes to Miami!
Renee and the crew join The Rock's family in time for a Super Bowl countdown! Hopefully The Rock himself shows up, though.
The polls close! Who wore it better?
52% to 48% in favor of BECKY! Paige is surprised it stayed that close. To be fair, Becky got water poured on her pretty quick so it wasn't as bad. Punk says Charlotte was best of all, though. Team PCB feud aside, that's all for Backstage! See you in Miami!
---
My Thoughts:
A pretty good episode right here. With the NCAA hoops going long, it was pretty good to switch things up from a schedule run down to entrances for the returning panelists. Those highlight reels are getting more and more retro apparently. I wonder if they'd make one seem like a 1950's sitcom, like Leave It to Beaver or something. Obviously a lot of opinions were similar to us fans, such as why it wasn't AOP over Murphy and Rollins, but it is a pretty good point that Murphy is getting to rebound in a great way holding a tag title. Talking memorable matches and moments was great, I like the choices for the Rumble winners, especially Renee wanting McIntyre like I do. Kairi wasn't one I had thought of, but that'd be pretty great if Becky retains or even if Asuka wins. Same goes for Sasha winning. That forcing her and Bayley to face off makes for a good story, and it could lead to Sasha getting that Grand Slam.
I really love the stuff they were talking about in the "main event." Women's Wrestling being women's wrestling and not Divas is obviously great, but I also like the notion that it isn't something that puts a cap on the Women's Division. History has been made, now it's time for equal treatment. Fans who act like the women main-eventing TLC at the end of 2019 is what was wrong are not fans but idiots. A concussion in a match that was handled a bit roughly could easily happen to a men's tag title situation, but you wouldn't hear fans acting like it went wrong because they're men. Granted, it is up to those booking shows to make the women's stories and matches just as good, if not better, than men's stories and matches. But in the case where that happens, like Becky VS Asuka being really, really good, why not give them the bigger spotlight? And in whatever form that means. Later in the card on a PPV, more time to breathe on TV, whichever. When stuff like that happens, then the Women's (R)Evolution is complete.