Mitchell's WWE Backstage Report! (1/28/20)
Go Backstage in Miami!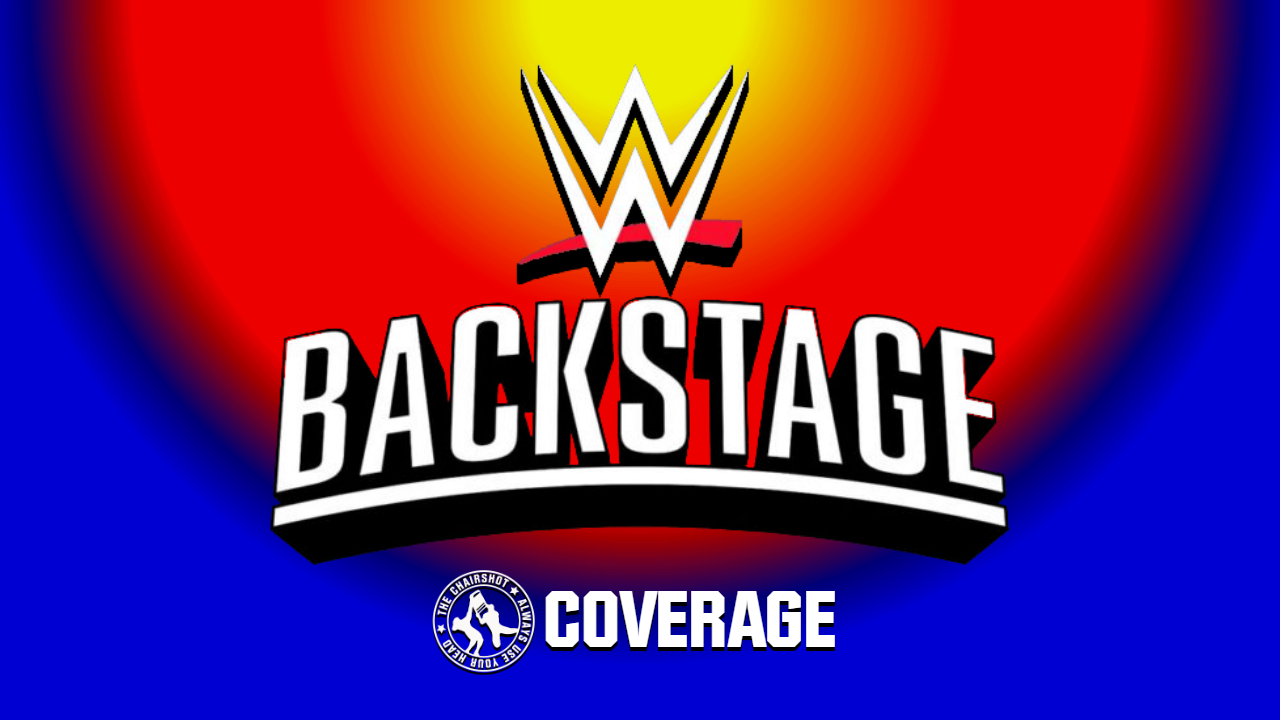 Awwwww~ MIAMIII~!
Don't you dare be sour! Renee Young and the gang are on location in Miami! With both Roman Reigns and ya bois, the NEW~ DAY~!
Renee Young runs down the schedule!
WWE Backstage is live from the location of Super Bowl LIV, aka 51, with a jam-packed episode! The Big Dog whooped King Corbin's ass all over Minute Maid Park and is now in Miami live! Plus, the New Day and a special Fox NFL Sunday friend. Then, a flashback to the original Halftime Heat! That and more, right now!
The Road to WrestleMania comes to Miami!
The in-studio audience could be turned down a bit as Renee gives an introduction, but that just means everyone is excited to be here! Renee welcomes us watching at home and introduces Booker T and Christian. The South Beach Peeps are here! Christian busts out some Will Smith but Renee hopes there's no copyright strike. But the Royal Rumble Weekend helped kick off this Road to Mania, and Raw had plenty of aftermath to boot.
But first: Just the Highlights!
The Fiend and Daniel Bryan were strapped together and made each other suffer for it. But in the end, the nightmare continues as Bray Wyatt keeps the title. In "every woman for herself," Otis Dozovic did his best to help his "sweet peach," Mandy Rose, and Naomi did her best to survive. But in the end The Queen comes out on top! And as such, Becky Lynch managed to finally settle the score with Asuka while Bayley stole one from Lacey Evans, so Charlotte has a big decision on her hands. Then in "every man for himself," The Beast dominated as Heyman promised, but not forever! Because while things got Rated R with Edge, it was Ricochet's revenge and Drew McIntyre's CLAYMORE that conquered the Conqueror.
As for Raw the next night, things went from Rated R to M for Mature as Randy Orton not only swerved Edge but DECIMATED him! Hearts were broken, but is Edge's legacy shattered? As for the Men's Rumble Winner, McIntyre had a much easier decision: he wants Brock Lesnar! And Lesnar wants him, too, as he got revenge with an F5!
The panel discusses the wild weekend.
Who would've thought Lesnar would lose the Rumble and Drew McIntyre would be gunning for him? Christian and Booker each claim they had that pick but Renee says it was hers all the way. But McIntyre's journey, from being the Chosen One in his first run, to being fired from the WWE to coming back and is now THE one going after Brock Lesnar, it's incredible and well-deserved. Booker said he should've been King Drew, but Rumble winner is great. Booker thought the Rumble was ending early but McIntyre came out to make history! McIntyre has his moment, and now a Mania main event! Christian says McIntyre is a true pro-wrestler, a student of the game. McIntyre's journey to this point were investments and building equity. Christian encouraged McIntyre during a preshow to put on the best match they could, and that got everyone's attention. The difference between that and the main event scene is just doing it every night. No one deserves this more than McIntyre.
Renee notes the switch in mindset. McIntyre would always talk notes about the matches he has, and now he's in one with Lesnar. Lesnar's entering at number one got mixed reactions, but he ended up so integral to the match's story. Lesnar really could've run that gauntlet and many felt that would happen. But while people criticize the schedule, Lesnar puts in the work when he's here. Things no one really notices, even, Lesnar is so good at that, and he made a lot of other guys into stars that night. Booker loved that we got multiple layers to Lesnar in one night, too. There was the mean Lesnar, the fun-loving Lesnar, and just overall it was entertaining. 2019 was a great year for Lesnar even with his part-time schedule, but his 2020 will be just as good. And to address the elephant in the room, Edge will be a topic, but in depth much later! Be patient, please!
But other than Edge, favorite moments of the Rumble: Booker says it was Lesnar going to a new level, and letting McIntyre have that moment off him; Christian agrees, that Claymore that eliminated Lesnar, that boosted McIntyre, but also the callback of Ricochet getting to low blow back as part of it. Renee likes that NXT's Keith Lee got to have his brief moment with Lesnar, too. Just a reminder that the Limitless One is his own beast. Booker agrees, so many moments you could list, but that's what WWE fans will remember for years.
Shifting to the Women's Rumble and how Charlotte Flair is now headed for WrestleMania again, fans like the sound of that. Well, some. There's dueling chants already. But who does everyone want to see her face? One fan shouts, "The Undertaker!" But Christian says we've gotten Charlotte VS Becky plenty, but maybe going against Bad Bayley would be something fresh. Booker seconds that, as Bayley needs her moment for Mania, too. Bayley was red hot fast but then cooled off just as fast. Christian adds that taking something that works and flipping it around with the turn, Bayley's taking big steps and is champion for a reason. Renee asks about other highlights, and Booker pointed out Shayna Baszler coming in and wrecking. Don't mess with Baszler, she makes you feel her fights. But Bianca Belair needs a shout-out for starting 2nd and lasting 37 minutes! She makes her own ring gear, by the way! That's amazing!
Christian likes Bianca's look, level of talent, and she's still young. Sometimes you don't need to win a match, and putting up a performance like that one, Bianca solidified herself as the future of WWE. And of course, Beth Phoenix powering through that bad cut on her head and just everything else. Booker knows she's the Glamazon, but she's also a Warrior Princess. Bloody and tired but she made it through. Sometimes a moment like that rattles you, but Christian was proud that she got more fired up. That is what a veteran does. But this is just the tip of the iceberg for Backstage in Miami, so don't go anywhere!
The Big Dog runs the Yard!
A stellar Falls Count Anywhere match victory in the Astros' stadium and still an impressive part to play in the Men's Rumble, Roman Reigns is back in his home state and walks down the tiny football field to join the panel. Renee notes that Roman and Baron Corbin got to have a fun time at the NFL Super Bowl Opening Night event, where Roman and Corbin got to be interviewers rather than interviewees.
Corbin and Roman each start by asking the players that if their entire team roster was in a Royal Rumble of their own, who would win? Travis Kelce of the Kansas City Chiefs couldn't be sure. But his teammate, Tyreek Hill says Patrick Mahomes would play it strategically, sitting back in a corner as everyone else battled it out. Kelce finally has an answer, and says it'd be Chris Jones. Ahkello Witherspoon of the San Francisco 49ers says George Kittle would take their respective Rumble. Other Chiefs, like Eric Fisher, says "Sherm," Anthony Sherman, would win. Corbin goes to Sherman, and Sherman agrees, he'd win. Ben Niemann disagrees just on account of Sherm's ego. Back to the 49ers, Marcell Harris feels it would also be "Stone Cold Kit" Kittle, as do Nick Bosa and Jimmy Garoppolo. Kittle agrees, and gets himself a quick selfie.
The question then shifts to: Who is first eliminated? Bosa says Garoppolo, and Bosa would do it himself. Kittle feels he'd go after Garoppolo, too. Ironic, since lineman are supposed to protect quarterbacks. When asking Sherm, Corbin asks who he's at least targeting first. "Oh I'm getting rid of Pat, no question." Quarterbacks are easy targets, but Stefen Wisniewski chooses their kickers. Dustin Colquitt is a target because he's a bit older. When Corbin brings this news to the Chiefs' Punter, he warns them all: "Beware the left leg."
Corbin finishes up by telling all the NFL fans in attendance to get refunds on their tickets now, so they can go back home to San Fran or wherever, because the Chiefs are taking this home!
The panel reacts.
Renee teases that Roman might be trying to take her gig. He was just doing his best. And he's had a lot of fun being here, because the Super Bowl parallels WrestleMania in how it takes over a city and brings so much energy. Renee brings the double duty Roman did. How was that return to the Rumble event given he missed it last year because of leukemia? It was a great story for Roman, and a blessing, to be here, healthy and doing great. You take your eye off the ball, but the little things add up and make the big picture. Being part of that event and that match, even with double duty, and help McIntyre have a moment, there is pride in sharing that night. McIntyre busted his ass, made it back here, and Roman was happy to give back.
Booker brings up what having not just double duty but having two full, 20+ minute performances is like. It is tough, because you get that first match going to loosen you up. But then, in Roman's case, he waited all night and cooled off, stiffened up a bit, and he's not getting any younger. It was still a great opportunity and responsibility, and legends like Booker and Christian know that giving back the investment the company's put in him, that's what makes it worth it. Christian does give him his credit for that work, because Rumbles last a long time one way or another. As far as Falls Count Anywhere goes, how awesome was it that it was a baseball stadium that they got to do that in? Roman says the environment can change everything, so the space and the atmosphere were different than a basketball or hockey arena. Things were different in a great way. Renee likes the porta-potty spot, especially. Luckily they found a clean one.
Sports entertainment being an escape, we do have to point out the tragic real life news. Kobe Bryant and daughter Gigi, along with half a dozen others, died in a helicopter trash the morning of that Sunday. What was the mood backstage when that news broke? It was heavy, to say the least. The world felt the loss, and Roman himself grew up a Lakers fan and just a Kobe fan. Many in his generation and younger certainly did, so it was just incredibly sad to hear that happened. Everyone took it upon themselves to use that moment to be grateful and appreciative of the lives they have, but then knew to put it aside long enough to do the show that was an escape for everyone else. It was a day full of emotions to be sure, and Roman sends his prayers on behalf of everyone here. Fans applaud that as they agree. Roman will stick around a bit longer as we continue to talk Rumble fallout!
You can't have a football game without a halftime show!
While Super Bowl 51 will have Shakira and Jennifer Lopez, there was a concept back in 1999 for the WWE (then WWF) to do something special of their own for football's biggest game of the year. It oddly was an Empty Arena Match for the inaugural Halftime Heat special, The Rock taking on Mick Foley as Mankind. It was Foley's idea and he talked everyone else into it. With it being empty, that allowed the entire arena to become a safe environment for The Rock and Foley to just go wild! Popcorn, cotton candy and salsa were among the food based weaponry, and then Foley was put in pizza ovens and knocked down steps. But then it was a keg carrying forklift that "crushed" The Rock and allowed Foley to win! Go find that match on the WWE Network to watch it for yourself!
The panel discusses Halftime Heat '99.
That was a great match and moment, and Christian notes how strange and difficult it is to wrestle in essentially complete silence. The crowd, like the one right here, can pump you up and go extraordinary. Two legends to do that says a lot about how great they are. Foley is unselfish with all the times he's put his body on the line. Booker says it was historic because many have tried to recreate it in their own way. But shifting gears again…
What's next for the Women's Division?
Lacey Evans and Bayley have been going back and forth fiercely while Becky Lynch was finally ready for Asuka! Booker feels for Bayley, that win was the first step to something. Lacey's bad to the bone for being a lady, but Bayley beating her sets things up for progress. Bayley's mean streak needs to get meaner, she needs to do something crazy. Christian felt it was more impressive that Sasha Banks wasn't around and Bayley did this alone. When you feel you can't do no wrong, sky's the limit.
And then for Becky, finally getting that win she felt she needed more than anything, is her groove back? Yes it's "How Becky Got Her Groove Back." The one obstacle in her career being Asuka, Becky won and wants to main event Mania two years in a row. Booker says Becky needed this more than Asuka, because Kabuki Warriors have plenty in store for themselves. Becky's back on track for the Road to WrestleMania, but plenty more to speak on that.
Frank Caliendo is coming!
Doing his John Gruden right now but surely he'll have all of Backstage laughing out loud. "Spider two, wide bananas. I love this stuff."
Drivers, start your engines with the Celtic Warrior!
That's because Sheamus gets to be the pace car guest driver for the Daytona 500!
WWE and NFL have a close relationship, and clearly an influence on each other.
Football greats like Lawrence Taylor and Rob Gronkowski made their impacts in pro-wrestling, but many more football players love pro-wrestling. Big Cat, Ernie Ladd's combined career, The Fridge VS Andre the Giant during WrestleMania II's battle royal, and once again, LT being in WrestleMania 11's main event. Gronk got in on WM 33 to tackle Jinder Mahal and help his boy Mojo Rawley, while a select few make the full transition from gridiron to squared circle. Just look at Baron Corbin, Roman Reigns, Brock Lesnar and Goldberg. Spears and pounces, anyone? Plus, you'll find plenty of times when NFL players shout-out their favorite superstars. "The canvas may be different, but the artistry is the same."
Frank Caliendo has the audience thunderous!
Again, really hard to hear Renee give the superstar caliber comedian his introduction, but the crowd reaction seems to say it all. Frank reps KC, "Let me tell you something, brother! Ooh yeah~!" He uses the power of the Hulkster and Macho Man to get the fans loud again. Sketch comedians usually look up to Saturday Night Live, but Caliendo was more about Saturday Night Main Event! Vince McMahon not knowing what was in Jake the Snake Roberts' bag, c'mon. It's a SNAKE, it's Jake's nickname!
Renee of course prepares us for Caliendo's arsenal of impressions, such as the amazing Morgan Freeman. Caliendo goes into Freeman mode but he's out of breath. "And that's when ol' Frank realized he had nothin' left." But to start, Morgan Freeman Caliendo rattles off old school names, like Junkyard Dog, Big John Stud, Dwayne "The Rock" Johnson. Nothing? The fans were more fired up when he was just screaming. Caliendo lists of Big E, Kofi Kingston and Xavier Woods. But saying their names summons them to the stage! The New Day is out and flinging flapjacks already! They boo his Morgan Freeman! "Cakes! Cakes!" The New Day loves the energy, but not Caliendo! That's not at all Morgan Freeman! Woods actually says it is. Try Adam Sandler, though.
"Hey, Big E! Take a look at you! What happened to the rest of the alphabet? I think it's in your chest!" Great Sandler, but now Kofi wants Caliendo to rip on Woods' love for the Golden Girls, but as Gruden. "I tell you what, man, thank you for being a friend. Travel 'round the road and back again, your heart is pure, you're a friend and a confidant." Rue McClanahan, is that the actress or the character? Woods won't let him besmirch Sophia, but Caliendo Gruden wouldn't dare. Big E suggests getting on Kofi being a vegan, as Al Pacino. "Oh…! Yeah, that's why I wear the green suit, first of all. Because I'm scared of meat. I'm steppin' on pancakes here, guys." But that's what this is all, *clap*, ABOUT right now. But the best thing would be getting on BOOKER T! Where is he?!
Booker returns to the stage but wants them to slow down. They're having way too much fun, but he wants in on it. Everyone knows Booker is King of Promo School! So hit Booker as Super Mario! "It'sa me, Mario!" No, try Barkley. "Aw thassa knucklehead. What happened with that suit?" There's a table cloth missing, and it's on Booker. Try De Niro now. "Ey, ey. I'm not sure if he shoulda said that, but it was funny. Yes it was, huh? Huh?" Booker getting annoyed now. He ain't playing games, sucka. He is the FIVE-TIME (FIVE-TIME) champion, and the TWO-TIME (TWO-TIME) Hall of Famer! Caliendo hopes the New Day is backing him up right now. Booker headlocks Caliendo and brings him further backstage. Does Promo School have detention? Guess we'll find out…
Edge's return broke the internet!
Who expected the Rated R Return at the Royal Rumble? Certainly not anyone watching! Not in Houston, not at home, no one around the world!
It's time for the Backstage Main Event!
And what else BUT Edge's return! He proved you can never give up on your dreams. Christian plays it off for a moment, but it was definitely a great night. WWE is about creating moments, and one moment was Edge announcing his retirement in 2011 because of his neck injury. But his return, multiplied by how it was during the Royal Rumble match, it was unheard of! But as Edge said on Raw, those "What If" questions creep in, namely whether or not Edge could still do it, good neck aside. Talking after, Edge told Christian that he was so nervous. To put that in perspective, Christian always needed Edge to calm him down before matches, and Edge had nerves of steel. So that's how big that night really was for everyone.
Roman himself got to be in the ring with Edge, that was a phenomenal dream moment. The things Edge went through, in and out of the ring, it's all so inspiring. And just as Roman said about his story, Edge had his own version of that and so Roman was so excited to be blessed to have that moment. Christian adds that talking to him just before the return, Edge was already made up. Edge was excited to be in the ring with the new roster, such as Roman, and Seth Rollins, and AJ Styles, and Aleister Black. These dream match teases were all there, and sky's the limit now. Renee really loved Edge and Styles staring down, and Booker was excited to call the match. The pandemonium! Time off can be an athlete's worst enemy, but Edge coming back, leaving the business his way, big props!
Roman speaks to the locker room vibe that night, and it's like Christian said. They're all excited to be working together, everyone wanted their part of Edge. It was also just great to see him, and he was in great shape. Orton said it himself, "Damn you look good." Christian knows Roman is a locker room leader, but Edge being back, what does that mean? "The more the merrier." Keeping this culture and tradition, seeing a leader and legend like Edge coming in, "you can't go wrong." Renee and the fans are all excited, so who knows what's next for Edge. But Booker has a surprise? Someone's birthday? The boss's birthday, but who do we mean? RICK ROSS in the front row! Happy birthday to Rozay!
George Kittle speaks on his love of the WWE and pro-wrestling.
What the 49ers Tight End loves is the personalities and the art of their characters in the spotlight. That translates well to football as the spotlight is on and the players need to be their absolute best no matter what.
Kittle's favorite match is from the first WrestleMania he got to watch live, start to finish, and that would be WM 31 in Levi Stadium. Rollins cashing in was just a great moment period.
His favorite wrestling catchphrase is "Austin 3:16," because it's the best. But just as good was getting tweeted by THE ROCK. He could retire happy with The Rock and Stone Cold both following him! With just a few days left before the Super Bowl, will Kittle and the 49ers stun the Kansas City Chiefs?
Roman and The New Day help wrap up the show.
Kofi and Woods once again man the Big E cannon but The Big Dog pumps up his favorite team, the 49ers! He is congratulating the Chiefs on their great year, but it ends Sunday. The Bay Area's three phase team has a different culture, this is their game! Offense, defense, special teams, they'll hit Mahomes in the mouth and make him move around. They have speed on D, it's going down! #BeLegendary, #QuestFor6, get a ring for the other hand! Kofi is a Patriots fan but Roman makes sure he knows that "America's original team" is coming for their legacy. And with that, Big E is going deep in the end zone and we prepare for kickoff! Which team do you have for Super Bowl LIV?
---
My Thoughts:
This was a really fun episode. Obviously WWE being with Fox allows for tie-ins like with traditional sports, but as pointed out, WWE and NFL/football have been pretty intertwined for decades. It was pretty fun seeing those interviews about football Royal Rumbles and what not, and Roman gave a solid promo in favor of the 49ers. Surprised no one repped KC in return but time constraints and such I suppose. I loved the highlight on Halftime Heat '99, and Caliendo was great as he always is. I suppose they left out talking about Orton brutalizing Edge just to keep the mood light, and also because we all know that wasn't really how it looked on TV. Gotta preserve some parts of kayfabe, even on a show that pulls back the curtain.
Mitchell's Raw Talk Resport! (4/5/21)
Raw Talk, GET THESE HANDS!!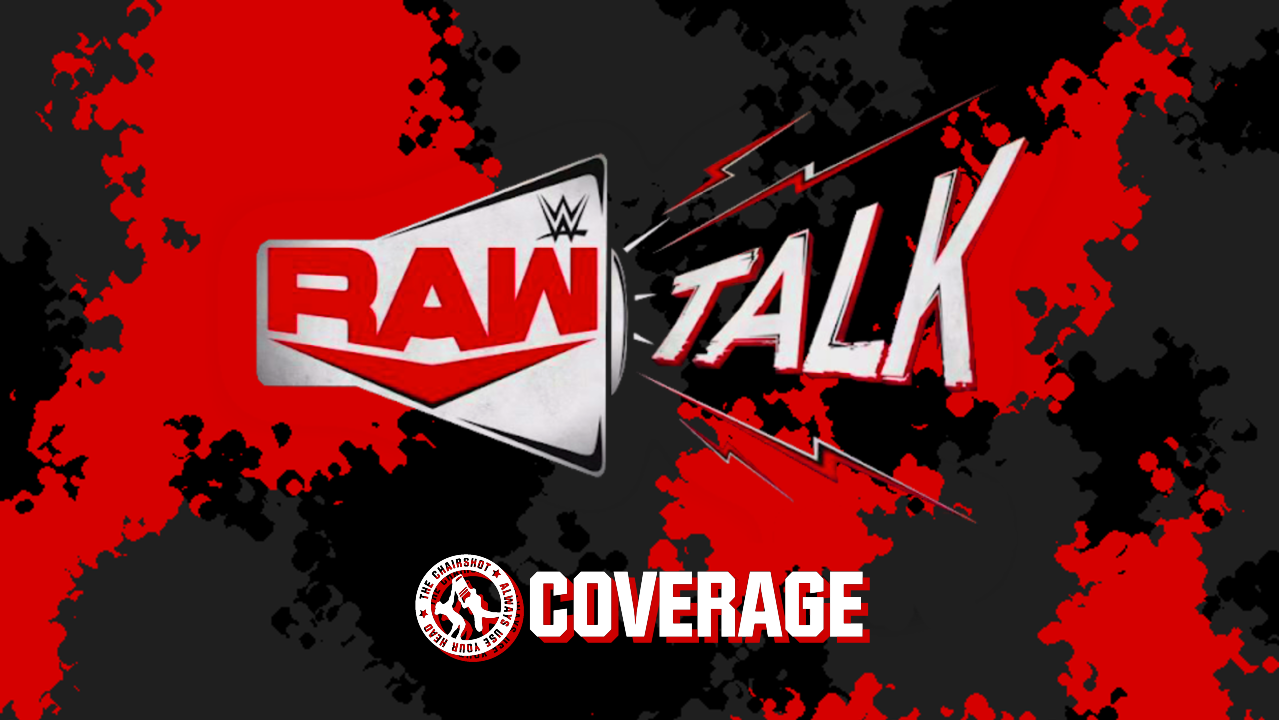 It's a WrestleMania Week edition of Raw Talk!
Before everything that happens at WrestleMania, Drew McIntyre, Braun Strowman and the WWE Women's Tag Team Champions sit down for some Raw Talk!
Kevin Patrick welcomes us back to the show!
He and Xavier Woods are excited to be discussing the last Monday Night Raw before WrestleMania, and Woods starts with good news: he got another win over the PHENOMENAL AJ Styles! And now, all that's left is for Woods and Kofi Kingston to defeat Styles & Omos at WrestleMania to retain the W, W, E, World, Tag, Team, CHAMPIONSHIPS~! Kevin says he's making it sound too easy. Well no fight is ever easy, but if you don't go with confidence, you're bound to lose. A life lesson right there.
Kevin asks if Woods saw Bad Bunny and Damian Priest in the ring. That was wild. Footage replays and Woods says that he's gotten two "sneaky pins" on Styles in a month. Woods is certain that is how and why he and Kofi will win. Then they got into the "crowd" of the ThunderDome screens to feel that energy. We'll get that again this year, since fans are back. Kevin asks if he and Kofi are being a bit too certain accepting the match, but Woods says no one does tag team better than them as the eleven time tag team champions! They accepted because who haven't they beat? The New Day beats you, you break up or get drafted elsewhere. So Woods & Kofi were chomping at the bit for fresh competition. Omos & Styles better have registered so we can have this match. And Woods likes to show that you don't need to have everything to be a great sports entertainer.
Woods says if you're not nervous before you compete in the ring, especially on a stage like WrestleMania, and especially now that fans are back, then you're not trying. Of course there are butterflies, but the New Day have been here before. Omos hasn't. Then what is having fans back going to be like? Clearly Woods is buzzing. He can't wait. Wrestling is built upon the energy of the fans. You pace your breathing off the breathing of the crowd, the energy flows through everyone and you become one in a philosophical way. It was weird to not have fans. The ThunderDome is great, the closest thing to having fans. But having fans there, that will be the sweetest feeling.
Kevin brings it back to Bad Bunny. Woods talks with such great amount of respect. The respect of Bunny, Priest, Miz and Morrison, it's nasty. A $3.6 MILLION Bugatti got defaced! WHAT?! Woods can't believe it! That's so bad. For Woods, if he had a $3.6 MILLION anything, and you mess it up, you're done! Woods would end you. But Bunny says he has respect, so now he is going to knock someone's teeth out. And as a tag match, Priest is there with Bunny, this could go either way. The Archer of Infamy long-shotting Miz & Morrison to Bunny's music is going to be awesome.
And then, all we saw with Lashley and McIntyre tonight, talk about whetting the appetite for Saturday. Those two standing tall, Lashley's challenge to take out McIntyre didn't go well. Kevin called MVP out a bit on it but MVP said it wasn't cowardly, it was business. Corbin tried to cash in but no go. Woods says that's how it is with McIntyre, he overcomes insurmountable odds. But Lashley, this new immovable force, but now he has to put up or shut up. No Hurt Business, no one put a dent in McIntyre, this is final boss stuff. Can McIntyre overcome a man as dominant as Lashley?
We've seen this power from Lashley, but not on this level. Lashley is in a different zone as champion, and will be in that zone at Mania. Woods can't be sure McIntyre can handle it. But Lashley is just spot on! Well we can ask McIntyre as one of tonight's guests! The Scottish Warrior, the Monster Among Men and the WWE Women's Tag Team Champions, all after a quick break!
BRAAAUN~ Strowman joins Raw Talk!
The Monster Among Men is here, Kevin says he disposed of Elias and Ryker, and the steel cage awaits. This has played out just as Braun has wanted, right? Absolutely. Shane's thrown speedbumps at Braun, even back in November. Shane was the reason Braun got suspended for headbutting Adam Pearce, and then has dangled false opportunities over his head. Shane is just a bully. Braun's dealt with that, he talked about that earlier. When Braun locks the cage and is in there with Shane, it's not just Braun he's in there with. Shane's in there with the millions upon millions who get verbally abused for no reason. Braun didn't deserve anything Shane's done.
Maybe it's because Braun's a hard worker and deep down, Shane knows he's lived a "posh" life and has a chip on his shoulder. Maybe Shane's hollow inside. IT could be why he's targeted Braun over this stuff. But Braun will do as he said, slam Shane down in the middle of the ring, and not just for his satisfaction but for everyone out there that knows you can overcome your limitations. It's okay to be different. Braun's been different his whole life, wanting to be normal, until he realized he never will be normal and shouldn't have to be. He embraced what he was given, and after that, well we've seen what he's done. "When you believe in yourself, other people believe in you, as well."
Millions of fans support Braun and live, breathe and feel with Braun. The pain, the heartache. Braun is doing this for them, the ones told they're not good enough. Braun will show the world that you can overcome the bullies and the fears in your life, and wake up that they're on this Earth for a reason. This world wants you here, so leave your footprint on it. Woods says he noticed this transformation. He saw Braun when he debuted, he's fought for different things over his career. So now, he's fighting for people and their hardships, that is a different Braun.
Woods remembers destruction for the sake of destruction Braun, or for a title. But now Braun is focused on fighting for a group of people. Does Braun feel that change? How important is this to him? Is this new motivation the secret? Braun says it is. It is the outreach from his fans around the world, as well as his friends and family who have seen what he's gone through. Braun is so big he's breaking his chair. But Braun "isn't supposed to be here." In 2015, Braun ruptured discs, those cut his nerves, and he couldn't fee his left leg. He needed emergency surgery, but the amazing medical staff here in the WWE, better than any other group anywhere, they got him to the NUMBER ONE neurosurgeon.
An hour after the surgery, Braun got up and he was walking around just fine. There was a 45% chance it wasn't going to work, and he still only has about 80% usage of his left leg, but knowing what he's gone through, knowing that his family has had similar situations. His aunt is a paraplegic but got the high school team to their first state championships, and these last 35 years, in a wheelchair, has taught students to be that much better. Braun's own mother was almost killed in a car accident. Braun's seen hard times people go through just to live their lives, and that is what has made Braun the man he is today. Braun's own mind made him think he wasn't going to amount to anything, but he had those pillars to lean on.
When his family could've given up in the harsher times they're going through, he had to keep going. He got into the best shape in his entire life, and is inspiring more people to change their eating habits, get in shape. Braun has so many messages from people's personal transformations. All of you give him the energy to go out there and break his body, miss moments in life, from weddings to funerals to birthdays, for YOU! If he can do it, anyone can do it!
Kevin wants to talk tactics real quick. This is still a steel cage, and Shane is brave and experience. Why a steel cage? For weeks and weeks, Braun's tried to #GetTheseHands on Shane, but he was always out of reach. Braun is sick of chasing him down, so now the door closes and there's nowhere to run or hide. Shane is stuck inside one of the most devastating structures in the WWE, and with the Monster Among Men. Woods is pumped up! "Two men enters! One man SURVIVES!!" Woods wants Braun to tear Shane up! Kevin wishes Braun luck, and Braun hopes Shane sleeps well because he'll see him soon. Kevin isn't sure he'll sleep well, but that steel cage match happens this Saturday.
Nia Jax, Shayna Baszler & Reginald join Raw Talk!
The WWE Women's Tag Team Champions and Nia's "boo" are here, and Kevin is sure they're all buzzing for WrestleMania. Nia says they are, because they handled Asuka & Rhea Ripley. Well, with a little help from the self-destruction of that team. Well, debatable, because they were probably going to win anyway. Nia is offended by "the new guy" Patrick. DO you know how long they've been champions? Probably the longest reigning Women's Tag Team Champions ever, across all brands! Respect to New Day, of course. But respect from Kevin, please!
Woods brings up that there will be a Tag Team Turmoil, with a lot of teams in it, but the champs are fully confident they'll rip the heads off of whoever. Is there a certain pair they'd rather face over the others? Or is it all equal? Well what does Shayna do best? She breaks people and brings their limbs home. Everyone in that Turmoil has the same limbs that work the same way. As far as Shayna's concerned, it doesn't matter. Nia is on the same page. There is a team that they have their eyes on from SmackDown. Natty & Tamina might've jumped Shayna while Nia wasn't looking, but- Shayna says Nia was actually- No, shush.
Natty & Tamina have looked strong and fierce, when no one's looking, but Tamina is also blood. Nia will not forget that Tamina is fierce, just like Natty, and is one of the veterans. Isn't she like the #BOAT? Shayna doesn't pay attention so she has no idea. Well out of all those teams… The Riott Squad? The longest partnered team there, and they gave Nia & Shayna good matches. Naomi & Lana? How many times will they keep getting up? Team TikTok right there, that's all they do now. Triple T, TTT. Kevin doesn't know what TikTok is. That might be a good thing, but shush, Patrick. And then Mandy & Dana. All teams have their little slice of whatever it is, but in the end, Nia & Shayna will walk in and walk out champs. Maybe flip out, a la Reggie. He's not Nia's tag partner, Shayna is!
Woods asks if Reggie will be there. Shayna doesn't want to talk about him. He has nothing to do with this. Does he at least have wine picked out? Nia is intrigued. Just for Nia, yes. Oh, in French, even. Woods only knows omelette du fromage. Kevin asks Shayna in a singles capacity, Rhea walks in and just asks Asuka for a match for the title. What about Shayna? Yeah, Shayna's been asking that, too! Everyone saw that Shayna can just easily kick Asuka's teeth out. She feels disrespected? Absolutely! But to be fair, if it had been Shayna who stepped up to Asuka, Asuka would NOT have accepted because she knows what'll happen. Rhea's the unknown here, it's fine. It's the safer bet for Asuka. Shayna put Asuka out for how long? A bit. But Asuka beat Shayna back. Shayna says that doesn't count.
Nia says that whenever THE Shayna Baszler is ready to go for the Raw Women's Championship, she'll go right to the source and challenge them, whoever it is, and then beat them. Shayna hopes Kevin has better questions than this. Woods asks one. When these two first became a team, it was like butting heads. Now there's this chemistry. Why do they think this has happened? Are they getting used to each other? Or are they agreeing that no one can stop them in the tag division? What is this friendship built on?
Nia agrees they did clash before, but they're similar that they know how dangerous they can be, and that they want gold. Once they realized that being together benefitted them more than being against each other, that brought them together as a team. And then Reggie is helping. Shayna says Reginald has nothing to do it. But it was quid pro quo. They may not like each other, but they decided to get the titles, and they have, so it worked out. Do they like each other then? They get along. Reggie confirms. They'll surely get along on Sunday, right? Nia still wasn't there when Shayna got jumped.
Ugh, get over it! They're gonna walk in as champs, walk out as champs, and that's the end of this because Kevin has crap questions! Nia storms off, Reggie follows, and Shayna says Kevin needs to work on his questions. Woods wishes them good luck at Mania as one tag team champ to another. And after the break, the Scottish Warrior will be here!
Drew McIntyre joins Raw Talk!
Kevin and Woods are excited to have McIntyre here, and Woods wants to say first, he isn't sure if he's ever seen McIntyre with a shirt on. What is this? It looks great! McIntyre says it does feel odd to be fully clothed. But he enjoys this shirt so much, thanks WWE Shop, and he models it. It is a soccer, or rather football, jersey style shirt, with "McIntyre 321" on the back. Y'know, football? As in you hit the ball with your feet. Not "egg chase" or whatever America does. Well what about Rugby?
Kevin is pleased to see McIntyre in good spirits after Raw. Corbin stepped up, tried to take up Lashley on his offer by taking McIntyre out, but McIntyre took care of him. The path is clear and McIntyre can win back the world title. Starting with Corbin, McIntyre says if he's checking his jaw, that's because an elbow from Corbin really messed up the inside of his mouth. Maybe people have forgotten, but not too long ago, McIntyre, Corbin and Lashley were rolling together and took out all sorts, like Braun. McIntyre knows Corbin well, and he's not the kind to be messed with. You can make jokes, and there are a lot, but Corbin is big, bad and does whatever it takes. That was a physical match this close to Mania. McIntyre had to be on his game, and the Claymore always wins.
Woods adds to that by saying one of the biggest matches in McIntyre's career, he again goes into Mania to fight for that title. Last year was Brock Lesnar, that must've felt incredible to climb that mountain. Now he has another mountain to climb in Lashley, a man who had three extra people at his disposal to help him in this endeavor but got rid of two because he's that bad. Tried to get the rest of the locker room to get McIntyre but that didn't work, either. McIntyre is at the final boss, and Woods asks if he has what it takes to win. McIntyre thinks, and says, "Yes, 100%." Mania last year, that was the ultimate test in Brock Lesnar, "an absolute animal." McIntyre took that opportunity to show he could beat absolutely anyone and be the top star. That was validation.
This entire year, main-eventing PPV after PPV, big matches, WWE Championship matches from Extreme Rules to Hell in a Cell, growing his confidence. McIntyre kept his eye on everything else. While McIntyre did all that, Lashley was doing the same, rising up. Lashley thought he was being clever, going under the radar, but McIntyre knew it was only a matter of time. Lashley attacked after the Elimination Chamber match, set Miz up to take the title from McIntyre, all so Lashley could take the title from Miz. McIntyre knew the logic behind that, Lashley knows he's badass but can take Miz. Work smarter, not harder.
Lashley could get hurt facing McIntyre, so he let someone else try to take him out for him. If someone had taken McIntyre out, at least get him to 20% and injured, then Lashley could take McIntyre down that much faster and get paid the same. Didn't work out, and now McIntyre is going into Mania at 100% against a 100% Lashley. This is a throwback match as two "elite heavyweights" go around, not just holding onto each other but throwing down and moving around. This will be entertaining and physical as hell. But it'll be the same as tonight, BOOM! Claymore to the face, McIntyre again WWE Champion.
Kevin wants to pretend no one is watching and asks if McIntyre has any potential advantages. McIntyre says that has to be a joke, everyone's watching Raw Talk! True. But talking about laying into each other, what does McIntyre see in Lashley that he'll go after? MVP is in Lashley' sear. Every time McIntyre taunts Lashley, MVP is there to keep Lashley calm. Lashley is a fighter, a warrior, has the experience. Last week, McIntyre dared Lashley to go after him, offered a free shot, and Lashley wanted to. There are few people, if any, with the combination Lashley has except for McIntyre. And this isn't new, this isn't the first-time-ever. They've fought before, they've paralleled each other, in and out of the company in other big matches.
But now, in this time, they're both firing on all cylinders, they've both reached the top, and they're both in the main event for the WWE Championship. It'll be one hell of a match, but again, McIntyre got his moment last year and it wasn't what he expected with no fans around. But 25 thousand will sound like 400 thousand at Raymond James. Woods asks about those travels, fighting in and out of the WWE and now he's here. What does it mean for McIntyre to go through that journey and see someone across the way with that parallel? And then to meet that person on the Grandest Stage of Them All, for the greatest prize of them all, what does that feel like? "It's indescribable."
McIntyre's talked a lot about Lashley and everything else, the cheap tactics and all that. But McIntyre's seen that journey, has supported Lashley for a long time, and just wishes Lashley didn't take the route he take to the finish line, but nonetheless, this is really cool. Two guys who have put in the work, inside and out of the ring, seeing each other in the gym, working on the mic, they know who they are now, it's cool. To see where Lashley is, to know where McIntyre is, it's time to show the world that they are the top of the game. Kevin is ready to see this on Saturday! Save your money on Godzilla VS King Kong, you're getting that right here at WrestleMania!
Kevin thanks McIntyre for his time, Woods wishes him luck, and McIntyre hopes to see everyone at Mania! And with that, Raw Talk ends and hopes to see you on the episode after Mania!
---
My Thoughts:
A very good episode, a bit longer than normal because this is the WrestleMania go-home edition of Raw Talk, so it clocked in at 34 minutes. Braun had good passion but he also got a bit fumbly like he did on tonight's Raw. I do like that the banner he is waving going into Mania is about persevering through hard times, especially physically. Braun continues to be this rare breed that Vince should be all in for making anything and everything to get fans onboard, but Vince just keeps missing the mark every time. But this promo here should be all the more reason Braun wins over Shane at Mania.
Nia & Shayna had good stuff, and I do like that they're both reluctant to admit they've got good chemistry and banter and all this other stuff that's very "buddy movie," where at first they clash but they learn to respect the other and work together. Who knows if they stop being that with WrestleMania, but I do like that Nia praised Natty & Tamina for stepping up. Maybe we get Nia & Shayna VS Natty & Tamina, maybe we get the Riott Squad again, but I feel like one of the SmackDown teams really need to get these titles to freshen things up.
McIntyre also had a great segment, naturally, and it was great for him to reference continuity where yes, he, Corbin and Lashley were these three giants who for whatever reason were teaming together over and over. That never went anywhere, but it shows the familiarity of McIntyre with both those guys and why he respects them enough not to take them lightly. McIntyre VS Lashley is perhaps an example of a lot of great story they could've been using, but Vince just again missed the mark because he doesn't get it or thinks fans won't get it or something. This could've been a build that fit the history and the hype but has so far not. The match will still deliver, though, I'm sure of that.
News From Cook's Corner 4.5.21: After War, Before Mania
NJPW has a shaken things up, and Mania week is about to kick off! Cook sets us up for the biggest week in professional wrestling!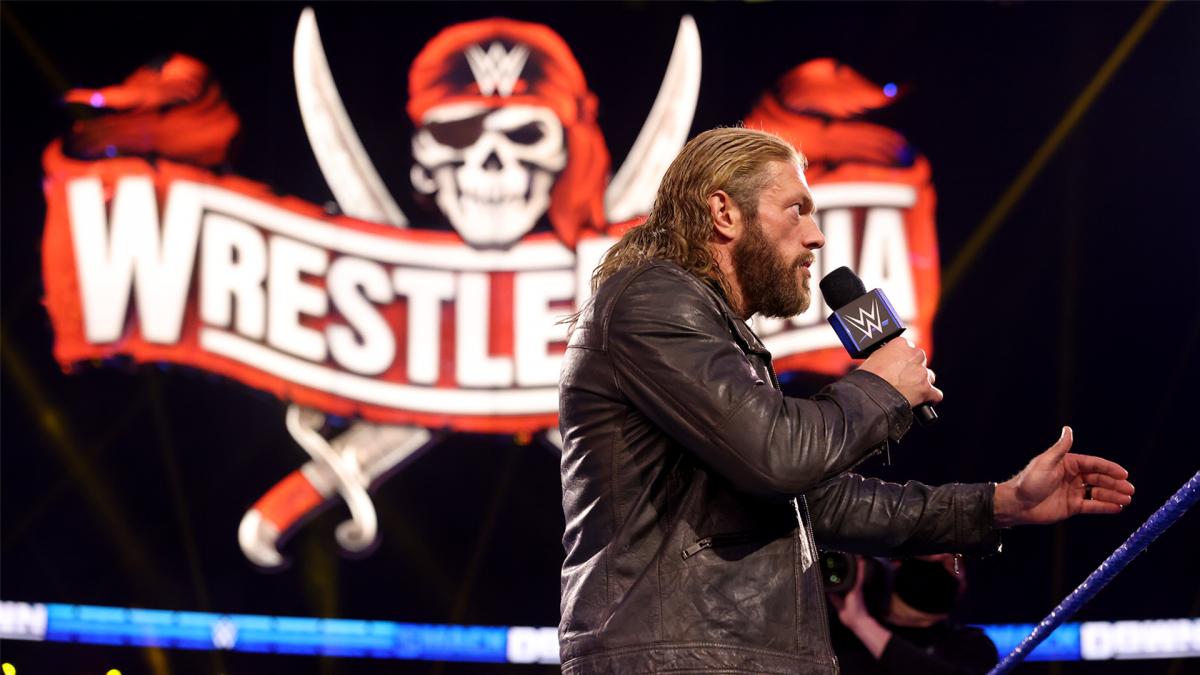 Hi, hello & welcome to News From Cook's Corner! I'm Steve Cook, and I hope you all had a Happy Easter. Or just a Happy Weekend if you're not into bunnies, eggs or Jesus. We don't judge here at the Corner.
It's been a very exciting weekend. Baseball is back! My Reds actually won two games and put up a bunch of runs against the St. Louis baseball team in the opening series. It's always exciting when the Reds manage to take that series because it's just an honor that St. Louis allows Cincinnati to play against them so often. Just incredible for the Reds to share the field with one of the greatest teams in the history of Western civilization, the franchise that sets all the rules & standards for how the game should be played.
Don't believe me? Just ask them!
College basketball also had itself a weekend with with the Gonzaga & UCLA men putting on a show Saturday night, while the Arizona women sent UConn packing the night before. They had an exciting championship game with Stanford too. I don't know when the West Coast became the epicenter of college basketball, but I'm here for it. We can do with more of them & less of these southern & eastern teams we're usually subjected to this time of year. Variety is the spice of life, am I right?
So there's a lot of good stuff going on these days. Since this is a wrestling news column, I should probably also mention that this is the biggest week of WWE's year. Got a little thing called WrestleMania coming up on Saturday & Sunday. NXT TakeOver on Wednesday & Thursday. Hall of Fame airing on Tuesday. Raw, SmackDown on usual days, and various media appearances from your favorite WWE Superstars.
We might get to that. Lots of news to talk about first…
Wednesday Night War Ends, Both Sides Win/Lose
NXT's big move was finally made official last week. After this week's episode featuring the first night of TakeOver, NXT will be airing on Tuesday nights on USA going forward. This is great news for wrestling fans that like having something to watch on cable/satellite television every single night, as Impact Wrestling's move to Thursday ensures that there will be weekly wrestling shows every weeknight. It's also great news for Internet wrestling reviewers, who no longer have to pick one show to review live.
Honestly, it's only bad news for people that love to tweet about the ratings every Thursday. Not sure what those people are going to do with their time now, but I'm sure they'll find something. They always do!
As for AEW & WWE's NXT brand? Well, this whole thing has resulted in good & bad news for both sides.
Good News For AEW!
Dynamite dominated NXT in the ratings for most of the time period. The past 52 weeks saw NXT beat AEW four times in overall viewership, and zero times in the 18-49 demo the people love to talk about. Hard to argue with that type of success against your main sports entertainment competitor.
TNT is happy. They extended Dynamite pretty early in their relationship with AEW, and have given Cody & Brandi Rhodes' reality show the greenlight. Cody also got a slot on the Go Big Show on TBS. Shaquille O'Neal & Snoop Dogg appeared to help cross-promote other Warner Media properties.
Bad News For AEW!
AEW had 1.4 million viewers for their first episode of Dynamite. A good chunk of that audience never came back, at least not for a live airing of the show. While they were drawing more viewers than NXT was, they weren't growing their audience.
Recent numbers haven't been great. The episode featuring Shaq did a pretty big number, but things have been trending downward since. The Revolution show-closing fiasco seems to have had a negative effect on AEW business, though it's far too soon to tell whether that will be a long-term hindrance.
Good News For NXT!
NXT even being on USA in the first place was a good sign for WWE's relationship with the network, and that's only grown during this time period. Peacock's on board with WWE Network now, NXT is factored into USA's plans no matter what night it is, and things are good.
There's a very good chance that NXT will win the ratings war this week. TakeOver always generates interest, and the AEW card didn't look like its strongest of all time. NXT could go out on a good note!
I also think they'll gain more from being on a separate night than AEW will being by itself on Wednesday night. AEW fans are diehard, but more of them seem willing to flip over to NXT during commercials or other times. People watching NXT are going to stick with NXT.
Bad News For NXT!
Now, this is going to be a bad week for me to say this since the brand always delivers on TakeOver events. But overall, NXT's quality has gone down since the move to two hour weekly shows. More does not always equal better, and I think more NXT has served to make it less special. Which you wouldn't have thought considering how many people are under contract and chilling at the Performance Center. Theoretically, more time would mean that more people would get a chance to shine. This hasn't necessarily been the case.
The "cool factor" that NXT once had seems to be largely gone. There was a time period where people told me that they didn't even consider NXT part of WWE. Even though it was, it didn't bother these people. Nobody's saying anything like that now. They all know NXT is part of the WWE machine, for better or worse.
And this is just idle speculation on my part, but it sure seems like the Wednesday Night War didn't help Paul Levesque's influence within the company. The recent upheaval at Talent Relations tells me that Vince McMahon wants other people making hiring decisions than who's been making them. NXT isn't producing stars at the rate that WWE wants them, and we can blame whoever we want for that, but at the end of the day the blame's going to go a certain direction that won't be the top.
Competition supposedly creates better content. I think at this point, the best thing that can happen is for AEW & NXT to be on separate nights. This way, they can focus on themselves and trying to make a better show instead of trying to pop a rating to beat the other guy.
Peacock Is Jericho
WrestleMania hasn't been the most talked about upcoming WWE Network/Peacock show in recent days. Nor has it been TakeOver or the Hall of Fame show. It's what will be streaming after Night 2 of WrestleMania ends, the newest Broken Skull Sessions show. Steve Austin's interviews are usually pretty fun, but this one seems especially newsworthy since it involves somebody not currently employed by WWE…Chris Jericho.
As first revealed on @WWENetwork social media, @IAmJericho will join @steveaustinBSR on #BrokenSkullSessions, streaming Sunday, April 11, exclusively on @peacockTV in the U.S. and on @WWENetwork everywhere else!
https://t.co/LrVPFfW6Oe

— WWE (@WWE) April 2, 2021
Some say it's a shot by WWE at AEW, wanting us to know that they don't see them as competition. I don't know how much that plays into it, but I can tell you why WWE, Peacock, Vince McMahon & anybody else with a say is ok with Steve Austin having Chris Jericho, a former WWE Superstar currently under contract with AEW, on his show.
They think people will watch.
It's that simple, folks. WWE, AEW & any other wrestling company worth its salt bases the lion's share of their programming ideas off the idea of drawing viewers. Not doing "alpha moves" or trying to bury people or whatever excuse we try to come up with in attempts to create drama. It's about getting people to watch the programming. Getting Chris Jericho to do the Austin show? That's interesting. People will tune in for that. That's why WWE was cool with the idea.
Whether you love AEW & hate WWE, or hate AEW & love WWE, or you love both or hate both, we should all be able to agree on basic facts. Even if Dynamite draws more eyeballs on TV sets than NXT, or any other WWE show one of these days maybe if they get hot, AEW would still not really be "competition" for WWE as a business. We're talking about a company that's been around a little over two years that could have gone out of business during this pandemic if TNT didn't extend their contract.
Say what you want about what WWE puts on television. I'm as critical of it as anybody. Say what you want about their business ethics. I've been critical of that too. What you can't deny is the fact that WWE is a tremendously successful business that excels at making money off of what they own. Could they do better? Sure. Can somebody else match their creative efforts? Depends on who you ask! Is anybody going to overtake them as America's biggest wrestling company anytime soon? Not unless we see another scenario like the early to mid 1990s, where WWE makes it possible by falling into a period of scandal and complete mainstream irrelevance. (Frankly, it's tough to think of anything that could cause that, considering some of the business decisions they've made over the past few years that haven't even really drawn a second glance.) Even then, somebody would really have to catch fire to get on WWE's level.
Can AEW? We don't know, and there's a pretty good chance we'll never know.
Andrade Speaks!
A lot of you are super excited about Andrade leaving WWE because it will surely lead to spectacular matches wherever he goes. You all tell me that he's one of the best workers in the world and can have great matches with anybody. That's cool, but that's not the reason I was excited he left.
The real reason to be excited he left WWE? He's going to talk!
The fact of the matter is that most of today's American wrestling stars are reticent to say anything of great interest that isn't blowing smoke up somebody's backside, whether it's their employer, their fellow wrestlers, or themselves. Sure, there are notable exceptions, but if media talks to most of these people, they're getting gaga intended to be as non-controversial as possible. I can't single wrestlers out for this, it's prevalent in every form of sport or entertainment. Saying something interesting can make people mad, and most athletes/entertainers would prefer to avoid the backlash that typically ensues.
Those who have followed lucha libre over the years know that luchadores are far less shy. They don't worry as much about "burning bridges", probably because Mexican promotions will work with them as long as they draw some money. Wrestlers are still a part of what draws fans there, whereas in the US it's more about the brand. Andrade has watched the luchadores that came before him. They have no problem with sharing their truth, and he has no problem sharing his.
So it wasn't surprising that some breaking news came out of an interview Andrade did with Hugo Savinovich. Apparently, the reason Charlotte Flair was recently taken off of TV was due to a medical test that led WWE medical to believe that she was pregnant. Turns out that she wasn't. However, she tested positive for the coronavirus soon after, which led to her continuing to be off of TV. Charlotte's "camp" released a statement clarifying the whole matter, making sure to take the rough edges off.
Because that's what American wrestling stars do. They have camps to take care of these things.
I, for one, can't wait for more Andrade interviews, as they're one of the few hopes we have of people saying something interesting.
Let's talk about this AEW house show thing.
As we all know, there are quite the number of wrestling shows going on in the Tampa area this weekend. Which is another matter in itself, as we've got wrestlers on social media whining & moaning about people not buying tickets to their shows, which are taking place in the middle of a pandemic. The lack of awareness that some of these people have is somewhat mind-bottling, as the kids say. Anyway, there are a variety of wrestling shows taking place in the Tampa area this weekend, hoping to take advantage of a large number of wrestling fans being in town.
Then we have All Elite Wrestling, who are running shows in Jacksonville at their usual venue. Kind of out of nowhere, they decided they were going to run their first ever house show this Friday. Running these types of shows isn't a terrible idea for AEW, especially when they have so many people on their roster. Gotta keep them busy somehow, right?
Of course, the fact it's on WrestleMania Weekend has people talking. People remember back when Cody Rhodes told people that AEW would never try to compete with WWE on WrestleMania Weekend. To be fair, Cody's said a number of things in interviews while talking about AEW's future plans that ended up being fals later on. As the old saying goes, plans change.
I'm not as worked up about this as a lot of people are. Maybe people aren't aware of this, but the fastest trip from Tampa to Jacksonville takes about three hours. It's right around two hundred miles via I-75. How many people in town for WrestleMania already are going to make a three hour drive to Jacksonville & another three hour drive back to Tampa? Doesn't make a lot of sense to me.
Then again, I hate driving pretty much anywhere at this point in my life. So maybe I'm the wrong person to pontificate on this topic.
New Japan Championship Change
Some big news came out of NJPW's Sakura Genesis show that took place over the weekend. Will Ospreay, who had won the New Japan Cup to earn a shot at Kota Ibushi's IWGP World Heavyweight Championship, defeated Ibushi to win that title. He is the first British wrestler to hold New Japan's top heavyweight championship.
Best In The World. pic.twitter.com/lktU9SZb1l

— ᵂⁱˡˡ ᴼˢᵖʳᵉᵃʸ • ウィル・オスプレイ (@WillOspreay) April 4, 2021
It's the second straight year that New Japan has seen a popular wrestler win the top championship at Wrestle Kingdom, only to have a much shorter reign than people expected, losing to a heel wrestler. Ospreay is very talented at what he does, if you're into matches with lots of flipping, flopping & flying. He's got a new faction behind him, and speaking English will help if NJPW plans on continuing their international expansion, which I assume they are.
As for Ibushi, it seems like he's already been shunted behind Shingo Takagi & Kazuchika Okada in championship contention. So I can only assume he's counting the days when he can get back together with Kenny Omega. Michael Nakazawa's days might be numbered.
Thanks for reading! We've got a big week of content coming up here at The Chairshot, including my gambling picks for Night One & Night Two of WrestleMania! Not to mention all the great show coverage, podcasts & everything else we'll have cooked up for you. Stay tuned, and until next time, keep your stick on the ice.