Sarpraicone: Farewell, Kagetsu (Top 5 Kagetsu Matches)
Mathew takes a look at the Top 5 matches of the soon to be retired, Kagetsu.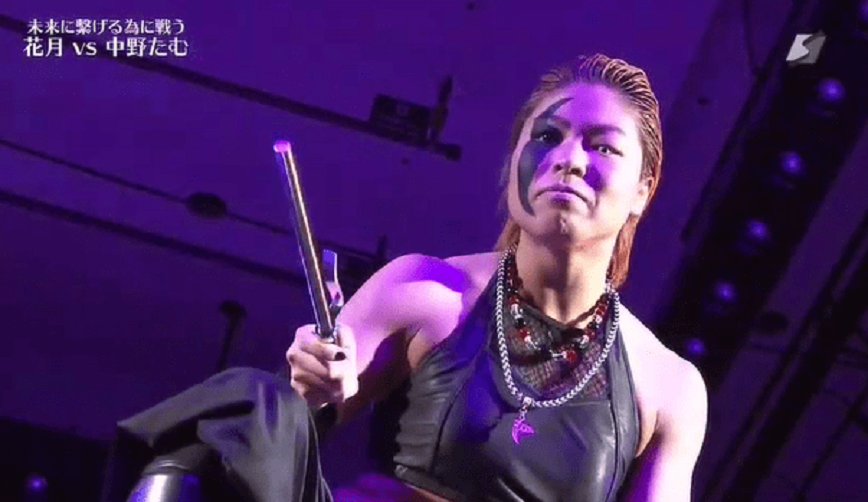 As I'm sure everyone that follows Joshi scene or just Stardom for that matter, Kagetsu has had her final match with Stardom and is now one month away from her actual retirement from professional wrestling.
Kagetsu has been wrestling for eleven years and had her start at Sendai Girls when she was trained by the legendary Meiko Satomura when she was sixteen. Kagetsu would do shows for various promotions around this time until she left Sendai Girls in 2014 to venture off on her own for a bit, leading into OZ Academy. She would then officially become a Stardom regular in 2016. Kagetsu was apart of Oedo Tai but wasn't until 2017 where she would be the leader of the dying faction after her potential retirement, which Io Shirai would prevent her from doing so.
Kagetsu would make Oedo Tai one of the top units in the company with their dancing, antics, colorful personalities from each member while still being considered the heel faction. She would hold the Goddesses of Stardom, Artists of Stardom, and the World of Stardom Championship during her time in Stardom. The day after Hazuki retired, Kagetsu would announce her retirement as well (what a terrible Christmas gift) and would leave Stardom on January 26th while producing her retirement show on February 24th where she will fight her teacher, Meiko Satomura as her final match.
The Joshi world won't be the same without Kagetsu and I'm not sure about the rumors spurring around about being forced out of Stardom, but all I can do is wish her the best of luck with whatever she decides to do next. She's had a great career and if she doesn't make a comeback, she left a hell of a legacy during her time. Thank you for everything, Kagetsu and you will be missed.
Anyway, before we end this, I will be doing a small countdown of her five best matches throughout her career. So let's take a look without wasting any time.
5. Kagetsu vs. Hiroyo Matsumoto (OZ Academy Sakura Hanasaku 4/12/2017)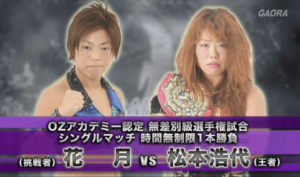 – This from the OZ Academy show where Hiroyo Matsumoto was the OZ Academy Openweight Champion and was set to defend it against Kagetsu and this was a very impressive match that showed Kagetsu's potential to be a top star in any company. A lot of people know how great Hiroyo is in the ring and this was more about Kagetsu than anything else and she would deliver some stiff strikes throughout the match that make you wanna go ow. Kagetsu may have failed to get the title but she still left a damn big impression for the fans in Stardom and all over. It was a great match to watch and worth viewing.
4. Kagetsu vs. Jungle Kyona (Stardom 8th Anniversary 1/14/2019)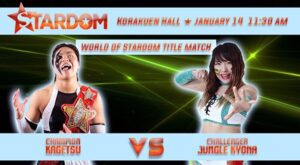 – Much like the previous match with how it felt like Kagetsu could be a big star going forward, this match made me feel the same thing with Jungle since she never seems to catch a break with the top spot. The match was for the World of Stardom Championship and while Kagetsu had an underwhelming reign at times, this would be my favorite defense from her and showed she needed to have these types of matches to help elevate the belt but Stardom had more focus with the Wonder of Stardom Championship at that time. This also made me believe that Jungle could've won the belt there but it didn't turn out to be the case. It was technical, stiff, and was able to tell a good story throughout the match.
3. Io Shirai vs. Kagetsu (Stardom Queen's Quest Produce 5/5/2018)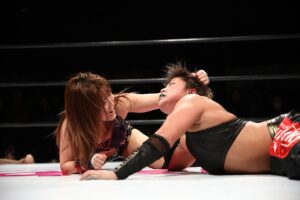 – This would be the last time these two would face each other in a singles match due to Io on her way out of the promotion and it would be for the Wonder of Stardom Championship. One month after the Exploding Death Match, they would agree to do the match as promised and both of these women would deliver. You had two of the best Stardom had to offer go at it in a wrestling match without the need for tricks or anything like that as the two just told a story in the ring with their great wrestling. Io Shirai would defeat Kagetsu to break the record for successful title defenses for one reign but Kagetsu looked like a bigger star out of this and was able to win the World of Stardom Championship a month later. Great match that leads to more for Kagetsu to elevate her to that next level.
2. Io Shirai & Tam Nakano vs. Kagetsu & Natsu Sumire (Stardom Dream Slam in Nagoya 4/1/2018)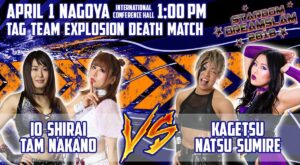 – This would be Stardom's first and probably only Exploding Bat Death Match and this was all thanks to Tam Nakano for making this match happen. This wasn't a good wrestling match by any means but what sold the match than anything was the actual story behind the match and the people involved. Tam was betrayed by Oedo Tai when she was kicked out and the build-up for Tam on her own was a struggle but also the ultimate test for her as she wanted to make an impact. The build-up with the match during the whole match was even suspenseful that you didn't know if it was ever going to happen it was all for show with all the teasing with turning it off before it would hit each other. When they did hit each other with the bat finally, it made it feel like it was worth the wait. Great story, very enjoyable match with what they worked with, and will most likely never happen again.
1. Mayu Iwatani vs. Kagetsu (Stardom Year-End Climax 12/24/2019)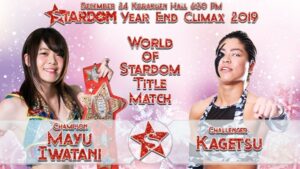 – These two have had a hell of a rivalry over the past couple of years and this match would be the final chapter of their story. The last couple of times they fought for the World of Stardom Championship, they were both champions in separate matches, so it seemed fitting for it to end for the championship with Mayu being the champion again this time around. All three matches are great but this one would be the better match for me and the one that was more enjoyable for what it means to the two of them. The selling, drama, storytelling, and just the intensity of the wrestling these two had that they were at the top of their game and felt like they couldn't be topped for a while. Mayu was able to win the match to end the rivalry and retain her title as it left a great moment for them. Great match and the last time Kagetsu would fight for the red belt before her departure.
That's it for my top 5 matches of Kagetsu and I'm sure they're other great matches she's had but these were the ones that I've personally enjoyed. Kagetsu had great matches and the wrestling world won't be the same without her and she will be missed.