The Weekly Brainbuster: The Top 5 Wrestle Kingdom Matches (through WK13)
This week's Brainbuster takes a look at Matt's Top 5 Wrestle Kingdom matches headed into this weekend's 14th edition of the event!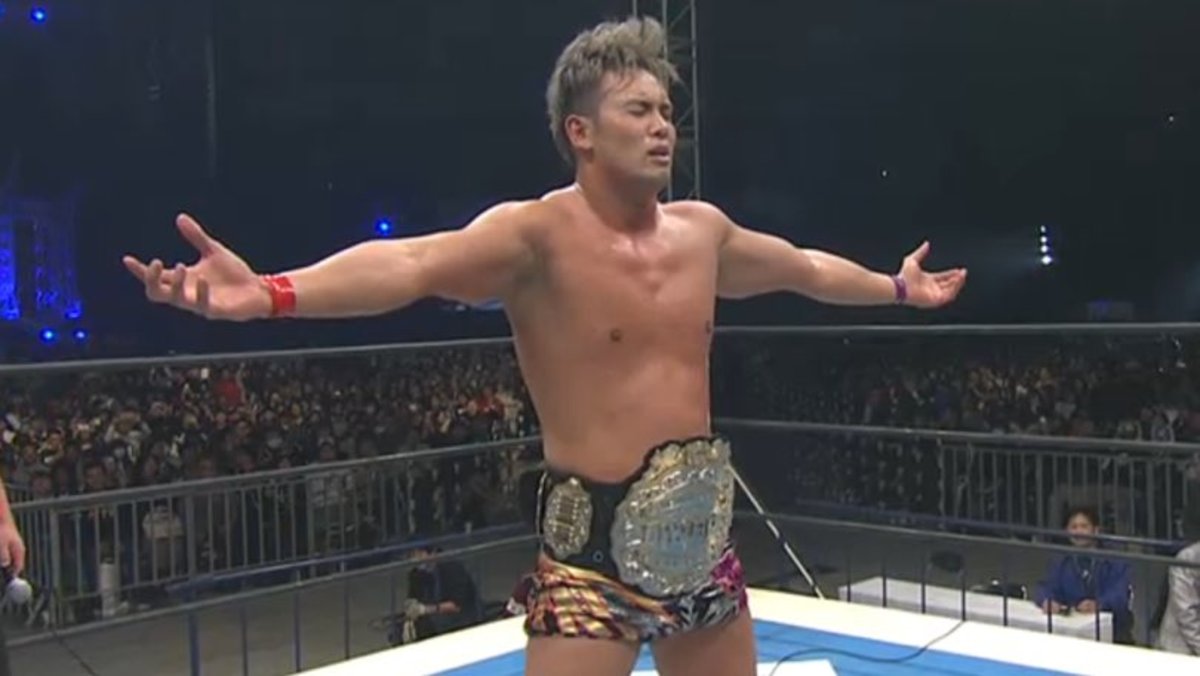 This week's Brainbuster takes a look at Matt's Top 5 Wrestle Kingdom matches headed into this weekend's 14th edition of the event!
Welcome to a special edition of The Brainbuster! No power rankings article again this week, some technical difficulties in my laboratory of statistics, but we move on! As of the writing of this we are just 12 hours away from New Japan's Wrestle Kingdom 14! My alarms are set, I'm ready. In anticipation of what many wrestling fans agree is the best night of professional wrestling bell to bell in the world, lets take a look at the Top 5 matches in Wrestle Kingdom history!
Honorable Mentions:
1- Triple Crown Heavyweight Champion Minoru Suzuki vs Yuji Nagata
Wrestle Kingdom 1 – January 4th, 2007 – NJPW 35th Anniversary
Many viewed this match as the main attraction on this card, even though Hiroshi Tanahashi would defend the IWGP Heavyweight Championship later. Suzuki came in as the reigning champion and faced off against arguably at the time, one of the top recognized names in Japanese professional wrestling in the world. Suzuki would unleash a vicious assault outside the ring, both men ended up broken and bloody by the end. It was not to be for Nagata on this night as a referee stoppage ended his title hopes, and cemented Suzuki his second title defense of his reign.
2- IWGP Heavyweight Champion Hiroshi Tanahashi vs Shinsuke Nakamura
Wrestle Kingdom 2 – January 4th, 2008
In a match up between two men who would battle for the title of Ace for the next decade, the reigning G1 winner and IWGP Champion faced the leader of RISE Shinsuke Nakamura. Two years prior, Nakamura lost his championship match against Brock Lesnar, but here he defeated his rival with the Landslide, a second rope Samoan Driver, hooking the legs to claim his second IWGP Championship. There would be many more Tanahashi/Nakamura matches through the years, but this one is truly a memorable match. What I most enjoy about it is you can (and have to) watch it with Japanese commentary, but you understand the story being told and that is vital to wrestling. Both of them are masters of their crafts, and not the last time they will appear on this match
The Top 5 WrestleKingdom Matches Through WK13
#5 IWGP Heavyweight Champion Hiroshi Tanahashi vs Kazuchika Okada
Wrestle Kingdom 7 – January 4th, 2013
The match that started it all. The rejuvenation of New Japan Pro Wrestling. This match was made when Kazuchika Okada won the G1 in his first try in 2012. Tanahashi had been well established as the Ace of New Japan by this point, but remarkably, Okada was a former IWGP Heavyweight Champion already as well, besting Tanahashi at A New Beginning in 2012. They would clash again at Dominion with Tanahashi taking the title back. This match was epic in almost every way you could imagine. It told a great story with Okada trying to prove himself again and again, but Tanahashi tested Okada and the veteran had the answers to the test. Okada would continuously miss Rainmakers as Tanahashi had his rival scouted in their third match in a year. Okada kicked out of a High Fly Flow, avoided a submission loss by scratching and clawing to the ropes, but the second High Fly Flow ended the match after 33 minutes and the Ace retained.
#4 IWGP Intercontinental Champion Shinsuke Nakamura vs AJ Styles
Wrestle Kingdom 10 – January 4th, 2016
I just watched this match again yesterday, and it was truly one of the most fun matches I've ever watched. That's a lot of praise for the fourth match in a top 5 list, but that just tells you what you're in for coming up. I had a tough time deciding between this or the next match for the third entry, but the aftermath of this match left a lot to be desired as both men would leave the company, sending shockwaves throughout the wrestling world, but, it did not allow either man to follow up this spectacle. The story here was that Styles regarded Nakamura as one of the best in the world, and he wanted to beat the best in the Toyko Dome. In November 2015, Styles aggravated a back injury in storyline as he was pulling double duty between ROH and NJPW, and that injury was mentioned several times here. Styles even went as far as to feign a pinched nerve after getting slammed into the turnbuckle, but attacked Nakamura from behind to a chorus of boos. Nakamura would lead a charge of his own, trying to Bome Ye multiple times, but Styles dodged them, before getting caught in the teeth off the middle turnbuckle. Nakamura couldn't make the cover. Kevin Kelly reminded everyone that both men had failed to take advantage of several finishing moves throughout the match. Styles hit what we now recognize as the Phenomenal Forearm but couldn't get three. Nakamura would end the match with a vicious Bome Ye and retain after 24 minutes. The atmosphere created by these two mega icons colliding in the Toyko Dome was truly the definition of dream match. They gave it their all, telling a great story, working over limbs and targeting injuries old and new.
*Every time Styles tried the Styles Clash he was booed out of the arena, due to the moves perceived danger in Japan after breaking the necks of several wrestlers months prior to this match. Eventually, Styles would connect on one, and eerily enough, Nakamura landed awkwardly on his neck and shoulder, but I believe it was a worked shoot for heat, as Nakamura appeared to attempt to protect himself. If it was a botch, its unfortunate, but I looked at it several times, and I do think it was an attempt to get sympathy for Nakamura and heat for Styles during the match.
#3 IWGP IC Champion Shinsuke Nakamura vs Kota Ibushi
Wrestle Kingdom 9 – January 4th, 2015
Happening a year before the previous match, it was also bred from a challenger wanting to beat Nakamura at Wrestle Kingdom for the coveted Intercontinental Championship. Kota Ibushi would humiliate Nakamura in November 2014 during a post-match speech with an amateur takedown suplex and challenging The King of Strong Styles for the Toyko Dome. It was billed as the student versus the teacher, as Ibushi idolized Nakamura and would even attempt the Bome Ye during the match. Nakamura had the entrance of a lifetime, coming to the ring in a red robe with a crown fit for a King, proclaiming himself Mr. Wrestle Kingdom in the process. This was a star making match for the young Golden Star Kota Ibushi, as he graduated from he junior division and delivered a once in a lifetime match here. Nakamura tried to ground the athletic high flyer with grapples and armbars, but Ibushi would take to the sky almost winning the championship with a Phoenix Splash- but he missed! Bome Ye connects! Kickout! Insane. The fans thought it was over. Near the end, both men exhausted, Ibushi lifts Nakamura off the mat with a dead lift german suplex which is burned into my memory and is the one thing I remember most about the match. Nakamura would finally strike his way to victory after multiple Bome Ye's for the victory after 20 minutes. From the star making and career defining performance of Kota Ibushi, to the pageantry of Nakamura's entrance, to the hard hitting strikes, the kickouts, and everything in between, this is a special match and one of my favorites, yet better is to come!
#2 IWGP Heavyweight Champion Hiroshi Tanahashi vs Kazuchika Okada
Wrestle Kingdom 9 – January 4th, 2015
A rematch from two years prior. Kazuchika Okada would again win G1, challenging Tanahashi for the championship again. This match was special because it was commentated by Jim Ross and Matt Stryker and was the first main event in Wrestle Kingdom history to have English commentary. Historical standards aside, the history of these two established in just three calendar years made this match truly important in prelude, and memorable in execution. They played a similar story from two years prior with Okada trying to outsmart Tanahashi and taunt the champion, but again Tanahashi used his years of in ring knowledge and his history with Okada against him. Knowing the eyes of the world were on him, Tanahashi gave us a "Wrestle Kingdom Moment" leaping from the top rope across the barricade into the fans connecting with a High Fly Flow onto Okada in the crowd. You really have to see that to believe it. From there they would exchange blows, multiple High Fly Flows were not enough to put away the Rainmaker. Tanahashi tried flash pins, but those were not enough either. Tanahashi reversed the Rainmaker lariat into a dragon suplex, gets two. Okada with a dropkick that shakes the arena and Jim Ross by gawds the hell out of it. His added commentary added so much magic to this match. Okada can not put away Tanahashi, with the lariat blocked again, Tanahashi unloads with patented dragon screws, multiple High Fly Flows again, and pins Okada once more after 31 minutes of five star wrestling. Many argue this is the greatest match they ever had, and the greatest match in Wrestle Kingdom history, but in the words of Yoda Return of the Jedi…there is another.
#1 IWGP Heavyweight Champion Kazuchika Okada vs Kenny Omega
Wrestle Kingdom 11 – January 4th, 2017
This match is the definition of wrestling perfection. It is not only the best Wrestle Kingdom match of all time, it is in my top 10 matches ever. The story here was Omega challenging after winning the G1. Omega had taken over lead of The Bullet Club in January 2016, and won the IWGP IC Championship in February. He would go on to wrestle in the first ever Ladder match in New Japan, and would arguably be the most valuable wrestler in the company heading into this match. Omega would draw on his love of anime and video games (one of the reasons he moved to Japan in 2013), coming out with a large anime style gun attached to his arm, and a one winged angel crossed over his back.
Omega knew that the Rainmaker could end the match at any point, so he targeted Okada's legs and arms throughout the opening and middle of the match. To me, that was amazing to see unfold. You don't see that in major American promotions, few and very far between anyway. Omega worked on Okada's arms and legs, kicking, twisting, and bruising them on the outside, everything he could think of to sap the power of Okada making the Rainmaker as useless as possible. Omega would also work the neck, softening the champion for his One Winged Angel, a direct elevated driver on the back of the neck. Omega was masterful here, working a story and a style reminiscent of a Ric Flair or Bryan Danielson, using his opponents strengths against him. The spectacle and historical importance of the two previous matches on this list were paled in comparison to the psychology of this one. Like I said, it compares to any of the best stuff Flair or Danielson ever did in any match. There were multiple crashes through tables, and hard assaults on the outside enough to end any match, but not this one. Omega sustained not one nor two but five Rainmakers and kicked out. Okada countered the One Wing Angel in one of the most athletic ways that even a contortionist should ask him how he did it. The escalation of this match was magical, with both men giving everything they had. I had several thoughts they were going the distance and time limit drawing, but it was Okada who survived an Omega Bome Ye knee strike and delivered a devastating Rainmaker that ended the match after 47 minutes. Omega was never able to hit the One Winged Angel. We were left to wonder if Okada could have survived if he hit it after the methodical breakdown that Omega delivered in this match. It is absolutely one of the greatest matches ever wrestled. Arigato! Arigato! Arigato!
News From Cook's Corner 1.25.21: Swinging For The Fences
Some notable deaths and a shift in the USA Network programming schedule seem to have peaked Cook's interest. Check out what he's got hot off the presses!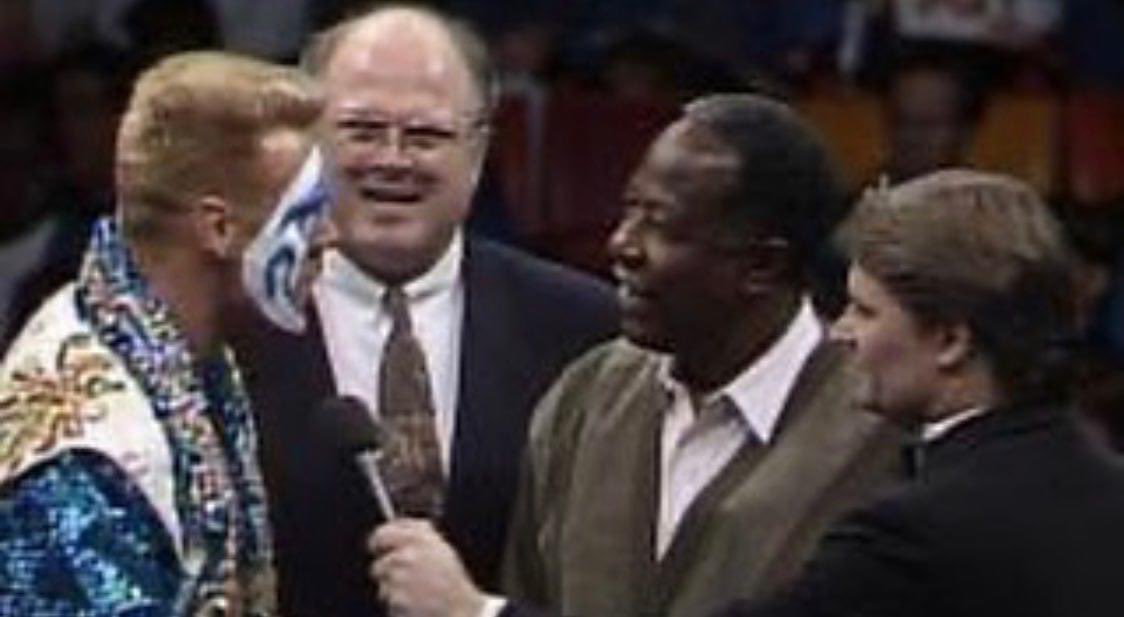 Some notable deaths and a shift in the USA Network programming schedule seem to have peaked Cook's interest. Check out what he's got hot off the presses!
Hi, hello & welcome to News From Cook's Corner! Last week around this time, I was riding pretty high and feeling good about how things were going with the whole writing thing. Got some podcast publicity, wrote some pretty good stuff that went over well with the public, was expanding my horizons with some different work, good times were being had by all. That lasted a few days until I ran into every writer's greatest enemy.
Writer's Block.
It's not that I'm lacking things to write about. There's plenty going on in the world of pro wrestling, and now that the Chairshot is expanding its reach into sports, there's always some NFL topic that people want to read about. One goes through times where it's hard to find the words. It usually happens at a pretty inconvenient time, like when I actually have a lot of free time to write.
The hope for this column is that I can get some creative juices flowing thanks to some topics that interest me. There are plenty of reasons to talk about sports this week, so hopefully that will help! Let's find out…
Will NBCSN's Demise Lead To Changes For WWE?
Big news broke in sports television over the weekend, as NBCUniversal announced its intention to close down NBCSN by the end of 2021. This is being seen as a strategy intended to bump up the Peacock streaming service, where many of the properties currently airing on NBCSN will end up. The memo did mention that USA Network would begin carrying some of the programming, including NASCAR races & the Stanley Cup playoffs. This, naturally led to wrestling fans like us jumping to conclusions.
Oh, and fans of all those other sports too, but for the purposes of this column we talk about wrestling fans jumping to conclusions. WWE has two weekly wrestling shows currently airing on USA. Raw's deal doesn't end until 2024, but NXT's ends in October of this year.
I think some are blowing this whole thing out of proportion. Maybe I'll end up being wrong, but I don't see the addition of the NHL & NASCAR affecting WWE too much. NASCAR will mostly air on the weekends. The NHL does have this Wednesday Night Hockey gimmick on NBCSN that people tell me is a big deal and may lead to the end of NXT on Wednesday nights. Mayyyybe that happens, as it's pretty undeniable at this point that NXT would draw a larger audience on a different night. WWE would prefer to take a chunk out of AEW Dynamite viewership, but that's not as big of a concern to USA.
However, as somebody that watches a good amount of hockey, I've never thought of Wednesday night as a destination night for the sport. Might be because my Nashville Predators are rarely featured on it (they will be this week, largely because they're playing Chicago), but I don't see it as this big thing that changing to Tuesday or Thursday Night Hockey would put traditional hockey fans up in arms. Certainly not like how they get worked up every time something related to Hockey Night in Canada changes.
There's also the factor of the NHL contract with NBC expiring after this season, which could render the whole "Wednesday Night Hockey" thing as a moot point. This is all very interesting to keep an eye on, but I'm not expecting anything major to come out of it, at least when it comes to WWE business. Say what you will about Raw or NXT's TV ratings, the NHL sure wouldn't mind having them. We might see NXT get pre-empted if the NHL has a ton of playoff games on a Wednesday night, but other than that I wouldn't worry about it.
Hammerin' Hank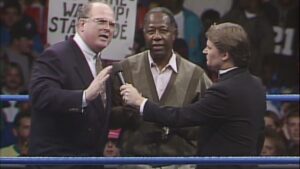 As a baseball fan that has loved studying the history of the sport from a young age, the last year or so has been brutal. It's been a seemingly never-ending parade of Hall of Famers leaving us. Most of them were along for a long time, so it's not like they were taken too soon or anything like that. It's just kinda sad for baseball fans to see a piece of their childhood fade away.
Hank Aaron passed away at the age of eighty-six on Friday. He was the man who broke Babe Ruth's home run record back in 1974, and had to deal with everything that that entailed. People that had a certain outlook on life were outraged to see Hank Aaron, an African-American, break the Sultan of Swat's record. When I first read about all this and saw some of the things people sent Aaron in the mail, I was shocked. I was much younger at the time and under the impression that certain things had gotten better. Which they have, as now they send Tweets.
Aaron's record of 755 home runs lasted over 30 years until Barry Bonds surpassed him with 762, and many folks out there still recognize Aaron as the home run king due to certain aspects of Bonds' career. I'm not here to tell you how you should feel about that. What I will say is that 755 is much easier to remember than 762. It's like how I was talking about the WrestleMania III attendance record being easier to remember than WM 32's just last week. It's just a better number.
You might wonder why I'm talking about all this in a wrestling column. Maybe you're not, since it's a pretty well known story. After Aaron retired from baseball, he became an executive with the Atlanta Braves & TBS. At the time, the Braves & TBS were owned by Ted Turner, who owned pretty much everything in Atlanta at that point. Including later in the 1980s, World Championship Wrestling. Aaron, like most TBS executives at the time, kept his distance from WCW, which was widely considered the red-headed stepchild of the Turner corporation.
WCW had quite the revolving door of executive VPs, bookers & assorted people in charge its first few years under the Turner umbrella. The middle of 1992 saw the arrival of Bill Watts, a man known in wrestling circles as pretty much a genius. Watts had booked for a number of successful territories during the 1970s & 1980s, and the Mid-South Wrestling promotion he led during the early 1980s produced some of the most critically acclaimed wrestling television to this day. Also did big business in Louisiana, Mississippi, Oklahoma and other areas that weren't exactly population & media centers. Watts' reputation as a wrestling genius gave people big hopes once he arrived, and, well, things didn't quite go as hoped.
I have re-watched some of 1992 WCW fairly recently thanks to WWE Network dumping some WCW Saturday Night just before I started watching as a kid on there. I enjoyed a lot of it, but there were definitely some warts. The TV definitely didn't draw a lot of money, and Watts' new rules he brought to WCW definitely didn't make any friends backstage. Watts was also forced to cut costs, though as Arn Anderson has pointed out, he would see other people pop up on the roster after his salary was slashed. Arn admitting that he used Erik Watts beating him down at a gas station as an excuse to take four months off, sit at home & let things play out just increases my opinion of the Enforcer. Tremendous.
WCW under Watts was definitely a mixed bag. The Cowboy had some good ideas, but he also had some terrible ideas that stifled the roster. Watts has explained the top rope ban as making the moves mean more, but it was ill-timed when WCW was trying to promote a Light Heavyweight division where the top two stars were Jushin "Thunder" Liger & Flyin' Brian. I mean, it didn't hurt Brad Armstrong or Scotty Flamingo too much, but we would have rather watched the former than the latter in 1992. Or in most other years.
Watts had gotten behind the times. Apparently, he was even more behind the times based off of a Torch Talk interview he did in 1991 that allegedly helped him get the WCW job. That's a myth that's been passed on over the times by newsletter writers, but when I read that interview, I saw at least 27 red flags. I had heard Watts' explanation of the situation prior to my reading the actual transcription of all of this. Once I saw what he actually said, well, I can see why he was trying to spin it.
Bill Watts is a complicated figure in wrestling history. He gave the Junk Yard Dog his big push in Louisiana. He made Ron Simmons the first black WCW Champion. He made Ernie Ladd his booker in Mid-South Wrestling. He rightly saw that most of the top athletes in the world were black, and that wrestling denying that was ridiculous. Regardless of his opinions of other races, he saw that there was business to be done in pro wrestling.
Which, to be honest, puts him ahead of most other promoters in his time. Watts might have been a racist, but as a capitalist he still saw the business potential. WWE has been criticized for decades for not properly pushing African-American talent. They have been putting belts on minority talent lately, but still fund political campaigns meaning to bring minorities down. I'm not telling any lies here, just ask the people that vote for Vince & Linda's preferred candidates. That's what they want to do. Don't get me started on the debate over who the first black WWF/E champion was. I am sticking a ten foot pole between me and that debate.
Watts made a habit of pushing African-American talent throughout his stints as a promoter & booker. He entrusted Ernie Ladd with booking Mid-South Wrestling, which was the first time an African-American had booked a wrestling promotion. Which made the interview he did with the Pro Wrestling Torch prior to getting hired by WCW more damning when I actually read it. I had read summaries before, and had heard Watts' take on the matter. Actually seeing what he said…pretty shocking, though there are plenty out there that might agree with his hot takes.
The story is that Mark Madden (another wonderful individual just like his fellow Torch columnist Bruce Mitchell) faxed the Pro Wrestling Torch interview to Hank Aaron, after seeing Aaron on WCW television with Watts shortly after Aaron had spoken out against Marge Schott, the owner of the Cincinnati Reds that had made some very questionable statements concerning Adolf Hitler, among other things. See, Watts was big on mainstream sports, and would have marked out to have Hank Aaron on TV with him. Probably pulled some strings to make that happen. Aaron was not pleased when he saw the Torch interview, and told Madden that there would be something done about it. Watts resigned from WCW shortly afterwards.
It should be noted that Watts has a different take on all of this, though it has to be called into question since he made his Torch comments seem much less racist in his re-calling. Part of it does seem believable, since he claimed that he was already intending to step down from WCW due to the corporate agenda he didn't want to deal with. It seems feasible, and Jim Cornette backed him up on the timeline on the ROH Straight Shootin' Series interview they did. (Has Jim Cornette ever commented on Bill Watts' political beliefs? That'd be an interesting YouTube clip.)
Watts' removal led to Ole Anderson taking control, which didn't last long. Once Ole pissed enough people off, he got shown the door, and that's when Eric Bischoff slid in. I don't think Hank Aaron paid attention to WCW a second after he got a fax from Mark Madden. Could be wrong, though I think if Aaron was at some of those Nitro telecasts they would have drug him out there to get a pop.
A lot of news sites wanted to sell Aaron as changing the course of wrestling history in their news bites reporting his death. I think that's a little overblown, as Watts would have gone away even without Aaron being forced to respond to an interview that TBS apparently didn't look into before hiring Bill Watts. The main issue is that Watts shouldn't have been there to begin with. Easy to say with hindsight being 20/20, and the perception being Cowboy Bill being a wrestling genus, but his WCW stint, at least as far as TV entertainment value goes, was lacking.
Maybe he saved some money, but why would we care about that? Especially when he was saving money by cutting production values and cutting Arn Anderson & Bobby Eaton's pay in half. Those were acceptable costs. And how much money do you save by not placing pretty blue mats at ringside to keep wrestlers from killing themselves on the floor? Can't be that much.
Larry Fling Live
CNN has never really replaced Larry King. They tried to have Piers Morgan do it, which was a debacle that fortunately only British people have to deal with now. Chris Cuomo has the slot now, but that is what that is. Anderson Cooper is smart enough to stay out of that time slot because he doesn't want the comparison. He'll take any other slot on CNN, just not that 9:00 PM Eastern slot.
That was where Larry King interviewed people on CNN for twenty-five years. It was the signature program on cable television's first news network. As much as we talk about cable television dying off and viewership going away, cable news is still a pretty big thing. It's only gotten bigger since Larry King Live went off the air, and one wonders if a cable news host like King would do well now. King didn't wear his party affiliation on his sleeve, which made him great for television back in the day. For television now? Could be an issue, since viewers tend to lean towards networks that reinforce their political views. Centerists aren't especially popular these days, nor are people that try to hide their political opinions. You're better off pandering to your side & checking all objectivity at the door these days.
Believe me, I'm not a fan of that idea, but that's what the people want.
Larry King was always pretty unbiased. Which made him a great tool for pro wrestling. CNN was under that Turner umbrella we talked about earlier, but they tried to steer clear of WCW. They'd cover some WWF stuff from time to time, but pro wrestling wasn't really under the cable news radar until the Chris Benoit murders/suicide. Many thought that could lead to the end of the business, and plenty of cable news shows were ready to jump all over it.
King's show was open to bringing on more enlightened pro wrestlers, at least at that time. He was willing to let those wrestlers, whether it was Bret Hart or Chris Jericho or Mick Foley or whoever, speak their mind. He didn't cut them off or shout them down. King's fairness at that time won him favor from WWE, who had previously lampooned him with "Larry Fling Live" hosting segments between the Huckster, Nacho Man & Billionaire Ted, since they were mad when Ted Turner was competing with them.
King did find the wrestling business interesting, and appeared on Raw in 2012. By that point, King was off of CNN, and WWE was happy to let him make a guest appearance. He got to talk to menches like Daniel Bryan, Kofi Kingston & The Miz. Can't hate on that. He even got out of there before Kane could say something to him.
I would like to someday think of myself as the Larry King of pro wrestling writing. Except I've probably already pissed off too many people to make that idea work.
Thanks for reading! Hope you've enjoyed this as much as I have enjoyed bumbling through it. Until next week, keep your stick on the ice.
Cook's Top 5: Royal Rumble Diesel Pushes
The Royal Rumble is right around the corner, and someone's Diesel Push might be on the way! Steve Cook looks back at the Top 5, including Diesel himself!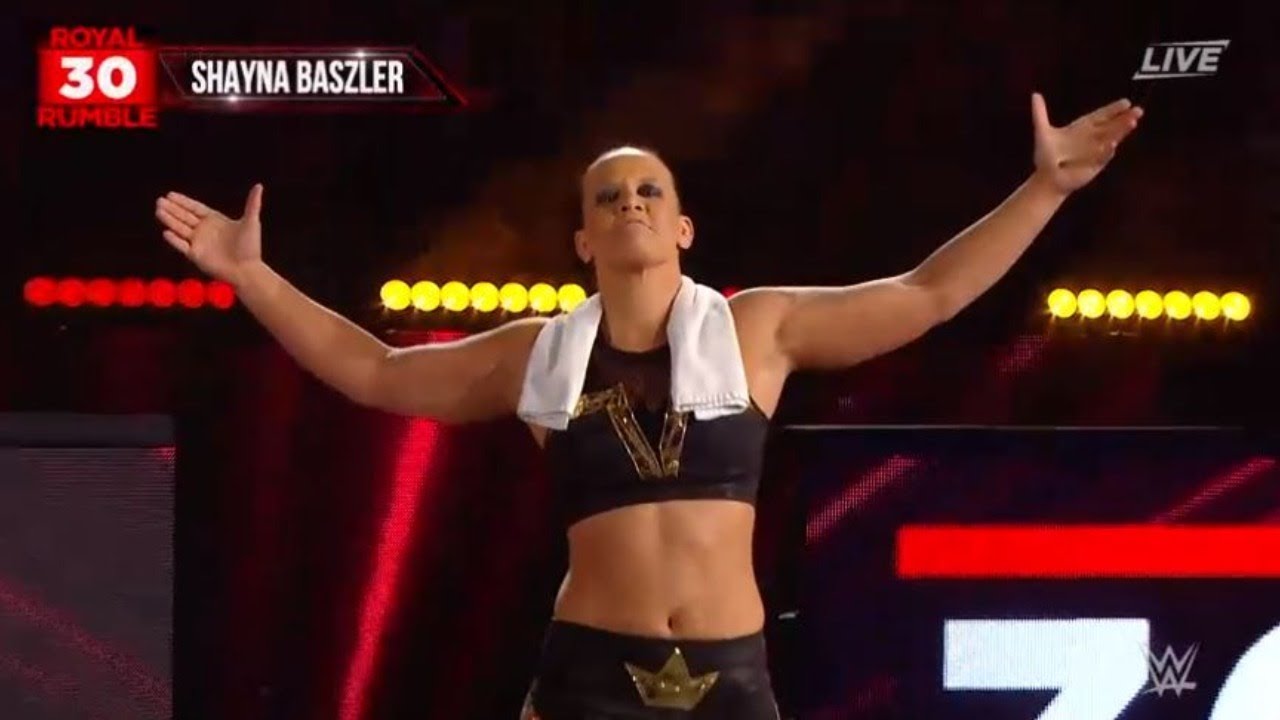 The Royal Rumble is right around the corner, and someone's Diesel Push might be on the way! Steve Cook looks back at the Top 5 such pushes, including the man himself, Diesel!
You guys might have heard about this. The Royal Rumble is coming up on January 31! Thirty men & thirty women will compete in battle royals to determine who will get a title shot at WrestleMania. The winners will certainly receive a boost in attention and esteem, but there are other ways to stand out in a Rumble match.
One way: Eliminate a bunch of people!
It's known by us geeks as the Diesel push. One individual, typically a large one, runs over the competition in a short amount of time and helps get rid of some of the deadwood in the ring. An important part of any Royal Rumble.
Here are the top 5 recipients of the Diesel Push! (There are six listed)
5. Great Khali (2007)
Khali always got things done in short order. This is why it doesn't surprise me that 7 eliminations in 3:45 is the craziest stat in Royal Rumble history. The man knew what his job was, and he didn't waste any time. He was also self-aware enough to know that his stamina wasn't the best, he had a good number at 28, so if he threw everybody out as quickly as possible, he had a pretty good chance.
The downfall in Khali's strategy? Undertaker was number 30. Tough break, kid. It probably looked really good to Khali when Miz pre-teaming with John Morrison came out at 29, and hopefully 30 would be somebody in that same category, but nah, it was Undertaker.
4. CM Punk (2011)
We all know that CM Punk's push in WWE became bigger during 2011. We don't know if that was originally intended or not, but things seemed to be picking up for him at the Rumble. At the time, Punk had taken control of The Nexus from Wade Barrett, so he had plenty of backup to support him during matches like thus one. Which he needed, since he drew #1. Fortunately, many of his Nexus minions also drew low numbers, so he was able to last thirty-five minutes and eliminate seven people.
The difference between this & most Diesel pushes: Punk was already a bit of a star at this point. He became a bigger one later in the year. The Rumble probably didn't have much to do with it, but it didn't hurt either.
3. Shayna Baszler & Bianca Belair (2020)
The 2020 Women's Royal Rumble saw a pair of dominant women. Shayna Baszler was rewarded a little earlier. She got a Raw Women's Championship match against Becky Lynch at WrestleMania. The less said other than that sentence, the better.
Bianca Belair eliminated the same number of women that Baszler did, which was eight if you're scoring at home, or even if you're alone. It took some time, but as I write this here & now, Belair is finally getting to show her skills on main roster TV. Completely outclassed Bayley on an obstacle course, proving to be a superior athlete. Doesn't always translate to pro wrestling, but I won't deny Bianca's athletic ability.
Two Diesel pushes in one match is a bit much, but I see what they were going for here.
2. Roman Reigns (2014)
The Shield had been picking up momentum throughout 2013, and it seemed like they were on the verge of big things. Maybe a face turn, maybe the group splitting up, probably both because that's usually what happens when members of a group start getting over. The 2014 Royal Rumble provided a good opportunity to make the Shield members into stars on their own. Seth Rollins entered second & lasted over forty-eight minutes. Dean Ambrose had a solid showing at over thirty-three minutes.
However, it was the Big Dog that stood out from the pack. Roman Reigns entered fifteenth and was the last person eliminated by the winner, Batista. Prior to that, he set a Royal Rumble record, eliminating twelve people. Including Rollins & Ambrose! The record lasted until the Greatest Royal Rumble match, where Braun Strowman eliminated thirteen people. There were fifty people in that match though, so it wasn't quite as dominant.
Reigns' performance was somewhat overshadowed by the lack of Daniel Bryan and the match ending up being CM Punk's last, but it was still an important part of his push to the main event.
1. Diesel (1994)
It's a tough call between the original recipient of the Diesel Push and the Big Dog. Why do we go with Diesel? For me, it's where both men started from. Reigns was already seen as a viable future star in the eyes of many fans. We tend to forget it now since the fans turned on Reigns once he got the push, but the man got over pretty well with the smart fans as a Shield member, even with the other two members having more indy cred. You could tell Roman was going places.
Diesel? Well, he was tall and had good hair. He was barely even a wrestler though! Diesel came into the WWF as Shawn Michaels' bodyguard, and spent most of his time prior to the 1994 Rumble backing up the Boy Toy. To be honest, most of us that had seen Diesel's run in WCW as Vinnie Vegas were happier to see him in the bodyguard role than as a wrestler. He wasn't seen as a future main eventer or world champion or anything like that, until the Rumble match.
After the Diesel push, Kevin Nash was ready to shine.