Tiffany's Dynamite Takes: Cruise of Jericho!
The Elites are setting sail on the Cruise of Jericho! Will they rock the boat or suffer seasickness?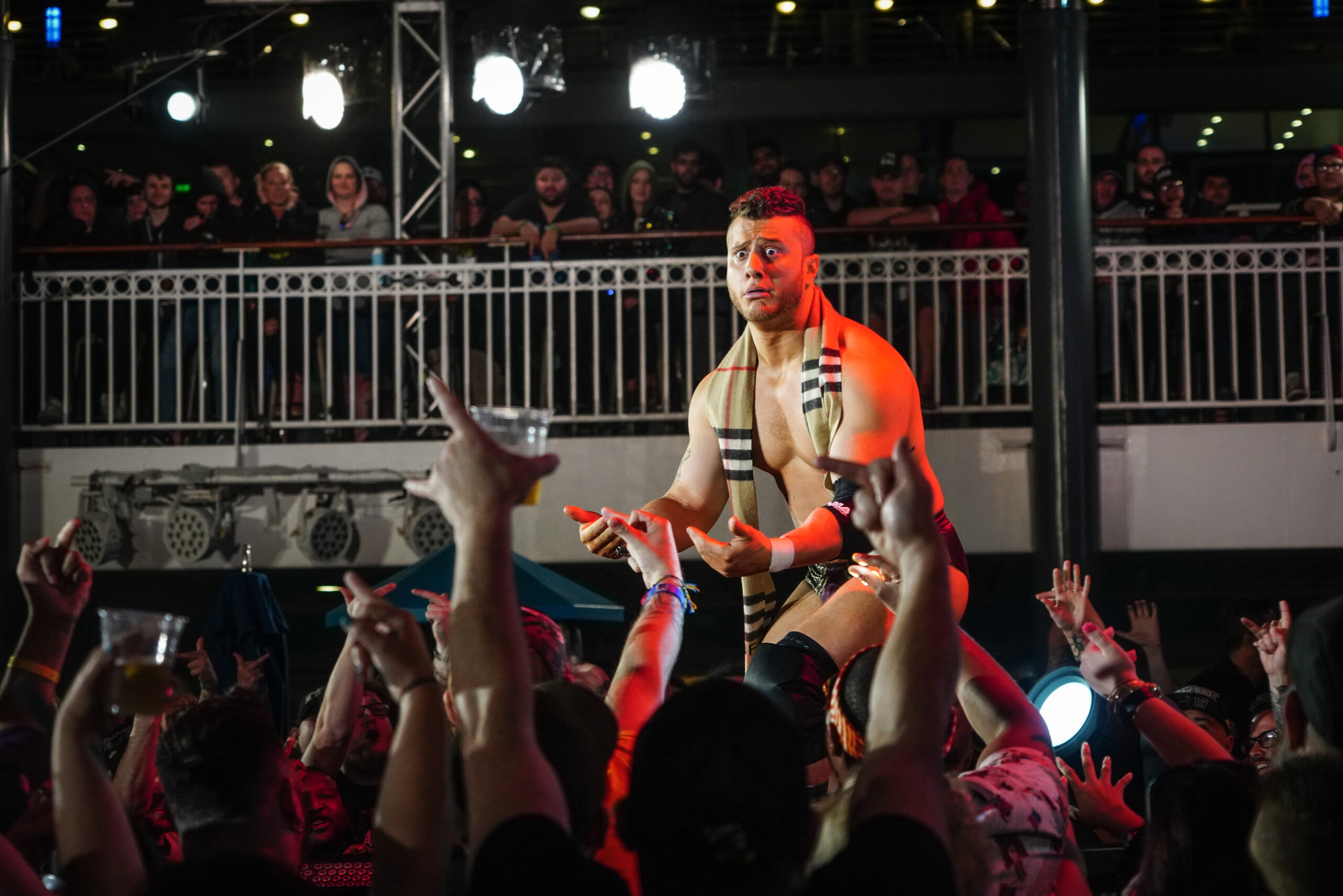 The Elites are setting sail on the Cruise of Jericho! Will they rock the boat or suffer seasickness?
Okay, this cruise set up looks SOO cool! Have to say, the foghorn is ANNOYING. JR fretting about his hat is kind of hilarious.
SCU vs Hangman Page and Kenny Omega – AEW Tag Team Championship Match
Why doesn't Christopher Daniels have his mic stand? It's annoying, but it's part of his gimmick now. Interesting that Daniels isn't going to be at ringside. Like the show of respect. Technically, it's Elite vs Elite.
This was SUCH a great match to start off with. If it wasn't for Mox/PAC, it probably would've been a great main event. It was nice to see Page and Omega working together. I found it interesting that the crowd seemed to be helping the Page/Omega story along by chanting for Omega.
WE GOT NEW TAG TEAM CHAMPIONS!!! It's the first title change in AEW and it was done in a hell of a match! Page and Omega are the first members of the Elite to win gold. It's interesting that the win only seems to emphasize the distance between Page and Omega, not bringing them together.
Britt Baker vs Priscilla Kelly
Wow, Priscilla Kelly has undergone quite a change in gimmick from her Mae Young Classic appearance. Britt Baker seems to be doing a heel turn.
This was a really good match. Britt definitely seems to be working on improving herself so she can get back in the title picture. I haven't seen enough of Priscilla. I am a little disappointed the match wasn't longer, but that was a really great match for both women.
I'm not sure what to make of Baker's heelish promo, but I'm glad to see her showing some more of her personality. We haven't seen much of that since her feud with Bea Priestley.
Jurassic Express vs Inner Circle (Chris Jericho and Santana and Ortiz)
This was just a fun match. Jurassic Express was looking to retain their momentum, Inner Circle was looking for some revenge for the tie in Jericho vs Jungle Boy. The match was REALLY good. Watching Jericho sell for Marko Stunt was hilarious. Inner Circle won, but it was a great match anyway.
Joey Janela vs MJF
I don't remember why this match was booked, but who cares. I can't say this was the best match I've ever seen, but it wasn't awful. The bigger story was the confrontation between MJF and the Elite. I guess when he stipulated that Cody couldn't touch him before Revolution, he didn't stop to think about the fact that he didn't include Cody's friends and relatives in that stipulation. Oh well, it was fun watching the Young Bucks get the better of him.
Page and Omega
I liked this interview. I like that it's still working the long-term storytelling with Page getting frustrated with Omega getting all the attention.
Pac vs Jon Moxley – #1 Contender's Match
I'm going to be honest, I looked at the spoilers and saw the results, so I already know who won, but I'm also going to admit that I was SOOO nervous about this match. I'm still used to the way WWE booked Dean Ambrose in big match situations and feared that I was about suffer the same disappointment and frustration I'd been dealing with for the last five years of my WWE watching.
All that said, this was a really great match. They're really selling Mox's injured eye by having him wrestle with his eye covered, which would really fuck with your depth perception. I loved how focused PAC was on Mox's eye. It would take a couple of Paradigm Shifts, but Mox is OFFICIALLY the NEW #1 Contender and will meet Chris Jericho at AEW Revolution. This will be a WILD ride!
That's it for Tiffany's Dynamite Takes! Tune in next week for more exciting AEW coverage!