Tiffany's Dynamite Takes: Hello, Cleveland!
The Elites are back on dry land and have descended on Cleveland! Will everyone be over their hangovers?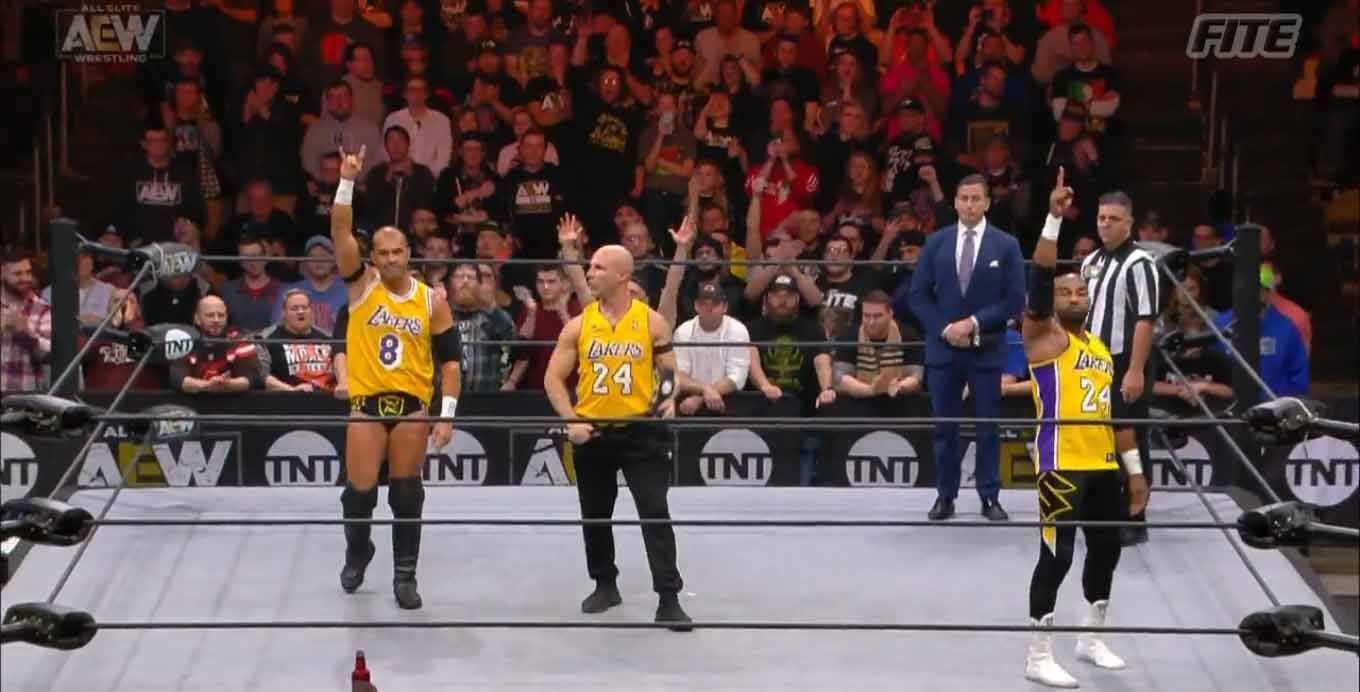 The Elites are back on dry land and have descended on Cleveland! Will everyone be over their hangovers?
Jon Moxley Speaks
Well, let's start this with a bang! The pop was AMAZING, as expected for the Ohio native. I also appreciate Mox continuing to sell his 'bad' eye. Love Mox giving Jericho his GOAT props. I also love that Mox brought up Jericho's past of nefarious hijinks.
I think we all guessed that Mox vs Jericho outside of WWE was going to be MUCH better than their 2016 feud, but I didn't guess that it would be THIS good. Jericho bringing Mox's family into this is superb. Only really sucky thing is that Renee can't be on AEW TV, Mama Mox can, but not Renee.
Mox reppin' Ohio and getting the fans behind him is FABULOUS! Loved it!
Love that Jericho wasn't stupid enough to take on Mox AND the fans. Also, who doesn't love a near riot at a wrestling match? The road to Revolution is going to be INSANE!
MJF
What the fuck are these guys doing? Oh, we have to pay off the mercenaries? We're doing hits now?
Young Bucks vs The Butcher and the Blade
So, it's the Bucks vs Butcher and Blade, but MJF, Waldo, and Bunny are lurking. I really want to buy BBB as a heel team, but Butcher is so out of shape, it's hard to get behind them.
This was a better match than I had hopes for. I like the Bucks, but I wasn't really hopeful for this match. Glad I was wrong.
Boy, you just can't buy good mercenaries these days.  FINALLY, the Elite are acting like the Elite again. Love Page bringing his beer to the ring and doing exactly jack shit! This implosion is fun.
Nyla Rose vs Big Swole
I was actually very interested in this match because it was something I wasn't expecting. One thing I love about Nyla Rose is how she will sell her ass off for the other women. I'll give Swole her due, she has no fear and gives zero fucks. It feels like Nyla's being built to take the belt off of Riho, but I like that they aren't burying the entire Women's Division to do it.
Kip Sabian vs Cody
Sabian and Penelope Ford still look like douches and Arn Anderson being in Cody's corner is still the weirdest thing ever.
Sabian was smart in trying to get the jump on Cody, but you don't want to pick a fight with Arn Anderson. Sabian and Ford trying to pull one over on Cody is low key hilarious because it's so bad. Like, what kind of ref doesn't see this? My half blind mother could see it. I love AA, but him being a caricature of an obnoxious coach/sport dad is not totally working for me. I miss the Enforcer. Also, banning Anderson while letting Ford stay is stupid.
That Janela spot! *Chef kiss* Guess the feud is still on!!!
Always great when the babyface bucks the odds and wins it. Great match from both guys! Love that the Sabian/Janela thing is back on!
Britt Baker
I'm glad AEW is leaning in on the whole 'She's a dentist' thing. I'm still not sure just WHY she's targeting Tony Schiavone, but I love this new, heel!Britt that gives no fucks and tells it like she sees it. Very nice.
The Elite
Love seeing the Elite working together! Kenny Omega as a prep is odd. I SOOO want Elite vs Elite for the Tag Titles. Love
SCU vs The Hybrid2
LOVE the Kobe Bryant tribute! Christopher Daniels' half-hearted applause for TH2's breakdancing was hilarious!
This was a really good match! I'm not a TH2 fan, but they're a great team, I just don't feel them. Even without the titles, SCU is easily one of the best teams in AEW's tag team division. I do find it odd that there's been no talk about them getting a rematch against Omega and Page.
I'm not surprised SCU won, hopefully, this will get them their rematch.
Dark Order
They are still recruiting and they want SCU, specifically Christopher Daniels, which would be a bigger get than Brandon Cutler.
PAC
Uh, yeah. If this were real life, someone would've called the cops on PAC. Glad that they're making PAC such an unlikable person and frustrated at his lack of success.
Next Week's Card
Mox vs Ortiz, Britt Baker vs Yuka Sakazaki, Cody gets his ten lashes, Young Bucks, Page, and Omega vs Butcher, Blade w/Bunny and Lucha Brothers,
Chris Jericho and Santana and Oritz vs Darby Allin and Private Party
Well, you know when you have Darby Allin, who gives no fucks, and Private Party who can hang with anyone and mix them with bruisers like Santana and Oritz, it's going to be chaos, never mind having an embattled champion in the mix.
This was SUCH a good match! Chris Jericho gets made fun of for his dad bod, but he can still go in the ring. He's not the highflyer he used to be, but he's not a slouch either.
Not surprised that Inner Circle won, Jericho needs to look strong for Revolution. Not surprised that Inner Circle attacked Allin and Private Party. Not even surprised by Mox showing up. Mox with a baseball bat was NOT expected and I LOVED it! The final shot of Mox pointing that bat at the Inner Circle was SUBLIME! Got 1998 Sting vibes from this.
Great episode of Dynamite! They seemed to have finally found their balance and the fans were into it!
That's it for Tiffany's Dynamite Takes! Stay tuned for ongoing coverage!