Val: Minoru Suzuki HAS to Become IWGP US Champion in Osaka
Should the leader of Suzuki-Gun defeat Jon Moxley at New Beginning in Osaka ?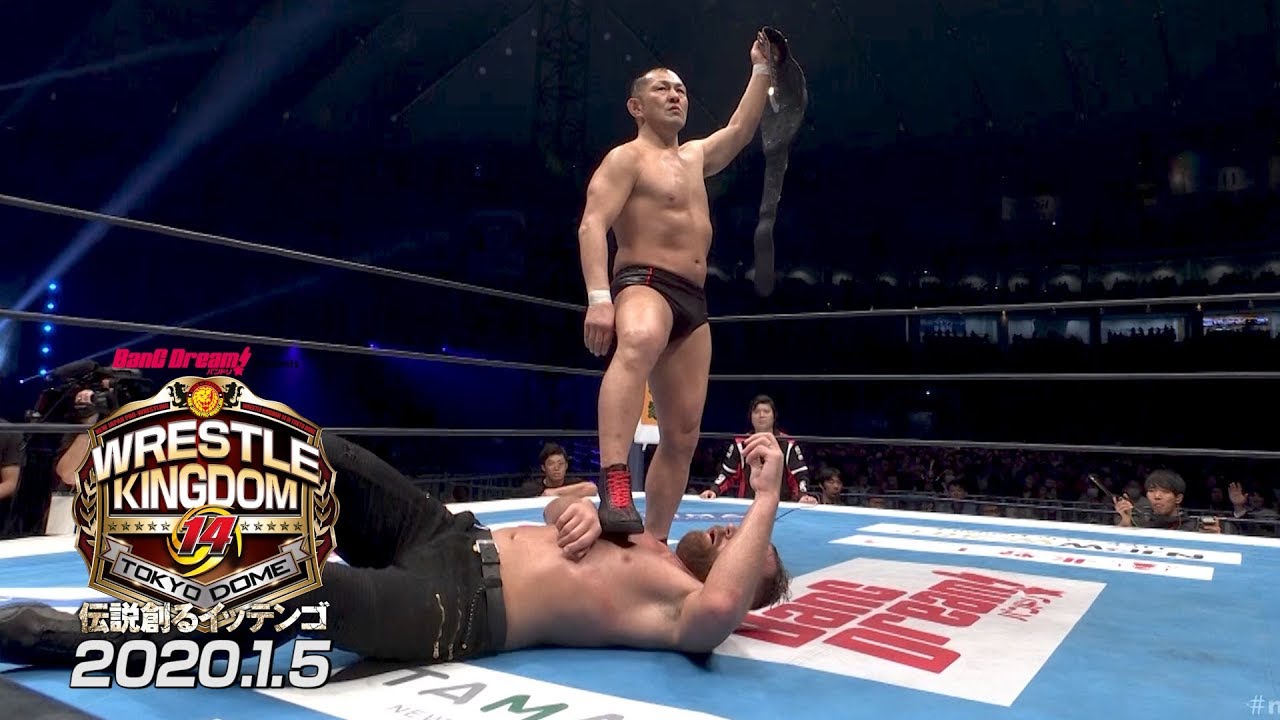 At Wrestle Kingdom 14, on the second night, Minoru Suzuki made a quite shocking appearance after Jon Moxley retained the IWGP US Heavyweight championship against Juice Robinson, challenging the two-time champion in the process.

In this article, I will be discussing why Suzuki should leave Osaka-Jo Hall with the US title. Ready ? Let's take our towel off, give our meanest look to the camera, and dive into this !
To start it all off, I want to bring some eyes back to a previous article I wrote about New Japan. It was about the company's expansion in the United States, and how they could use the US title to help the expansion process. In that piece, I tackled two main points : The first one was the creation of a "Gaijin Quartet" featuring the likes of Jay White, Zack Sabre Jr, Juice Robinson and Will Ospreay, all gravitating around what is still so far, the "Gaijin belt" within New Japan. The other point was far more simple : Let Japanese wrestlers challenge for the title, and possibly even hold it for quite some time. At Wrestle Kingdom 14, the first part of that second point became a reality, as Minoru Suzuki stepped up to Jon Moxley, delivering the Gotch-Style Piledriver, making his intentions clear.
As the match has been made official for the New Beginning in Osaka event, we are closer than ever to witness the second part of my point coming to fruition, and it is now time to explain why Gedo should absolutely make it happen.
The first thing to consider, of course, is that Jon Moxley could very well retain his championship in Osaka. However, and this is where I will start, having Moxley retain against Suzuki may cause some issues in the long run. For instance, Moxley is, as far as we know, unable to perform for New Japan in the US, which is quite problematic if he is bound to hold the US title for more than a month. After all, New Japan has set up a variety of events in Florida, Georgia and even Tennessee for their New Beginning in USA tour, but at none of these events will American fans get to see the US champion, because he is simply not allowed to appear.
Am I the only one to find this odd, as well as counterproductive regarding New Japan's expansion in the country ?

I could even bring up AEW, and the fact that Moxley may very well end up as the new world champion there in a short while, which would limit his possibilities regarding New Japan bookings even more, as much as he wants to keep working in Japan. But, let's not dive into that too much and keep the focus on New Japan affairs. As I just said, Moxley wants to keep wrestling for New Japan, but the real question to ask is whether or not he needs the US title to do that.
This is exactly where his Osaka opponent slides in. Minoru Suzuki is no ordinary opponent in more ways than one, and here we are not going to talk about his Murder Grandpa nickname given by the wrestling community. Suzuki is a star, a big international star. He has as beloved in Japan as he is in the USA, Australia or anywhere in Europe. The man has and brings more value than very few people within the New Japan roster, even at the age of 51. I am not going to list you his resume, you know how legendary the man is, just keep the value and popularity aspects in mind. Suzuki has not held any IWGP gold since Wrestling Hi-No-Kuni in 2018, where Tetsuya Naito reclaimed the IWGP Intercontinental championship, after Suzuki had destroyed Hiroshi Tanahashi to win the title in Sapporo… At New Beginning.
Approximately two years later, Suzuki gets the chance to once again win one of New Japan's championships, one of the two singles championships he has yet to win. Suzuki adding his name to the list of US champions would bring instant value and prestige to the title, and you know Suzuki will treat the title as a prize deserving of his own worth, otherwise he would have never made the challenge, and would have taken a personal revenge on Moxley without caring for the title. Adding to that, in contrary to Moxley, Suzuki can appear wherever he wants, whenever he wants. New Japan could actually use their US champion in future tours around the USA, as well as having the US title show up more in Japan, just like when Jay White and Juice Robinson were champions.
Lastly, speaking of White and Robinson, let's dive back into the "Gaijin quartet" idea I brought up a long while ago, especially one of its members in Zack Sabre Jr. In another piece I wrote which was dubbed "The twilight of Suzuki-Gun", I brought up the idea of ZSJ taking leadership of the faction. The way to do it remains unclear, and who knows if it will ever happen, but let's say it eventually does. Suzuki vs Zack is a match New Japan has never delivered so far, this is one of the matches the company is heavily protecting (we have seen members of the same faction colliding in the G1 for years, yet Suzuki and Zack never did), and there must be a reason for it. With Suzuki as US champion, a door opens for this match to happen. So far, Zack has been used as the standard regarding the British Heavyweight championship, which is essentially his title, but there's going to be a time where Zack will HAVE to hold a different type of gold, IWGP gold, if New Japan indeed sees him as one of their top foreigners, which seems quite clear they do.
The point here being that, with Suzuki becoming IWGP US champion, you open the door to the possibility of skyrocketing ZSJ in another dimension in the long run, while giving one (last ?) well earned championship run to one of the most popular veterans in all of wrestling, after nearly two years of championship drought.
On that note, this is where this article comes to a close ! Do you think Minoru Suzuki should leave Osaka-Jo Hall as IWGP US champion ? If so, what would you expect to happen in the long run with an eventual championship reign ?
King's WrestleMania Rewind: Stone Cold VS. Scott Hall (WrestleMania X8)
Chris King is back with another WrestleMania Rewind, looking at the NWO's Scott Hall battling Stone Cold Steve Austin at WWE WrestleMania X8 from Toronto!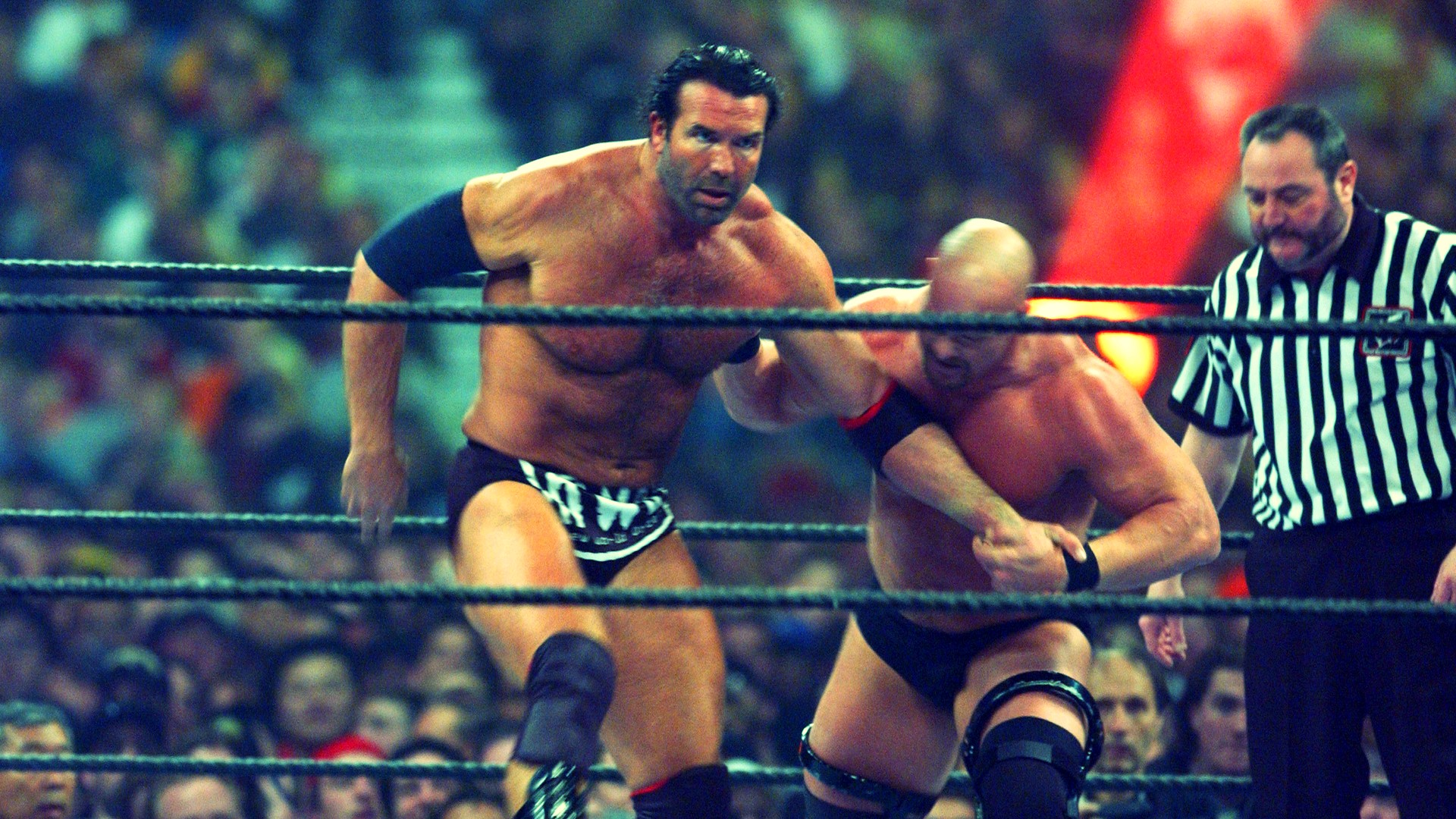 Chris King is back with another WrestleMania Rewind, looking at the NWO's Scott Hall battling Stone Cold Steve Austin at WWE WrestleMania X8 from Toronto!
Chris King is back this week with another edition of WrestleMania Rewind, where he is rewatching all the past Mania matches and feuds. This week you're in for a treat as we look back at 'Stone Cold' Steve Austin vs. Scott Hall at WrestleMania X8.
In late 2001, Vince McMahon bought out his competition WCW and acquired the rights to a plethora of talent including Booker T, Eddie Guerrero, Chris Benoit, and the iconic trio known as NWO. Hulk Hogan; Kevin Nash, and Scott Hall were hell raisers, and what better way to make a name for yourself than take out the two top superstars in the WWE The Rock, and Stone Cold?
The NWO cost Austin his chance at becoming the Undisputed Champion at No Way Out during his match with Chris Jericho. Adding insult to injury, the NWO spray-painted 'The Texas Rattlesnake' with their brand logo just like they did in WCW. As you can imagine, Austin was pissed and out for revenge against the group and primarily Scott Hall.
Hall would challenge Stone Cold to a match at WrestleMania 18. Both superstars beat the living hell out of each other leading up to this highly-anticipated match for who runs the WWE.
The glass broke and Stone Cold made his iconic entrance, and black and white NWO covered Halls' entrance alongside Kevin Nash. With the odds stacked against 'The Toughest S.O.B' could Austin or NWO prove their dominance? Sadly the NWO  broke up that very night when Hulk Hogan came to the aid of his adversary The Rock after their 'iconic' dream match. Stone Cold would ensure the victory with the Stunner. Hall would perform an Oscar-worthy sell over the finisher.
What a time to be a wrestling fan in the 2000s when nothing was impossible for WWE. Who would've thought WCW would go out of business and Hogan would make his long-awaited return to WWE?
King's WrestleMania Rewind: Seth Rollins vs. Kevin Owens (WWE WrestleMania 36)
Chris King takes a look at the most underrated WWE WrestleMania matches, and starts off with Seth Rollins battling Kevin Owens at WrestleMania 36!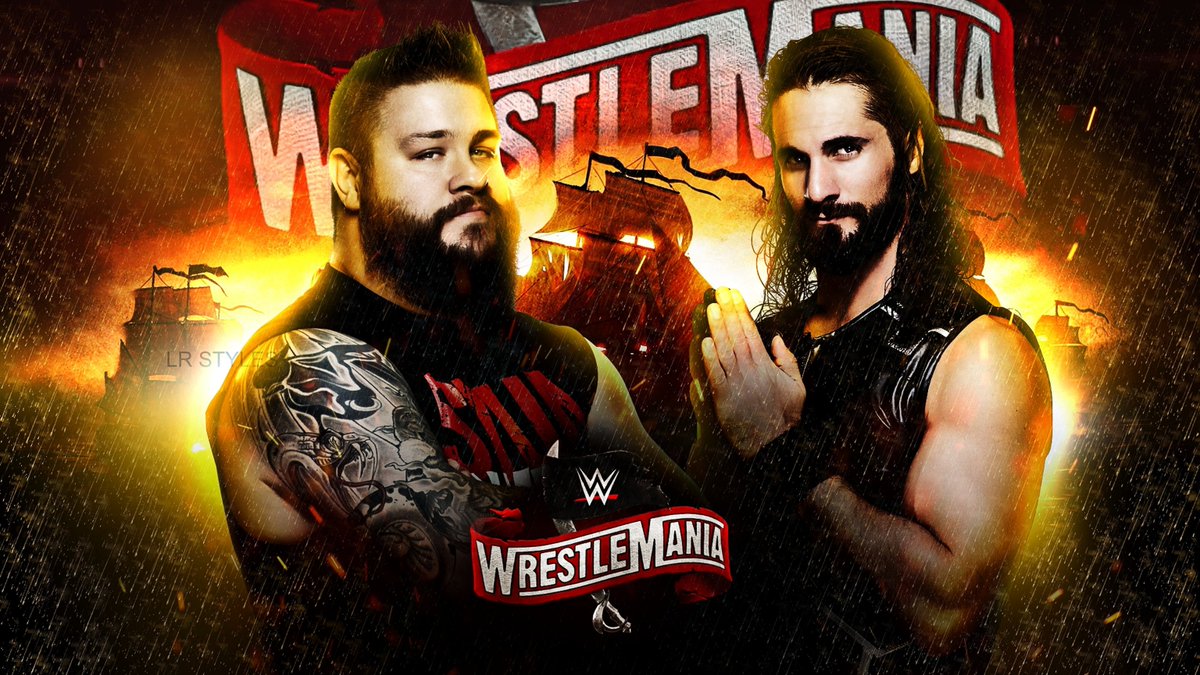 Chris King takes a look at the most underrated WWE WrestleMania matches, and starts off with Seth Rollins battling Kevin Owens in the WWE Performance Center at WrestleMania 36!
Chris King is starting a new series heading into WrestleMania season dubbed WrestleMania Rewind. Each week he'll be going back and sharing his insight over underrated matches at the Show of Shows. First up, is Kevin Owens vs. "The Monday Night Messiah" Seth Rollins at WrestleMania 36.
At the 2019 edition of Survivor Series, Rollins sacrificed himself during the men's traditional match allowing SmackDown to ultimately gain the victory. The following night the self-proclaimed Messiah, berated the whole roster but KO was not having any part of it. Owens quickly became a huge barrier in Rollins' cause for the greater good. The Authors of Pain attacked Owens with Rollins' character in question.
Owens finally had enough of his rival's mind games and torment and challenged Rollins to a match on the Grandest Stage Of Them All. Rollins mockingly accepted his challenge and the match was made official for night one of WrestleMania. Owens came out of the gate beating the holy hell out of the Monday Night Messiah trying to achieve his long-awaited moment at Mania but, Rollins tried to steal a disqualification victory by using the ring bell.
Owens hellbent on revenge provoked Rollins into turning their encounter into a no-disqualification contest where the fight could be taken all over the empty arena. The highlight of the match, was when KO used the WrestleMania sign to deliver a thunderous senton bomb through the announce table. Owens would secure the victory with a Stunner in an incredible match. Despite having no crowd during the pandemic era, both KO and Rollins put on an intense performance under the brightest lights.
In my personal opinion, this was a great feud that helped both superstars in their transformation as compelling characters for years to come.