Rob: Who's Going Over at Wrestle Kingdom?
Rob gives us his take on the Double Champion contenders!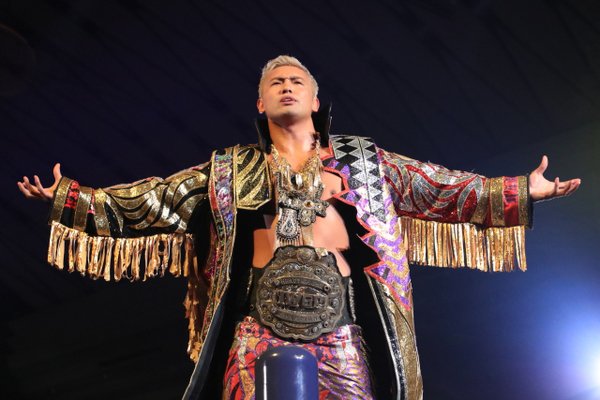 Wrestle Kingdom 14 is merely a day away, and the big change this year is that it is a two night extravaganza instead of a single long ass show.
Also, instead of one heavyweight title match there's a four man tournament with both heavyweight champion Kazuchika Okada and Intercontinental champion Jay White plus the respective top contenders Kota Ibushi and Tetsuya Naito.  The winner will be the double champion (I still don't know if that means the belts are being unified or you'll just be Okada Two Belts or Ibushi Two Belts when it's over).
So who's most likely to win and how?  Here's what I think.
Jay White 
No chance.  There is no way Jay is winning both matches and walking out as double champ.  I've come around on White as a performer, but out of these four guys he's fourth on damn near everyone's list.  Now you can make a case for him winning on night one because he and Okada have split in big matches so there is a legit storyline reason if that ends up as the final.  But's that's as far as it goes for him at the Dome.  Switchblade will be in the title picture throughout 2020, but he's not walking out with one at Wrestle Kingdom.
Tetsuya Naito
Oh Naito, Naito……….Naito has been the worst booked top tier guy out there for some time now.  Win the I-C title, lose the I-C title, win it again.  And then there was the year long march to Wrestle Kingdom 12, complete with a G1 Climax victory, that was sold to us as the culmination of a multiyear redemption story, that ended in an unceremonious clean loss to Kazuchika Okada.  As bad as it felt as a Roman Reigns fan to watch the Big Dog go down to Brock Lesnar at WrestleMania 34 at least he did finally beat Brock a few months later.  (On another note imagine being a fan of both Reigns and Naito like me…….the temptation to drink after a major show is really high)  Naito has had no such booking luck, and us Naito fans fully expect him to lose on one of the two nights of Wrestle Kingdom and come out empty handed.  I think he'll beat White on January 4 at least but who knows.  Gedo has us so jaded that the question isn't will he screw Naito over but just how will he do it.  Win the first night and lose again to Okada?  I can see it.  Lose to White and then also lose to either Okada or Ibushi the next night?  Wouldn't rule it out.  Lose to White and then to Okada on night two?  The ultimate turning of the knife isn't out of the question.  Anything other than beating White then losing to Ibushi, or winning both nights warrants a big middle finger to Gedo at this point.  Losing to Ibushi in the final would be fine given that they've split two big matches and Ibushi has just recently committed long term to New Japan.  But another loss to Okada and/or White?  Nope.  And if he loses to White then Okada in the losers bracket?  Please brother, get the hell on the next plane to New York and come to Titan.
Kota Ibushi
Kota Ibushi is a popular pick and for good reason.  After being sought after by everyone for years he finally settled down and signed with New Japan, and was promptly rewarded with a G1 victory and brief IC title reign.  Setting Kota up like this just to pull the rug out from under him would definitely be an interesting decision but it's not like they don't do it with Naito and it's not like they haven't pulled the old 'let's not crown them right away just because it looks like it's time' trick with not just Naito but Kenny Omega a year earlier.  I figure this goes one of two ways for him.  Either he wins both nights or he loses to Okada and beats either Naito or White the next night.  Now way he's taking two losses and no way he beats Okada just to lose the next night.
And now we get to the last man involved……
Kazuchika Okada
Okada is the default/de facto champion even when he's not holding the title so it would be unwise to just assume he's losing here.  Should he win on night one then he gets either White or Naito; no way he loses to White and as much as us Naito fans would like to hold out hope that this could be the year he finally beats Okada at Wrestle Kingdom we're not betting the house on it.  Like Ibushi I don't see him taking two losses for the weekend.  Either he wins the whole thing or he loses to Ibushi then beats White on night two.  Until you actually see him lose though, I'd pick him to win because Gedo can't help himself.
So to sum it up, here's how I rank what I consider the possible outcomes from least likely to most likely to happen for each person:
White: win both nights, win night one/lose night two, lose night one/win night two, lose both nights
Naito: lose both nights, lose night one/win night two, win both nights, win night one/lose night two
Ibushi: lose both nights, win night one/lose night two, win both nights, lose night one/win night two
Okada: lose both nights, win night one/lose night two, lose night one/win night two, win both nights
So yes, I'm going with Okada as the likely winner.  Why?  Like I said until you see him lose a title match you don't bet against the Rainmaker when Gedo is booking.  Either we come out of this thing with Ibushi crowned the new champion or Okada becomes certified as the greatest champ ever in IWGP history and Ibushi gets set up as his new chief rival.  I will be totally shocked if Naito wins both nights and if he loses both nights he best be on the next plane to Stamford because it will be clear where he stands with Gedo – always the bridesmaid, never the bride – so you might as well get paid to be a perpetual bridesmaid and get to work a WrestleMania or two.
So that's what I think and we'll see what happens (ok those of us who were relying on AXS TV for our New Japan viewing won't, but I'll read about it for sure).  Enjoy the show everyone!