Mitchell's WWE Backstage Report! (2/25/20)
The Bellas and Daniel Bryan go Backstage!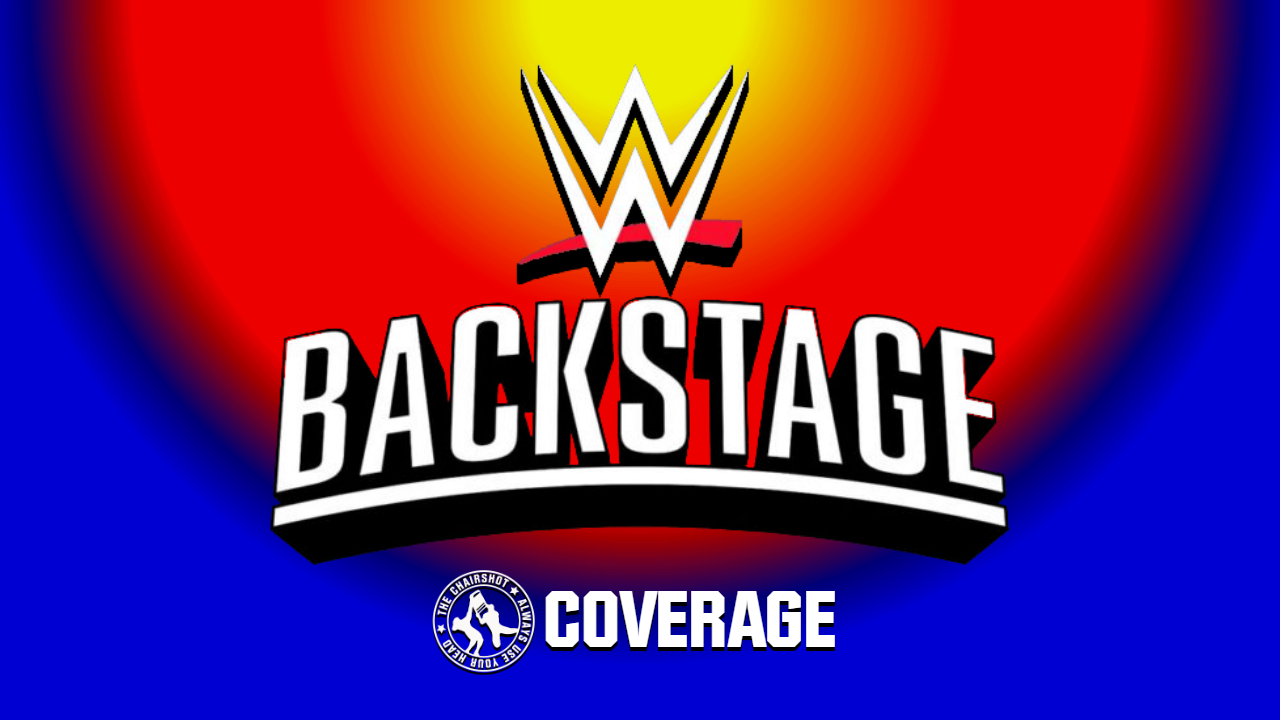 You can look, but you can't touch!
WWE Backstage welcomes two 2020 Hall of Fame inductees, Nikki & Brie Bella! What will the Bella Twins have to say about the great news?
Renee Young introduces the panel!
Booker T is always here for your "champagne wishes, caviar dreams," and some custom Jordans. "These ain't no Vans!" What's wrong with Vans? They shut the company down because no one buys them anymore. Renee defends Vans on behalf of her custom David Bowie Vans. Well that's David Bowie. But moving on, we have Mark Henry again, and Captain Charisma is back! Christian the Backstage Buddha, that is. Make that his lower third.
But just days from WWE Super Showdown, things reached a boiling point as the Road to WrestleMania rolls on. And once again, Backstage has…
Just the Highlights!
From SmackDown: The Symphony of Destruction sequel was even more destructive than the first! The Bella Twins were announced for the 2020 Hall of Fame class! Naomi beats Carmella to be part of a historic match for WWE Super Showdown! And Goldberg didn't play The Fiend's games and gave him a SPEAR! But will things go as smoothly in Saudi Arabia?
From Raw: The Beast, BRRROCK! LESNARRR! Was back on the air and Paul Heyman gave one last ultimatum to Ricochet and Drew McIntyre, that Lesnar would make "minced meat" out of both of them. A brawl broke loose as the Raw Women's Championship Contender's Elimination Chamber contract was signed! Seth Rollins was able to #BurnItDown and stomp it out on Montez Ford! And disciples come from all walks of life, and that includes referees! The Viper benefits from the Monday Night Messiah's message having reached the "heart" of one young such official, and it pissed Kevin Owens off! Kevin made the referee pay, but when will Rollins have to face the consequences?
The panel discusses this week in WWE.
Raw masterfully mixed two big stories together, and Kevin got stuck in the middle. Is Christian glad to see a fellow Canadian stick up for Edge? He is, because this will help enhance both stories. Kevin's motivations were logical and great, and it is also relatable. Randy Orton "on cruise control" is still better than 99% of the roster. But then a motivated Orton is even greater. Renee looks forward to Beth Phoenix showing up on Raw next week. Henry adds that the Canadian connection was great, too. Booker says that's what you're supposed to do. And he also likes Kevin and Orton in their roles.
All wrestlers get to a point where they go, "Why couldn't I have figured this out 10 years ago?!" And there is where Orton is now. Orton cutting a promo is like having coffee in the morning with hazelnut creamer, "it's tasting real good." Orton is painting the best picture, is Shakespearean on the mic, everyone can learn from this. Christian notes Orton is in full control.
Renee wants to talk what's up with the "Winnipeg Screw Job" and the crooked ref. Henry says it's a bit disappointing, but it does work as a layer to the Rollins story. Kevin's character figured out "there was a snake in the grass," even before Rollins did. Booker notes that it really does keep the memory of the Montreal Screw Job alive, because it's all Canadian! Christian says Canada is Screw Job Country.
Moving to SmackDown's side of things, Naomi is once again a contender for the SmackDown Women's Championship. Bayley did her best to change that but WWE Super Showdown sets up Bayley VS Naomi. For one, it is great to see a women's title match in Riyadh, and Henry says Naomi getting the spotlight is great. Naomi is doing everything she can to bring prominence back to the Women's Division. Naomi's match with Bayley showed that she belongs, and Henry is sure Naomi will be in the title scene to stay. Booker notes that it's Black History Month, "all the brothers on the card should win the titles." But Naomi is definitely worthy. Her time off did wonders for her. Booker knows she'll be a great champion, she just needs time to get there, to up her game. He says she'll win.
Christian says Naomi is one of his favorites, her time is coming again, but maybe not at Super Showdown. We're so close to WrestleMania, let Bayley carry that title in, and then let the title change happen there. Booker wants buzz! The buzz faded from Bayley, so put it on Naomi! Henry says the fans are all behind Naomi, but Christian says that could build even higher towards Mania. Henry doesn't understand why it always has to be about Mania. Make it right now! Christian argues slow burn but Henry says Naomi's on fire now.
WWE Backstage spots a tweet from TSN Sports.
"Drake's got something to say," with the hush emoji. He's Drake Two Belts with his WWE World Championship and throwback Hulkamania world championship belt replicas! Will the Toronto Raptors retain their own NBA championship this season?
WWE Backstage look back on the Bella Twins' journey.
It was 2008 when both Bellas debuted, as they pulled off some classic Twin Magic when one Bella went under the ring, and two came back out! Nikki and Brie would each be WWE Diva's Champion in their careers, with Nikki setting the record for longest reign at 301 days in her second reign. Nikki would also main event the WWE's first-ever all women's PPV, Evolution, in 2018 against Ronda Rousey. And of course, the Bellas led the charge in reality TV with Total Divas, and then their own spin-off in Total Bellas. Both shows got mainstream exposure onto WWE and women's wrestling, and allowed the Bellas to blaze a trail into other ventures, such as fashion, wine and podcasts. And with WrestleMania season reaching the peak, the Bellas add one more achievement to the inspiring list: Hall of Fame inductions!
The Bellas are Backstage!
Nikki and Brie already sit with Renee and are both proud of their baby bumps. How did it feel to get the call about going into the HOF? So many things. The day they got the call, Brie thought Nikki did or said something to get them in trouble. Even Nikki had to think back just in case. But they called Vince McMahon back and were shocked to hear the news! And then they were overwhelmed with gratitude. Having worked hard for so long, and then for the man who gave them their opportunities to call personally and be so nice, it is still surreal. Even seeing that video package, it's still hard to believe they did all that.
Renee asks that with everything they did inside the ring and outside the ring, what moments stand out? Brie says the Divas Search in 2006, where they were actually rejected at first, is crazy to think about. Footage plays for everyone to reminisce on, and the Bellas can't believe they were so young and used to dress like that. Being denied there but working hard to get another chance was a major part of their lives.
Nikki says that using "Twin Magic" and then having Total Divas help show they're still individuals, which then translated to the ring, "Fearless Nikki" and "Brie Mode" and their reigns and big matches, so many moments make the list. The Bella VS Bella feud was hard, Renee even felt that one. Nikki promised Brie at the time that a lot of the emotions might be aimed towards Brie, but it was about a lot of other things, too.
Renee notes how the Bellas were even part of Florida Championship Wrestling, FCW, and then ended up being a big part of the Women's (R)Evolution in WWE. The locker room changed a lot. When the Bellas started and it was still the Diva's Era, the women were always fighting for more time, but it was selfish fighting. Each woman wanted time for themselves. But as time went on, it was about the women all fighting for "the match," to bring everyone up together. The women all realized that it was a fight as a group. NXT call-ups came in with the same vision, and it all made them a strong "force" to be reckoned with.
Renee brings it back to when Charlotte Flair and Paige were last on WWE Backstage. They had their own comments about how the Bellas were already great wrestlers during the Diva's Era. But when they were against women that wanted to wrestle, that helped the Bellas elevate even more. Charlotte praised Nikki growing as a wrestler, and she got to have a great match with Ronda Rousey. It is women working together to help the entire Division. The Bellas appreciate all that. And for their perspective, "It makes you better. Mentally, physically, because you're working with women that are so athletic."
It's like the Super Bowl, teams working to become THE champion, and you're playing the other great team of the league. It's the best versus the best, and that is what we all got. Nikki got to face some of the best women in wrestling today, and she raised her game to match and created magic. It is magical when you work together, and both parties make each other better. Renee notes the preparation for her match with Ronda. How hard was that for Nikki? Nikki knew it was Ronda Rousey, an icon in women's fight sports. Fearless Nikki wasn't enough, she had to be more aggressive. They only trained for 20 minutes but Nikki literally felt the difference in Ronda's strength compared to others. Nikki went in feeling she had to be Goliath for Ronda's David to conquer.
Brie adds that growing up in soccer, teamwork makes magic. The Bella Twins worked as a great duo, the give and take. And again relating to the locker room mentality changing to be about the matches, not the individual stars, it is as Paige said about the entire division coming together. Renee says the Bellas were such great locker room leaders, they all miss Nikki and Brie.
But with all the accomplishments, like Total Divas, Total Bellas, Bella Radici wine, little Birdie and the new babies on the way, they have created a Bella Empire! What's next? They have their podcast and YouTube channels, and they have another wine line coming down the pipeline. Brie and Nikki having retired from the ring, they have all these entrepreneurial ventures now, and with a purpose. Renee commends them on busting their butts, and knows the Bellas will stick around to discuss even more.
WWE Backstage presents another edition of: Wrestling with Your Feelings, with Rachel Bonnetta!
The Street Profits are set for a Super Showdown, but they're hesitant to go in. Once you knock on the door, you- Rachel can hear them through the door! Montez Ford and Angelo Dawkins go inside and take a seat. There are no alcoholic beverages allowed, she'll have to take it away. Ford makes a move and Rachel says he needs to not lash out like that. She allows his drink one time, if he leaves it with her administrator, Susanne. Susanne's a nice lady, she makes great banana bread.
Rachel wants to discuss Ford calling himself, "King Tez." Why is he so full of himself? Is this therapy or a roast? The WWE Roast of Montez Ford. How does Dawkins deal with this? Dawkins won't let her burn Montez. Rachel wants them to have a session a week for the next year. The next year!? Yes, and they will work on "this" every week. Ford blames Dawkins' emotions but Dawkins blames Ford's energy. Do not bring that cup into her office again. Unless he's willing to share. Rachel wants a sip? Well they've got all year now. Laters! Susanne! Where the banana bread at, fam?
The panel discusses.
When is Booker T stopping in for therapy? Not until Rachel changes that sweater, she's been wearing that since the first one. Renee says Rachel is professional, it'll be fine. But the Super Showdown is coming, so let's talk how to…
Pay It Off!
The panel previously discussed the Street Profits needing to get down 'n' dirty. How should they walk away from Super Showdown? Booker says Rollins & Murphy have been performing at a very, very high level, while the Street Profits are still coming up. The Profits will be tag team champions one day, just not Thursday. They still need time to grow, be ready for that title scene pressure. Drew McIntyre will tell them all about that. Christian agrees that the Profits are entertaining on the mic, almost like Edge and Christian. The connection with the audience in that way is good, but there also needs to be the connection with the audience in the ring, and that takes time to figure out. Those singles matches were really good, but the Profits will have their time.
Henry says that Christian and Booker were legitimate tag team wrestlers in their time, and that is where the Profits are. They are the tag team, while Rollins and Murphy came together as individuals. That isn't a tag team in Henry's eyes. Christian notes that it's because they're the top faction on Raw right now, and only just won the titles. Rollins is the established star for sure, giving validation to this reign. The Profits haven't had the time to be there yet. Christian as a tag team guy, he and Edge still didn't win titles right away, it took some time. Booker concurs. Renee says the match will be great either way, but now moves the conversation to SmackDown's "unstoppable force" and "immovable object." Renee of course means Goldberg and The Fiend having an encounter to close the show!
Goldberg didn't flinch when The Fiend appeared, and SPEARED him down instead! Henry starts off by saying that as great as it would be for Goldberg to be Universal Champion again, The Fiend still has too much steam and value right now. The Fiend will go forward, even with Goldberg going at him. Christian says again that he's a fan of Bray Wyatt as a generational talent. Goldbeg is iconic, so The Fiend beating him will do so much more to enhance The Fiend. Booker says The Fiend won this title at the last Saudi Arabia show while Goldberg had a different kind of moment at that same show. But now, for both of them to collide in the return trip, "it's going down." There is a moment to be had, but in whose favor?
Renee brings things to Ricochet challenging for the WWE World Championship against Brock Lesnar, and last night he proved he can beat a big man. Ricochet took on Luke Gallows and hit a HUGE Shooting Star to do it! But how does this go then? Booker says Ricochet looks GOODT and a rocket will be strapped on him, someday. Super Showdown is going to be Ricochet going down in flames against Brock Lesnar. But how bad is Lesnar going to make it for him? Lesnar will put Ricochet through pain! Henry says Ricochet is going to Suplex City, and there's nothing anyone can do it. Christian knows Lensar is one of the best, and has had some of his best matches with smaller guys. Ricochet ups his stock just by having this match, but nope, it's not going Ricochet's way.
The WWE wishes a Happy Birthday to Ric Flair!
The Rolex wearing, kiss-stealing, wheeling dealing, jet flying son-of-a-gun, "the greatest of them all" turns 71! And to celebrate, Flair went to watch Pelicans VS Lakers, and cut a very complimentary promo for LeBron James as "the greatest athlete in the world today!" WOO~!
The Bellas join Henry and Renee, as they all know the Nature Boy very well. Henry starts with his best PG Flair story. Henry's first time meeting Flair was after a show, and they're at the hotel and he sees Flair in full Ric Flair mode. Flair is stylin', profilin', buying drinks, #Naitchin'. And then Henry walks over and Flair climbs up on the bar to dance and throw off his jacket and asking some lady to get up and dance with him. She does, and Henry was just in awe. And that's how Sexual Chocolate was born.
Brie has many great memories, but her favorite was just before she retired. Flair invited her and others out to dinner, and he could tell she was conflicted. Brie knew women's wrestling was getting to a great place but she wanted to start a family with husband Daniel Bryan. Flair told her that the greatest match in life is being a parent. Brie understood, and those words stick with her to this day. Nikki's memory will stay PG, too, and it was her and Charlotte for the Diva's Championship. The fatherly advice Flair gave Nikki was so touching, because he cried proud tears for them both. Renee says her first interview with him in Virginia, "Virginia's for lovers!" The fans went nuts! Just feeling that Ric Flair energy is next level. Another happy birthday to Ric Flair, and wishes for many more!
WWE congratulates Tyson Fury on his big win!
February 22nd, Fury VS Wilder, HHH was there backstage with Fury as Fury was pumping himself up for the fight. As posted by BT Sport WWE's Twitter channel, Fury jokes that if he has to, he'll Choke Slam Deontay Wilder down. The Gypsy King had his throne, The Bronze Bomber had his crown, but in the end, the WBC Heavyweight Champion would be the undefeated Fury! The Rock was there to congratulate Fury and the family in person.
Booker T sits with Christian. If Fury were to come back, how would they book him? Fury VS Baron Corbin for the one true king of fight sports. Booker notes Corbin is just as tall, just as strong, and was a Golden Gloves winner in boxing once, so that would be a great match-up. Christian likes that pick, but wants Fury VS Booker for choosing Wilder. But seriously, it should be Fury and Strowman together again, with Elias on the side, against a faction like Rollins, Murphy & AOP, and then when the King, the Monster and the Drifter win, they can sing a cover of American Pie. Booker admits choosing wrong, and congratulates Fury on becoming the new WBC Heavyweight Champion.
It's the WWE Backstage Main Event!
Ron Simmons, The Rock, Booker T, Mark Henry, Kofi Kingston. Just some of the names in a lineage of Black world champions in WWE. Black History Month is almost over, so Henry and Booker discuss their own journeys in this business. "Book, here we are." Two men who made it to this level. They loved the journey, but there were others, like Ernie Ladd, who told Henry that he did great, and the company was doing great things with African American talent. Just don't mess it up for everyone after him. Booker says Henry the Olympic caliber athlete had that going for him, but Booker was "just a kid from South Park." Booker was sneaking to the other side of town, acting like a wrestler.
Booker remembers Ox Baker telling him, "Kid, can I talk to you?" He saw Booker's talent, but told him there'd be a lot of obstacles. Booker didn't need to be told those obstacles, and Baker told him to find ways over, under and around those obstacles. "But with your talent, I think you can do it." Ox set Booker straight, as did Tiger Conway. "You gotta know how to be a champion in the ring, as well as out of the ring, all the time." Henry also remembers meeting Conway. You are to make it known to the promoter that you're going to be on time all the time, that you are reliable. Because when the promoter knows that, they'll put you in the segments and moments that matter, the moments that make you better.
Henry says he was fortunate enough to be in the Nation of Domination. He had Ron Simmons and The Godfather, these veterans, who taught Henry, D'Lo Brown and The Rock things. Because of those teachings and blessings, those three rose up to be their own individual star stronger than before NOD. Booker notes having his brother, Stevie Ray, watching his back. Winning the world championship was never a thought in Booker's mind, even as Stevie was telling Booker he was "prolific." Booker wasn't even sure what that word meant, but Stevie kept talking him up. Someone else told Booker that he'd be a future world champion, and Booker still didn't think about it. Booker just wanted to be the best guy in the locker room, to be the best role model for young Black kids watching wrestling. And in the end, that led him to the world championship.
Henry knows that blessings and support systems are great. He's done his best to be a support system in the WWE Performance Center and NXT. WWE Backstage puts up a great picture of all the young and developing African American talent, both in and out of the ring, at NXT currently. Keith Lee, The Street Profits, Bianca Belair, Mia Yim, even "Wrestle & Flow" Josiah Williams, have all come and gone through the developmental system. Such a system wasn't even a thing during the days Booker T and Mark Henry were coming up. In fact, there was only a handful of Black wrestlers in WWE or WCW at the time, for maybe eight total. Now, the future looks bright, with Bianca leading the way.
Booker wants Henry to pat himself on the back for that. They surely inspired this generation to do it, and that is thanks to exposure. Exposure on screen, exposure backstage with the ability to go talk and share and mentor. If you're willing to work hard, come in early and go home late, be reliable, Henry will vouch for you. Booker says that your word is your rep. If you can't live up to that, you can't be here. Booker's Reality of Wrestling gives half a chance to so many, because once you get your foot in the door, it's on you to carry it the rest of the way. That is all Booker wanted when he started, to show how good he could possibly be.
Henry says they could go on and on all night, the past grooming them for the future. But they thank Fox, WWE and WWE Backstage for this opportunity.
WWE Backstage has a Bella Flashback!
It was June 17, 2019 when Nikki and Brie showed off their soccer skills and their wrestling moves to Fox Soccer Tonight.
But now, in the present, Nikki and Brie team up with Henry and Christian, respectively, for a super showdown of their own. It is the diaper change challenge! Henry and Christian will work to change the baby doll's diaper, clothe it, and chugging a bottle. AKA this is an audition for babysitting duties. Christian promises to make this "Brie-zee for sheezee." Henry says that was lame, which is why Christian's not in the Hall of Fame. But on your marks, get set, GO! Diaper stage is pretty neck and neck. Christian gets a lead into the dressing, but Henry catches up fast. Christian gets ahead with the shirt but Henry is still hot on his heels. Be gentler, it's a baby!
Christian already makes it to chugging! Chug, chug, chug! And breathe. Henry just gets to the bottle stage, and takes off the bottle top!? Is that allowed?! Well Christian does it, too, so it's even. Henry chugs fastest! The World's Strongest Babysitter wins! Henry "feeds" the baby, and the moms-to-be each get a gift basket. WWE Backstage shirts and Ric Flair dolls, among other things. Congratulations to the Bella Twins on both the HOF induction and the babies on the way!
---
My Thoughts:
A really fun episode again this week. I think WWE Backstage has really found its stride, as well as the sweet spot of how much to talk about kayfabe and how much to do shoot. Clearly the Bellas were just as surprised to be chosen for the 2020 class as we fans were, but after Charlotte Flair and Paige made it known that the Bellas were as much a part of the squash that sparked #GiveDivasAChance and the WWE Women's (R)Evolution, I would hope some fans are lightening up on them. And all the stories of Ric Flair and of the journeys Henry and Booker took were great segments, too. If anything, that is the real charm of Backstage: the real stories and memories we fans get to hear on television, from the real people that lived them.