NXT Minus 6: Takeover: The Backup Plan (Part 3)
Bradley Jay continues his NXT Takeover: Backup Plan with a look at Grudge Matches from Takeovers gone by!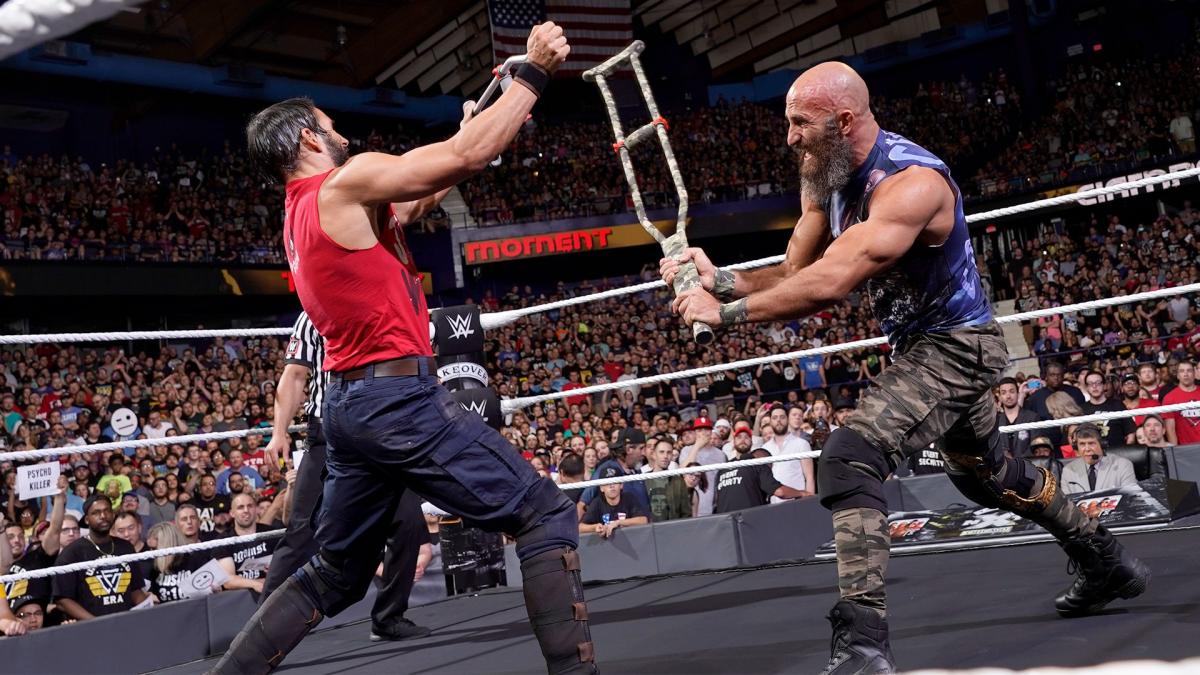 Bradley Jay continues his NXT Takeover: Backup Plan with a look at Grudge Matches from Takeovers gone by!
This is Part 3 of your Takeover backup plan. Pick one match from each for a DIY Takeover. I haven't seen every Takeover, so these lists aren't definitive. Also, I'm not ranking the matches because the goal isn't to argue over what is better. The goal is to enjoy some of the best wrestling from the brief but fertile history of the Black & Gold Standard.
Today…Grudge Matches
Some matches are for titles, title shots, superlatives. Other matches are for something bigger. NXT has given us some of the best rivalries in the last 20 years. Here are 6 amazing grudge matches that celebrate the power of storytelling. 
Samy Zayn versus Cesaro, NXT Arrival
Technically, this isn't a Takeover match. It is the first match on Arrival, the first televised NXT special and the prequel to Takeover. This is Zayn at his resilient, babyface best and Cesaro as the cool, efficient destroyer. It also set the tone for all future Takeovers. Start fast. Start strong. Make a great first impression. Good things happen when you let wrestlers wrestle. 
Aleister Black versus Velveteen Dream, Takeover War Games I
Occam's Razor. Simple is best. Say my name. SAY…MY…NAME! 
Candace LeRae versus Io Shirai, Takeover Toronto  
After months of losing to Shayna Baszler, Shirai goes bonkers. She attacks BFF Lerae, morphs into the Evil Genius of the Sky and gives us the second best women's match in NXT history. Lerae plays her part, but the magic here is Shirai. She gives a master class on how to go batshit crazy, right down to locking up both of Lerae's arms so she can't even tap out. Evil Genius.
Johnny Gargano versus Tommaso Ciampa, Takeover: Chicago
Pick any match from the trilogy. It's all good. This stands out for one reason. Ciampa spitting on Gargano's wedding ring and throwing it into the crowd is one of the all time epic heel moves. If that match took place in the 80's, the crowd would have rioted and Ciampa would not have made it out alive. For one shining moment, a real heel existed.   
Matt Riddle versus Roderick Strong, Takeover XXV
Riddle runs his mouth. Strong wants to shut him up. Riddle kicks his flip flops at Strong, and from there it's go time. This match starts fast and never lets up. It's a 14 minute sprint. Strong is a wrestling machine. I get the feeling he easily could have gone another 14.      
Aleister Black versus Johnny Gargano, Takeover War Games II
This is the only 6 star match in NXT history. No typo. Amazing characters. Gripping story. In-ring action so crisp, there were at least 4 times when I thought someone legit got knocked out. In the end, Black kicks Gargano's face off with the most stunning Black Mass ever. It's hard to call something the best match ever, but I won't ever see one better.  
Up Next…Part IV, Random Goodness