Chad's Throwback Slant: The Evolution of Wrestling Television
Chad takes us on the evolutionary ride of network TV and the wrestling relationship.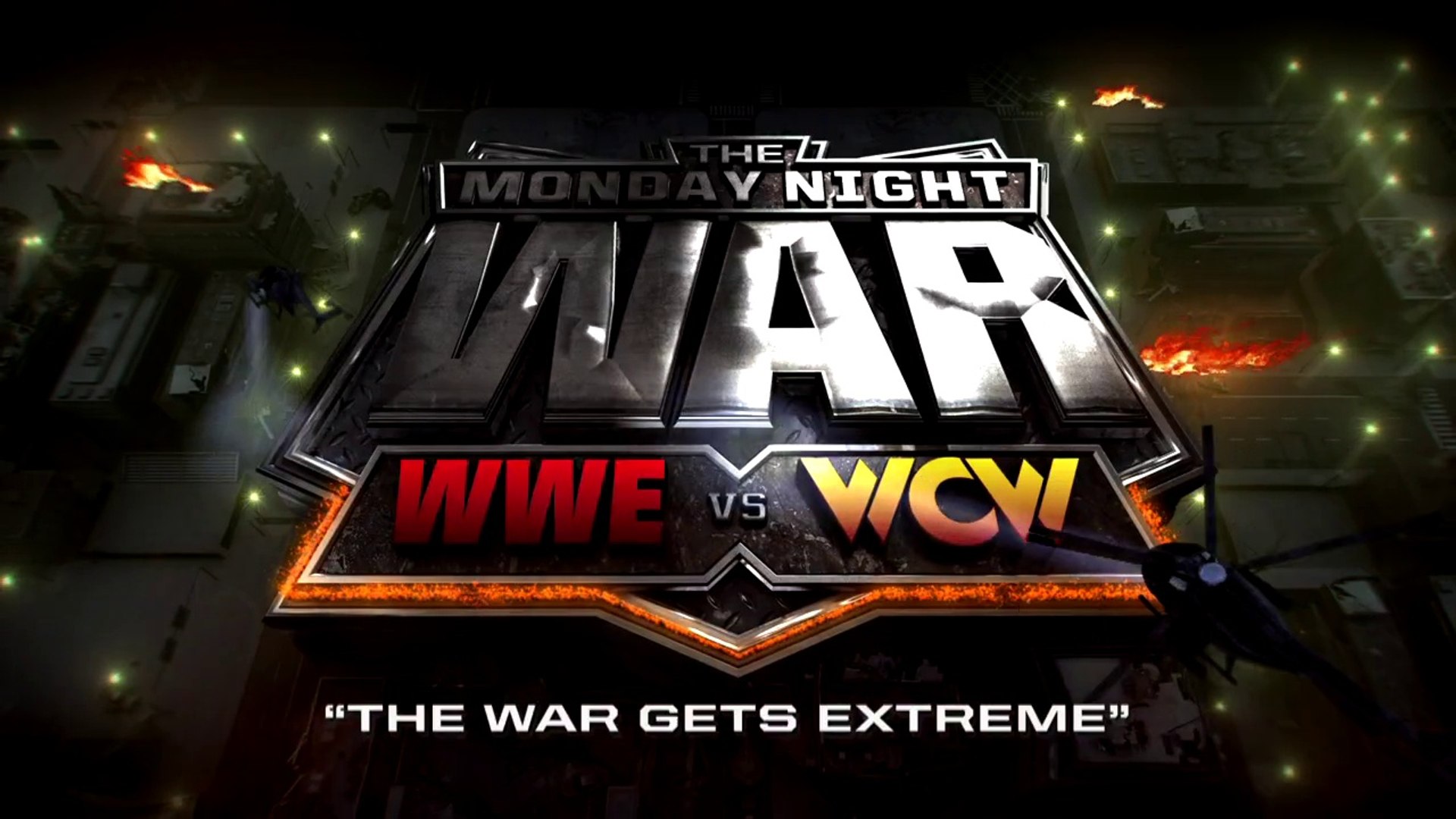 This is a great time to be a wrestling fan. On any given night, there is wrestling on your television or on the mobile device of your choice. Raw, AEW, Impact, NXT, and SmackDown are readily available to the masses. In many markets, you also have easy access to Ring Of Honor, MLW, or CWFH. It is not hard to find wrestling on your TV these days. While you're at it, don't forget to set your DVR!
It almost reminds me of growing up in the 1980's. There was quite a bit of wrestling on television then as well. Most of it was confined to the weekend, but as a youngster, that worked out perfectly. I lived in a small-to-medium sized city in Texas. On most weekends, I could watch World Class on KTVT on Saturday afternoon, followed by NWA World Championship Wrestling at 6:05 eastern time on WTBS. At times, we also got the Mid-South/UWF syndicated show late at night, even though where I grew up was not a part of their normal territory. Then, on Sunday mornings, there was the WWF on USA. As a bonus, we would get the AWA on ESPN a couple times a week, sometimes afternoons after school, other times late at night on weekends. In addition, there were the Apter magazines and tape trading. All told, we had a number of different outlets to feed our growing addiction.
Whether they were taped in a studio or in an arena, the companies used these shows primarily to drive ticket sales to the live events. You would get several interview segments, pushing the matches for the next big card in Dallas, or Atlanta, or wherever the company was touring at the time. Nearly all of them had a "On The Road" segment, highlighting upcoming events, with a featured performer or main event match listed along with the box office information for you to buy tickets.
The wrestling on these shows was generally limited. We would get a handful of squash matches. These were simple, two to three-minute bouts, just long enough to let the featured performer hit their signature moves and look good doing it. Most days you also got a 'TV Main Event', featuring a couple of mid-card stars, sometimes battling for a secondary title. Rarely did you see a top star in action. When Hulk Hogan, and Ric Flair appeared, it was almost always in a promo segment, although sometimes we got bonus footage of a match from a live event to further a storyline.
Both companies used television as a weapon against each other. The first Royal Rumble was a made for television event, not on pay-per-view. It was scheduled up against an NWA pay-per-view show. The NWA followed suit, with the first Clash of Champions on TBS opposing Wrestlemania that year.
Slowly, the business changed. The WWF and Jim Crockett Promotions/WCW bought, absorbed, or ran off most of the regional promotions. There were two big companies left standing tall. With that, the focus of television changed. It was no longer just a sales driver for live events, television itself became more and more the primary focus of the company. Pay-Per-View became a much bigger portion of the wrestling revenue stream, and now a good TV program became the way to drive PPV buy rates. Instead of Ric Flair, Randy Savage, Dusty Rhodes, or Hulk Hogan talking you into buying a ticket to a show, they were talking you into calling your cable company and ordering the next Summer Slam or Great American Bash.
The shift to prime time mirrored the shift in the nation's viewing trends. Wrestling's popularity had begun to wane in the mid 1990's. To try and keep the audience, the WWF and WCW put more and more focus on putting out a good television product. Better matches, with more top stars in action, and more involved storylines were used to try and keep the viewers attention. There was an explosion of cable television stations, and that meant more competition for eyeballs in your time slot. Famously, WCW stopped running live events for a time, choosing to put all of their resources into producing the television product.
The Monday Night Wars changed the landscape of wrestling television again. The time slots grew longer and the importance placed on TV became even more pronounced. Cable companies wanted shows that drew in high ratings and were willing to pay top dollar for them. Ratings replaced ticket sales as the battle for advertising dollars heated up. Both the major companies pulled out all the stops each week, turning more and more to stunt booking, surprise twists and swerves, and general unpredictability to keep their audience coming back. The Monday wars branched out into Wednesday and Thursday battles as well, as each company soon launched secondary programs. House shows became just an afterthought.
Of course, we all now know how that ended. WCW collapsed and the business as a whole began a slow, steady decline. Older stars weren't replaced as fast. Ratings dipped little by little as fewer and fewer people were watching week in and week out. Other companies such as TNA and ROH hung in there as well, but they could never really rival the WWE in terms of television audience and social impact.
The exponential increase in number of other entertainment outlets also hurt wrestling more than is normally accounted for. Streaming movie services made other kinds of entertainment more affordable and easier to access. The Marvel and DC movie universes came forth and expanded greatly, reaching much the same audience as wrestling targeted. The internet made results for taped shows known in advance. The "insider" websites also took much of the unpredictability out of watching wrestling. We suddenly knew things like who was slated for a push, and who was not signing a new contract. Pre-conceived notions about these facts affected viewership as well.
There were innovations to help drive fans back to the product. TNA toyed with an internet-only show, but ultimately that experiment failed. WWE released its 24/7 service, giving fans access to content at all times. Later on, smaller companies such as ROH and CWFH made portions of their video libraries available online as well. Eventually, WWE took the leap and launched a full-on streaming service. Impact, New Japan, and others have followed suit. Competition for online viewership continues to intensify as television numbers overall slide.
Recently, the emergence of AEW has partially re-kindled talk of a ratings battle. That has not fully materialized as of yet, but the success they have had has seemed to reignite interest in wrestling as a TV entity. NXT's move to USA was clearly made in direct response to AEW's deal with TNT. Both have programmed high quality wrestling on their shows, trying to capture and maintain the audience's loyalty. We, as fans, get to reap the benefits.
Actual television companies have made the foray into wrestling in recent years as well. Sinclair Broadcasting, who runs a number of television stations nationwide, owns ROH. Anthem Sports & Entertainment is the parent company of both Impact Wrestling and AXS TV, giving that promotion the likely hood of a permanent home after years of channel-hopping. And of course, the biggest wild card of them all is the Fox Network's billion-dollar deal with WWE. The long-term effect of that deal on the business going forward still remains to be seen And, as mentioned at the top, there are an abundance of lesser-known options out there today, as smaller cable outlets strive to hit upon the success their forerunners did.
This abundance of wrestling available for viewing makes me very happy. Despite television ratings waning overall, Wrestling seems to be as popular as ever, even as some traditional outlets have been replaced by the internet. The success of sites like The Chairshot and dozens of others makes it possible to still be a fan, even if you have cut the cord. There is plenty of wrestling content on YouTube, from both major and independent promotions, in addition to the various company streaming sties. The locations and ways we absorb wrestling may have changed, but the option to immerse yourself in wrestling during every free moment exists now more than ever. And, that's a good thing.
Until next time, watch some wrestling this week, stay safe, and never forget to #UseYourHead!
King's WrestleMania Rewind: Stone Cold VS. Scott Hall (WrestleMania X8)
Chris King is back with another WrestleMania Rewind, looking at the NWO's Scott Hall battling Stone Cold Steve Austin at WWE WrestleMania X8 from Toronto!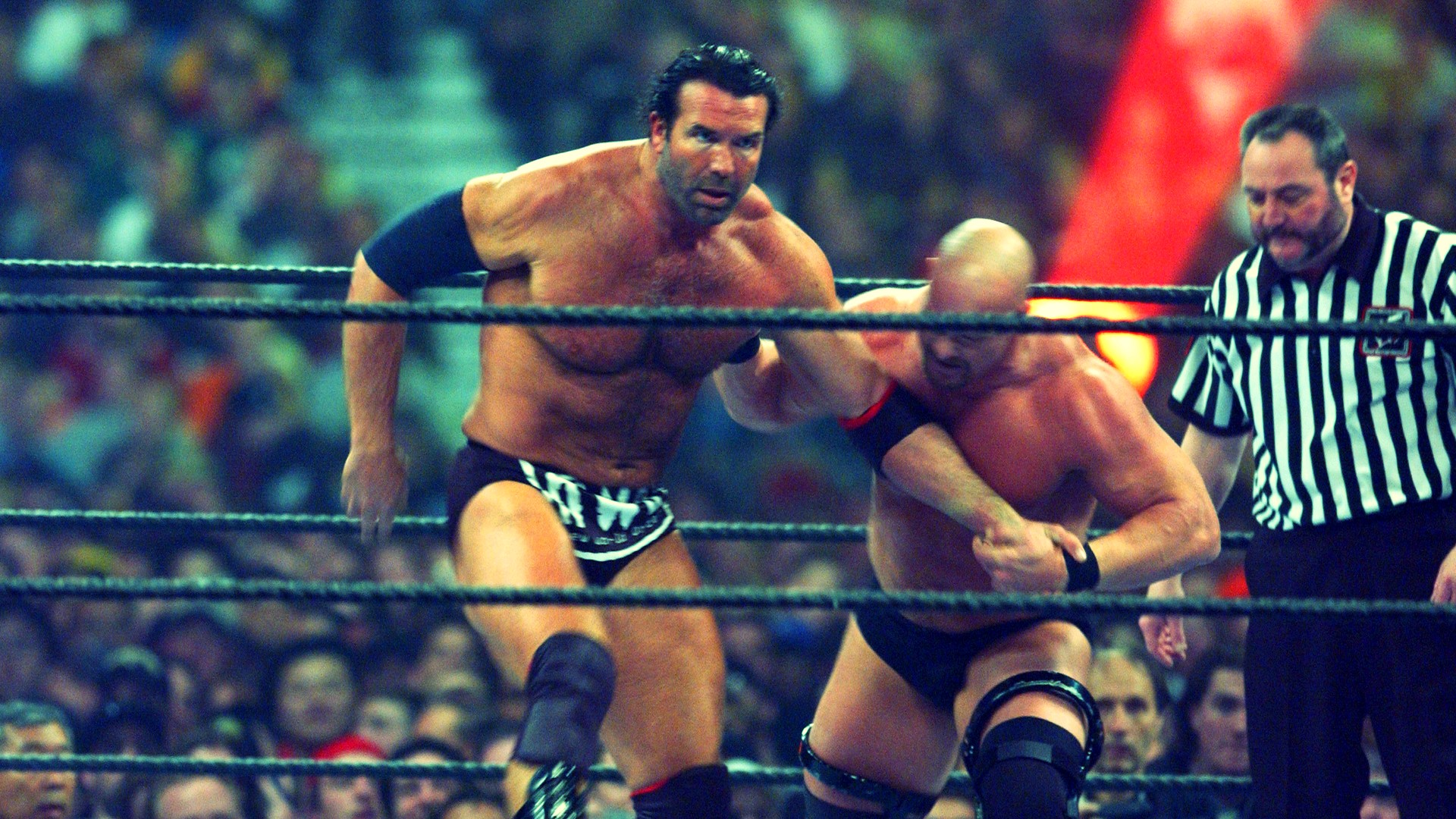 Chris King is back with another WrestleMania Rewind, looking at the NWO's Scott Hall battling Stone Cold Steve Austin at WWE WrestleMania X8 from Toronto!
Chris King is back this week with another edition of WrestleMania Rewind, where he is rewatching all the past Mania matches and feuds. This week you're in for a treat as we look back at 'Stone Cold' Steve Austin vs. Scott Hall at WrestleMania X8.
In late 2001, Vince McMahon bought out his competition WCW and acquired the rights to a plethora of talent including Booker T, Eddie Guerrero, Chris Benoit, and the iconic trio known as NWO. Hulk Hogan; Kevin Nash, and Scott Hall were hell raisers, and what better way to make a name for yourself than take out the two top superstars in the WWE The Rock, and Stone Cold?
The NWO cost Austin his chance at becoming the Undisputed Champion at No Way Out during his match with Chris Jericho. Adding insult to injury, the NWO spray-painted 'The Texas Rattlesnake' with their brand logo just like they did in WCW. As you can imagine, Austin was pissed and out for revenge against the group and primarily Scott Hall.
Hall would challenge Stone Cold to a match at WrestleMania 18. Both superstars beat the living hell out of each other leading up to this highly-anticipated match for who runs the WWE.
The glass broke and Stone Cold made his iconic entrance, and black and white NWO covered Halls' entrance alongside Kevin Nash. With the odds stacked against 'The Toughest S.O.B' could Austin or NWO prove their dominance? Sadly the NWO  broke up that very night when Hulk Hogan came to the aid of his adversary The Rock after their 'iconic' dream match. Stone Cold would ensure the victory with the Stunner. Hall would perform an Oscar-worthy sell over the finisher.
What a time to be a wrestling fan in the 2000s when nothing was impossible for WWE. Who would've thought WCW would go out of business and Hogan would make his long-awaited return to WWE?
King's WrestleMania Rewind: Seth Rollins vs. Kevin Owens (WWE WrestleMania 36)
Chris King takes a look at the most underrated WWE WrestleMania matches, and starts off with Seth Rollins battling Kevin Owens at WrestleMania 36!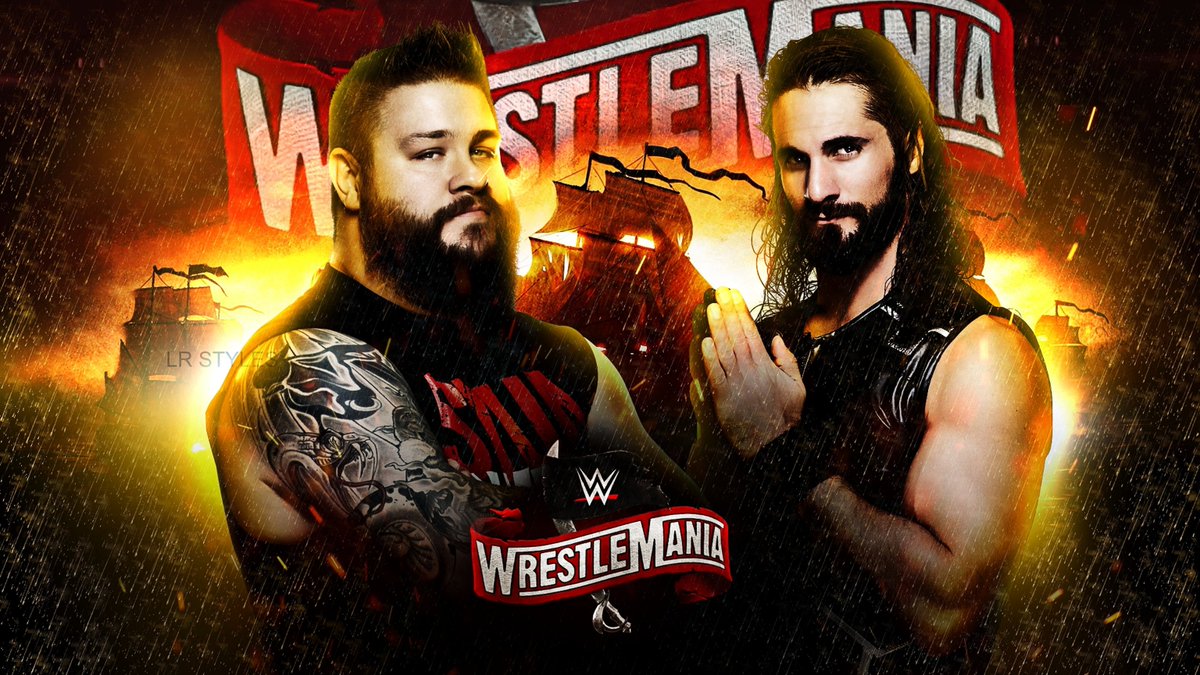 Chris King takes a look at the most underrated WWE WrestleMania matches, and starts off with Seth Rollins battling Kevin Owens in the WWE Performance Center at WrestleMania 36!
Chris King is starting a new series heading into WrestleMania season dubbed WrestleMania Rewind. Each week he'll be going back and sharing his insight over underrated matches at the Show of Shows. First up, is Kevin Owens vs. "The Monday Night Messiah" Seth Rollins at WrestleMania 36.
At the 2019 edition of Survivor Series, Rollins sacrificed himself during the men's traditional match allowing SmackDown to ultimately gain the victory. The following night the self-proclaimed Messiah, berated the whole roster but KO was not having any part of it. Owens quickly became a huge barrier in Rollins' cause for the greater good. The Authors of Pain attacked Owens with Rollins' character in question.
Owens finally had enough of his rival's mind games and torment and challenged Rollins to a match on the Grandest Stage Of Them All. Rollins mockingly accepted his challenge and the match was made official for night one of WrestleMania. Owens came out of the gate beating the holy hell out of the Monday Night Messiah trying to achieve his long-awaited moment at Mania but, Rollins tried to steal a disqualification victory by using the ring bell.
Owens hellbent on revenge provoked Rollins into turning their encounter into a no-disqualification contest where the fight could be taken all over the empty arena. The highlight of the match, was when KO used the WrestleMania sign to deliver a thunderous senton bomb through the announce table. Owens would secure the victory with a Stunner in an incredible match. Despite having no crowd during the pandemic era, both KO and Rollins put on an intense performance under the brightest lights.
In my personal opinion, this was a great feud that helped both superstars in their transformation as compelling characters for years to come.