Knee Jerk Reaction: WrestleMania 36 (Night 1)
Get inside the head of Greg DeMarco with these Knee Jerk Reactions for WWE WrestleMania 36, compiled in real time!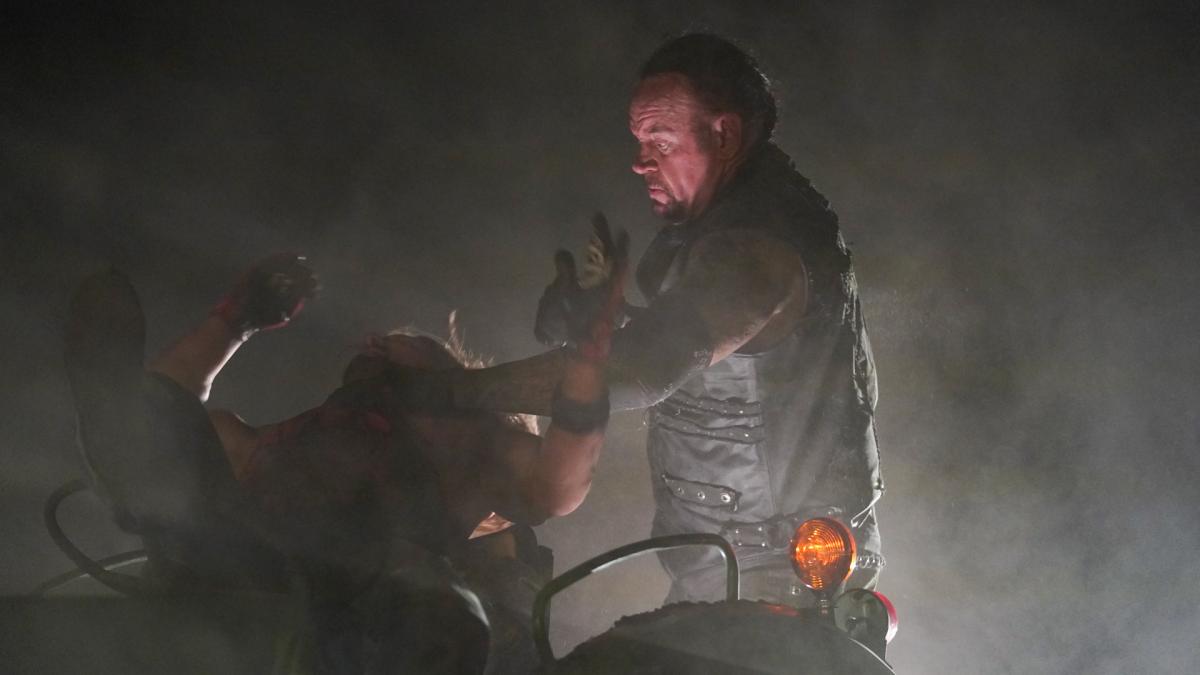 Get inside the head of Greg DeMarco with these Knee Jerk Reactions for WWE WrestleMania 36, compiled in real time!
It's WrestleMania, BAY BAY! I am watching (not) live on the WWE Network. These thoughts are in bullet-point form, and were compiled live as I watched. I'm on the west coast and usually watch on a delay, and managed to do so tonight with minimal spoilers.
WrestleMania 36 Kick Off
It's already weird: Corey Graves is a host, not an analyst, and they're in a studio and not in front of fans. Craziness ensues!
I am glad to see that The New Day is still involved in the ladder match.
No one looks more appropriate on the pirate themed WrestleMania match card than The Monday Night Messiah himself, Seth Rollins.
Triple H said that there would be a unique way to remove Roman Reigns from the Universal Championship match… that idea (whatever it was) seems to have been scrapped.
Kickoff Match: Drew Gulak vs. Cesaro
Good for Drew Gulak, good friend of Chairshot Radio (formerly The Greg DeMarco Show when he was on).
Good for Drake Wuertz as well, although this isn't his WrestleMania debut as he worked the match between Ronda Rousey & Kurt Angle and Triple H & Stephanie McMahon from WrestleMania 34.
Cesaro, you'll remember, was reported to be sick. Wrestling Newz!
Cesaro victorious with the Airplane Spin, gotta love it. This was a good match, obviously hurt by the lack of a crowd.
WrestleMania 36, Night 1
Good reminder as to why I hate it whenever Stephanie McMahon talks.
The opening video? Maybe we need to call this MetaMania? (I dug it, by the way.)
We really love AC/DC in WWE, don't we?
A lot of focus on Roman Reigns and Becky Lynch–the two biggest stars in the company.
I wonder how many takes Rob Gronkowski Gronk needed.
I love me some Mojo Rawley, not gonna lie.
WWE Women's Tag Team Championships – Alexa Bliss & Nikki Cross vs. The Kabuki Warriors of Asuka & Kairi Sane (c)
NXT is really important, and it's my favorite show. But Alexa Bliss is a reminder that NXT isn't the sole indicator of success on "the main roster," as she didn't do squat in NXT and is a multi-time champion on Raw and Smackdown.
Is that the WrestleMania sign behind Michael Cole and JBL?
The volume of the performers is a big plus in this match, that's something we need to keep up tonight. If I have any complaints about Cesaro/Gulak, it's how quiet it was. Obviously that's unavoidable.
I wonder if this match would have opened WrestleMania if we were in Raymond James Stadium?
Asuka is doing a hell of a job working the, um, crowd.
This is something you might hear a lot from me during this, but these performers deserve a ton of credit doing this with no crowd to work off of.
Kairi Sane does the little things so well, like a snug little kick to Alexa after breaking in the corner.
I feel like this match is going long, but I really think that's due to the lack of a crowd and not because the match is actually going long.
Nikki's back is in way too good of shape after having taken that Insane Elbow from Kairi Sane.
Always love seeing the ol' Sparkle Press.
CODEBREAKER!
(I'm sure Jericho tweeted about that. That's a Jericho thing to do.)
Flying Forearm Powerbomb is a move I love to see. Not sure it can be considered a Modified Doomsday Device, that's not even close, Cole.
AND NEW! Big win for Nikki Cross and Alexa Bliss, a "crowd pleasing" win to open the show.
Kayla Braxton interviews Intercontinental Champion Sami Zayn
Glad to see Kayla Braton working backstage! (I'm just glad to see Kayla Braxton.)
King Baron Corbin vs. Elias
A ton of intensity from Elias early, which we need in this environment.
Remember when Baron Corbin had hair? Man am I glad he shaved his head! (He still sucks, though.)
Interesting question from Michael Cole to JBL asking about a victory on "this stage." Is this really a WrestleMania stage? I guess the real indicator is if they would have run the same matches in the stadium.
If this truly IS a WrestleMania stage, what does that say about a guy like Ricochet who isn't on the card?
Love Corbin bitching at the announcers–that's what we need with no fans!
Going from action to a shot of the WrestleMania sign seems like the first obvious "edit" of the night. They just filmed this last week, I can't really complain about things like that.
Elias gets the win, using the tights. Elias is the type of babyface who can get away with that.
That's 2 for 2 for the babyfaces so far.
Raw Women's Championship – Shayna Baszler vs. Becky Lynch (c)
Interesting that the swear words were left in the video package.
So much for this match serving as the "main event" for one of the nights. That term, main event, is so relative in WWE. Rarely does it mean "go on last."
Why do we need Mike Rome doing the Japanese style ring introductions when there's no crowd?
Becky Lynch really flourishes in front of a crowd, especially a WrestleMania crowd. This is the first match where I am okay with no crowd, though. Shayna Baszler is delivering on her promise of not needing fans.
Uranage to the apron seems silly without the crowd reaction. I need to get over this lol.
Disarm-Her across the ropes was creative, I like it!
Shayna and Becky are BRINGING IT. Love this match.
DAMMIT! Don't like the finish, especially when we saw Ember Moon do it years ago. Baszler needed to win this one.
Hell of a match, even if "the wrong person won." Babyfaces are now 3 for 3.
Intercontinental Championship – Daniel Bryan vs. Sami Zayn (c)
Drew Gulak accompanies Daniel Bryan, and Sami Zayn is flanked by Shinsuke Nakamura and Cesaro.
What are the chances Drew Gulak turns on Daniel Bryan tonight?
Sami Zayn is a new pair of boots away from being The Iron Sheik. Or The Genie from Alladin.
Sami's persona is perfect for an empty arena match. Plenty of talking and interacting, especially with the official. Drake Wuertz might end up being the star of this match.
Sami Zayn: If Bill Murray was a pro wrestler.
Love what Drew Gulak is doing here. Great that he gets to shine on the WrestleMania stage.
I was really starting to wonder if something was up with Daniel Bryan–then he tackled Sami Zayn on the stage.
Sami Zayn continues to flourish on a closed set.
I am finally settling in and don't feel the "no crowd" impact.
Drew Gulak continues to shine on the outside. Daniel Bryan bringing him into this is brilliant.
Not sure who was clapping for Daniel Bryan's suicide dive.
Creative finish, I can't complain about it.
Zayn retains, and the babyfaces are now 3-1 for the night. Surprised by the result, but also quite happy with how it went down. Best match of the night so far.
Ladder Match for the Smackdown Tag Team Championships – John Morrison (c) vs. Kofi Kingston vs. Jimmy Uso
No Big E introduction?
I was worried when the Newz sites were reporting that this was John Morrison vs. one Uso. Kofi Kingston was such a huge part of WrestleMania 35, he needed to be in this match.
I do miss having Big E's antics, and still miss Xavier Woods.
When all three went to get their ladders, we got our first shot of the "Performance Center" wall. Remember when the new hard camera angle was big news? I think they also turned the set-up in general.
I was finally comfortable with there being no crowd, but the Ladder Match having no crowd is really really odd. It's an eerie reminder of the state of the world today.
JBL said John Morrison reminds him of a young Mr. Perfect. Curt Hennig was 44 when he passed away, John Morrison is 40 today. And apparently ageless.
Kofi just killed himself in a spot that would have had a HUGE crowd pop. And nothing. Nothing at all. I really wish we had some sort of Mystery Science Theater 3000 effect with Big E and Xavier Woods, as Woods would be marking out over each match.
Why do we have the barricade around the ring? There's no one to keep out of the ringside area!
Just noticed the XW plastered all over Kofi's gear. Given that Xavier Woods is a personal favorite, I love to see it. Still wish he and E were around for this, given how many people were ringside for the last match.
Also of note: 5 matches so far, 4 of them from Smackdown.
Just when you think there are no new ideas for a Ladder Match, Kofi Kingston climbs up the inside of the ladder.
"Flatten your face like a pancake BOI!" Jimmy Uso just pointed out to me that we didn't get any pancakes during the entrance. NO PANCAKES?!?! The world is so weird right now…
Gotta give them credit for the creative finish. I wonder how many takes they needed for that one. Hopefully one, since John Morrison took a hell of a bump at the end! Great match, needed a crowd, and surprised to see Morrison and Miz retain.
Seth Rollins vs. Kevin Owens
Seth Rollins is SO GOOD in this role, as evidenced by the video package.
Seth's gear is fabulous, too. Seriously, this character is amazing.
The ONLY thing I would change? His theme song. Doesn't fit now.
Love the KO Mania 4 shirt, and the fact that both pictures are Owens makes it even better.
I didn't realize Seth Rollins was 6-1 at WrestleMania, meaning Randy Orton (WM31) is the only person to beat Seth at the Showcase Of The Immortals. I still think he should be 6-2 after tonight.
Do we have international announce teams tonight? Somewhere? Just little things we take for granted.
Kevin Owens doesn't need such a heavy beard. He needs a beard, but not THAT beard.
Falcon Arrow on the apron? REALLY???
This match could have used a gimmick.
The trash talking from Rollins is more necessary than ever with no crowd.
High intensity match that I find myself watching and not typing notes…
Kevin Owens flat out calling Rollins "God" makes my black heart smile.
Ring the bell? RING THE BELL???
DQ finish? Really? That's it?
Don't like the finish.
Ok, we're not done yet. Now I am okay with the finish, thank you restart. There's the gimmick I said it needed!
I've always loved how we sell the "steel" steps that are so light they basically float when thrown.
You can't fake being hit with a chair so hard it becomes mangled after 3 shots.
Interesting of note, during the reply of the Rollins giving Owens a CHAIRSHOT three times, we didn't get the split screen. Heavy editing moment #2.
OWENS DIVES OFF OF THE WRESTLEMANIA SIGN!
That was the most heavily padded announce table ever, and it doesn't matter. That was one hell of a dive.
Rollins needs to watch The Rock sell the Stunner.
Good win for Kevin Owens, he needed that.
Six matches in, and we're 4-2 for babyfaces. 4-3 if you count the opener. I have a feeling we'll end at 6-3.
WWE 24/7 Championship – Mojo Rawley over R-Truth
Truth looks like a bitch losing to one forearm shot.
I did love Mojo taking that from Gronk, though. Gronk winning it was obvious.
I am sure we'll see Gronk win that thing tomorrow night, though.
Universal Championship – Braun Strowman vs. Goldberg (c)
Surprised this doesn't go on last, it made sense to have the off-site match break things up a little.
We're in the middle of an outbreak, and we still use extras for Goldberg's entrance. I hate the term "unnecessary" in wrestling, but that was unnecessary.
I hope this is short. Really short.
I also hope Goldberg's gum goes flying.
No video package, no mention of Roman Reigns. I really want to know what idea got scrapped. Triple H said we'd have a "unique" way for this match to change, and this is far from that.
Four Spears with no reaction is not as much fun! This is another match that needs a crowd.
Four Powerslams and we're done. Thank you.
See internet, there was no way Vince was going to let Goldberg hold him up for money.
"If you're the WWE, you hate this right now." No JBL, they love it. Trust me.
It's about time for Braun Strowman. I don't think he just drops it to Roman, either. I can see him having a long reign, possibly through WrestleMania 37.
Boneyard Match – AJ Styles vs. The Undertaker
As I said, I am surprised this is going on last, even if we're pre-recorded. I honestly expected this go to on in the middle of the show to break up the monotony of the closed set.
Does this make AJ Styles a WrestleMania main-eventer?
AJ Styles and The Undertaker made Patrick O'Dowd happy by dropping real names throughout the build.
Matt Hardy must be hating this right now, it's everything we wanted to do!
Love, love, LOVE AJ Styles stealing Taker's entrance, then saying the place isn't scary at all.
Thank you AJ Styles for not showing up in ring gear.
BIKER TAKER!
If you're new to me, know that I love me some Biker Taker.
AJ made this feud personal–and human–so Biker Taker makes the most sense.
Good job establishing right away that this is a Buried Alive Match.
AJ throwing himself off of the roof of that hearse seemed to appropriate.
All this Michelle McCool talk, I feel like we need a Sarah Taker run-in.
Everything about this is great. Jeremy Borash is doing a hell of a job.
Oh look, here's The OC! You knew we were going to see Karl Anderson and Luke Gallows.
And randon druids. I'm going to guess we've got Malcolm Bivens and The Undisputed Era under those.
AJ just saved a man's life, because Mark was gonna impale one of those dudes.
AJ really likes bringing up Michelle, eh? Seems like he's still not over the Samoa Joe feud.
After that fence spot, Undertaker literally sounds like he's dying.
A lot of bitch-calling tonight.
"Let's start this thing up" really made me think it wouldn't start.
Now we get some spooky!
AJ begging for mercy was great.
The chokeslam off of the roof (with the camera work) and the music that followed felt VERY Lucha Underground.
There's no way The Undertaker was losing that match.
This was very well done, and I could stand to see more things like this. WWE is good at this.
WrestleMania 36, Night 1 Overall Thoughts
No crowd definitely made this a challenge for me, but it was obviously a bigger challenge for everyone involved.
WWE did what they needed to do in many of these matches, still provided some surprising results.
Hats off to the talent involved, and the staff behind it. They made the best of a bad situation.
As a fan, analyst, writer, podcaster, promoter, everything of wrestling, I am glad they did this, and I am looking forward to Night 2 of WrestleMania 36.
NXT UK Chuffed and Buzzin'
Brad hits us with some NXT UK highlights!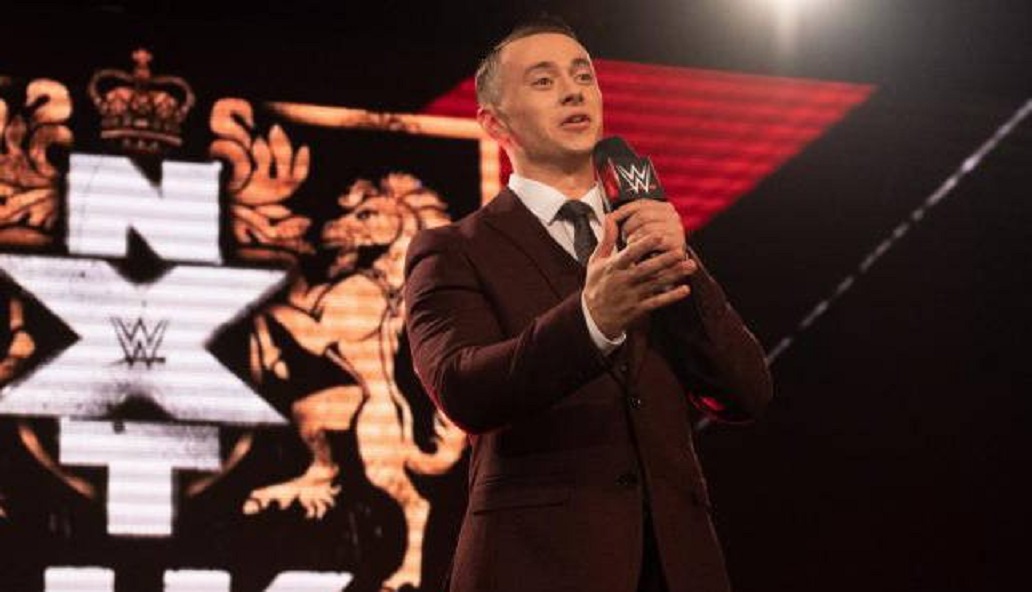 Brad hits us with some NXT UK highlights!
6. It is time for Johnny Saint to retire and officially promote Sid Scala to General Manager. Saint is a beloved figure in British wrestling (and a technical in-ring wizard), so I understand why they brought him in. Truth be told, he's never done much and when he is around he isn't a strong presence. Scala is there every week and has earned the job. Give Sid the job!
5. It is only right to send Mr. Saint out with a proper farewell. This is a gem from at least 1985, the last year for the original World of Sport Wrestling. It's easy to see his influence on British wrestling and safe to say Tyler Bate studied and stole every one of Saint's moves. Added bonus: some youngster named Dave Finlay has a mullet that would make Eddie Guerrero jealous.

4. Isla Dawn's character keeps getting better. For months, she hasn't cared about winning and losing, only taking trophies from her opponents. This week, she beat Aleah James then returned the hair scrunchie she stole from her. That is a seriously cool twist & one I hope they continue until Dawn returns all her stolen goodies. It's like she took everything she needed from her opponents in order to build herself up to challenge Meiko Satomura. I don't know if she's championship material, but I'd love to see her and Satomura try and top their first encounter.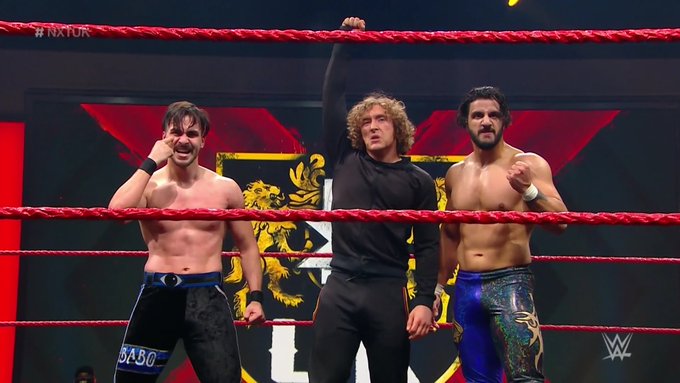 3. I like the idea of Teoman's family, but the execution is lacking. There is no reason for Rohan Raja or Charlie Dempsey to be with him. There's nothing that ties them together. NXT UK has been running blazing hot this year, so I'll give them the benefit of the doubt. Maybe it works. Maybe it won't. Either way, Charlie Dempsey is a star. When the time is right, he and Tyler Bate can have the 5 star Heritage Cup match we've been waiting for.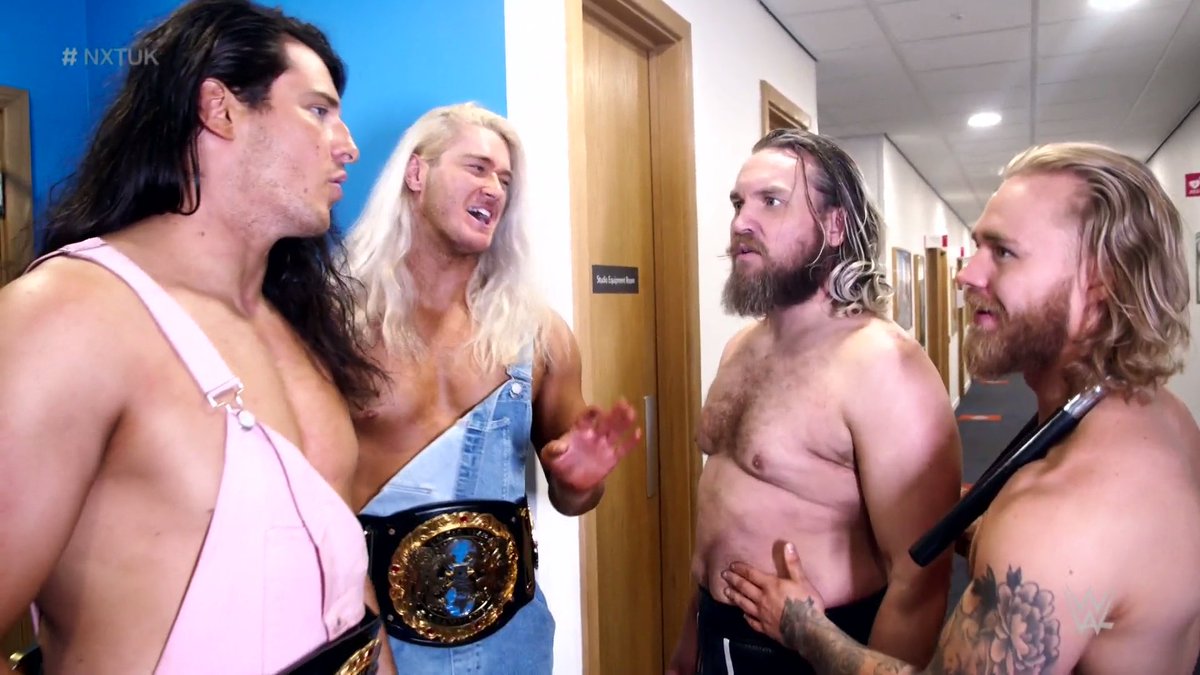 2. Pretty Deadly versus Mustache Mountain feels like a MOTY in the making. Can the Dandy Highwaymen defeat the forefathers of British Strong Style again and officially claim to be the best tag team in the brand's history? Can Mustache Mountain finally capture the titles that surprisingly have evaded them since the brand's inception? If they keep it clean with no outside interference, there is about a 1% chance this match won't live up to the hype.
1. Gallus' theme music is bad ass. That is all.

Steve Cook's Fave Five: November 2021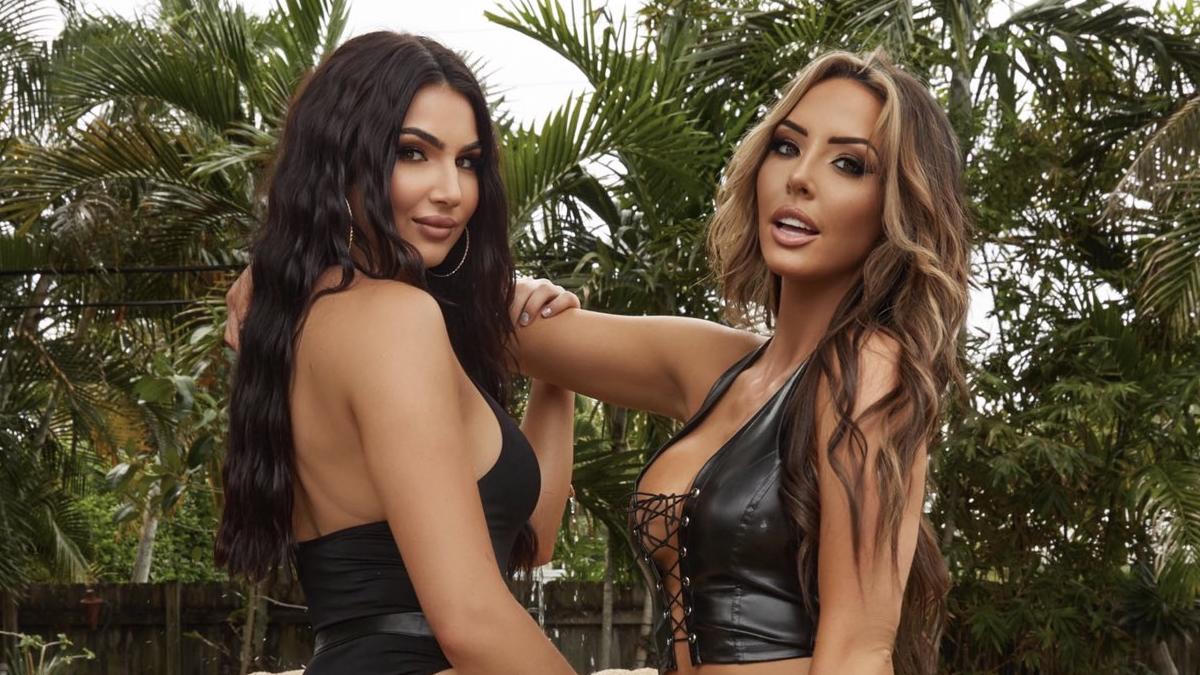 It's Thanksgiving week, and you know what that means!
This is the time we give thanks for our favorite professional wrestlers. And other things, I'm sure. Many of you reading this have other things to be thankful for. I don't know what those are, but I do know which wrestlers I'm thankful for here at this moment. Let's dive into the Fave Five!
5. Eddie Kingston
As somebody that was into the independent wrestling scene back in the mid-2000s, I've been aware of Eddie Kingston's existence for a long time. I've known that the man was a better talker than almost anybody in the wrestling business. I've also known that the man was his own worst enemy, much like Buddy Landell was his own worst enemy back in the 1980s & 90s. If Eddie could somehow find the right place and right time, nothing could hold him back.
This seems like Eddie Kingston's right place & time. He got a spot with AEW, and he kept getting over. His piece with The Player's Tribune got him even more sympathy than he already had. The feud with CM Punk heading into Full Gear was perfect. It got Punk into the state people wanted him in. The match at Full Gear was great, even if Punk ended up winning. The only issue? The feud isn't continuing. But that's AEW. Feuds don't last long unless they're on BTE. Punk & King have already moved onto other things, and we can only hope they get back to each other in a year or two.
4. Bryan Danielson
I know that Bryan's biggest run came when he was the underdog going against The Authority, and many folks took to him as that underdog. I was one of those guys that followed Bryan during his indy career, and his best run came when he was a total dickhead heel in Ring of Honor. Yeah, he was still short or whatever mainstream fans complained about at the time, but he could out-wrestle anybody put in the ring with him, and he was supremely confident about that fact. Not over-confident, supremely confident. He'd tell the referees the rules, because he was the Best in the World.
AEW fans are now getting that side of Bryan Danielson, and fortunately he has the right opponent to do it against. Hangman Adam Page has been accepted as a folk hero by hardcore AEW fans. They won't turn against the Hangman for anybody, even when it's really tempting since Bryan Danielson is a pretty amazing professional wrestler. One of the best I've seen! He's getting to be a total dickhead again while he runs through Page's Dark Order friends, and it's amazing.
He's not lying either. He wrestled the day after he won the WWE Championship at WrestleMania! Bryan Danielson has never lied. Maybe you don't like what he says, but he's always been honest. And the second he mentioned WrestleMania, those hardcore AEW fans were ready to jump on him. Bryan didn't bury WWE like other folks that previously worked for them did. He had his reasons, and this was one of them.
3. The IInspiration
.@CassieLee and @JessicaMcKay are here to iinspire Las Vegas. #TurningPoint pic.twitter.com/oHWOVCtUtv

— IMPACT (@IMPACTWRESTLING) November 21, 2021
I was asked to be part of 411's Fact or Fiction this week, since this week was decided to be the blowoff for a tournament from way too long ago where Len Archibald & myself made it to the finals. Bad news for me, as Len is much better with the written word than I am. 411 readers will sacrifice me at the temple of the Tribal Chief that is Len Archibald. I can't blame them. One of the questions of this particular Fact or Fiction column asks us if underutilized people are better off getting released. Two of the most underutilized people in the history of WWE were Cassie Lee & Jessie McKay. WWE never knew what they had with them. Not the slightest idea. The only time they ever put them over was to spite Bayley & Sasha Banks for reasons. They never followed up on that because they didn't care.
Cassie was supposed to be the breakout single star, except they never followed through with it. Jessie had the personality, and she had the look too but WWE did the best they could to take the look away from her. It was so weird. That's why I'm so happy they found a place to let them be them. Impact Wrestling is a strange place. Certain people find their place there. The IInspiration seem to fit like a glove.
2. Dalton Castle
The Party Peacock was somebody that original Ring of Honor fans would have rejected in an instant. Some will try to tell me I'm wrong about that, but they in fact are wrong. The very first segment on "The Era of Honor Begins" featured the Christopher Street Connection getting squashed by Da Hit Squad because their sort of flamboyance wasn't what ROH was going to be all about. It was 2002, a different time. I remember it well, as I graduated from high school. Way too many things have happened since then and I feel way too damn old.
Dalton Castle would not have been a favorite to original ROH fans in 2002. By the time he came around, he was just what the promotion needed. He had a personality the likes of which hadn't been seen in pro wrestling for quite some time, which was great because the main knock against ROH was that their wrestlers didn't have personality. Dalton Castle was ROH's answer to that criticism. Unfortunately, Dalton's body broke down at the same time he won the company's World Championship. He fought through a broken back to have a reign worthy of the championship, but nearly killed himself in the process.
Castle wasn't the same for a long time afterward. Only recently, we started to see shades of the old Dalton Castle. The man was revitalized by the promise of Television. He wanted to make Ring of Honor the best show on TV, even though he was a very busy man. Very busy. We're lucky to see him when we do. It'll be interesting to see what happens with him now that Ring of Honor is letting their people go. If he's back to being the Dalton Castle we remember from a few years ago, the sky's the limit. Any company would be lucky to have his talent & personality.
1. Cora Jade
I realize that I am in the minority of people around here when it comes to NXT 2.0. I can't really say it's a good wrestling show, but I do find it interesting. You have to know a little bit about my rasslin fan background. I ended up in Louisville during the time when Ohio Valley Wrestling was WWE's developmental territory. While I never got the chance to attend a show at Davis Arena until years afterward, I enjoyed getting to watch the future stars of WWE on television learning their craft before they made it to Raw or SmackDown. Some were really good in the ring. Some were not. But it was all interesting to me.
Here in 2021, I have more interest in seeing the people that WWE thinks is going to be their future than seeing people I saw in Ring of Honor more than ten years ago having great matches just like they did in Ring of Honor more than ten years ago and having no chance of making it any bigger than "NXT TakeOver main eventer". Which is fine if you're into that kind of thing. Me…not so much.
I'm looking for the next big thing. Always have been, always will be. So when I take a look at Cora Jade, the youngest person under WWE contract, I see the potential. I see her work against Mandy Rose, who WWE wants to be the next big thing. I see Cora Jade get over, and I see the future, which is Cora Jade. People will try to tell me I'm wrong. They'll be proven wrong eventually, but since they're a lot louder, followers will act like the fools were right all along, even though they had the wrong opinions back in the day. That's America for ya.