Mitchell's WWE Backstage Report! (4/28/20)
HBK is Backstage!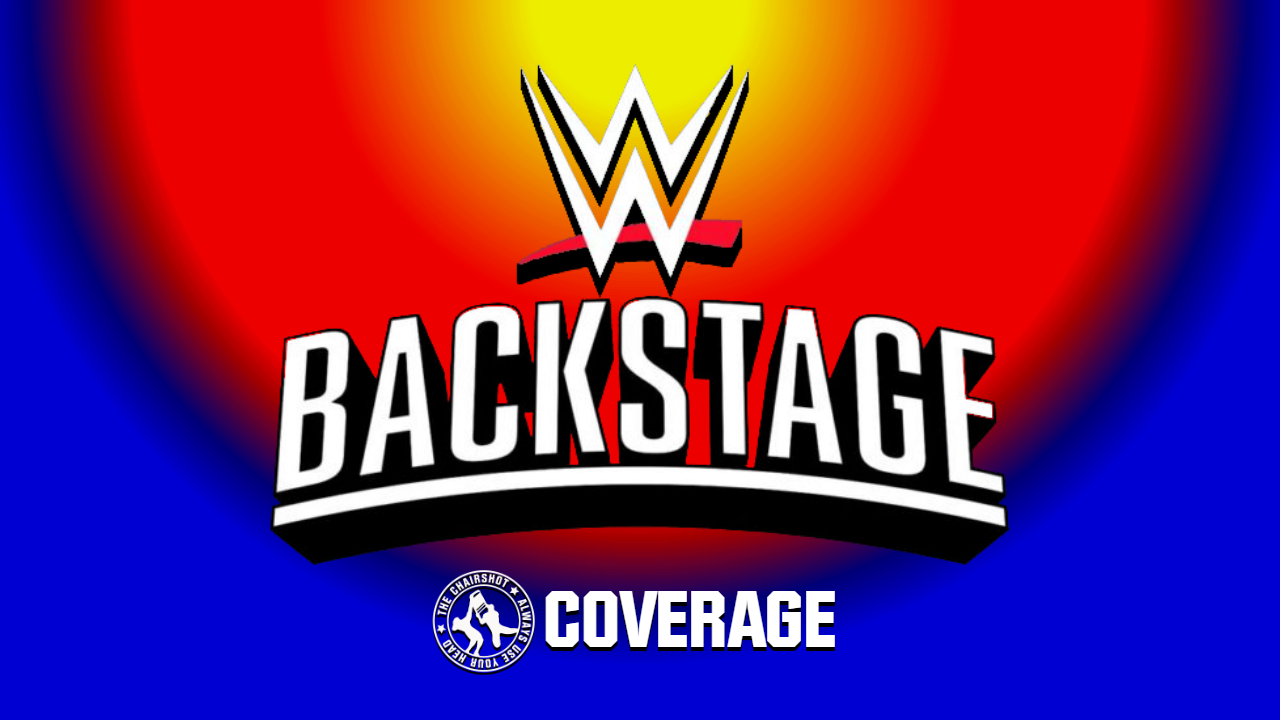 The Heartbreak Kid goes Backstage!
After FS1 plays his best matches and moments, Shawn Michaels goes Backstage! What will the WWE legend have to say about everything going on?
Renee Young welcomes us Backstage!
She is so very happy that we are tuning in and that she and the panel is able to still do these episodes during these very trying times. Joining her again is Booker T, Christian and Mark Henry! The three Hall of Famers are GOODT as always. But Christian says he needs a haircut before he looks like 2001 Christian. No, bring it back! But with Money in the Bank less than two weeks away, there were many more superstars scrambling for their opportunity. In case you missed it, here's…
Just the Highlights!
On SmackDown: The Forgotten Sons are ready to strike any team at any time. That's why they started a brawl with the other tag teams! Bayley and Sasha Banks are not on the same page, again, and that cost The Boss a chance at MITB! Baron Corbin meanwhile punches his ticket, with some help. And the HHH XXV celebration began with more of a roast. Between HBK and Vince McMahon, it was "absolutely rotten!"
On Raw: The Modern Day Maharaja is BACK! Nia Jax left Asuka and Shayna Baszler down and out with help from a ladder, and Apollo Crews looks to be out of MITB! Crews' knee could not hold up, now he might have missed his one shot at the world title. And speaking of, the world title match is official, and Drew McIntyre gave Buddy Murphy the shot meant for the Monday Night Messiah! Will that happen again at MITB?
The panel discusses.
"Man, we had to bleep that S-Bomb!" But McIntyre's dream came true at WrestleMania when he slayed the Beast, but now he must face fellow beastslayer in Seth Rollins. How was that closing segment last night? Booker always liked contract signings back in the day. And it was brilliant for McIntyre to point out how it was going to go, because they always end up like that. What Booker likes about McIntyre is that he's stepping into his own. Even having to go out there without a crowd, McIntyre brings the realism into the arena. McIntyre is almost a throwback to what Booker was seeing when he was coming up: a man in the middle of that squared circle. Renee wants to point out just how far McIntyre threw that table.
Mark Henry says it was great. Rollins is really believing everything he is saying. And of course, McIntyre came exactly how Henry wanted him to, phrasing it as Rollins believing his own BS. Henry definitely popped. Christian liked both sides of it. He liked McIntyre telling Lawler to move aside, and then kept his cool while getting right to business. Then from Rollins, he is playing off some real feelings here. He feels he is a leader, and feels like his performances weren't getting the reactions. The fans weren't doing their part, so this is the byproduct of that. Booker adds that Rollins was put in that position and either you deliver or drop the ball. Being the Monday Night Messiah is huge, but Rollins is definitely in that JBL spot, "Wrestling God!" JBL wasn't even the best pure wrestler, but he was the best performer. Rollins is channeling that and it's beautiful.
Renee asks Henry what he thinks of Murphy. Well one, he got his face kicked off. And two, he served his purpose of saving Rollins. Rollins is off his meds, and his work rate is something not seen since the Attitude Era, like The Rock, HBK, HHH and Austin. And Booker, too. Booker appreciates that. But back to Rollins' character, being delusional makes him the kind of guy you want to see in this match.
Renee moves things over to SmackDown. Many new faces have been making splashes, and the already deep tag team division is getting even deeper. To Christian, he likes that the Forgotten Sons have the chips on their shoulders, and he likes what he's seen so far. He likes the message of serving their country but aren't appreciated for it. Training differently gives them an edge, and stating their mission of using those talents to serve themselves now is a unique take. And between the three brands, each show feels different, and Christian says the same as he did for Elias: moving over from NXT to SmackDown worked better for him, and now it works better for them. Booker isn't so sure yet, but this is a sink or swim position. It's something he does like, because when he was put in that situation, he likes the element of surprise. You gotta hit hard, fast and first, and that's what he likes. Will they make it on SmackDown? Who knows. He needs to see more before giving a stamp of approval.
Henry spent time with the Forgotten Sons, and he went through the same training they went through in the Funk'n Dojo. After coming out of that, all three are well-seasoned who can do it all in the ring. Henry spent time in North Carolina for that Tribute to the Troops event. These guys are a cohesive unit for sure. Also Henry got to get some Jell-O from the mess hall. There's always room for Jell-O. But meeting their fellow soldiers, they all said the same thing. These three work together, they're brothers. Christian points out there's three of them, like the New Day. We might never know who is competing in any giving match, so there could be layers to this. Renee says the SmackDown Tag Division is looking GOODT.
He's not your boy toy!
But he is one of the best to ever do it! If he's not on your Mount Rushmore of wrestlers, you're doing it wrong. Shawn Michaels joins Renee and says all those old pictures in the montage are from a long time ago. He doesn't look anything like that anymore. But his "quarantine beard" is still very distinguished. SmackDown had him and HHH celebrate the 25 year anniversary. And if you're not down with that… Social distancing! Vince McMahon joined in on the roast, "Good night, padre." But what was it like putting that together? Well they're friends enough that they could do that. It started as a comedy segment, but at the end, it seemed like the only people who knew that were him and HHH. But HBK got that social distancing joke from his daughter. She denied him a hug after he came home from work. Well good for her to get writer's credit.
Also, it was a hilarious twist for HHH not to be able to do his signature entrance with the water bottle. Well, clearly this is an interesting time in our lives. HBK has learned a lot of new stuff. Just when you think you've seen everything, you get shown you haven't. It's interesting if nothing else. But how was it to put that segment together to summarize 25 years, and then have Vince add on? Well again, HBK doesn't want to throw anyone under the bus, but there was a lot more stuff in there that they couldn't get to. Some things just weren't going to work, but it was still fun. And more importantly, it's always fun for HBK and HHH to work together. Believe it or not, there's always a real-life aspect to their work together. If for no other reason, that was the fun part.
Renee does admit it's a shame HBK never got his 25th anniversary celebration. What happened that he got robbed of that opportunity? HBK never gets happy birthday tweets or anything like that, but he's okay with that. He likes being under the radar now. For one, the beard shouldn't be on camera. Nah, we always want HBK on our screens, and being under the radar isn't really fitting of truly one of the best. But now that he's helping the next generation, what's that like? A blast, really. That's the reason he wants to be behind the scenes now. As HHH has expressed, it's even more enjoyable watching the new generation have their moment. It has been so much more fulfilling than HBK thought, and loves every aspect. It's never tough to go to work like this, and he is absolutely supportive of this new generation.
Then who is he keeping an eye on? That's an always changing group in NXT. There was McIntyre, Aleister, Ricochet, The Revival and that class. Andrade, Gargano and Ciampa, of course. The list goes on and on. But now, we've got Killer Kross, or Karrion now. Dexter Lumis, Tim Thatcher, and many more are going to take NXT to the next level. Renee does bring up one superstar who gives HBK credit for his career. Drew McIntyre spoke to HBK helping him at the Performance Center. HBK was willing to help him, and McIntyre was MORE than willing to be helped. It was like a wrestling PhD with HBK. What a ride to see McIntyre rise to the top. HBK says that kind of moment is why he's doing this now. McIntyre didn't have to drive that four hour round trip, but he did, and was always open and willing to learn and improve.
McIntyre has so much natural talent and ability. He had to go to the bottom and work his way back up, but he was so appreciative and respectful. What's great about McIntyre is he's already impressive just from standing there. But he didn't want to be one dimensional. He wanted to have depth and levels, and that is what HBK enjoyed being a part of. Adding that range because the audience is so much more sophisticated, beating people up just isn't enough anymore. There need to be levels for longevity, and McIntyre was open to that. McIntyre physically didn't have to be more than an action star, and HBK loves that.
Speaking of longevity, Edge's return has already shown he hasn't missed a step. HBK had his own return after a long hiatus, and his second run may have been his best. Has HBK been able to talk with Edge? Yes, and they've certainly talked about Edge's return. HBK wanted to hear Edge's reasoning and feelings, and it was surprising that it sounded so much like HBK's. The doctors say you can't, but then after some time, you understand that pro-wrestling is unlike anything else. It is up to the wrestlers to determine what can't be done. Especially when there's still the questions to be answered. That leaves you the window of opportunity. You should still lean on the side of the doctors, but Edge is smart enough to weigh is options. HBK is thrilled Edge can end things on his terms now. It gives everyone hope of comebacks like this.
Renee brings HBK on a trip down memory lane back to exactly 24 years ago. It was 4/28/1996, In Your House 7, when Kevin "Big Diesel" Nash POWERBOMBED HBK through a table!! But in the end, HBK came back to hit Sweet Chin Music and get the win! That was Nash's last match before going to WCW. The biggest thing HBK remembers the powerbomb more than anything. They hadn't done it much period at that time, and that is just one part of the craziness in that match. But it was a match that let them go outside the WWE box, and that made the match even better.
Now, Renee heard HBK has spoken to two superstars having the HBK-Nash relationship. Who are they? HBK was just using it as an example. It would be Dakota Kai and Raquel Gonzalez. Obviously there are differences because Dakota and Raquel are ladies, but that's the parallel they could follow. The brash cocky one and the heater dynamic could work going forward. This is why HBK needs to be in NXT! His wealth of knowledge! Hopefully next time, we talk to HBK live and in studio.
Backstage shares a Tweet from Kennesaw State.
They congratulated Bronson Rechsteiner, son of Rick Steiner of the Steiner Brothers, on being drafted to the NFL Baltimore Ravens! The WWE congratulates him as well, and hopefully he'll be pulling off the same moves that dad Rick and Uncle Scott did back in the day.
The panel talks a 2020 WWE Backstage Draft!
Each panelist gets to choose five current WWE superstars to build a company around! We begin with Booker T! Booker already thought about this, so his first is Shayna Baszler! The Queen of Spades will make the Women's Division as strong and as real as possible! Then second is Rhea Ripley! Charlotte Flair is a diamond, but the Ripper is a diamond in the rough that needs some polish. Then third, Drew McIntyre! Not just because he's champion, but because he's a guy that a company needs as a bonafide true heavyweight! Fourth, Roman Reigns! No better leader than the Big Dog for your locker room. He will bring everyone together and bring the noise to the PPV! And lastly, the Phenomenal AJ Styles! And there you have it, the perfect company is built, and you can take it to the bank! Amazing promo work. Has Booker ever done this before?
Christian is glad Booker didn't draft himself. But his five are: first, Edge! Duh. Just look at his resume. No one has more championships than Edge! He elevates those around him. Then, much like Booker, Christian takes Rhea Ripley. She's already this good, and she isn't even in her prime. She has the potential to perhaps be the very best ever. Third is Aleister Black. He has ice in his veins and isn't intimidated. Fourth is McIntyre, the heir apparent. And he still has another level! McIntyre and Edge could get up to that next level together. Fifth and final, Bray Wyatt. Christian will say it again, he's a generational superstar. When you need that "trick play," that something no one expects, put him out there. Great analogy!
And Henry has put some thought into this five. He thinks versatility for his roster. First on that list is Kevin Owens. KO can do it all, from good guy to bad guy to in between. He elevates like Edge does, and everyone comes out better. Then the "unflappable" Randy Orton. Orton is in his prime but still has room to grow. He can lead the roster, also has more championships than anyone else, and there's the debate between him and Edge. Then just as everyone said, the "Grown ass man," Drew McIntyre! McIntyre went away as a kid, came back a man, and slayed the Beast! Fourth is the number one female, Charlotte Flair! Woo if you got it. Henry loves her, and she is one everyone can battle just to see who is second. Last but not least, BRRROCK! LESNARRR! The Beast may have lost to McIntyre, but everyone needs that moment where you fall but have to get back up. Lesnar will come back angry, and he might not even come after the title. He is just coming for McIntyre.
Henry had more, but Rollins makes honorable mention, and the rest are all great women. Renee says that salvages the draft. Booker says that's politicking. Lesnar is too much on the payroll. And Orton's a loner, not a leader. But all interesting moves. No one went with Seth Rollins or Becky Lynch. While talking about a strong women's division, they didn't take the strongest and most popular woman in years. Henry did say his top 10 had women so she's in there. Sure, sure. But Booker says this all came together like a small promotion down in Houston, TX called Reality of Wrestling. Shameless plug!
The Modern Day Maharaja has returned!
Natalya's tweet in response was pretty simple: JINDER! (clapping emoji). Fans like Ghulam Ali tweeted out Jinder Mahal is Back (flex emoji times two) #DontHinderTheJinder. A former world champion and polarizing force, how does the panel feel? Henry is excited to see Jinder back looking like Adonis! Jinder's only weakness was his legs, but not now! He got some squats in. Low and slow, baby. Booker says Jinder was one of his guys. He was always close to the Fave Five, but what Booker would've liked was a big build up. The King is back, so to speak. But Mahal could've been built up bigger for this.
Christian's feelings are that we got that YouTube promo about Jinder being disrespected, and so that works out. Maybe it was meant to be this surprise. Christian likes Jinder, even as Champlain. He was happy for Jinder. But Jinder needed to find that second gear to stay up there. He is that talented. Just look at McIntyre build himself up. If Jinder can follow that blueprint, there's no reason to think he can't get back there. For now, US Championship or even MITB now that Crews is out. Booker agrees, the Maharaja just needs ten weeks of more Tozawa matches. Every week, someone that size needs to be fed to Mahal to build himself up so that fans can feel a certain way. There is no rush right now. Renee feels Mahal definitely will get those opportunities. Speaking of great opportunities…
Apollo went for gold, but busted.
The knee gives out and El Idolo takes advantage. A heartbreaking finish, but what does Booker think about this move? Don't get emotional. Booker feels bad for this bait and switch on Crews, but when he first saw Crews, he checks off all the boxes. Going out there, jumping all over, it was bound to happen. Not if but when you get hurt. So Crews had a chance to make a huge impact, and going against Andrade, having a chance but missing it, that's on him. But Crews will surely have another chance.
Backstage has Gronk's Twitter video!
From the official Tampa Bay Buccaneers account, "Mr. 24/7" says that they will need a LOT of security to make sure he doesn't lose the WWE 24/7 Championship during a game. Every tunnel, every entrance, just everywhere Gronk will go. He has the world coming for him, even his friends. But it is a special honor to be champion during the quarantine, because now no one can touch him. He is going to be champion for a long time, but he's ready. What's crazy is that the security people might come for him, so he has to watch out for them, too.
Renee says it isn't just the WWE superstars who want after that belt. Dennis Rodman would love to be back in the ring. And against Gronk? Why not? He talks crap, but Rodman wants to do this. It isn't about money, it's about wrestling. What does the panel think of Gronk VS Rodzilla? Christian puts it this way: It's like putting Christian in the Super Bowl, or Game 7 of the NBA Championship. Everyone wants to be in the big game, but not everyone deserves to be. Gronk VS Rodman will be a cluster! Neither guy will know what they're doing. Henry says that Rodman needs to know how to say Gronk's name. But it would be entertaining because of how it'll be a giant cluster! That will be more exciting than a mat classic. Booker says they're thinking too small. If Booker sees Rodman and Gronk, book this in the biggest strip club in the city, with a lot of liquor and partying. That's the biggest party of the summer!
Rodman earned five different NBA Championships, back-to-back with the Pistons, then three-peat with the Bulls. But Henry has a story of his brush with Bulls greatness. Yes, he went to the hotel to see Charles Barkley and others, and then Michael Jordan walks up. They didn't recognize each other, it got tense, but both guys apologized. Jordan's birthday came up, he invited Henry, had a great time, and it wasn't even a big deal after that. Speaking of apologies, apologies to this picture but what is THIS!? Henry nude with just a big 45 pound weight in the way! That's called empowering. The true origins of Sexual Chocolate!
WWE Backstage flashbacks to the Sports Radio Roast of Booker T!
Three years ago, friends and colleagues of Booker's playfully poked fun at his legacy. MVP said that Booker is "the five-time, five-time, five-time," WCW World Champion. An amazing achievement to brag about! Like if MVP went around bragging about being the five-time, five-time, five-time Florida Department of Corrections Inmate of the Month. Booker's Reality of Wrestling YouTube channel has the rest. But clearly, not everyone was invited to that special moment, but that's what this show is for! Christian and Henry get to let loose! Henry says that we all should have a mute button for Booker. That way, we can wait until Booker actually has something important to say to hear him, or keep him from interrupting.
Christian won't sit here and make fun of his friend. They've been up and down the road, so Christian won't do that. He won't agree with the mute. He doesn't need to roast Booker, because every time Booker opens his mouth, he roasts himself. Renee's only issue is that Booker thinks "The Sam," a crab on a tomato, is a dish. Booker chants, "You Suck!" The Sam is good! But for now, that's good enough for Backstage this week. Tune in next week after another FS1 marathon of The Best of WWE!
---
My Thoughts:
A really fun episode, and it was great having so many hall of famers on the episode. HBK being on was a lot of fun, it was great to hear him talk about the new generation and to hear the new generation talk about him. I like his idea that Dakota and Raquel follow a similar pattern to him and Nash. Dakota and Raquel still have a lot of possibilities as a duo, but seeing them split and I would think turn Dakota back to Face would be something great down the line. I honestly felt Team Kick (Dakota and Tegan Nox) was split too soon, not that what we've gotten since has been bad. Dakota and Tegan could follow an HHHBK route, where sometimes they're enemies, sometimes their friends, but overall they're two forces that help each other improve to iconic levels.
I like the draft picks the panel came up with, and naturally McIntyre was on all their top five because of how great he really is. I wish they'd been able to devote more time to talking about Apollo Crews. Surely they all have theories on what this change to the MITB match means, but I do think there will be something on the go-home Raw that appoints the replacement. That last spot for Raw definitely goes to a Heel now, but probably more one of Zelina Vega's guys than the returning Mahal. Mahal can take his time, build up to something, and then strike in time for a summer PPV. As I said on Raw, I wouldn't mind if there was reference to 3MB at some point for Mahal and McIntyre.