Mitchell's WWE Backstage Report! (4/7/20)
The Backstage After Mania!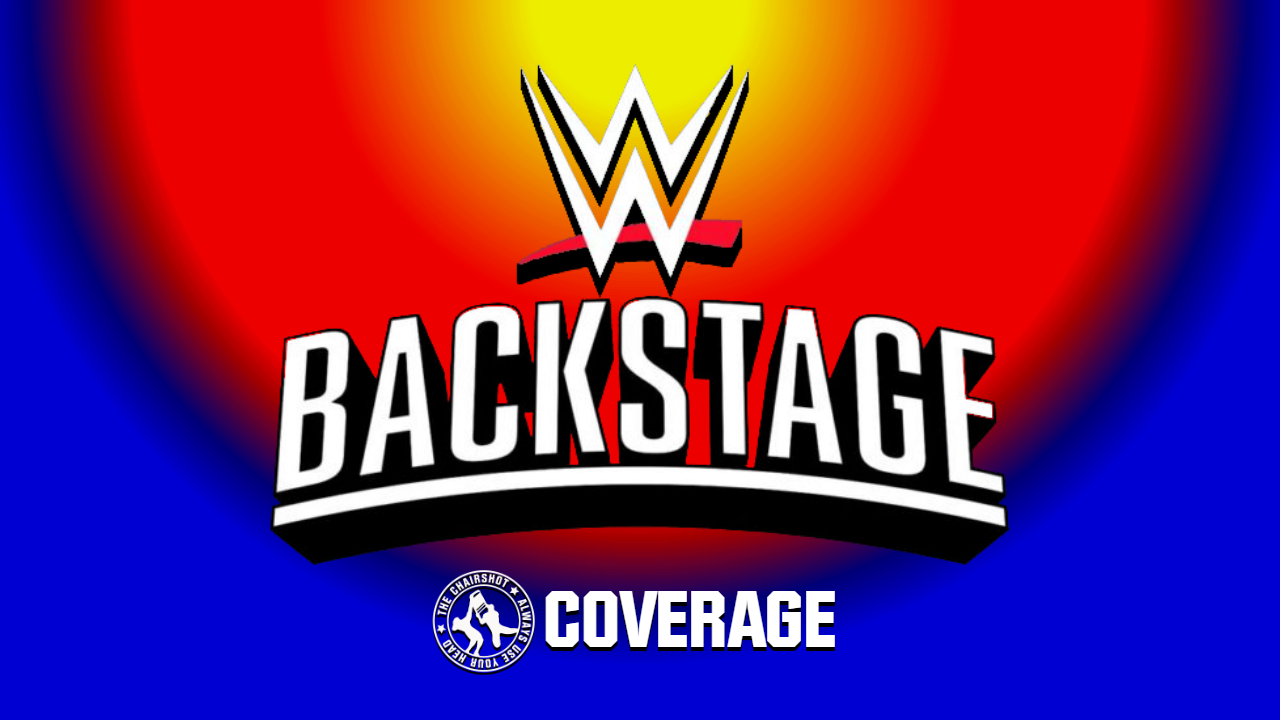 It's the Backstage After WrestleMania Weekend!
WrestleMania brought us NEW WWE World, Universal and Women's Tag Team Champions! Backstage will discuss those outcomes and so much more!
Renee Young returns with the Backstage panel!
She, Booker T, Paige and Christian are all here via video chat to discuss the wild week in the WWE! Also celebrate six years of Paige in the WWE! Today was the day she debuted and took the WWE Diva's Championship! But from one historic moment to two others, the WWE Universe is still buzzing after seeing both the Boneyard Match and Firefly Fun House match at WrestleMania! The Undertaker left AJ Styles for dead on Night 1, and there is so much to talk about! Booker's feelings on the concept and execution is a five star movie! That was Friday the 13th right there. Taker was awesome, Styles stepped up, and Mick Foley put it best: he wants to be in the second Boneyard Match! Booker, however, does not.
Paige says the Boneyard match was interesting. Does it suit anyone outside the Undertaker? Who knows. But it was enjoyable, theatrical, and even having the music was great. She agrees that Styles did a great job, but the question is: Is Styles alive in kayfabe? Christian says Styles is DONE, as Booker might say. But for a brand new match type that no one knew anything about, it was a blank canvas for Styles and Taker. It was cinematic and well done. This adds to the allure of Taker, and can be used when the timing and opponent are right.
Then on Night 2, it was the Firefly Fun House match that was also very cinematic in presentation. Paige has been a huge advocate for Bray Wyatt, so what was her reaction? We were on this "massive acid trip" together. Paige has known Bray since day one, and that creative masterpiece was definitely powered by him. Back in FCW' promo class, Bray had the lots of creative ideas. This was beautiful, and John Cena was a good sport. Renee agrees, it takes two to tango. Booker's thoughts are that, along with the Boneyard Match, it was a matter of when the "match" would start. The Firefly Fun House Match went across time and space with the Ruthless Aggression Era, the nWo, and so much more. Booker wants to rewatch it just so he can catch all the references. He's still on the fence, but he'll get back to us.
Christian says he had his own interpretation. He likes that they were on different nights, because they had to, but WrestleMania was the perfect platform for those matches. His interpretation of Bray taking Cena through his WWE career and saying, "Hey, look. Because of the way that you look, because of the way that you're built physically, you had the potential to be the golden boy, the golden goose for the WWE." Cena was the kind of guy the WWE would put on posters, in movies, in press situations. Cena got chance after chance to ensure he'd make it. But then a guy like Bray was given a chance, maybe didn't hit it out of the park, and was just done. Bray holds that against Cena, and Christian says the match was the culmination of that feeling.
Then given these cinematic matches, what more can the WWE do to move away from being stuck in the Performance Center? World circumstances of course being what they are, Booker says that those can be "back by popular demand." Booker says it could be like the Popeye's Chicken Sandwich! Get one while they're here! But what else can they do differently? Booker watched Raw last night, and he saw the new talent having moments they hadn't had. Ricochet and Cedric Alexander as a team impresses Booker. Having new combinations and faces will spice things up.
Christian says cinematic matches can't just be thrown out all over the place. Those need to be rare to keep them special or they lose all meaning. As for new things, try some Attitude Era moments where it interviews are just as superstars arrive. Maybe feature more areas within the WWE PC, just like the Orton VS Edge Last Man Standing match did. Maybe Becky uses her 18-wheeler to start smashing cars. Just something to mix it up.
But speaking of fresh and new… Coming up after the break, the fresh new WWE World Champion, DRRREW! MCINTYRRRE!
Drew McIntyre returns to WWE Backstage!
The Scottish Stud joins Renee and Christian and gives a little waves. How is he feeling after WrestleMania? He's alright, for doing nonstop media since 1:15 AM on Sunday because of the UK. And then he just kept going and is loving it. After all, he's talking about himself and the WWE and beating Brock Lesnar in five minutes. So how did it feel that exact moment when he was declared winner? It still doesn't feel real. The look on his face says it all, if you watch it back. WrestleMania 36 had to be different from any other event he'd ever done. Under normal circumstances, 80 THOUSAND people would be screaming bell to bell and you get lost in that adrenaline. Christian understands how that feels. And it's not until you're alone in your hotel room much later that night that the real emotion comes out.
But with no crowd around, McIntyre let a glimpse of that show in those moments right after the bell. McIntyre saw the title being handed to him and it started to sink in. But then he snapped back and remembered to finish out the show. The camera came close and normally you're not supposed to look into it, but he couldn't help himself with that moment being so real. McIntyre says it here now, he thanks everyone that has always believed and still will believe in him. And thanks for choosing to watch and be part of WrestleMania, even with everything that's going on in the world right now. McIntyre is sure something was edited out by now but he just wants us to know that was all real emotion that night. And he has the belt as proof!
Renee asks if he wears the belt around the house all day. McIntyre tries, but when he tries to be the boss and tell the wife to do something, she puts him back in his place. The McIntyre home hierarchy is the cats, the wife, then him. Christian asks what it means to be the first UK-born WWE Champion. It's crazy, but it was among the goals McIntyre had when he first came to America. It's "wild" that wrestlers like William Regal, Wade Barrett or the British Bulldog never got to have this title. As we know, McIntyre didn't do it his first time around, either. He had to claw and scratch his way back, but now he's on top after winning at WrestleMania against Lesnar. Add that to being the first-ever, that's amazing and fitting of his story. Winning in front of 80 thousand would've actually seemed less fitting.
Renee says that given the circumstances, where was McIntyre when he watched it all? He was with his wife and cats, of course. He hates watching himself, but he loves watching WrestleMania. So they were on the couch, watching the first WrestleMania since 23, back in 2007. Then 24 was in Orlando, his first one while with FCW. He even helped take down the ring at the end of the night. He and Sheamus almost got hit by lighting equipment that fell from the ceiling, actually. But he's been busy ever since, so it was great to just sit and watch that weekend. It definitely took his mind off of everything going on.
But again, he felt odd watching himself, except for that final pin and the win. To make it real for himself, he didn't let himself have the belt until that night because nothing is real in the WWE until it happens on screen. He mostly wanted to make sure they didn't change it on him. But the broadcast had it with him winning, he ran upstairs and grabbed the belt, and held onto it. Christian remembers feeling like that. The old World Heavyweight Championship sits out and you're tempted to touch it. He never did, though, until he earned it.
Renee notes that about a decade ago, Vince McMahon had McIntyre debut as "The Chosen One." How does it feel to actually be the top guy now? Well again, it's wild. McMahon is like a sorcerer and he predicted the future. McMahon predicted the company public and the WWE Network becoming reality. And while McIntyre didn't become the champion back then, he became champion now. The journey was worth it. If McIntyre became champion 10 years ago, he knows he would've bombed, sucked, etc. McIntyre knows now he needed the journey he went on. That journey molded McIntyre into both the man and the wrestler he is today, and there is nothing he isn't ready for. He knows the world is going through difficult times, and he hopes to keep entertaining everyone on Raw now that he's the flag bearer.
Christian notes on the "road less traveled" career, McIntyre was a guy that left the WWE. Christian relates how he also left and used that to find himself. McIntyre did that, came back and earned everything here. How has all that changed him? Well it changed McIntyre drastically, but especially in his life outside the ring. He has matured, in large part thanks to his wife. Inside the ring, McIntyre had to get away. There was no way he could transition from Three Man Band back to something serious, and he just needed that time to become this McIntyre. McIntyre had to apply all the lessons he learned, and is grateful that many other companies put their own faith in him. He was able to learn how to be the leader in those places, and was able to strengthen the other areas of his work.
McIntyre admits his Scottish accent can be hard for others to understand, so he perfected verbalizing and articulating. All the little things that add up to being a top guy came into place. Again, doing media, he's been doing it nonstop since this weekend. He can't put it into words, but he will say he is a passionate man. He's just so excited that he's "the bloody WWE Champion. What the hell?!" But yes, he did it! He is the very top of the mountain!
Renee notes that with the world being where it is right now, McIntyre is WWE Champion in a very unique time in history. What pressure does that put on him already? None really. It's obviously different, such as filming on a closed set at the PC with very strict health guidelines. McIntyre had a locker room to himself, in fact. But as long as we can all push forward, stay safe and continue with original content to keep everyone entertained, he's all for it. Everyone else wants to do that, and he is now captain of the ship. McIntyre is proud of the WWE for stepping up during this difficult time in the world.
Renee agrees with all that and is sure the WWE is in good hands with him as the new champion. Congratulations again, and everyone looks forward to McIntyre's third time on Backstage. Hopefully it'll be after things can return to normal. McIntyre loved having his moment, but he wants the fans to be able to return and join him in that. Christian adds that he is very proud of McIntyre. They've had long talks over the years, and McIntyre thanks Christian for all the help and support. And even Renee for her part interviewing 3MB. She does remember those days.
But there are many other new champions to talk about, when WWE Backstage returns!
WWE Backstage brings the full panel back for more!
Drew McIntyre wasn't the only first-time world champion. Another big winner was BRAUN, who stepped up when Roman Reigns could not compete. How does the Monster Among Men make the most of this sudden opportunity? Booker says that for Strowman not originally in the match, you gotta seize the opportunity when opportunity knocks. Booker remembers that when he got his first title, it was because Rick Martel forgot his boots! The company decided to put the title on Booker and Booker was all for it. Booker was happy to be Television Champion, but he was also upset because he would've liked it to be for different reasons. But in the end, it doesn't matter, because it means having "a chip in the game now." He kept moving and dared others to take the title off him. Braun needs to do the same thing now.
Christian says Booker is right. You never know when opportunities will come along, so you take them when you can. When Edge retired, Christian had to step into his spot. You can't overthink it, you just have to go with it. And Braun knows the WWE Universal Championship wasn't his spot. If he had a chip on his shoulder before, now that chip's bigger. Braun just has to prove to himself and everyone else that he was the right choice to put in there, and should have been champion from the start. Renee adds that's probably a big chip given Braun's a big man.
As for Paige, she says all of WrestleMania was rather nostalgic. She grew up in the WWE with a lot of these people. Braun is in fact the gentlest giant in the world. She remembers him being in promo class with Dusty Rhodes, wearing a diaper and bear ears. That proved to her that he'd be a star! Braun is fun, is brave to step out of comfort zones and put himself out there, which is what happened here. He was given his chance, took it and ran with it. Paige is very proud and happy for him, because he deserves it. Renee agrees, it is great to see that WrestleMania moment.
But moving on to another moment, it was the friendship broken apart until there was just one last man standing. That is of course, THE Last Man Standing match. "Good God." Edge's first match since WrestleMania 27 and it was brutal! Christian says the build was a master class in conveying emotion. Even with no crowd, the home audiences were hanging on every word of the promos. The match was what it needed to be: a kickass, hard-hitting, physical fight. Everyone at home surely cringed with every hit or drop. Oddly enough, Edge did not change his style with jumping off that platform to crash through a table. But the big takeaway is that Edge's music hitting and him walking down the ramp was one of the greatest moments ever.
Paige says that was HER main event. She was super excited because both men are among the best storytellers in the business today. Those two together is magic. Paige really wished that there was a crowd, of course, but Edge and Orton still told such a beautiful story. It was incredible, she could never say anything bad about it. Booker says that Edge is back and put himself through hell just to get here. And again, of course we all would've liked different circumstances, especially Edge and Orton. But the fans still got a great taste of this feud, and there might even be a main course coming. Renee adds that the storytelling in the build was great, but the WWE 24 special about Edge was so good! Paige doesn't want spoilers, so Renee suggests everyone go watch that. It just went so well leading into Night 2.
And now, moving from intense to eye-catching, it's the SmackDown Tag Team Championship Ladder Match! Imagine doing a ladder match with no audience. Christian has been in a LOT of Ladder Matches, but never one with no one around. He did like to go to the arena the night before to get a feel for the ladders and the ring. When he climbed the ladder at that time, there was no one there. You feel the height, and it gets scary. That must've been how it was for John Morrison, Kofi Kingston and Jimmy Uso. Kudos to them for staying in the moment and creating something special.
Booker says that when he watched this, he actually turned the sound down. He watched the action alone, and the action alone had him going nuts. All three put everything on the line for the show and the fans. If there were fans live, those fans would not be able to contain themselves. That's how good that match was. Christian is a ladder expert, especially with the high spots, so surely they're in agreement.
Renee says it was also a friendly reminder that Morrison is a great return. Paige never had a ladder match, and certainly never one with no fans. Walking out, everyone wants to feed off the energy but there wasn't any. So to be up top knowing you'll fall, the adrenaline blocks out the worry because the crowd is so loud. But then it's crickets, and you pause and think, "What now?" But those three didn't let that get to them, it felt like there was still 80 thousand, and that made the match work.
George Kittle goes Backstage!
The San Francisco 49ers' Tight End was watching WrestleMania 36 and doing a reaction stream for Night 2. Kevin's WrestleMania Moment of jumping off the WrestleMania definitely got him to react. As did Morrison's lucky win of the SmackDown Tag titles, and Otis dropping the Caterpillar on Ziggler. Oh, and getting the girl, too.
Kittle now talks with Renee and Booker and says it's hard to pick a favorite match. But if he had to, it has to be the Boneyard Match. It was so unique, and The Undertaker can still wrestle for several decades if he does matches like that. Renee likes the way he thinks. Kittle's expectations were nothing. He didn't know what to expect from the Boneyard Match of the Firefly Fun House Match. Both were so different, but Taker throwing guys off the roof is just awesome. Renee brings it back to Kittle's reaction stream, and asks his thoughts specifically on Rollins VS Owens. Seth Rollins is his favorite wrestler after meeting him a couple times at Rollins' wrestling school in Iowa. The match was great, it covered a lot of ground, and KO jumping off the sign was just nuts. He would love to see more.
Booker saw Kittle is a big fan of Otis. How cool was it for Otis to get his revenge? Kittle loved it. Kittle loves seeing when a wrestler works hard and get the reward. That whole match was great, especially with Mandy Rose appearing to give Ziggler and Sonya some payback. Booker notes it is almost like Ms. Elizabeth. Yes, it was one of the best moments in Mania history. Renee agrees, it was a beautiful moment. Otis got everything he deserved and Ziggler can hit the bricks.
Renee moves things to Kittle's NFL career. The Super Bowl didn't go the way the 49ers wanted, but Kittle still got a great moment meeting The Rock. He only talked to The Rock for like 30 seconds, but his heart was racing. They were on stage together, The Rock gave him an introduction and then they bro-hugged. Kittle just couldn't believe it, but he'll always remember the slap on the bicep. Renee brings up Rob Gronkowski, a fellow TE, win the WWE 24/7 Championship. What are Kittle's feelings on that? That was awesome, too, especially when you consider Gronk's previous moment of helping Mojo Rawley in the Andre the Giant Battle Royal. Gronk as a host was very entertaining.
Booker wants Kittle to be honest. How does he really feel? Kittle won't let Booker stir it up. Kittle supports fellow Tight Ends, and Gronk letting his personality out on screen like that was great. Renee wants Booker to share his feelings. Are we having a Promo School pop quiz or something? Booker will go at Kittle. Kittle needs to get some dirt on him in this business. Kittle was being served up Gronk right there but he let it go. Booker wants Kittle to call out Gronk, and be like, "I cannot question your stats." Gronk's a three-time Super Bowl Champ, so you just can't. BUT, Kittle is a first-team all-pro with the TE receiving record! Gronk, you step to Kittle and it'll be just like Skittles! Break down and taste the rainbow, SUCKAAA! Kittle admits, Booker has him speechless.
Renee thanks Kittle for joining them on the show, and hopefully next time will be in person. Kittle thanks them for having him on, he loved it.
The panel returns to talk about the Women's Division!
Rhea Ripley VS Charlotte Flair for the NXT Women's Champion was an "absolute clinic." Paige says she loved it all. Charlotte won but Rhea stepped up to the plate. No one expects NXT talent to be on the Grandest Stage of Them All like that, but Rhea killed it. But props to Charlotte for another five star instant classic. Charlotte is the Queen and Paige is happy she's back on top. Mostly because it annoys a lot of people, but that just means Charlotte's doing her job right. Renee says Rhea and Charlotte beat the hell out of each other.
Christian's take is that from a wrestling perspective, it was the best wrestled match of the weekend. He liked the psychology of working the leg, it came into play. Fans are worried about Rhea, but Christian isn't. Rhea is an NXT talent that got to be on WrestleMania! And she did amazing against Charlotte! Rhea is young, talented, and can go back and forth with Charlotte for years to come. The WWE is on the right track with Rhea.
Moving on from The Queen, the panel discusses The Man! Becky Lynch has been on a roll, but so has Shayna Baszler. Shayna had a huge part in the Survivor Series build, and got her 1v1 shot at Becky. Becky won the highly anticipated match but by the skin of her teeth. Today is the full year anniversary of Becky Lynch becoming Raw Women's Champion! What does everyone think of that?
Booker knows the subject has been what Becky has to do, and he still says she just needs to continue living up to her nickname. She showed up and showed out again. Booker was on the fence in regards to Shayna, but she also stepped up and performed on that next level. Shayna has done big stuff and will do big stuff in the WWE, and he liked her promo after. "The thrill of victory and the agony of defeat." Shayna will have her thrill of victory on Raw soon enough, she just has to wait. Christian agrees with Booker, he wondered if Shayna was ready. But now Christian feels that no one is ready, until they get their shot. You don't know what to do about that situation until you're in it.
Christian notes Shayna definitely has something different among the Women's Division. She has a Lesnar-like intimidation factor when she walks in a room. And he also notes that Shayna lost but she wasn't beaten. It was a roll-up victory. Much like Lesnar comes back scarier after a defeat, Shayna will do that next. Renee moves things from WrestleMania Weekend to the Raw After Mania. After the break, Backstage discusses the return of a long-time favorite of theirs.
Next week, CM Punk is back!
The Voice of the Voiceless joins Backstage again, and he will be more than ready to discuss anything and everything WWE!
Raw After Mania was for returns!
Nia Jax gets a return win over Deonna Purrazzo and with a new move. It has been a full year, but after successful knee surgeries, the Irresistible Force is on Raw again! And she even borrowed one of Paige's old moves. Paige is so excited. Nia having two knee surgeries but she's back in just a year? That's quick and really great. Nia texted Paige while at the PC, and she asked permission to use the ol' RamPaige package DDT. Paige figured why not. It was bittersweet, though, because it means Paige isn't going to be using it anymore. But at the same time, Paige got chills from seeing Nia use it. It was Paige's own "passing the torch" moment there. Renee says it is great to see Nia's hard work in recovering and returning pay off.
Booker says Paige and Renee said a lot to that already. Going through rehab, putting in the work, having that mindset and the worries, it's a lot. But seeing Nia return, doing what she does "oh so well," he loves it. A big weekend for the WWE Women's Division, too. Bayley retained her SmackDown Women's Championship, yet she goes and starts talking smack! Bayley's post-Mania interview video plays now, in which she calls out Paige. "Bring her up on the titantron, go Skype her, go FaceTime her." That's how Paige communicates now, right? RIGHT?! "I don't care what match she has for me! I thought you (the interviewer) were going to be in the match with me. Where's Renee Young?" Bayley gives them all open invitations!
Renee says Bayley don't want none. What is her problem, anyway? What did they ever do? Paige gets her part, because she originally announced that huge match. But at the same time, Bayley deserves unfair situations because of her bad attitude. Booker wants Renee to ask him what he thinks, and she does. He thinks Sasha Banks is a hell of a worker. BURN! But with that, Backstage wraps it up. Be sure to be back next week for even more words of wisdom.
---
My Thoughts:
This is a really good episode to follow a really good WrestleMania Weekend. It makes so much sense having Drew McIntyre on this episode given his huge win. Obviously everyone in the WWE feels the same way we do, but they also understand the situation the world is in. I also like that McIntyre wants that same Raw After Pandemic moment I've been wanting. That Raw needs to be the biggest celebration for both his title win and the world being able to function again. George Kittle on the show was good, too. I appreciate Booker trying to start up an NFL WWE crossover in nudging Kittle towards the 24/7 Championship. Gronk needs to be part of Raw next week for a showdown with Mojo, Truth and even Riddick Moss.
I like how Booker frames things for Braun. Braun wins as a substitute, but he needs to stand tall and show he was champion material all along. Hopefully WWE already has that in place with this Friday Night SmackDown that has apparently been taped from their "secret location." However, why didn't they talk about The Big Show? Big Show was as much a part of the Raw After Mania as anyone else. Though, maybe this means Big Show's return is a weird one-off. Maybe CM Punk gets to talk about this and other stuff for his episode next week. In fact, I hope CM Punk gets to go in-depth on that Firefly Fun House. Backstage could make an entire episode of just that analysis.