News From Cook's Corner 4.27.20: Socially Distant
Hi, hello & welcome to News From Cook's Corner!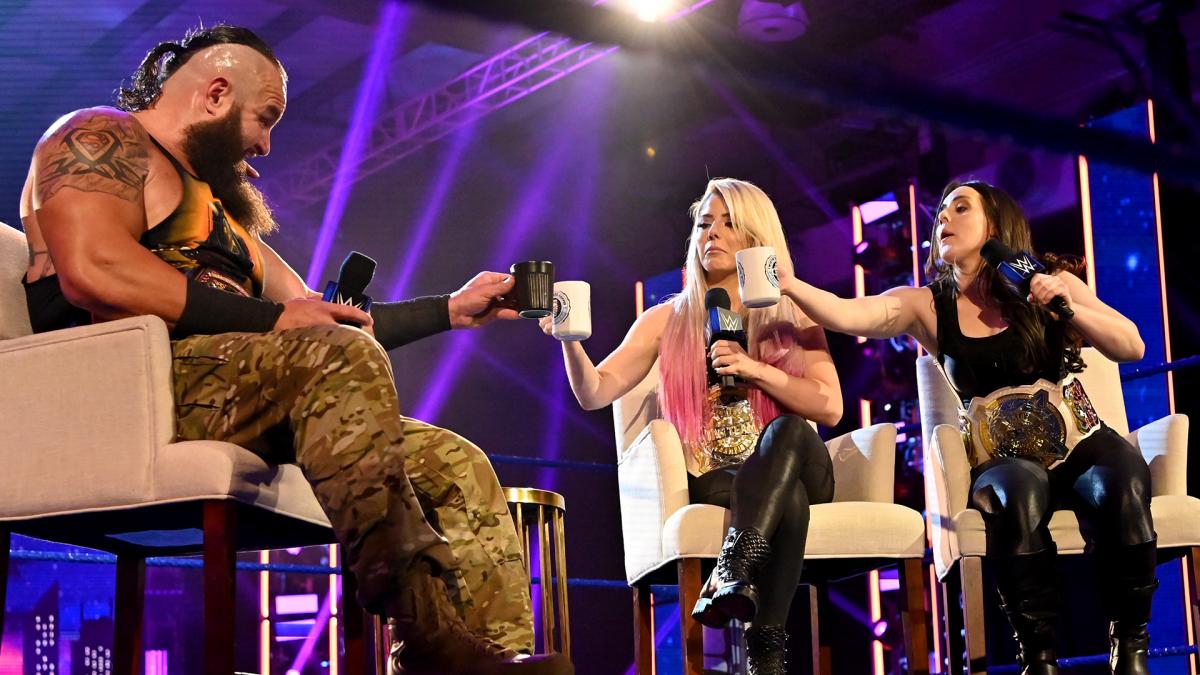 Hi, hello & welcome to News From Cook's Corner! I hope you all are staying safe and enjoying the pro wrestling at an allowable distance. The great thing about being a pro wrestling writer on the Internet is that this all comes naturally to me.
Apparently social distancing doesn't come naturally to most people in wrestling. Most of our stories this week involve the struggle for wrestling companies to conform to the new world. There's also a story about a creepy fan that we hope stays six feet away from anybody in the industry. Let's get to it.
WWE News
WWE's Orlando shows have led to a number of complaints. An unnamed WWE employee wrote a letter to the Orange County Board of Commissioners stating that WWE was forcing its employees to work, and if they spoke out there was a fear they could lose their jobs. The employee also claimed that WWE was not taking proper social distancing measures at the tapings. WWE denied all allegations, while insisting that unhappy employees could go to Human Resources without fear o-ok I can't even type the rest of that with a straight face. How many times have we heard stories of people airing their grievances within WWE and being shown the door not long afterward? Or being shown worse?
The social distancing allegations were backed up by Spectrum 13 News reporter Stephanie Coueignoux's conversation with two local business owners. One was concerned, the other was fine with it as long as the wrestlers & other WWE employees stayed away from him. I'm pretty much in the same boat with the second guy at this point. We're not going to be able to prevent all instances of people getting together, whether it's at a job site, or on a beach, or at a protest over the lack of ability to sit in the McDonald's dining room. As long as these people stay away from me, I'm ok. I may have a different opinion if I had a larger family, but just speaking on my behalf, I'm ok if y'all wanna get together far, far away from me. Especially if you're one of those protesters with Nazi signs or rebel flags, in which case you can stay far, far away from me whether there's a pandemic or not.
Is it any surprise that pro wrestling & social distancing don't go together? We're talking about a line of work where one of the unwritten rules is that you have to shake hands with everybody on the crew or people think you're a jerk. Not to mention all the sweaty grappling and touching within confined spaces, or people yelling into microphones while very close to each other. These people are not accustomed to the term "personal space". It's going to take more than one global pandemic for some of them to get the message.
Triple H celebrated his 25th anniversary with WWE this past week with a long segment on SmackDown, a tweet from our President & a 411 column from me.  The ol' Trifecta, as the kids say. Unfortunately for The Game, his performance in the segment was overshadowed by Road Dogg looking like Santa Claus and Vince McMahon doing…whatever Vince McMahon does at this point.
So here's the part I don't get about how this Vince stuff is being reported. Some seem to think that this could be a new character for the Old Man. The WrestleVotes Twitter account's source seems to think so as well.
Oh boy…. LOL pic.twitter.com/2YwLd2VZN1

— WrestleVotes (@WrestleVotes) April 25, 2020
To me, that segment seemed like Triple H, Shawn Michaels & Vince McMahon trying to entertain themselves. And entertain the fans too, under the assumption that their fans have the same sense of humor. That's kinda how DX started to begin with, HHH & HBK doing things they thought were funny. Not everybody was going to like it, but enough people would to make it worthwhile. Or at least to justify it going twenty minutes.
Vince isn't coming back to TV full-time. Any assumptions about future booking plans based off of that segment are a waste of time. They were just having fun for a one-off segment. Don't make it any more than what it was, even if your dream in life is for crazy old Vince to rip all of these bad ideas that were actually his.
AEW News
The Observer of Wrestling reported that AEW will resume taping episodes of Dynamite on May 6th. With Florida allowing pro wrestling companies as essential business, AEW can tape all the no-crowd shows they like at Daily's Place in Jacksonville. We don't know whether the tapings will be weekly or bi-weekly, or if the episodes will air live.
People will say that AEW should face the same type of scrutiny that WWE is for continuing their taping schedule. People aren't wrong. But AEW will get off relatively easy for three reasons:
1. It's easier to bash Vince & WWE.
2. The first group to do something questionable always gets more heat than the people following in their footsteps.
3. Some folks are just fans and that's what fans do.
From a purely selfish point of view, I'm ok with all of this. More stuff for me to watch, more stuff for me to write about. If I was still with Predlines, a website dedicated to the NHL's Nashville Predators, I would have no idea what to write about right now. Wrestling doing things, even if it's very questionable to act like wrestling feds are essential business, is good for me.
However, I think AEW has missed an opportunity here. In a time where leadership was needed, the AEW brass let Vince McMahon & WWE provide it. The McMahons paid the government off, AEW will quietly follow in their footsteps while WWE gets the heat.
I mean, if nothing else, go to another state. Impact taped some stuff at a studio in Tennessee. Staying at QT Marshall's gym in Georgia would have worked. Instead, AEW runs Florida because Big Daddy Vince cleared the way. Its not a good look.
Its also why WWE will run the wrestling business until further notice. Maybe AEW is happy with that arrangement. The AEW fans will have to move the goal posts in a little bit. If nothing else, I see why Chris Jericho is out there sending Triple H Happy 25th Anniversary videos. Le Champion knows what's up. Gotta keep the man happy.
Of course, they might just want to tape shows so we have more interesting things to talk about than Kenny Omega taking too long to defeat an enhancement talent. I was a bit surprised people made a big deal of that one, but I guess people gotta talk about something. I thought the match was a little long, but Kenny's character has always been more about the show than just wrecking dudes.
Other Wrestling News
Mike Bennett killed one of my favorite rumors of the past few years. He told the folks at at Fightful that WWE was aware that he & Maria were going to have another kid when they signed their most recent contract. As much as I liked the idea of the cuck storyline being a punishment for Mike and/or Maria, it always seemed more likely that somebody thought that angle was actually a good idea that would get the people involved over. I'm sure some folks online argued it would too. It didn't, but there isn't a writer out there batting 1.000.
The NFL Draft went down this past weekend, and the main connection to pro wrestling didn't take place until after the draft was over. The Baltimore Ravens signed Bronson Rechsteiner, a fullback from Kennesaw State. Bronson happens to be the son of the Dogfaced Gremlin, Rick Steiner. Uncle Scotty was pretty happy about the development.
#RavensFlock 141 2/3% chance this was a great pick!!! Congrats @BronsonSteiner @Ravens pic.twitter.com/yNvyUdtdXN

— Big Poppa Pump (@ScottSteiner) April 26, 2020
Indeed, the numbers don't lie, and it spells disaster for the AFC North. My Bengals just can't get a break. If the football thing doesn't work out though, we could always use another Steiner in pro wrestling. Just a thought.
Let's close with a note to pro wrestling fans.
A Note To Pro Wrestling Fans
It's never been easier to get in touch with our favorite professional wrestlers. Twitter, Facebook, Instagram, TikTok, FlimFlam and I bet you can find some of them on Tinder if you look hard enough. There needs to be a place where the line is drawn. Wrestlers need to have some amount of privacy from their fans.
(And as a fan that has written a lot of bad things about wrestlers over the years, I like having some privacy from wrestlers.)
Some of y'all don't know where that line is. I'd say "where the wrestlers live" is well past that line, but maybe people in Germany see things differently.
That creepy fan from Germany who finds everyone's home addresses and sends them photos to autograph found my new apartment address in Baltimore…

Dude HAS to know how creepy this is, right? "Tobias", hope you see this!

— Trisha Parker (@JordynneGrace) April 26, 2020
This guy's first mistake: involving Jordynne Grace in his weird shenanigans. This is somebody that has published three volumes of creepy Twitter direct messages. THREE!!! She's not going to keep your insanity a secret due to embarrassment. It's getting put out there.
Heck, we found out in the comments that this guy had sent stuff to wrestlers' parents before. Others might keep it quiet, but Jordynne's putting your goofy butt on blast.
This guy's second mistake: looking up wrestlers' and wrestlers' parents' home addresses. I mean, who does that? Stalkers! Do you want to be a stalker? I hope not! So please, if you're reading this and feel the need to chat up your favorite wrestlers, keep it on social media.
And honestly I'd just avoid Jordynne Grace all together because that shit's going to be posted somewhere.
Plugs
I ranked the Top 5 Smelliest Wrestlers. This happened because somebody was telling Greg DeMarco that Jinder Mahal was a stinky wrestler. I do take requests on these things.
I discussed my love for enhancement talent. Don't worry, I'm not sending Anna Jay anything creepy. I've grown past that stage of my life.
The Velveteen Dream drama hasn't seen any update since this column, and my opinion remains the same.
And don't forget all the other Chairshot stuff too. Mitchell kills it on the live coverage, there's all kinds of cool podcasts & wonderful writers doing their thing here. It's good times.
Thanks for reading, and make sure you don't ingest any disinfectant in the next seven days.