WrestleMania 21: The Best 4 Segment Stretch In WWE History?
WrestleMania 21 was immediately one to remember, but I remember it for the best 4 segment stretch in WWE history.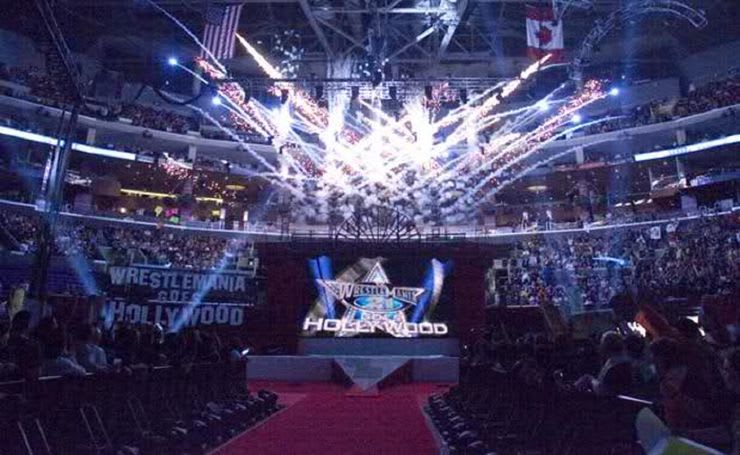 WrestleMania 21 was immediately one to remember, but I remember it for the best 4 segment stretch in WWE history.
There's not a ton of new content to talk about right now (but don't worry, I've got some thoughts on this week's NXT featuring Johnny Gargano vs. Tommaso Ciampa that you will love to see), but WWE has more content on the WWE Network than we can ever fully watch. One that you've almost assuredly seen before is WrestleMania 21.
WrestleMania 21 was a night when "WrestleMania Goes Hollywood." The show emanated from the Staples Center in Los Angeles, and is often remembered for the night John Cena and Batista each captured their first world titles (over JBL and Triple H, respectively), along with the first ever Money In The Bank Ladder Match. I will always remember it for the greatest match I've ever seen: Shawn Michaels vs. Kurt Angle.
But above all else, I will always believe that there is no four segment stretch put on by WWE better than the first four segments of this event. Allow me to elaborate.
Opening Match: Eddie Guerrero vs. Rey Mysterio
WrestleMania 21 kicked off with an outstanding battle between the then-World Tag Team Champions, Eddie Guerrero and Rey Mysterio. Guerrero was trying to prove to himself that he was still a viable singles competitor, having successfully defended the WWE Championship over Kurt Angle at WrestleMania 20 one year prior.
Eddie would ultimately fail to gain the victory he so desperately sought, but not until after he and Rey put on a great opening match at WrestleMania 21, one I called the best WrestleMania opener for the next 9 years until it was supplanted by Daniel Bryan and Triple H at WrestleMania 30.
Money In The Bank Ladder Match: Chris Jericho vs. Christian vs. Shelton Benjamin vs. Chris Benoit vs. Kane
It's rare that you can do something for the first time in wrestling, even back in 2005. But the second match (segment) of WrestleMania 21 was indeed the first ever Money In The Bank Ladder Match. The briefcase and cash-in stipulation was initially just the motivation to add a ladder match to the WrestleMania card. In hindsight, it could have just been for Shelton Benjamin's Intercontinental Championship, but it's better that it wasn't. Fifteen years later, Money In The Bank is now its own pay-per-view, and the cash-in provides some of the most anticipated moments of the year, year in and year out.
This match was won by Edge, who could probably proclaim himself King Of The Ladder Matches. But it's also a breakout performance for Shelton Benjamin, who my Chairshot Radio co-host Patrick O'Dowd would ultimately dub "The Gold Standard Of Not Killing Himself."
Hulk Hogan Rescues Eugene from Muhammad Hassan and Daivari
Look, I know we all love to hate Hulk Hogan. But this is 2005, the year Hulk Hogan was inducted into the WWE Hall Of Fame, and Eugene was one of the most beloved characters in the entire company.
Eugene kicked things off by entering the ring unannounced and cutting a promo about WrestleMania 3 and the midgets (called that at the time) would band together and attack King Kong Bundy. He would be interrupted by Muhammad Hussan & Shawn Daivari, who would eventually attack the lovable character.
Hulk Hogan would make the save, eventually gaining the advantage and remove both Hassan & Daivari from the situation, while still getting in all those poses to make the WrestleMania 21 crowd happy.
Legend vs. Legend Killer: The Undertaker vs. Randy Orton
The fourth (and last) installment of this stretch was the 13th WrestleMania match for the show of shows' most legendary performer: The Undertaker. Randy Orton was coming off of his short-lived world title run from SummerSlam 2004, and slotted himself into the first of many "Randy Orton Match" spots at WrestleMania. He's had early card matches with the likes of Kane, Cody Rhodes & Ted Dibiase, CM Punk, Seth Rollins, AJ Styles, and more. Had WrestleMania 36 been a one night affair, it's possible his showdown with Edge would have occupied the "Randy Orton Match" spot, but I bet it goes on later than that.
The build to this match wasn't the longest, as it started in early March when Orton laid down the challenge to the Deadman at the advice of Superstar Billy Graham. The build was still great, and the match delivered in a big way as well. Despite coming after his first world title win, in my eyes this is the match that "made" Randy Orton.
We Almost Had Five For WrestleMania 21
Man, this article was almost the Best Five Segment Stretch In WWE History, but Trish Stratus vs. Christy Hemme takes place before Shawn Michaels vs. Kurt Angle, which was followed by Piper's Pit with Carlito and of course "Stone Cold" Steve Austin.
So I guess it really could have been a six-segment stretch!
I could probably sneak in a fifth by counting Lilian Garcia's rendition of America The Beautiful. Lilian, a Spaniard, provided one of the best versions of this song in WrestleMania history. I was surprised they didn't use any part of it, or all of it, for one of the nights of WrestleMania 36.
WrestleMania 21 provided us with the Best 4 Segment Stretch In WWE History. Agree? Disagree? Comment and let me know!
King's WrestleMania Rewind: Charlotte Flair vs. Asuka from WrestleMania 34
Chris king is back with one of the most underrated matches in WrestleMania history–Charlotte Flair vs. Asuka!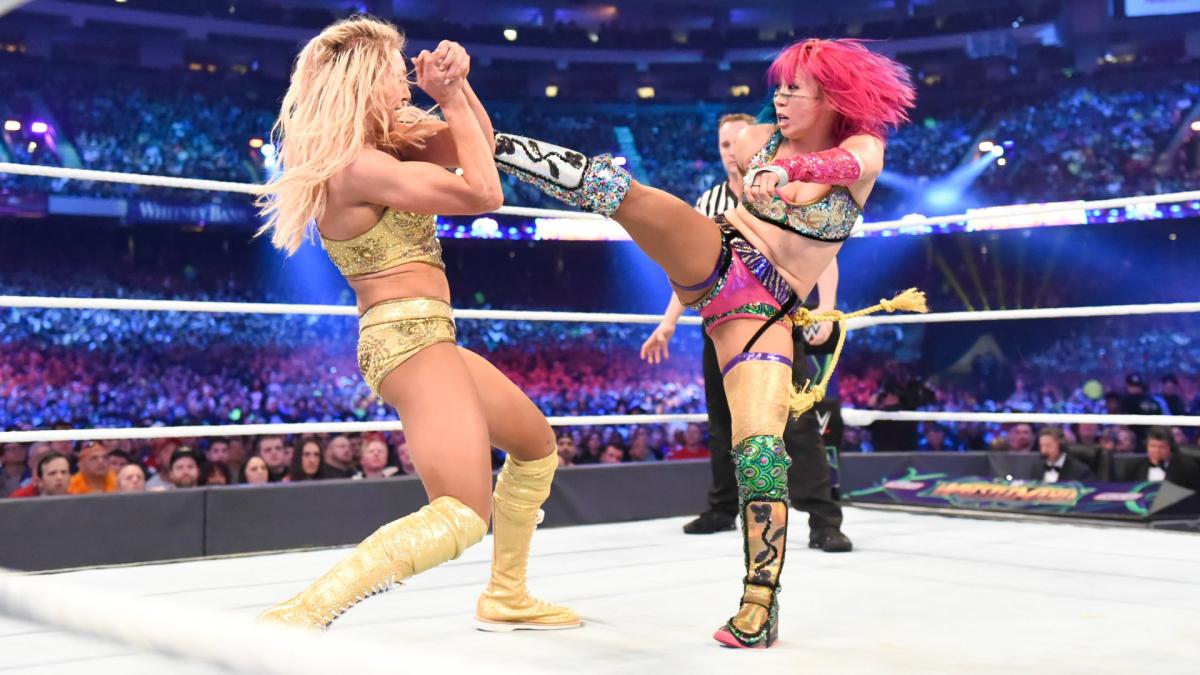 Chris king is back with one of the most underrated matches in WrestleMania history–Charlotte Flair vs. Asuka!
We look back at Charlotte Flair vs. Asuka at WWE WrestleMania 34. 'The Empress of Tomorrow' put her unprecedented and historic undefeated streak of 914 days on the line against 'The Queen's' SmackDown Women's Championship.
For years, this was considered a dream match while Asuka dominated the roster in NXT, while Flair won numerous championships on the main roster on both Raw and SmackDown. The Empress made her long-awaited debut on the September 11th episode of Raw and began to tear through the competition.
Asuka outlasted all twenty-nine other women in the historic first-ever Women's Royal Rumble match to challenge for the title of her choosing. At Fastlane, she made her choice.
The WWE Universe was so excited for this match myself included. Both superstars delivered a fantastic performance on the Grandest Stage of Them All executing counter after counter. Asuka showed off some nasty-looking kicks to her opponent, and Flair hit a thunderous Spanish Fly off the top rope. Flair was seconds away from defeat at the hands of The Empress but she locked in Figure Eight and Asuka was forced to tap out.
I can't even begin to explain how shocked I was at this outcome, as nearly everyone expected The Empress to continue her undefeated streak and walk away with the women's title. This controversial decision was the downfall of Asuka's momentum. She would ultimately win the SmackDown Women's Championship at the 2018 TLC pay-per-view in the triple-threat ladder match.
Fast forward to this year when Asuka has recently returned with her Japanese-inspired persona Kana. Kana is dangerous and ruthless and is heading into a championship with Bianca Belair at WrestleMania 39. The Empress has regained all her momentum and is highly favored to walk away with the Raw Women's Championship. Let's hope that Asuka and Belair can tear the house down and deliver an A+ grade match both women are fully capable of.
King: Dominik Mysterio Needs To Do This At WrestleMania
Chris King is here with what WWE should do with Dominik Mysterio at WrestleMania in his long-awaited match against his father Rey Mysterio Jr.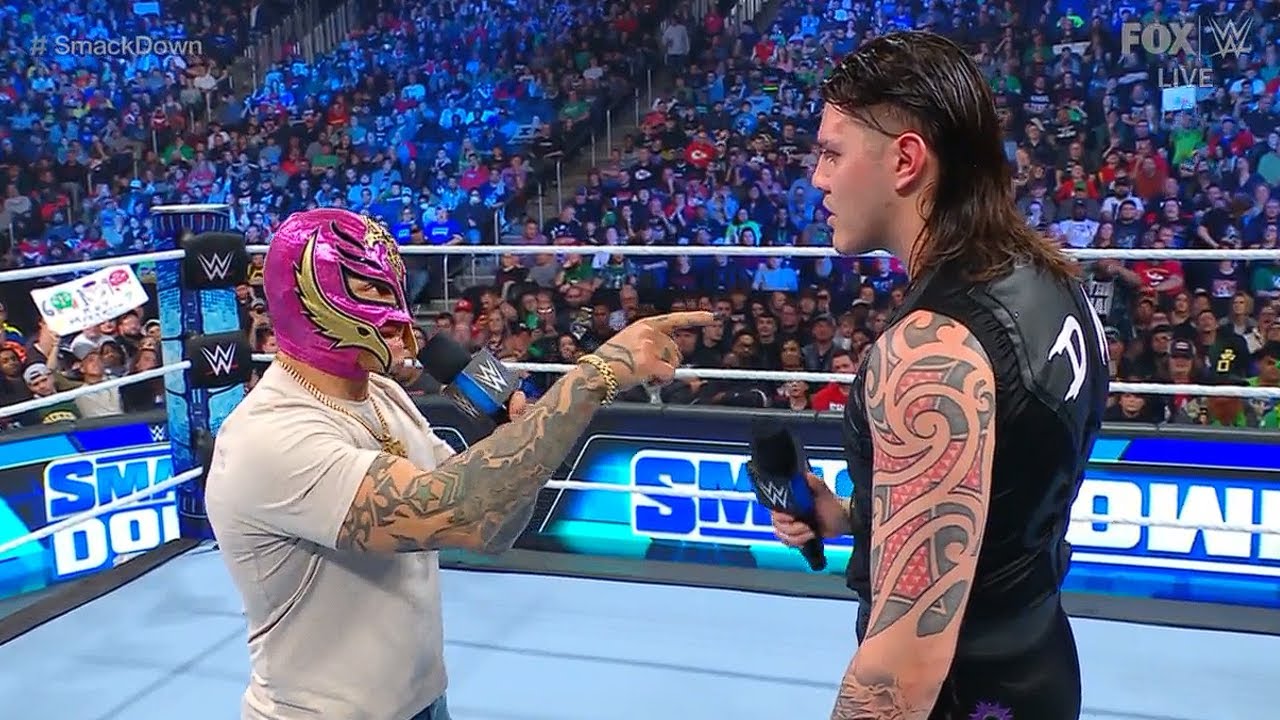 Chris King is here with what WWE should do with Dominik Mysterio at WrestleMania in his long-awaited match against his father Rey Mysterio Jr. 
On this week's episode of Friday Night SmackDown, Rey Mysterio finally snapped and beat some sense into his disrespectful punk-ass kid Dominik. The member of the Judgement Day came out to push his father again for a match on the Grandest Stage of Them All, this time with his mother and sister at ringside. The ungrateful punk told his mom to "Shut Up," as a father even I wanted to jump through the screen and whoop his ass.
Back in October of last year, Mysterio made the emotional decision to possibly quit the company but, instead, Triple H persuaded the Lucha libre superstar to move over to SmackDown to avoid his son. This came after Dominik shockingly turned on his father at Clash at the Castle. Mysterio did everything he could to refuse his despicable son's challenge for Mania but, a man can only be pushed so far. Mysterio will be inducted into the 2023 WWE Hall of Fame and I expect Dominik to embarrass his father during his speech to further this personal feud.
Yes, the WWE Universe hates Dominik and wants to see him get the ever-loving crap kicked out of him but, this feud is missing a special ingredient to capitalize on the biggest heat possible. Throughout this feud, Dominik has made mention of the legendary Eddie Guerrero on several occasions going back to the "iconic" 2005 feud.
I know WWE might not want to go this route but, Dominik MUST come out to Eddie Guerrero's theme at Mania. The disrespectful punk needs to come out in a lowrider to garner nuclear heat. It doesn't matter if The Judgement Day comes out and causes interference for Dominik to get the win, all that matters is that both superstars get the biggest payoff of this nearly year-long feud. Just imagine the Roman Reigns heat after he defeated The Undertaker and multiply that by ten. Dominik portrays the perfect heel and he truly is the missing ingredient that The Judgement Day needed to grow and evolve into a top faction.