Wrestling News: WWE's Massive Wave of Releases
WHO just got cut?!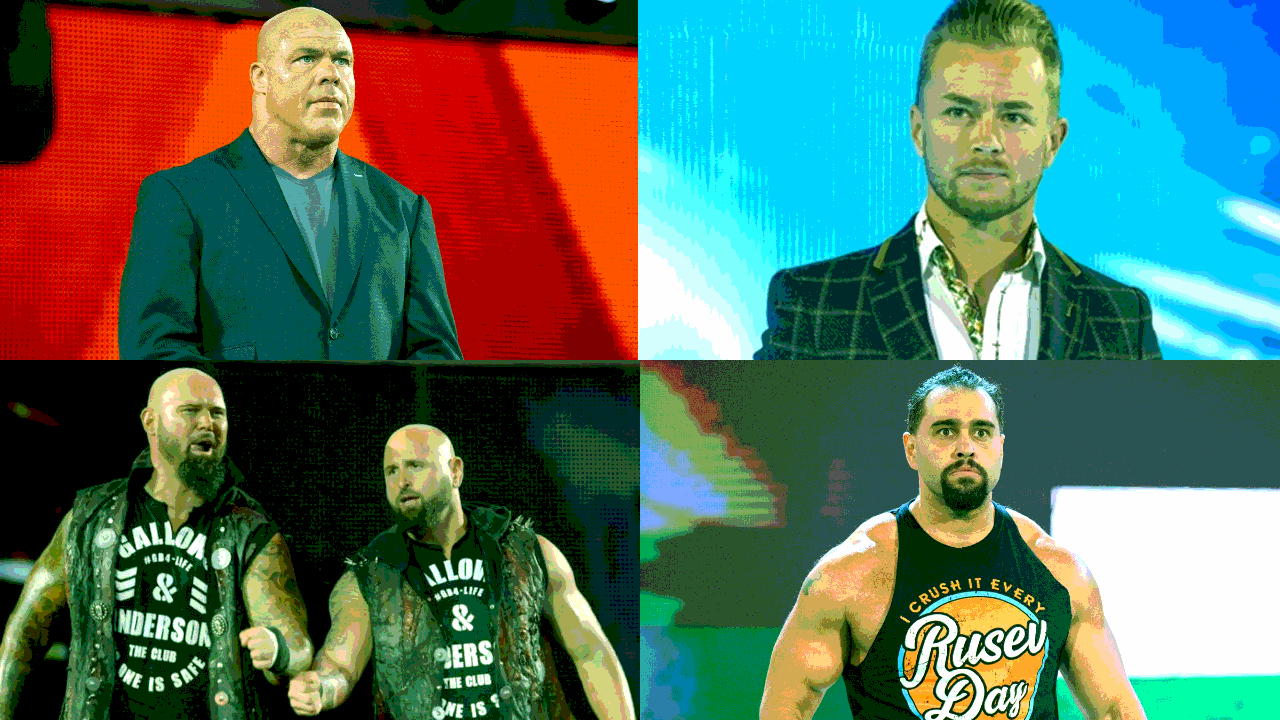 WWE releases superstar after superstar!
It started simply enough at about 1:45 PM Eastern time. The WWE released an article stating releases from their roster. A few made sense, a few were surprising. But then shockingly, and rather sporadically, more and more releases were announced! You had to keep refreshing the article the WWE posted to get the latest chunk of names added to the list! As it stands right now, as of this article being created, the WWE has this statement.
WWE has come to terms on the release of Kurt Angle, Rusev (Miroslav Barnyashev), Drake Maverick (James Curtin), Zack Ryder (Matthew Cardona), Curt Hawkins (Brian Myers), Karl Anderson (Chad Allegra), Luke Gallows (Drew Hankinson), Heath Slater (Heath Miller), Eric Young (Jeremy Fritz), Rowan (Joseph Ruud), Sarah Logan (Sarah Rowe), No Way Jose (Levis Valenzuela), Mike Chioda, Mike Kanellis (Mike Bennett), Maria Kanellis, EC3 (Michael Hutter), Aiden English (Matthew Rehwoldt), Lio Rush (Lionel Green), Primo (Edwin Colon) and Epico (Orlando Colon Nieves). We wish them all the best in their future endeavors
Almost twenty wrestlers have been cleared out of the mid to lower card. According to sources, such as Wrestling Inc, these come about as part of a conference call held between Vince McMahon and other WWE employees. Mr. McMahon announced during this call that there would be furloughs for staff, but permanent cuts for onscreen talent, such as the names mentioned above.
Notably is Kurt Angle, who had retired from in-ring competition and was looking to make the move to backstage producer. Now it seems that isn't the case, and Angle tweeted a response to the news.
I wanted 2 say thank you to the WWE for the time I spent there.I made many new friends and had the opportunity to work with so many talented people. To the Superstars, continue to entertain the WWE Universe as well as you possibly can. They're the best fans in the world. #itstrue

— Kurt Angle (@RealKurtAngle) April 15, 2020
Another is Drake Maverick, who was going to be in the Interim NXT Cruiserweight Championship Tournament set to start tonight on NXT on USA Network. Assuming WWE really is live tonight with NXT, they can easily sub someone else in Maverick's place, such as a returning Raul Mendoza or Joaquin Wilde, moving their "abduction by luchadors" story forward. But for Maverick himself, his video response is much more heart-wrenching.
My immediate thoughts.@WWE @WWENXT #WWE #NXT @TripleH @ShawnMichaels #Cruiserweight pic.twitter.com/Afw58V7eo1

— Drake Maverick (@WWEMaverick) April 15, 2020
PWInsider has also confirmed nine producers are part of the wave.
WWE Producers Billy Kidman, Mike Rotunda, Dave Finlay, Pat Buck, Shawn Daivari, Scott Armstrong, Sarah Stock, Shane Helms and Lance Storm have either been furloughed by or departed WWE as part of today's cutbacks.
UPDATE:
Two names in the NXT roster have surfaced, but have only been confirmed by their own social medias. Deonna Purrazzo and Aleksandar Jaksic each put out Tweets today publicly announcing being part of these cuts.
The people closest to me know this is something I've been struggling with wanting for the better part of the last year.

Happy to say I gave this journey my best and MORE excited for the future! ❤️

— The Virtuosa (@DeonnaPurrazzo) April 15, 2020
Sometimes Life Does Not Seem Real.
& No Matter How Hard You Work,
It Sometimes Is Not Enough.

🤍 MY WWE FAMILY 💙

"Until one of our lights is forever extinguished, our dance will never end."

GOODBYE, @WWENXT.

— LONELY GOD (@WWEAleksandar) April 15, 2020
Deonna Purrazzo had really only just returned to the WWE and had only been utilized in "enhancement" capacities, i.e. being a jobber to the stars as the WWE Women's Division needed numbers. Aleksander had barely begun a run in NXT, namely a cameo during an Undisputed Era backstage promo. Since putting out that Tweet, the news has clearly spread, and Aleksander put out a tweet moments ago in response.
Thank You To Every1,
Who Reached Out.
I♥️YOU ALL!
~
When I arrived at NXT I said I was going to define this business.
I was going to go down as 1 of the Greatest Of All Time!
No stone was left unturned in my 7 months under contract.
I am 24 y/o.
MY STORY IS YET TO UNFOLD.
~
Z.V.

— LONELY GOD (@WWEAleksandar) April 15, 2020
UPDATE 2:
More names have been confirmed. Jerry Soto, MJ Jenkins and Josiah Williams have been released over the last few hours. Soto was on WWE's Spanish broadcast team, Jenkins was a Mae Young Classic competitor with rare screen time in the NXT Women's Division, and Williams was the newest onscreen correspondent after WWE discovered him through his Wrestle & Flow YouTube channel.
UPDATE 3:
Firstly, Norman Smiley being cut was misreported by other sources. Smiley is STILL with the WWE Performance Center. In fact, it was Kassius Ohno who exposed a fake Norman Smiley Twitter that made it seem Smiley was gone.
This is a fake account. How dare you?! https://t.co/jgP9YGmr94

— WRESTLING GENIUS (KASH-US) (@KassiusOhno) April 15, 2020
Names that are confirmed by 411mania include: Kendo Kashin, the former IWGP Junior Heavyweight Champion Kendo Kashin who signed with WWE last August 2019 as a coach; and two more PC coaches, Serena Deeb and Chris Guy, aka Ace Steel.
It is obvious to say that the world is going through hard times, and the WWE isn't immune despite Florida naming them "an essential business." Of course, that news has its own controversy behind it. But for now, it seems these cuts and more that are happening behind the scenes are indicative of the financial losses WWE has suffered during this "Empty Arena Era," as I myself have coined it. We can only hope this, too, shall pass, and that along with the world, the World Wrestling Entertainment company can recover and bring some, if not all, of these great names back. Or at least, the names that want to return after all this blows over. Follow us here at The Chairshot to keep up with the latest on this story.