Adam's NWA Carnyland Review Episode 1
What is Carnyland? Who is Carnyland? Right Field? Oh…let's just see what NWA came up with.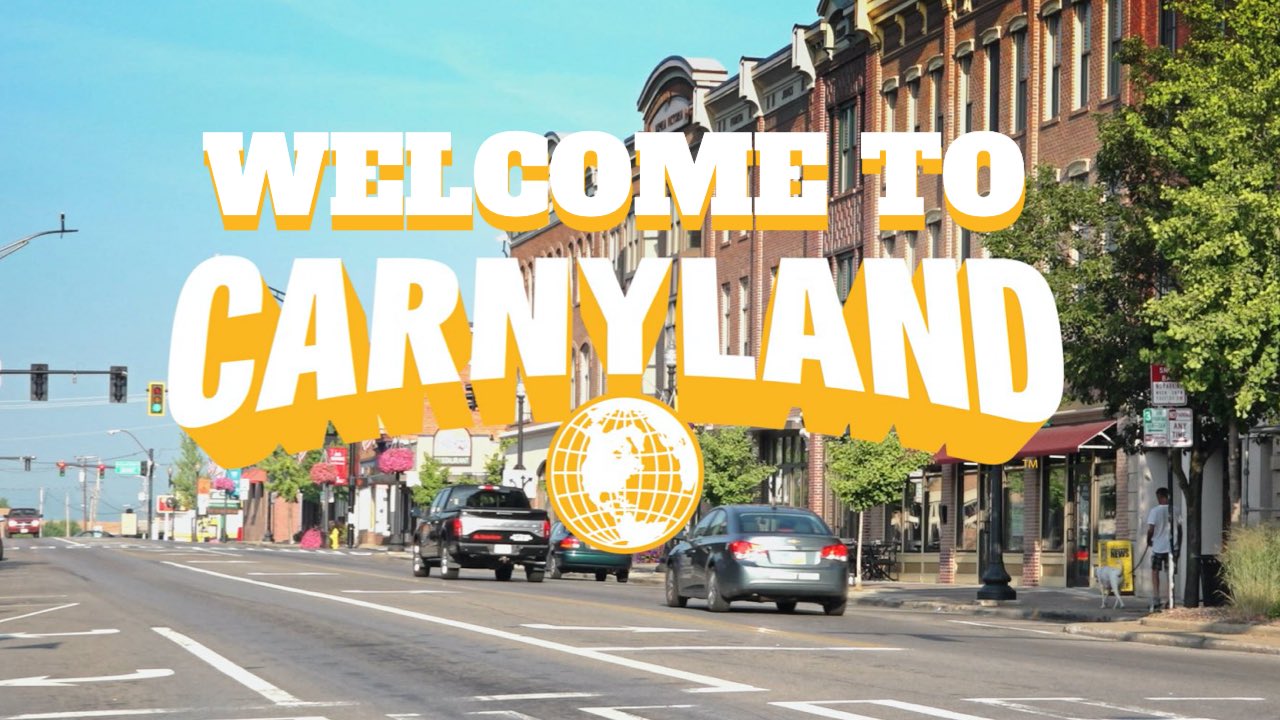 As COVID-19 still has majority of sports on shut down with some resurrecting in the good ol' USA with limitations, the NWA brings out their newest show, Carnyland. What exactly is Carnyland about? …Erm. Well… I'm not sure. William Corgan didn't give us much insight on it either other than it's coming out today.
So let's delve into this rabbit hole, watch this pilot episode and maybe we'll figure out what Carnyland is all about.
Review
Opens up with Eddie Kingston giving a heart felt speech about all competitors missing wrestling and making their names in the company, saying how the NWA misses entertaining everyone in these troubling times and starts the show.
Joe Galli shows up and is going to show us around Carnyland but, Stu Bennett appears… well his voice appears and is our host of the show, canning Galli and transitioning to the World Champion's story. Nick goes about his story on how this man "Carny Chris" and how this man gets a hotel for the National Treasure but ultimately, screws him over and gets him detained after a show. Damn you Carny Chris… ruining Nick Aldis
Next, is Allisin Kay giving the fundamentals of a very cliche heel promo for Carnyland College.
After Joe Galli has an existential crisis about Stu being able to blink Joe in and out of reality how he sees fit, we are introduced to the Eli Drake Show where he does whatever he wants, because he's Eli Drake and he's mouth is his paycheck and everyone wants to listen. Once Eli disappears into his… portal… We are introduced to Professor Tim Storm telling us the Carnyland's Hall of Famer, Benjamin Franklin and the history of him and a short lesson of fandom speaking Carny by David Marquez.
Nick Aldis comes on with an announcement that he will have his new show on Mondays called "What's Causing Aldis", a show with friends and colleges discussing the business and what goes on, past and present. Joe Galli tells us that there will be a discussion with the Executive Producers of NWA before Stu interrupts again and brings us to Mongrovia Unmasked with Aron Stevens. The current Television Champion, Zicky Dice is giving ladies a shot with Entice Zicky Dice with his lovely guess, Fiona about what she should do when on a date with Zicky Dice.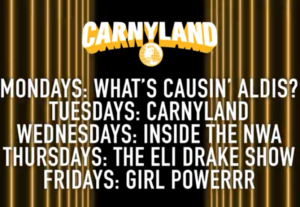 Final Thoughts
It's very… special. So everyone has a their own show, segments and know how for every day which means you'll see my name a lot more because much like what Carnyland was today, it's something to do. All in all, granted no wrestling, this was very entertaining. Goofy as ever, yes but, very well executed, looks like a lot of fun and will gladly go over what's going on with each upcoming shows. I guess instead of seeing what NWA will bring out next week, I will see what they have in store tomorrow.
I just hope if he thinks I'm doing a bad job, Stu Bennett doesn't blink me out of reality too…