Adam's NWA Super Powerrr Results & Review 5/12/20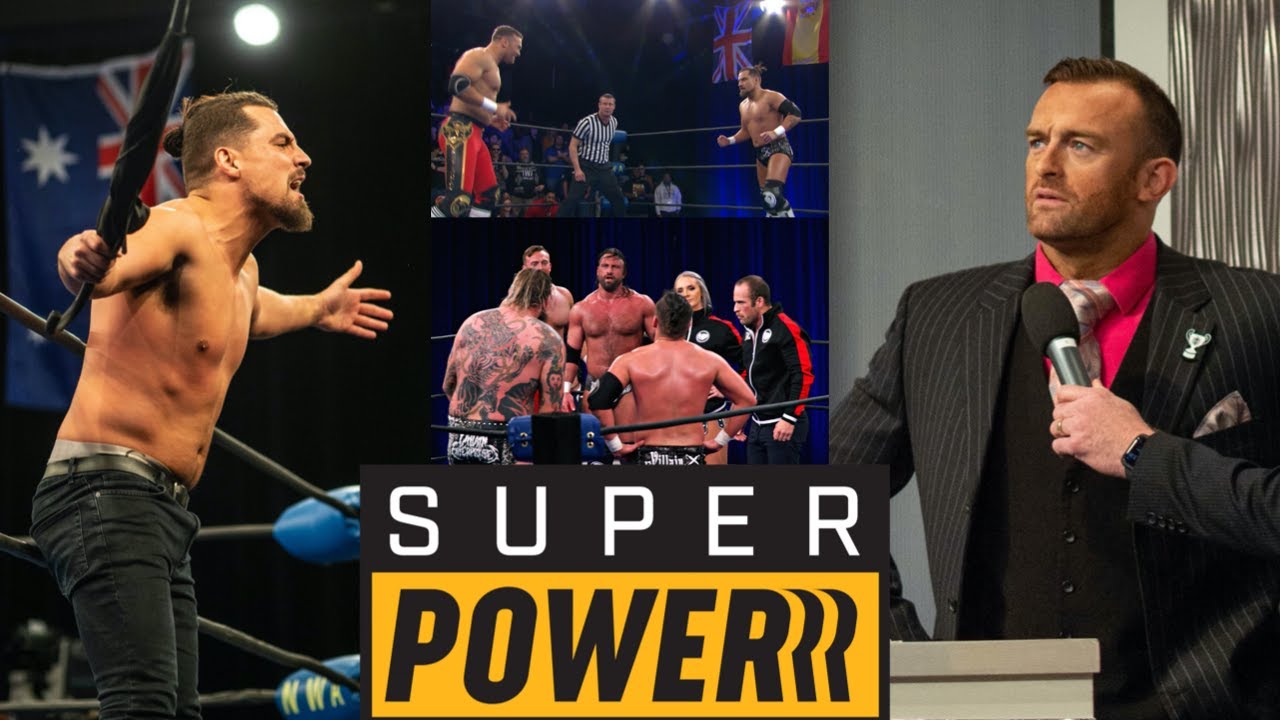 NWA Powerrr is back! …Kind of. This episode is the "lost episode" season three finale leading up to the postponed 2020 Crockett Cup. Strictly Business and Villain Enterprises will go faced to face in this episode and much more. We will finally see what was to happen between "The National Treasure", the NWA World Heavyweight Champion, Nick Aldis and his friend, "The Villain" Marty Scrull. At the end of the show, Billy Corgan will address what will happen moving forward with the NWA while COVID-19 is still running wild.
With a very action-packed Super Powerrr on the horizon, let's get the show started.
This is what you came for… and NOBODY delivers like #EliDrake
.#NWAPowerrr pic.twitter.com/tcesgB7hgI

— Eli Drake (@TheEliDrake) May 12, 2020
Results:
Madi Max vs Camille: Camille wins via Spear- * 3/4
Rock n Roll Express vs Aron Stevens & Question Mark: Rock n Roll Express win via backslide- ** 1/4
Tim Storm vs Jax Dane in a NoDQ Match: Tim Storm wins via the Perfect Storm- ***
Marti Belle vs Tasha Steelz vs Ashley Vox: Tasha Steelz wins via Codebreaker- ** 1/2
Thom Lattimer & Nick Aldis vs Brody King & Marty Scrull: Strictly Business wins via Low Blow- ** 3/4
Review:
Dave Marquez introduces Marty Scrull and Brody King, asking The Villain what's going through his mind and makes it short by saying when you mess with him, you mess with Villain Enterprises. Brody King cuts a short promo saying that Villain Enterprises is going to reign victorious.
Madi Max vs Camille
The first match is the showing of Camille's first NWA Match and her interview from the Lost Episode aired two weeks ago. Madi Max tries to get any footing throughout the match but, the strength of Camille is too much for the challenger. After a devastating Spear, it was the beginning of the end for Madi Max.
Sean Mooney is next to the podium and brings out The Rock n Roll Express about their chances at the Crockett Cup, a tournament they have failed to win since 1985. They think this year is theirs as the go to the ring.
Rock n Roll Express vs Aron Stevens & Question Mark
Ricky Morton and The Question Mark start things and after The Question Mark gets a palm strike off, Stevens gets the tag, gets knocked down and instantly tags back out. Question Mark takes over, taking it to the legend and Stevens comes back in. Thinking Morton is weakened, Stevens gets arm dragged, taken to the opposite corner and popped around into a flop. Stevens decides to take a cheap shot in the corner after a short fall. Trevor Murdoch comes out to call the shenanigans of Stevens but, they pause the match to introduce their own insurance policy in… Question Mark Jr.? After more foolery happens on the outside with Murdoch and Junior, Ricky Morton rolls up Stevens for the win.
Melina comes out to explain why she should face Thunder Rosa for the NWA Women's Championship. Melina says that she's a Legend, she still can move in the ring and can defeat Rosa fairly in a normal match. After that, she bashes Allysin Kay for losing against Thunder Rosa twice for the championship. Allysin gets her time on the microphone. Allysin give credit to Thunder Rosa from their match at Hard Times but, blames Melina and Marti Belle from getting involved with the rematch. Finally, Thunder Rosa comes out and sets things straight with the two of them. Rosa makes it clear that she beat Allysin twice because Thunder Rosa told Melina to leave but, Melina couldn't handle that Rosa was the champion and wouldn't lay down for anyone. She says that she can defeat both of them regardless and the NWA Women's Championship will be defended in a Triple Threat.
Tim Storm vs Jax Dane in a NoDQ Match
Jax Dane comes to the ring first and targets Tim Storm from the opening bell at the entrance. Jax taking it to Storm inside of the ring but, Tim Storm has no quit and fights back on the outside. Both men go back and forth, taking it to the crowd as they trade blows with each other until Jax Dane gets the upper hand, having Tim Storm fall down the steps slowly through the crowd. Still on the outside, there is no give between the two, back and forth with chops and punches but, Jax Dane delivers a Belly to Belly on the outside to Tim Storm. Now with the upper hand, Jax Dane gets a steel chair and sets it up in the corner. Tim Storm gets up, deals his Big Boot to Jax Dane but, Dane pops back up and lands his finisher. Tim Storm pops up too, woozy however and walks around the chair, dodging the attack from Jax Dane. Dane loopy himself after hitting the chair and getting hit with the Perfect Storm for the win.
Aftermath: As the rule stated, the man who impersonated Mama Storm has to face Tim Storm since he beat Jax Dane. He puts the Mama Storm costume back on and tries to plead with Tim Storm but, Tim's not having it and gives him two Perfect Storms.
May Valentine has her blog about how she feels about Royce Issacs attacking Sal Rinauro who is injured and it's bugging her and will talk to Royce about this.
Marti Belle vs Tasha Steelz vs Ashley Vox
Marti Belle is having none of this as Vox and Steelz go at it before Marti takes it to both women to take an early advantage and goes for quick pins. As Ashley Vox puts some offense in fast against Marti Belle and Tasha but after all women go back and forth, Tasha Steelz has the final word and gets the victory after putting some Impact on the Women's Division.
Eli Drake, James Storm and Eddie Kingston come out for an interview and is feeling disrespected about the situation with The Bouncers. Getting the help from the current NWA Tag Champions, James Storm keeps it serious and says that the three of them are NWA and will not take the crap from The Bouncers and The Pope. Eli Drake talks to ya… I mean us… and says they will take it to The Bouncers and bounce them back to Ring of Honor and will defend the Tag Team Champions against anybody.
Thom Lattimer & Nick Aldis vs Brody King & Marty Scrull
Scrull and Aldis look to start the match but, Aldis tags out to Lattimer and Marty just tags in King so the big boys can have at it. Villain Enterprises takes the match in their favor early on, frequent tags from Brody King and Marty Scrull making sure Thom Lattimer is not a factor in the match. After more shinangins happen from Strictly Business, Nick Aldis tags in and finally gets in the ring with Scrull. Now, Strictly Business taking the advantage with the double teams but gets the hot tag into Brody King, taking it to both Strictly Business members. With Aldis and Scrull now in the ring, Camille and Issacs come out to mess with Marty Scrull and after cheap shot and a pin against Villain Enterprises.
Corgan ends the show with the announcement that they will show a new show next week wins due to the country being under Quarantine.
Final Review:
Now this was supposed to be the go home show for the Crockett Cup but, due to current events happening around the world, we get to see what would have happened for the Crockett Cup. All around, it was a great show and who knows, we might have seen a new champion in some way but, we shall wait for the time being. Strictly Business taking care of business in the end, the hard workers like Rock n Roll Express, Eli Drake, James Storm, Trevor Murdoch making their presence felt and known. The Women's division looking phenomenal in the NWA as our fighting champion, Thunder Rosa will take on both Melina and Allysin Kay for the championship and Tasha Steelz looking strong in her victory. Maybe we will see the next challenger for the NWA Women's Championship but first, let's see if Tasha Steelz can go two for two on Tuesdays this week. NWA will debut their brand new show Carnyland and who knows what will come out of it.
Well… we will next week, till then, this was the Super Power for this week.
AJ's NWA Back For The Attack Results & Review 3/21/21
AJ's Back for the NWA and Back for the Attack with things starting off hot. The Masterpiece will take on the Tough as Nails, Trevor Murdoch for the National Championship, Thom Latimer takes on The Pope for the Television Title but most importantly, Aron Stevens will take his Karate knowledge from his late friend, The Question Mark to face the Real World's champion, Nick Aldis. Will titles change? Find out right now!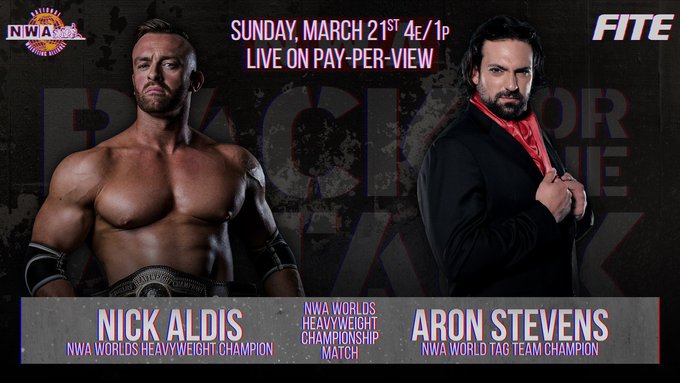 NWA is back by popular command, and let's call this Part One of Two with the Phenomenal Sunday previews. Back for the Attack is live and let's hope it lives up to the hype because a decent amount of names are on the card along with a World Championship Main Event between Nick Aldis and the late Question Mark's shooter, Aron Stevens.
Results:
Slice Boogie vs Jordan Clearwater vs Jax Dane vs Crimson:  Slice Boogie wins via Dead-Ass Driver – ** ¾
Kratos vs Tyrus: Tyrus wins via Elbow Drop – **
Thom Latimer vs The Pope(c) for the NWA Television Championship:  Time Limit Draw – *** ¼  TITLE DEFENSE!!
Kamille vs Thunder Rosa : Kamille wins via Spear – ** ¾
Chris Adonis vs Trevor Murdoch (c) for the NWA National Championship:  Murdoch wins via Roll-Up – *** – TITLE DEFENSE!!
Aron Stevens vs Nick Aldis (c) for the NWA World Championship: Nick Aldis wins via Cradle Roll-up – **** – TITLE DEFENSE!!
Review
Nick Aldis starts the show off by giving a promo thanking everyone for sticking around and showing up to this show. After he gives his thanks to the fans and audience, he dedicates the show to Josephus and tells Aron Stevens to give him the best Aron he's got before going to the back.
Slice Boogie vs Jordan Clearwater vs Jax Dane vs Crimson
Crimson and Jax Dane take it to the younger Boogie and Clearwater from the start going from each corner and dump them out of the ring until they meet in the middle of the ring and start trading blows. After both of them knock each other down, Slice Boogie tries to sneak in and take it to Crimson but fails, getting a Pumphandle Suplex to him. Jordan comes in after and takes Crimson down as the three others go back and forth against each other. After all four go and take each other out, Jordan takes care of Jax Dane with the Midas Touch but Slice Boogie stops Jordan from continuing his momentum and Boogie comes out on top against two bigger names and Jordan Clearwater.
Kratos vs Tyrus
Both men testing their strength with Collar & Elbow tie ups but neither man is budging. Tyrus goes to shoulder tackle him at first, doesn't move Kratos but tries to take the low road against Kratos when he goes to clothesline him but Kratos actually moves Tyrus and pisses him off. Tyrus takes firm control when he sneak attacks Kratos and aims for his left elbow heavily. Tyrus keeps going for the bad arm and tries to finish it with a Vader Bomb but Kratos moves out of the way and takes the momentum his way. Kratos tries to make something happen but the arm is too damaged and Tyrus keeps going on it and ends it with a good elbow drop for good measure.
Thom Latimer vs The Pope
Latimer takes it to Pope a little bit with the power but Pope comes back with his agility and some high flying to take Latimer down until Pope gets a heavy lariat to be taken down. Thom goes to do mounted punches and takes over for the time being. Punches, strikes for a good while to weaken Pope but Pope catches Thom's diving Axe Handle, delivering a German Suplex into the corner and momentum switches to the champ and out speed Latimer. Latimer staggers Pope shortly but gets caught on the top rope and gives a Superplex. Pope gives a series of elbows from the top and readys for the Elijah Express but, Thom reads it and powerbombs him. Latimer gets caught in a roll up as time ticks down. They start to trade blows until the time runs out and ends in a draw. Both men look upset because of it but Thom rolls out and walks out as Pope just sighs and lifts his head up for the match.
May Valentine has an interview with a very emotional Aron Stevens, dedicating it to Joe Hudson/Question Mark and his son.
Kamille vs Thunder Rosa
Before the women get in the ring, we have a special guest commentator for the match in Taryn Terrell (or Tiffany if you remember the WWECW General Manager). Kamille starts off with the power, making it obvious Rosa isn't 100% after the Dynamite match against Britt Baker earlier in the week. Thunder Rosa catches Kamille with an armbar but Kamille takes Rosa to the corner, setting up the Spear she has but, misses and goes to the post with her shoulder. Rosa starts to take it to Kamille on the outside and picks apart Kamille's back and shoulder until we get back to the ring. Kamille bring the power again but, Rosa goes back to her submissions and grappling to take Kamille apart. Everytime Kamille slows down the match, Thunder comes back with a flurry of strikes. Thunder keeps targeting the back of Kamille now, Bow & Arrow, dropkick to the back, backstabbers. Kamille still kciks out and after getting a counter off on Rosa, she lands two spears and puts away Rosa.
Chris Adonis vs Trevor Murdoch
Both men use their strength for even playing field but Murdoch headlocks Adonis and holds it there for a good amount of time until Adonis comes up, tries to do more strength tests but Murdoch continues with the headlock and ground Adonis but Adonis gets out quicker this time, going for the Master Lock but misses. No matter what Chris does however, Trevor always gets back to the headlock to set up the flying Bulldog. Adonis rolls away from the attempt and actually takes control for the first time this match, albeit cheaply with an eye poke. Chris now goes to do his out grounding headlocks and holds but Murdoch regains control and looks like he'll do another Bulldog from the ropes and he turns it into crossbody. After a nearfall, Chris goes to do the Master Lock but Trevor slides down and rolls up Chris Adonis with a wrestling move.
Aftermath: Murdoch goes to shake Chris' hand and does a Full Nelson Slam as refs try to pull Adonis off as he applies the Master Lock to Trevor Murdoch with his fist up high. Security comes out (aka three random skinny dudes and Homicide) tell Chris Adonis to get out.
Austin Idol now comes to the guest commentary, getting on the nerves of Tim Storm (he is a key reason why he lost the NWA World Title to Nick Aldis for his first reign) but Aron actually reached out to Idol for a way to beat Aldis for some form of an advantage.
Before the main even, the give a 10 Bell Salute to the fallen NWA personnel in the past few months.
Aron Stevens vs Nick Aldis
Both men going back and forth with arm ringers, hammer locks and a bunch of others. Aldis goes to the ropes after the last hold and goes for quick crossbodies and pins before taking a break saying, "Cmon Aron. Step up. Get your head in the game."
Both men go back to holds until Stevens gets control and covers Aldis for two counts until going to the corners. Stevens taking it to the champ with rapid knees and elbows, actually making Aldis roll out and take a breath until Stevens follows and keeps the offense started.  Stevens got a little too much steam going and misses a Moonsault as Aldis now takes control and take it to Aron Stevens on the outside and taking it to Stevens' back. Aldis keeps taking the ground and pound to Stevens, headlocks and strikes until Stevens rolls out and goes back to his aggressive assault with a rolling elbow and mounted corner punches until both men take each other down with clotheslines.
The ref counts to nine until they start to strike each other from their knees. Stevens gets the upper hand with the strikes and actually is making Aldis regret the match from Nick's facial expression, unable to get the King's Lynn Cloverleaf. Stevens is doesing everything, even a Figure Four to take it to Aldis and a Superplex from the top rope. After failing to get another pinfall, Stevens is going for another Superplex but Nick fights it off and drops an elbow for a two. Aldis tries to finish it with a piledriver but Aron Stevens reverses it and does another Discus Elbow for a two. Stevens is getting frustrated and pulls the kneepad down, going for something from the top until it's countered into the Cloverleaf. Stevens looked to tap but he got a burst of adrenaline and gets to the tops, rolling out after the break to get a separation from the champ.
Aldis tries to snake eyes Stevens on the outside to the post, Steven slips out of it though and pushes Aldis into the post instead but crashes into the podium. The ref counts to nine for Stevens though but, Aron comes in and takes it to Aldis, damaging Aldis' arm, going for a Crossface. Aldis tries to keep breaking it every time and when all is said and done, Aldis gets a roll up on Stevens and gets the win in….. probably NWA's best match since returning.
Everyone comes into the ring after the bell and a "Thank You Joseph" chant closes it as they all give the Mongrovian Salute.
Overall Score: 7/10
I could have been a smart ass and said Question Mark out of ten but, no this was actually done well. Even though Aldis retained, that told a good story the whole way where Stevens gave it everything he could, breaking out of the best Aldis has. The only thing that honestly fell short to me was the women's match because Rosa targeted the back of Camille constantly… and she never sold it except once. That's honestly my only true complaint of the event, everything else was pretty good. Hopefully they can keep this going forward for the renewed Powerrr episodes on FITE.
Adam's UWN PrimeTime LIVE Ep. 7 Review 10-27-20
UWN brings us two title matches, one being an AEW rematch & a first round match for their UWN Championship tournament! Let's see what happened!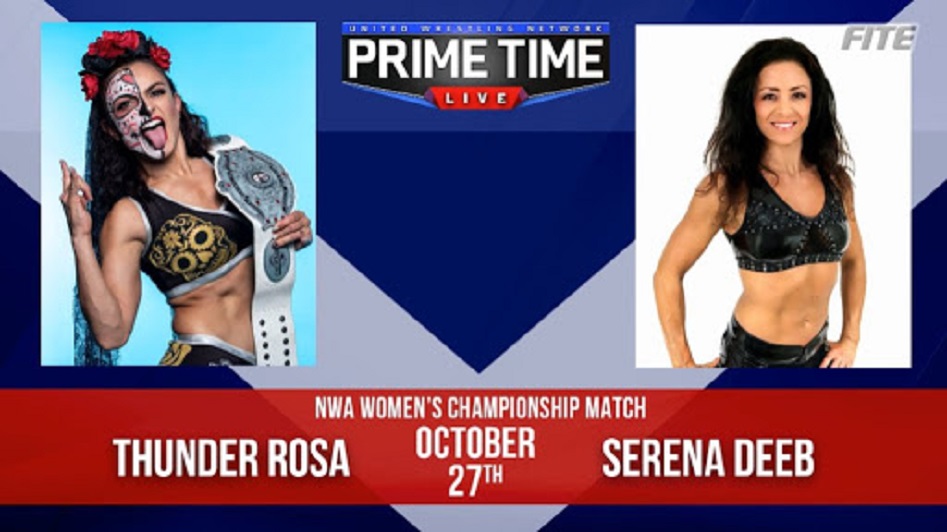 It must be AEW's lucky night with Avalon and Deeb showing up in very high stakes matches, Avalon to try to become the UWN World Champion by progressing past the first round of the tournament and Serena getting a rematch for the NWA Women's Championship from Dynamite weeks ago.
Another day and another good amount of matches on the card so who will we see this week on PrimeTime LIVE?
Results:
Kevin Martenson vs Ray Rosas(c) for the CWFH Heritage Championship:  Ray Rosas wins via Bed of Rosas- *1/2 – TITLE DEFENSE!!
The Bodega vs Real Money Brother$:  The Bodega wins via Bodega Bomb- **
Serena Deeb vs Thunder Rosa(c) for the NWA Women's Championship:  Serena Deeb wins via Roll Up –*** 1/2 –
TITLE CHANGE!!!
Peter Avalon vs Chris Dickinson: Chris Dickinson wins via Burning Lariat- ** 1/2
Review:
Kevin Martenson vs Ray Rosas
The match starts very back and forth, Rosas doing more heel tactics by going into the ropes to separate himself from Martenson. Martenson goes to target the neck and back of Rosas and tries to take to the skies along with a flurry of German Suplexes but, that was the beginning of the end. Rosas sweeps Martenson's legs from under him on the top rope and breaks down his back so he can't do his offense of suplexes and finishes the match up with the Bed of Rosas backbreaker.
The commentary team announces the first rounds of the World Championship Tournament and the tag team action later on until Aron Stevens awkwardly comes out for commentary and keeps repeating that he was robbed from his NWA National Championship and challenges Eli Drake and James Storm for the NWA Tag Team Championships when he can get the Question Mark.
The Bodega vs Real Money Brother$
Since the beginning of the bell, The Bodega takes it to the Real Money Brother$, well… mainly Suge with frequent tags between Limelight and Papo Esco, cutting the ring ring between Suge and Clutch. Finally after taking too much time, RMB gets enough time for the momentum to change with Danny Limelight getting the two on one this time around. After getting the King Fat Boi in the ring with a tag, Real Money Brother$ lose the head of steam they had and The Bodega hit a very… awkward looking Bodega Bomb to score the victory. (And when I say awkward, I mean Limelight hit a short springboard splash and landed on Suge's knees awkward)
Serena Deeb vs Thunder Rosa
Serena takes it early to Rosa at first but Rosa goes to counter and the two begin to take it to the ground and exchange holds, nobody getting the early advantage for a while until the champion gets a little bit of steam. Deeb goes to the corner, takes one body splash in the corner before moving out of the way, dealing a neckbreaker to Rosa in the ropes and getting the momentum shift. Serena keeps this momentum too, making sure Rosa's neck is compromised with a straight jacket hold and more neckbreakers. Rosa gets a little bit of separation after breaking Deeb's Serenity Lock (Neck Crank) and gets the ball—er… Thunder rolling I suppose. Northern Lights Driver but taking too much time after Serena kicks out, doing more neck damage to Rosa with a rapid Swinging Neckbreaker and keeping hold for a traditional swinging neckbreker. Serena getting full advantage against with a unique pinning hold to pin Rosa and going to the Figure Four (because y'know… NWA) and after the pressure goes down, Deeb hits her Hammerlock Clash and only gets a two since Rosa's leg gets on the ropes. Rosa gets pissed and takes it to Deeb on the outside but after a while, Rosa's knee gives out right before she uses the Thunder Driver and Serena played Possum to get the pinfall and we have a new Women's Champion for the National Wrestling Alliance.
Peter Avalon vs Chris Dickinson
They are making this go on for a while? Oh wait… Avalon tried to tell the Dirty Daddy to shush. You don't do that because he doesn't care. Dickinson hits a kick to Avalon's back and after a quick pin attempt, countering a corner move and Avalon hits a leg lariat and takes Dickinson down. We all know that it won't work for long, Dickinson takes full advantage again and overpowering Avalon until the ref gets hit from the Death Valley Driver attempt. Avalon escapes Dickinson and traps Dickinson's leg, swinging a chair while the referee is down, getting an equalizer. Avalon now having the advantage with knee bars, twisting the leg and when there is a rope break, Avalon chop blocks Dickinson to take him back down and puts on a Half Crab to take more damage to the leg. Avalon goes to the top for a moonsault but, his hubris go the better of him and Dickinson moves out of the way so they are equal again. Dickinson get pissed off and even with his leg damaged, he still puts away Peter Avalon with a Burning Lariat, advancing in the tournament.
Overall Score: 6.5/10
Well I wasn't too thrilled with the first two matches in all honesty; the Heritage Championship match felt like it went on too long and the tag match was… okay. I've seen Limelight before and he often gets a little too much with the flight like he did today by overshooting the finish of the match and instead of a short splash on the chest or stomach, he landed on knees and legs instead. At least the last two were good matches, I mean we know Thunder can put on a match and Serena isn't bad at all, after all, as JR said on Dynamite the first time they fought, "That was the best Women's Match on AEW."
I'm more surprised however that the Women's Championship wasn't the main event because speaking of AEW, nobody really cares about The Librarian. They made him look good by taking it to Dickinson's legs, making Avalon a somewhat cunning heel and not the 0-28-2 jobber on Dark. Good on them.