Andrew Top 5 Matches: Week Ending 5/10/2020
A few Japanese events, golf carts and Die Hard style matches makes for a great week! Let's see what found it's way to the Top 5!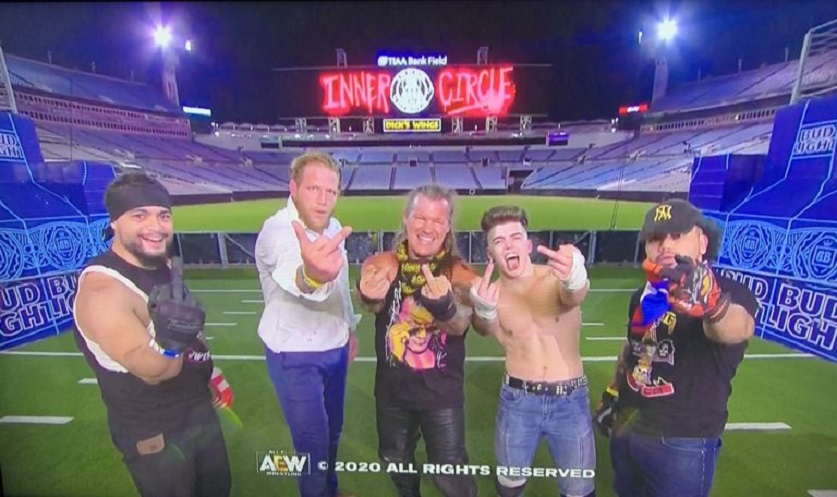 We've hit an interesting run where there are a few empty arena shows in Japan, along with a WWE PPV! This is great since it's one of those slow indications we're all getting closer to returning to normal.
Before we get to this week, there's some votes we have to get out of the way. Firstly, we have a new addition to the Match of the Year pool!
Match of the Year Pool:
January – Wrestle Kingdom 14: Double Gold Match: Kazuchika Okada vs Tetsuya Naito
February – AEW Revolution: AEW World Tag Team Championship: Hangman Page & Kenny Omega (c) vs The Young Bucks
March – AEW Dynamite: AAA Mega Championship: Kenny Omega (c) vs Sammy Guevara
April – WrestleMania 36: NXT Women's Championship: Rhea Ripley (c) vs Charlotte Flair
Regardless of how the entirety of WrestleMania grabbed people, most agreed Charlotte and Rhea was one of the best matches. It's also the first women's match to make it into the MoTY pool; so that's always nice to see something different.
As for last week's vote, nostalgia grabbed most of the votes; the match was really good as well, but those three letters still burn deeply with fans. The TNA Championship match between Moose, Michael Elgin and Hernandez, becomes the first match of May.
Now on to this week!
Quick Top 5:
Pro Wrestling NOAH: GHC National Championship: Takashi Sugiura (c) vs Katsuhiko Nakajima
Rating: **** 1/2
WWE Money in the Bank: MiTB: Die Hard Dash for Cash
Rating: ****
IMPACT!: X Division Championship: Chris Bey vs Willie Mack (c) vs Ace Austin
Rating: *** 3/4
Pro Wrestling DDT: KO-D Openweight Championship: Yukio Sakaguchi vs Masato Tanaka (c)
Rating: *** 3/4
AEW Dynamite: Street Fight: Le Sex Gods vs Kenny Omega & Matt Hardy
Rating: *** 3/4
Honorable Mentions:
WWE Money in the Bank: WWE Championship: Drew McIntyre (c) vs Seth Rollins
Rating: *** 1/2
WWE Money in the Bank: Cesaro vs Jeff Hardy
Rating: *** 1/4
AEW Dynamite: Frankie Kazarian vs Jon Moxley
Rating: ***
WWE Raw: Buddy Murphy vs Drew McIntyre
Rating: ***
NXT: NXT Women's Championship: Charlotte Flair (c) vs Io Shirai
Rating: ***
MLW Fusion: Nino Hamburguessa, Psicosis & Psycho Clown vs Los Parks
Rating: ***
IMPACT!: Jake Crist & Madman Fulton vs XXXL (Acey Romero & Larry D)
Rating: ***
WWE SmackDown: Miz & Morrison vs Lucha House Party vs Forgotten Sons
Rating: ***
WWE Raw: Liv Morgan vs Charlotte Flair
Rating: ***
NXT: NXT Championship: Velveteen Dream vs Adam Cole (c)
Rating: ***
5. AEW Dynamite: Street Fight: Le Sex Gods vs Kenny Omega & Matt Hardy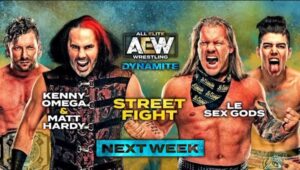 Hardy frees himself from the ice chest, and DAMASCUS has revived~! He stalks his way to the golf cart and uses it to hurry after the fight! Cameraman, make sure you properly document these events. Omega has a broom as the Cleaner, but here comes DAMASCUS! He side swipes Jericho, and Sammy panics! Omega hops on to join Hardy on the ride. They use the field to make a u-turn, and they're chasing Sammy!! Sammy gets side swiped, too!! That's a hit 'n' run on the streets, but just fine in a street fight! Hardy and Omega pull up to Jericho and set him on some spare tables. There is a scissor lift nearby, and after Hardy hammers away on Jericho, Omega begins his ASCENSION~! But Hager attacks Hardy again! Omega keeps rising, stands on top of the railing, and SUPER MOONSAULTS!! Omega says this ends now!
Omega Electric Chairs Jericho on the turf, but here comes Proud 'n' Powerful! The Inner Circle's reinforcements have arrived and it's 4v2! Jericho brings Hardy to the table for the INNER CIRCLE TRIPLE BOMB! Broken Hardy might be broken for real! Omega is alone now as they bring him to the golf cart. The Inner Circle lift Omega for Jericho to BOMB on the cart roof!! Omega might be broken, too! Hager drags Omega over to the turf, and feeds him to JUDAS EFFECT! Cover, Le Sex Gods win!!
Winner: Le Sex Gods via Judas Effect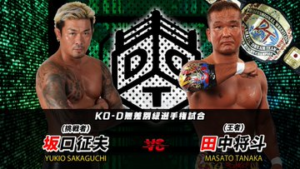 Now DDT is seen by many western fans as the joke promotion, and it's true that they have a fair bit of weird stuff. However, they've fallen more into my scope since DDT bought Pro Wrestling NOAH and I was generally curious. Tanaka has put on great matches this year in DDT and Zero1, just off the top of my head, so this should be no different.
Openweight titles have definitely taken to falling into the same vein as the New Japan NEVER Openweight; where the matches are just stiff and tough. Sakaguchi jumped on Tanaka immediately, both literally and figuratively. A flurry of kicks, attempts at Triangle Chokes and Sleeper Holds, Sakaguchi went full Spider Monkey. Granted, Tanaka is a tough old s.o.b. – and that tactic won't work for long.
Tanaka used positioning to hit a through the ropes Dragon Screw Leg Whip, which he followed up with a Sliding Elbow right to the damaged knee. Not a super long match, but the action never stopped. Tanaka was lighting up Sakaguchi with a flurry of elbow variations, but the younger challenger used his submissions to try and buy time.
The match was nearly in hand for Tanaka before Sakaguchi hits a desperation Sleeper with the body scissors. Tanaka fights out, lights him up with elbows, goes into full mount and just rains down slaps, elbows and punches. The referee pulls him off and calls for the match to end.
It was brutal, and damn fun to watch. The match is linked on the listing.
Winner: Tanaka via Referee Stoppage (knockout)
3. IMPACT!: X Division Championship: Chris Bey vs Willie Mack (c) vs Ace Austin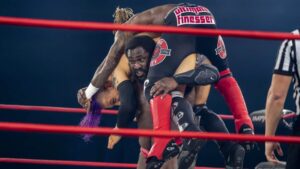 Commentary was great here because they poked fun at the usual cliche line of "no friends in wrestling"; so Josh and Madison have proven that they are seriously the best commentary team during quarantine (that's including Jericho and Schiavone).
Even through two commercial breaks, this was a hell of a match, with great high spots. Chris flies across the ring while Willie and Ace are fighting on the top rope, and hits a German Suplex, which comes down a little too much on him since his mouth is visibly bleeding. Ace hits a Fold on each guy, but the pinfalls get broken up. Chris sells Willie's Stunner like Scott Hall, but it doesn't end the match. Ace gets pissed off and lights up Willie, looking to finish him with a Frankensteiner or something to the effect. Willie fight him off and watches Ace crash, hits a 6 Star Frog Splash, and retains!
Winner: Mack via 6 Star Frog Splash
2. WWE Money in the Bank: MiTB: Die Hard Dash for Cash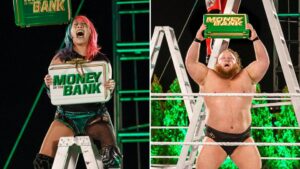 Well I don't really know what to call this besides…HECKIN ENTERTAINMENT! I loved how Asuka wiped out the women early and then danced into the elevator for a good portion of time. Bruce Prichard and Johnny Ace cameos were a nice touch. Daniel Bryan and AJ acting like scolded children when they went into Vince's office was great. Yes yes, I was saving the Heyman bit for last since that was fantastic, poor Rey Rey getting sandwiched between Nia and Otis. It really wasn't Mysterio's night.
A few quick negatives would be; I wanted Asuka to mop the floor and then put down the wet floor sign, so we could get the slipping comedy there, and yes; Baron Corbin trying to stop Asuka from grabbing her briefcase made negative sense (beyond him just being an ass). Though I'm also not sure if he murdered Rey and Aleister. So there's a lot of question marks revolving around Corbin.
The finish for both sides was nice, Lacey's punch looked like a million dollars and Otis had the longest set up of the year. Between all the times he caught Mandy Rose, and everything that happened, he was bound to catch stuff. I mean he ate 2 ladder shots, a Phenomenal Forearm, Seated Senton, Black Mass and a hoagie during the food fight. The man is a dynamo with his hands, Mandy is one lucky girl.
Winner: Asuka & Otis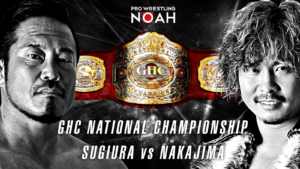 As part of his taking Nakajima down, Sugiura locked in the dreaded ankle lock twice, with Nakajima managing to make it to the ropes the first time. The second time, Sugi dragged him back so Nakajima had to resort to punches until he let him go, despite Sugiura tightening the hold. Nakajima even grabbed hold of the ref at one point.
The end came in sequence; Nakajima with a massive kick on Sugiura when he went for the Olympic slam, and I mean massive, Sugiura crumpled to the mat. When he revived he was groggy, so Nakajima followed this up with further stiff kicks and the terrible soccer ball kicks which echoed around the arena.
Not enough for the pin, Sugi kicked out and went for the neck choke when Nakajima went for the Vertical Spike. Nakajima locked it in, but Sugi still kicked out.
Second ankle lock, followed by a slap war. Nakajima got the upper hand, and with a big Cheshire Cat grin hit the Vertical Spike with a long hang time.
Winner: Nakajima via Vertical Spike
Thoughts:
Between the golf cart spot in the AEW match, the campy style of the titular Money in the Bank match and my personal preference of having Japanese wrestling to choose from; this was a great week for wrestling. Felt full, nearly normal and there were plenty of fun things to keep conversation flowing.
My vote will be going to the Pro Wrestling NOAH match. I did really like the Money in the Bank match and the AEW main event, so this was just fun. Great times