Andrew's AEW Double or Nothing Results & Match Ratings 5.23.20
Revolution was one of the better PPVs of the year; does Double or Nothing match the quality? Let's find out!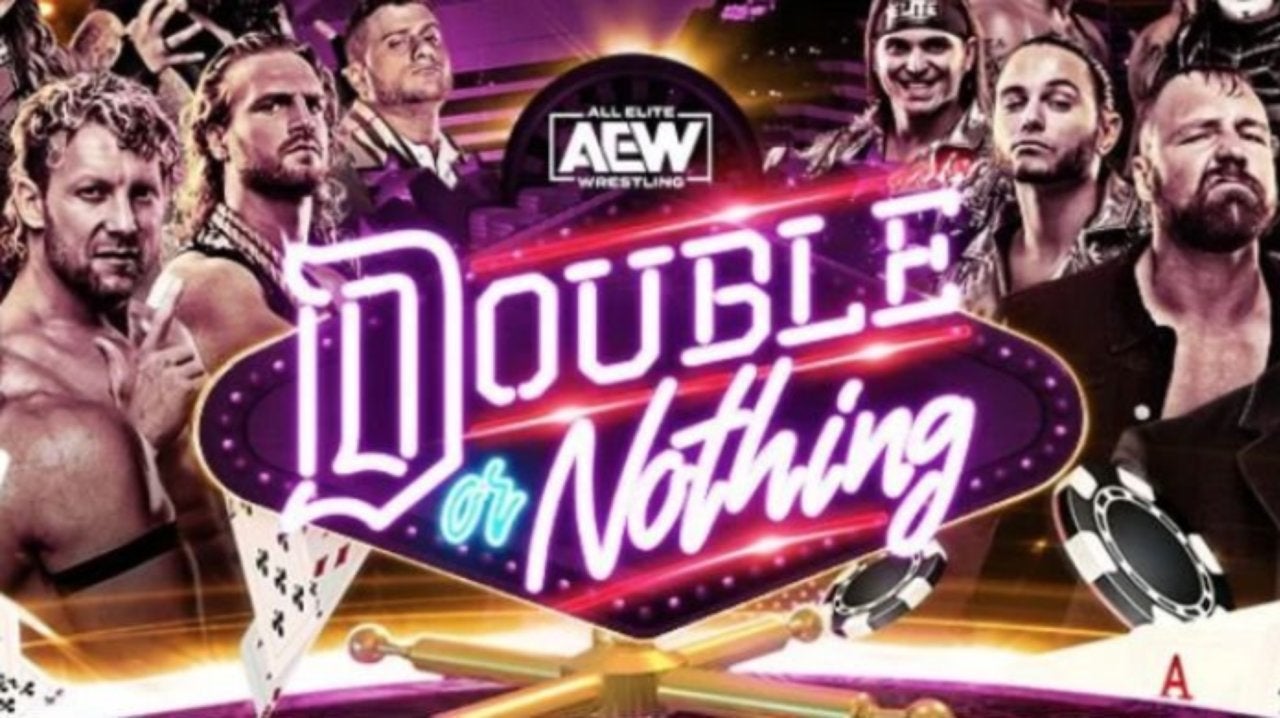 AEW is going to try their hand at empty arena PPV. As most of us know, the Stadium Stampede match was pre-taped, so it should be interesting to see their take on the taping incorporation.
Aside from that, we get to crown an inaugural TNT champion, as well as, HOPEFULLY, a new Women's Champion. The TNT championship seems like a great way for Cody to try and find a kayfabe way back into the main title picture and Nyla Rose is just a bad wrestler. Hikaru Shida has skill, looks, charisma, and; she's decent at English. So unlike Riho, she can actually speak and get herself and the company more over.
Either way, let's see if this lives up to how good Revolution was!
Ratings:
Private Party vs Best Friends: Best Friends win via Strong Zero @15:10 – *
Casino Ladder Match: Frankie Kazarian vs Scorpio Sky vs Darby Allin vs Kip Sabian vs Orange Cassidy vs Joey Janela vs Luchasaurus vs Colt Cabana vs Brian Cage: Brian Cage wins @28:30 – **
MJF  vs Jungle Boy: MJF wins via Prawn Hold @17:20 – *** 1/4
Inaugural TNT Championship: Cody Rhodes vs Lance Archer: Cody wins via Cross Rhodes @22:00 – *** 3/4 – TITLE CHANGE!!!
Kris Statlander vs Penelope Ford w/Kip Sabian: Statlander wins via Big Bang Theory @5:30 – **
Dustin Rhodes vs Shawn Spears: Dustin wins via Final Reckoning @3:20 – *
AEW Women's World Championship: NO DQ: Nyla Rose (c) vs Hikaru Shida: Shida wins via Three Count @16:40 – *** 1/2 – TITLE CHANGE!!!
AEW World Heavyweight Championship: Jon Moxley (c) vs Brodie Lee: Moxley retains via Rear Naked Choke @15:30 – ***
Stadium Stampede Match: Inner Circle vs The Elite w/ Matt Hardy: The Elite win via One Winged Angel @34:00 – ***
Results:
The Pre-Show has a promo with Jake Roberts and Lance Archer, apparently dabbling in demolition. Taking a sledgehammer to a broken out building, and destroying a toilet for intimidation effect. From meeting Lance Archer in person, he doesn't need to do much to be intimidating. Solid Stuff. 
Private Party vs Best Friends
A match that started off a little slow, turned into a mess. Early on, every move seemed to take an extra second to pull off, from the Rope Assisted Northern Lights to the Electric Chair Superplex, nothing looked particularly good. Then we got to the sloppy points. Chuckie T wasn't really selling Isaiah Cassidy's offense well, and looked to the next spot too quickly. There were multiple moments when there were supposed to be foot catches or partner catches, or pulling the pinning wrestler out of the ring; that were all just off. Mediocre match, turned into a boring match, that went about 15 minutes and needed to be put out of it's misery at least 7 minutes earlier.
Casino Ladder Match: Frankie Kazarian vs Scorpio Sky vs Darby Allin vs Kip Sabian vs Orange Cassidy vs Joey Janela vs Luchasaurus vs Colt Cabana vs Brian Cage
Well apparently this is Battle Royale style where the next entrant shows up every two minutes. Alright, I guess that's something. We start with Kaz and Scorp, so that ends up being a fun first few minutes. Kip Sabian and Jimmy Havoc play pretty solid heel foils to bring out some cheating aspect. Granted, at this point, the match falls apart a little.
Havoc does something that looks like it misses, and he lands on a ladder, Darby dives feet first through a ladder which is just dumb, Orange Cassidy not knowing how basic things work is a new level of lazy that is just stupid as hell. Colt didn't really play into this match well, he didn't add comedy with Orange and seemed awkwardly placed in all the spots. Lots of clunky ladder spots, half missed moves…the best thing was the debut of Brian Cage.
He rips a ladder in half, and just looks like a beast. Everyone tries to bury him under a bunch of objects, but he rises after a few minutes and demolishes everyone. Cage looks unstoppable, Taz as his manager could be something…and yeah he had a bad spot where Darby slipped off the corner posted ladder and it almost looked bad, but in general, Cage had a good debut.
Overall, a mess of a match, with a few positives sprinkled in to keep it slightly entertaining.
MJF  vs Jungle Boy
This match allowed both men plenty of opportunity to show themselves. MJF used a multitude of heel tactics, but some things didn't really work. Early on they wrestled in more of a World of Sport style, which both being young, it didn't come off well at all. Then MJF was using some trickery, or trying to focus on Jungle Boy's shoulder as the match continued.
Some nice big spots, Aubrey accidentally hitting the ropes to give MJF a near fall was a solid 'hold your breath' moment. Jungle Boy sold the shoulder well, and he showed a lot of physical charisma. MJF won off a wrestling hold, while holding Jungle Boy's hands; so it wasn't totally clean, but it still punctuated fairly well. Jungle Boy looked fantastic, even in a loss.
Inaugural TNT Championship: Cody Rhodes vs Lance Archer
God that title looks like a knock off toy at a Dollar Store. 
So this was a great story, and just mostly what we have grown to expect from a Cody Rhodes match. Really solid, but slower work, though every move told a part of the story. The stupid Go Pro camera in the corner finally worked out well, when Lance Archer Gorilla Pressed Cody and threw him over the corner. Cody did a DDT in front of Jake Roberts, Lance did a Spinebuster towards Arn, and the heat picked up.
The only really stupid portion was when Arn knocks Lance's foot off the ropes, to help Cody and a backstage referee decides to play tattle tale. Plus I guess if you throw out one, both have to leave. Makes no damn sense. I guess whenever Arn Anderson leaves, every manager follows; just like when Tully Blanchard left during the Shawn Spears match for no reason.
Long and short, it was a good match, with solid story, a spot for every legend; that didn't take away from the competitors in the ring. Plus, Cody hit two or three Cross Rhodes in succession, so Archer still looks like a force.
Kris Statlander vs Penelope Ford w/Kip Sabian
When this match got going, things seemed a little slow. Not sure if it was a combination of the Archer/Rhodes match having a lot going on, or just that both these women are greener…but this was just kind of there. Nothing was particularly bad, but it just didn't feel like it caught attention or imagination.
Perhaps it was a victim of card placement and irrelevant outcomes.
Dustin Rhodes vs Shawn Spears
Shawn Spears thinks that Dustin isn't going to be there, so he plays to the crowd at home and gets the referee to count. At around 3, Brandi comes out to Dustin's music, Dustin slides in and the beat down ensues. Comedy spots of Tully Blanchard's face being on the crotch of his briefs and pulling his briefs down exposing a bit of his ass; well let's just say it proves Dustin learned from his father too. This was an old school beat down of a heel that had it coming.
Spears played his role fine, but it was really nothing special.
AEW Women's World Championship: NO DQ: Nyla Rose (c) vs Hikaru Shida
So Final Fantasy fans immediately rejoice, when Hikaru Shida comes out in the updated Tifa Lockhart gear. Early on we see Hikaru fight back from early strikes, but Nyla eventually starts taking over. Nyla uses Hikaru's kendo stick, throws her through a roulette table and beats her around on the outside for a while.
It's not until they reach the giant stack of chips, that Hikaru starts coming back after a big Running Knee from the stack of chips into the standing chip. Hikaru gets her kendo stick, lights up Nyla and doesn't give many moments for respite. Nyla had a few close calls after a Death Valley Driver and countering the Three Count with a kendo strike, but Hikaru doesn't stop coming forward. Running forearm, and two Three Counts finally give Hikaru the victory.
FINALLY, the correct wrestler has this title. Maybe we can see the quality take a turn for the better.
AEW World Heavyweight Championship: Jon Moxley (c) vs Brodie Lee
This was the most average version of what we expected. Brawling on the outside, a few broken things, big slow moves, and overly slow broken ramp spot just to get some color in the match. Color which didn't really matter since Moxley hit two Paradigm Shifts on the exposed area and hammer fists, yet Brodie kicked out.
Moxley needed to go for a Rear Naked Choke, where Brodie just passed out. The finish was a little nonsensical, the match was basic Moxley crap…yeah, the crowd goes mild.
Let's hope the Stadium Stampede match saves this show.
Stadium Stampede Match: Inner Circle vs The Elite w/ Matt Hardy
So…where to begin with this one. The Inner Circle come decked out in uniforms and possibly some kind of padding underneath. Each had numbers that mattered, 27 was Jericho's dad's number, 93 is Sammy's birth year, 72 was Hager's Oklahoma number and 51/50 is an LAX reference along with a well known police code reference, so Santana and Ortiz having those numbers…made sense. The Elite…come out in their normal gear, wow…already off to a clever start.
Page is late, when he does show up, the just chases Sammy on horseback for a while until he finds the bar (beautiful horse by the way). The ring at the 50 didn't matter since apparently it's falls count anywhere. A few big spots like Matt Jackson doing a Moonsault off the goalpost, a bar fight equipped with a Quiet Man reference, Jericho challenging a pinfall to go to replay and Jericho knocking out a mascot. Almost forgot, yes the Matt Hardy transformation bar on the side, that apparently Ortiz and Santana could see, was amusing. It's a clever enough use of not having fans around to utilize pre-tapes.
Plus I also appreciated Matt's 100 yard locomotion Northern Lights Suplex, punctuated with an Alex Wright celebration, resulting in a 15 yard penalty and Superkicking the referee (The Elite are faces right?). Sammy being the last one alive, getting chased by another golf cart was amusing; but damn did this go on too long. So endless camp for the sake of being campy, about 40 minutes of a spectacle, punctuated outside of a ring…was entertaining at points but also mind-numbingly dumb at others.
Overall Score: 5/10
You know, at least when WWE serves us up with a mediocre show, they do it in less than 3 hours during quarantine. Counting the Buy In, this ran about 4 hours and 15 minutes. Given how many matches under preformed, were just bad, or used to fill time…this was by far the worst AEW event in their short tenure.
As far as matches go, Cody and Archer felt like it had more to give, and seemed to get lost at times. Hikaru Shida winning was the right call, in one of the best matches of this fledgling Women's Division; but that's a low bar. Moxley had a North American Moxley/Ambrose match, so if you've seen one, you've seen them all.
Lastly, Stadium Stampede was fun, they tried something a little different than other companies…but it was really hit and miss almost from segment to segment. Plus the one thing AEW really needs to understand is not all main events need to go 30+ minutes when you have nearly every undercard match go over 15. Japanese cards are usually 7-10 minute undercards, 15-20 for the semi mains and the main event gets the 25+. Bloating every match, doesn't help the endurance for tolerating a 45 minute sketch comedy demo reel.