Andrew's AJPW Desire to Deliver to the World Results & Ratings 4.30
We haven't had many puro events during these times; but AJPW brings everyone something to take their mind off the pandemic!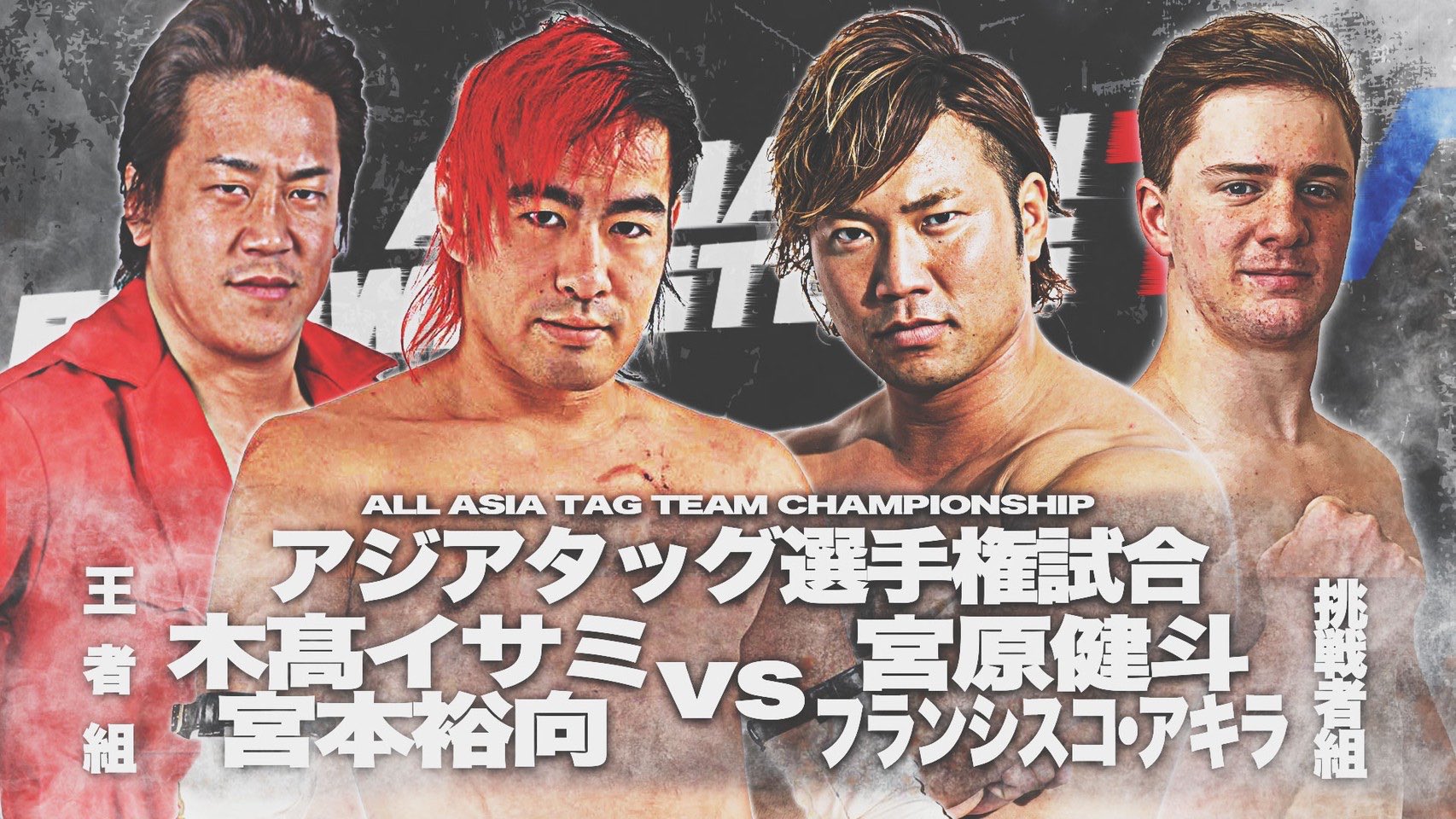 We haven't had many puro events during these times; but AJPW brings everyone something to take their mind off the pandemic!
This is the first AJPW show in a little over 3 weeks. As the title implies, wrestling fills a void and delivers a message to many; so this is All Japan's desire to provide something for everyone struggling. Speaking of struggling, if All Japan is something that peaks your interest, help them out and subscribe to their streaming service. Less than 10 bucks and you can catch up with all the modern action!
No real big storylines, if anything this will probably feel like the first night of a tour schedule where the cogs just start to get into motion.
We do have a title match to look forward to though! The All Asia Tag belts will be defended against AJPW's Ace, Kento Miyahara, and his fan favorite partner, Francesco Akira. A little on the thrown together side; but it should be interesting if the Ace can help to elevate his young partner towards championship gold.
AJPW Ratings:
Black Menso-re vs Yuma Aoyagi: Aoyagi wins via Huricanarana Reversal @8:25 – ** 1/2
Purple Haze (Izanagi & Zeus) vs  JIN (Jake Lee & Koji Iwamoto ): Jake wins via Giant Killing @8:45 – ***
Shuji Ishikawa & Yusuke Okada vs Jun Akiyama & Tajiri: Tajiri wins via Jacknife Cradle @9:40 – ** 1/4
Yoshitatsu & Dan Tamura vs Evolution (Suwama & Hikaru Sato): Sato wins via Ude-Hishigi-Gyaku-Juji-Gatame @13:00 – ***
Yoshitatsu vs Suwama: Yoshitatsu wins via Disqualification @3:10 – *** 
Shotaro Ashino & Yusuke Kodama vs Takao Omori & Hokuto Omori: Ashino wins via Ankle Lock @9:25 – ***
All Asia Tag Team Championship: Yankee Two Kenju (Isami Kuroda & Yukoh Miyamoto) vs Kento Miyahara & Francesco Akira: Miyamoto retains via Thrust Kick Cradle Counter @24:15 – ****
AJPW Results:
Black Menso-re vs Yuma Aoyagi  
Okay, so I wasn't expecting a match this competitive. Menso-re is pretty popular amongst fans because of his SHA-SHA, but he's mostly used in comedy or lower card matches. Menso-re came out energetic, cut off Yuma a few times, hit a few SHA Eye Pokes, sprinkles of Three Stooges style comedy…but actually decent wrestling.
Menso-re had a great flurry at the end, with 4 different roll up attempts, a Super Kick, then a Hurricanrana, that Yuma continued the momentum and it became a cradle pinfall for himself. It was fun, but definitely a little head scratching that someone who had a Triple Crown match at the beginning of this year, was almost beaten in the opening match by a perennial undercard wrestler.
This is the first All Japan show I've watched in a little bit since Corona killed the Champion Carnival. But they are doing post and pre-match interviews…which is interesting. Granted they aren't subtitled in English, so it's just interesting to see the dynamic between personalities and teammates.
Purple Haze (Izanagi & Zeus) vs  JINJ (Jake Lee & Koji Iwamoto )
I noticed this the last time I covered All Japan, but Zeus and Izanagi rush the ring again. Purple Haze has changed Zeus from being the sauntering body builder, to really trying to get the jump in matches, but always picking the Alpha opponent.
Jake and Zeus are gold. They both have main event looks and skillsets to boot. Izanagi and Iwamoto brought the junior style speed and flair to their interactions, but this was just a fun match. Purple Haze has yet to really find their groove…and it almost feels like Izanagi is part of the problem.
Only small flub during the match was when Zeus was supposed to pull the referee out, but his grip must've slipped cause it looked more like a quick tug. He then pulled her further to the edge, but did enough to interrupt the count.
Izanagi eating the pin and causing the miscommunication with the chair could be an avenue to his exit of the group eventually. Unless they get on a roll, I can see a few members getting kicked.
Shuji Ishikawa & Yusuke Okada vs Jun Akiyama & Tajiri  
Two veteran names most wrestling fans should know, go against the honorary member of Evolution and the junior member. This will be a good test for Okada, since he's shown some growth over the last year or so since returning from injury, but he's still fairly green.
As expected, the youngest wrestler did most of the work. Akiyama had a few short stints with Ishikawa, which went poorly for Akiyama. Not sure if that will ignite some kind of flame for him to maybe challenge Ishikawa or Violence Giant at some point; but it was a fun match up.
Ishikawa and Okada had the match in hand, but Okada went for one Diving Headbutt too many, Tajiri moved, and managed to roll himself into victory thanks to a Jacknife cover. Decent match, that will hopefully aid in Okada's growth and not beat him down too much.
Yoshitatsu & Dan Tamura vs Evolution (Suwama & Hikaru Sato)
Yoshitatsu calls Suwama out to start the match with. This could be a great opportunity since Suwama is not only the newly crowned Triple Crown Champion, he's also one half of the World Tag Team champions. So we've got some great potential for Yoshitatsu. Let's also not forget that Sato is the number one contender for the Junior title, so this is a really uphill battle for Tatsu and Tamura.
This match goes how we'd expect. Yoshitatsu holds his own at different points, but Tamura is the liability when he gets in. Sato works over the younger wrestler, and Yoshitatsu and Suwama do their own thing. As the match ends with the young boy tapping out to Sato, an interesting development happens.
Yoshitatsu grabs a mic, and demands a singles match. Suwama slides in to be met by a Dropkick, but eventually after a scuffle, they actually start an impromptu singles match.
Yoshitatsu vs Suwama
This was short, but very cool. Yoshitatsu took some early control with well placed strikes, facewashes and some solid work…but he awoke the sleeping giant. Suwama snapped! Fight goes to the outside, Suwama starts lightning up Yoshitatsu with chair, and then locks in the Manriki Sleeper, but while he's under the bottom rope.
The referee counts to five twice before throwing out the match. Suwama pushes off everyone, including Sato, and just stays pretty pissed off. Angry Suwama is an interesting wrinkle. Also this reminded me that Yoshitatsu is still the Gaora TV champion and the Corona Premier Intercontinental champion.
Post-match interview with Suwama was quite animated. Shuji Ishikawa came over, and had the body language of "get a load of that guy" and since my Japanese is limited, I know Suwama called him different flavors of stupid multiple times. But we're probably headed towards Yoshitatsu being Suwama's first title defense in this seventh reign of his. 
Shotaro Ashino & Yusuke Kodama vs Takao Omori & Hokuto Omori
Ashino's mystery partner turned out to be his for Enfates Terribles stable mate, Yusuke Kodama. Maybe this is a slow hint at Ashino trying to put the stable back together in All Japan?
This was the perfect match to establish Ashino and Kodama. They took to heel tactics, they looked dominant over the All Japan veteran and rookie. As an exhibition match for why Ashino was such a big achievement, this worked fairly well.
After the match Ashino calls Kodama his best tag partner, throws out an open challenge – to which Jake Lee takes it personally. He approaches the ring, Jake and Ashino have words, and we all know what that means. This will be a great initial AJPW viewing of Jake and Ashino establishing who is the one right behind Kento.
All Asia Tag Team Championship: Yankee Two Kenju (Isami Kuroda & Yukoh Miyamoto) vs Kento Miyahara & Francesco Akira
This is a really a fun glimpse at the future. Miyahara is the Ace, we all know that; but Akira is a fan favorite in the Junior division. All Japan's favorite little Italian young wrestler. So if the Ace and a fan favorite Junior can work together, the fans would rejoice. Can the veteran champions rebuke the throw together team?
Akira starts things off, but Kento takes an early tag; giving the All Japan team a solid advantage. Kento is a demi-god, so everyone knew if Yankee Two Kenju wanted to win, they had to beat Akira. It takes a good long while before a situation reveals itself for the champions.
Kento and Akira hit a few tandem knee strikes, good teamwork and general fluidity. Yankee Two really had to pick and choose their positions. When they had to deal with Kento, there was usually a lot of failure; the same can't be said about Akira. Yankee Two had struggles, but generally handled Akira better, especially since he's closer to their size.
We see a big run at the end where both teams hit a few moves. Yankee Two, wipe out Kento with a Dive to the outside…but Akira is in control. He goes up top, hits a Diving Meteora, cradles the legs – but at TWO – Kuroda hits a Thrust Kick in Akira's face, reversing the cradle and giving Yankee Two Kenju the retention.
Really fun match, that helped to elevate Akira as a pretty damn good wrestler and not just a lovable underdog.
Overall Score: 6.5/10
The show was fun, and it's nice to get some Japanese wrestling during these weird quarantine times. Granted, it may have been fun, but it wasn't really a large scale feeling show. We got a few great moving pieces, like Ashino and Jake Lee, Yoshitatsu getting under Suwama's skin and Akira looking pretty great in defeat.
It also can't be overlooked that this is a bad run for Kento. After tying Kawada's Triple Crown title defense record, he loses the title and now loses an All Asia Tag challenge. Though not pinned, it can't be overlooked that he's not on the positive end of the outcome.
All Japan would definitely benefit from Ashino, Zeus and Jake Lee rising to prominence this year; instead of riding everything on Kento Miyahara. Hopefully they can mitigate the damage the quarantine is having, and still be able to tour and have solid names.