Andrew's Impact Wrestling Results & Match Ratings 5/12/20
Moose defends his TNA World Title against Suicide! We also start the number 1 contender tournament!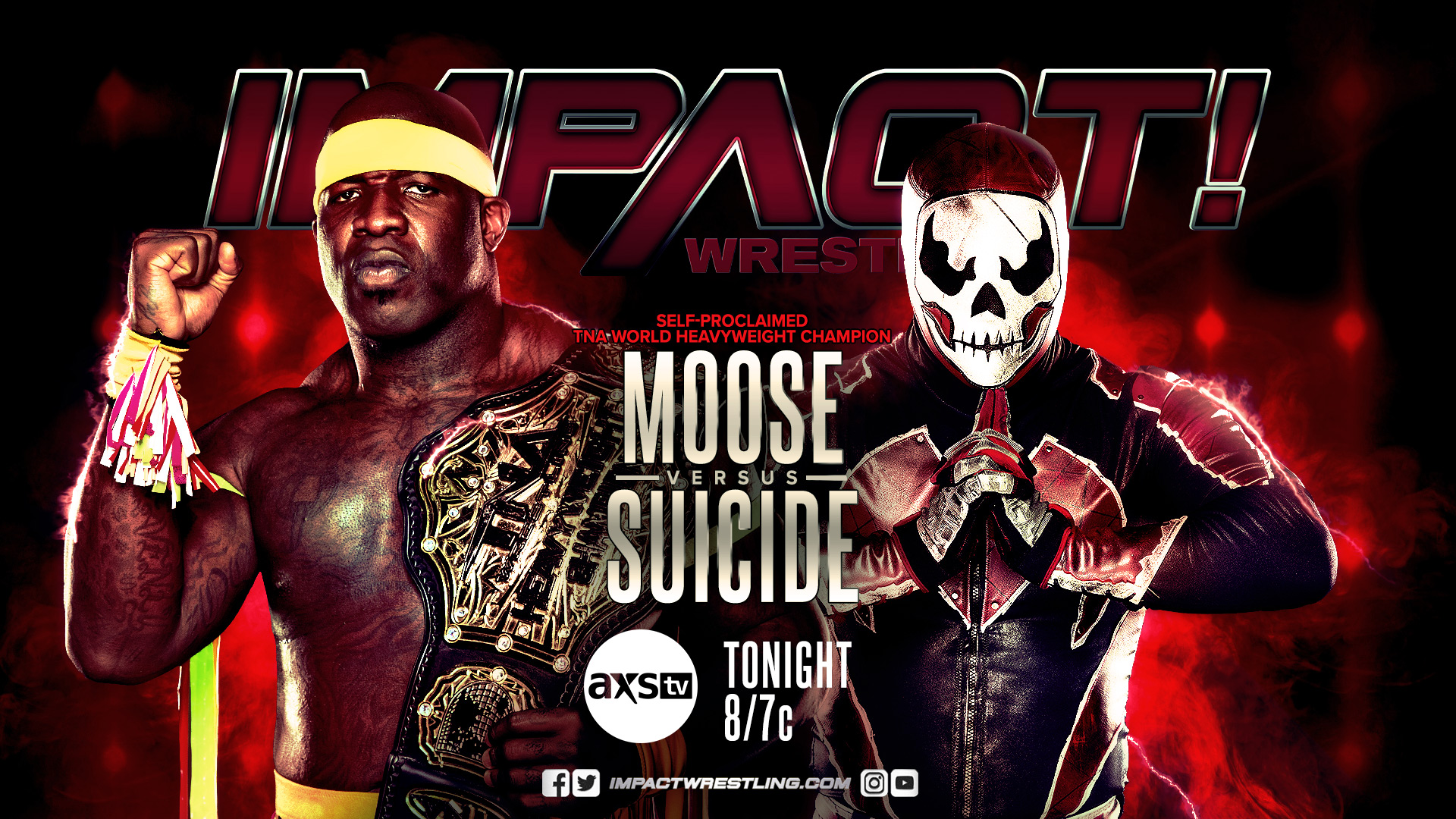 Impact brings us the beginning of the number 1 contender tournament and Moose defends the real World Heavyweight championship tonight! We also get the in-ring debuts of Tasha Steelz and Kimber Lee!
The match I'm most looking forward to is the Rohit Raju versus Trey match. Rohit has been mostly a jobber for his tenure in Impact Wrestling, but he gets moments to shine. He's a great old school style heel, with sneaky athleticism that gets lost behind his gimmick quite often. If he doesn't win, a good showing might do wonders for his stock.
Okay I don't know why, but Kylie and Susie are just quality television. Look at this wholesome vignette as we get to the show.
"Rae…like sunshine!"

Every interaction between @IamKylieRae and Susie is a ray of sunshine. #IMPACTonAXSTV @realsuyung pic.twitter.com/5qZzlugp0p

— IMPACT (@IMPACTWRESTLING) May 13, 2020
Ratings:
#1 Contender Tournament Round 1: Hernandez vs Madman Fulton: Hernandez wins via Diving Splash – ** 1/2
Kylie Rae vs Tasha Steelz: Kylie wins via Smile to the Finish – ***
Kimber Lee vs Havok: Kimber wins via Brass Knuckles – **
#1 Contender Tournament Round 1: Rohit Raju vs Trey: Trey wins via Small Package – *** 1/4
TNA World Heavyweight Championship: Moose (c) vs Suicide: Moose retains via No Jackhammer Needed – *** 1/2
Results:
The show opens with a well edited Moose hype package, made by Moose, cutting up numerous promos of past names from TNA. Dixie Carter, Jeff Hardy, Jeff Jarrett, Hulk Hogan and Bully Ray; it was glorious self promotion. Moose is a God amongst men. 
#1 Contenders Tournament Round 1: Hernandez vs Madman Fulton
These two put on a hell of a fight. Madman towered over Hernandez a bit, which doesn't happen often, and applied his size advantage well. Hernandez tried to look for some more crafty spots. When the Crist brothers got involved, Hernandez brought them into the ring, dispatched with Dave and Border Tossed Jake in Madman.
It was at that point where we all start realizing the oVe losing streak will probably continue. Hernandez catches Fulton with a boot in the corner and then the good ole Bellclap on the top rope. Big Splash, and a Supermex moves on to the next round. You have to wonder if oVe will turn it around, or just implode after a roughly 5 month long losing streak.
Kylie Rae vs Tasha Steelz
Tasha Steelz with a Double Shot Tuesday. She just won the triple threat from Super Powerrr (yes I know that's like 2 months old), but not this time! Tasha shows off her badass persona and plays a great foil to Kylie's smiley demeanor. Great back and forth action, Kylie got caught a couple times smiling and posing; but Tasha left opening when she tried to poke fun at different times. Tasha was setting up for a possible upset, but Kylie manages to slap on the STF, and get a pretty well fought victory.
Rohit Raju with another solid promo. I am liking his " My mother named me son, because I shine like one" – sounds like a shirt.
"My mother – she calls me son because I shine like one." @HakimZane is ready to seize the opportunity in the #1 Contenders Tournament TONIGHT. #IMPACTonAXSTV pic.twitter.com/qoBXdW94b3

— IMPACT (@IMPACTWRESTLING) May 13, 2020
Kimber Lee vs Havok
Havok actually looks excited for this match, and it shows when she just bum rushes Kimber. Kimber gets rag dolled a little, until she can get a little space with some nice kicks. A few Enzuigiris and a Roundhouse staggers Havok, so when we come back from commercial, Kimber is still in control.
Nice striking and a Swanton Bomb are only enough for a two count. Havok starts to get some momentum back, but Nevaeh can be seen off to the side. Havok gets distracted, Kimber goes for some brass knuckles and eventually knocks out Havok. So as she walks off, Kimber waves a little to Nevaeh and speculation now stirs about who is allied with who.
Kimber being a heel is interesting though.
Locker Room Talk isn't the best to date, but it's the first one where something really happened. This makes the tournament more interesting. Will Shamrock need a substitute? Can it please be Chris Sabin?
.@MichaelElgin25 BRUTALIZED @ShamrockKen on Locker Room Talk. #IMPACTonAXSTV pic.twitter.com/VXKjsPXCTv

— IMPACT (@IMPACTWRESTLING) May 13, 2020
#1 Contender Tournament Round 1: Rohit Raju vs Trey
This match was the definition of 50/50. Neither man was able to string much together and it was just a great back and forth. Aside from one small stumble from Rohit early on after an Electric Chair from Trey, this worked well. Rohit stayed mostly grounded until the finishing sequence. Trey hits the Cheeky Nandos kick, corner Tiger Feint, and looks to end things with his Meteora. In mid dive, Rohit catches him with a Jumping Knee strike and goes into a Swinging Neckbreaker, holds it tight, looks for a Fisherman Suplex or Brainbuster; but Trey manages to shift momentum and cinch in the Small Package for the surprise win.
The North win segments for the week. It's done, all hail the Count of Monte Cristo! 
The Count of Monte Cristo? @The_BigLG's Favorite Wrestler? The Man of One Thousand and Forty Eight Million Holds? @OfficialEGO's introduction was so long we half expected "He's really good at Twitter." to pop up. #IMPACTonAXSTV pic.twitter.com/A5lNBtsutt

— IMPACT (@IMPACTWRESTLING) May 13, 2020
Rosemary has her own segment following The North. It keeps her weird personality adjustment moving forward, and even ties in some slightly loose ends. Rosemary is a great character and Bravo ain't the worst either.
Fate has guided @WeAreRosemary to…@JohnEBravo1st?!

(and @Mrr_Mundo of course) #IMPACTonAXSTV pic.twitter.com/diRlcnzMBR

— IMPACT (@IMPACTWRESTLING) May 13, 2020
Flashback Moment of the Week: Matt Hardy vs AJ Styles, Victory Road, March 13, 2011
TNA World Heavyweight Championship: Moose (c) vs Suicide
Suicide put up a great fight in this match, despite the drastic size difference. There were definitely some odd sentences spoken like "Moose screams at Suicide" – outside of wrestling that sentence is just awkward.
Moose dominated a good portion of this match, but Suicide put it together nicely. We saw the Spiderman in the ropes, low bridge to send Moose to the outside and then we got some momentum for the video game gimmick. After the referee gets murdered by Moose splashing him in the corner, Suicide gets two visible pinfalls but nothing official. He hits a Rolling Shotei sending Moose on his backside, then Moose goes for a step up Corkscrew Splash, but Suicide jumps up and catches him with a Flatliner.
Suicide gets at least a 6 count, but has to go wake up the referee. Then Moose tries his Spear, but Suicide jumps and pulls of a Sunset Flip, but the injured ref counts slow and Moose kicks out. So Moose gets the opportunity to kick Suicide in the nuts, hit No Jackhammer Needed, and retains (?) the TNA title.
Overall Score: 7/10
This was a well balanced episode. A few good matches, great comedy vignettes with Cody Deaner, Rosemary and of course The North. Susie and Kylie doing the wholesome duo thing, is something I'm here for. Plus you have to enjoy that the show found nuggets for Joseph P Ryan, Crazzy Steve, Johnny Swinger and Johnny Bravo. So it really harks back to Attitude Era show set up, where even the lower card wrestlers get a little bit of play most episodes.
That's the show! Impact has been the most consistent wrestling program for a few weeks now. Each comedy section has a little variation, much like the wrestling matches. So the crazy variety in a 2 hour show is amazing and hard to argue against. Plus Madison's commentary is still the best stuff out there right now.