Cook: Larry Csonka Was The Best
Steve Cook looks back at the loss of an IWC legend, and more importantly, a friend.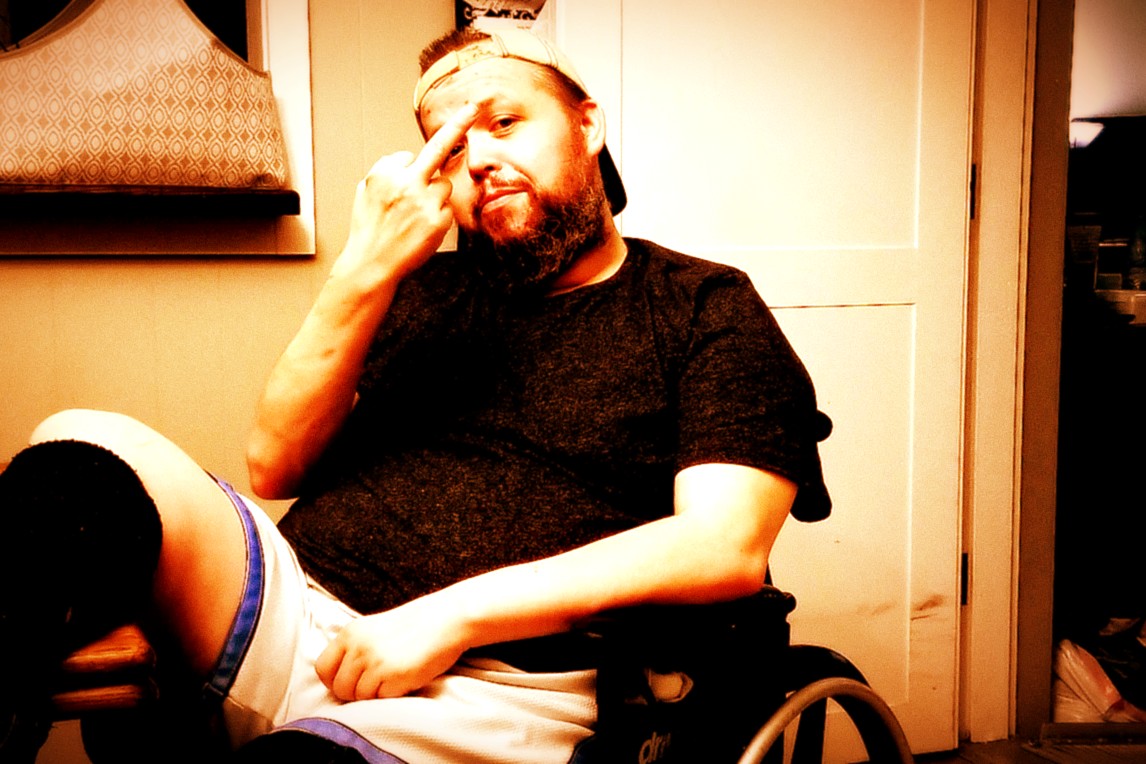 Steve Cook looks back at the loss of an IWC legend, and more importantly, a friend.
There are a lot of bad things about the Internet.
I could go on all day listing aspects of the World Wide Web that piss me off. I'd rather not. Not today. Instead, I'd like to talk about my favorite thing about the Internet.
No, not porn.
It's the fact that it's never been easier to connect with people that share your interests. When I was a young wrestling fan, there weren't exactly a ton of other kids I could share that interest with. Sure, there was always that group at school that watched pro wrestling, but it was only so big, even during times when wrestling was mainstream. And, to be honest, most of the people I knew that watched wrestling were still true believers deep into their teenage years. You couldn't really have a dignified conversation about who the best workers were, or why that particular angle fell flat, or who you thought was going to be the next big thing.
It wasn't until Owen Hart's passing that I learned there was a world of Internet wrestling opinion outside of promotion-sanctioned websites. I was hooked immediately. These writers had such passion behind their words & talked about things that I'd always wanted to hear more about but didn't know where to look. 411wrestling.com (now known as 411mania.com for way too many years because I'm old) quickly became one of my favorites.
It also became the place where I started posting on message boards. This opened up a Pandora's Box of interesting characters that I soon became acquainted with. Of course, like most major message boards, 411 spawned a plethora of off-shoots, and I had my hand in a couple of them. One was The Wrestling Talk Franchise, run by my dear friend Voodoo Penguin. TWTF's hook that made it different from the other off-shoots was they wanted to have a serious wrestling main page. It ended up giving a number of successful writers a start in the early to mid 2000s, including myself.
Also including Larry Csonka.
Larry had taken issue with what he perceived to be 411's bias against TNA Wrestling and started posting his own TNA PPV reviews in their TNA Forum. He got hooked up with the Penguin and started posting them on TWTF's site. We became friends quickly because we shared many of the same opinions concerning pro wrestling. Even though he insisted on rooting for the detestable Pittsburgh Steelers, I couldn't help but like the guy. His passion for wrestling was contagious. He even did the weekend warrior thing, training under the legendary Ivan Koloff & having matches as "Tremendous" Tom Lawrence in Carolina feds that wouldn't pop up on indy video sites of the era. Unfortunately, injuries led to the end of his in-ring career, but they couldn't end his voice or his insatiable appetite for pro wrestling.
I mean, seriously. Go to his 411 archives sometime and marvel at the ridiculous number of shows he reviewed. I honestly have no idea how he managed to father children, fight various physical battles and review all those damn wrestling shows. That speaks to Larry's incredible work ethic.
Gonna jump ahead in the timeline here, but that's ok. Dude lost most of a leg last year. If I lost most of a leg, y'all couldn't count on another wrestling column from me for at least a year. Maybe two. That's how long it would take me to regain some composure. I tried to help fill in for Larry on 411 for a little while, then I got word that he was back in the saddle. I would have asked "Really?", but I knew Larry. I knew the second that guy could get back in front of a TV screen and a computer, he would have plenty of things to write.
That was Larry.
So of course 411 noticed Larry's work on TWTF and hired him to do TNA reviews. He ended up doing everything else too, of course. Websites are picky about their work being cross-posted, so Larry couldn't recap TNA for TWTF anymore. That's when I came into the fold, and it was good timing because TNA had a new TV show called Impact. I don't know why I said "good timing" in relation to the early days of TNA Impact, because that timeslot of 3 PM on Fridays on Fox Sports Net was the drizzling shits. It was fine for me though! I got to have some fun recapping a show, while also doing a news column for TWTF since Dave Schilling (there's a blast from the past some of you might recognize) made the mistake of encouraging me to fill in for him one week. I had some interactions with former 411 writer Joshua Grutman (GRUT!) previously that made me feel like I could possibly do this whole wrestling writing thing.
So then the fabled 411/Inside Pulse split happened. Widro took pretty much any 411 writer with name value off to a new site because…well, I've never asked Ashish why though I'm sure he'd be glad to talk about it now considering how things ended up. Larry was one of the few hands left on deck, because apparently Widro and the rest of the old guard didn't see any potential there. I'm not going to say whether or not Larry would have gone, because I don't know, but I do know that not getting Larry on board was their fatal mistake. Ashish turned to Larry, and they made 411 better than ever. They brought in fresh writing talent like J.D. Dunn, Mat Sforcina, Andy Clark, Bayani Domingo, JP Prag, James Thomlison and countless others that hopefully don't get mad I neglected to mention them. Greg DeMarco came along a bit later, so I'm not leaving him out here.
I will mention myself.
Larry brought me on. Ashish agreed with it, and I would never sell his contributions to my writing career short, but I can't see Ashish bringing me on without Larry's recommendation. I did the Impact Insight thing for awhile, then got the news column, and then the rest is pretty much history. Larry, myself and the rest of the 411 Young Guns kicked some Inside Pulse ass and sent most of them into retirement. I think most of them were headed there anyway, but NAME VALUE!
Then Larry wanted to do some podcasting. Between you and me, I still don't understand why anybody would listen to several hours of people rambling on about the wrestling. Are people that bored whilst traveling? But when Larry asked me if I wanted to co-host his show, the answer was pretty obvious. Our first show wound up being a tribute to "Macho Man" Randy Savage after he'd died earlier in the day, so that was a positive note to start on. We did a bunch of happier podcasts later on, trust me.
I think a large part of the reason he had me podcast with him was he knew my interest in writing about wrestling would fluctuate. I've never had the work ethic Larry had. That guy could write four columns in a day, while I look at four columns in a week like an impossible thing. I enter these phases where wrestling just doesn't interest me, and I check out of writing about it. I still watch, because of my addictive personality, but I don't have much to say sometimes.
Then again, I might be over-analyzing things. Maybe he just liked talking about wrestling with me. Which, considering his stature in the Internet wrestling writing world, is a pretty big deal. I never took it for granted. In fact, I assumed he would get tired of it eventually. Most people do.
If there's one weakness our podcasts had, other than whatever I would have blown on a breathalayzer during many of them, it's that we didn't disagree enough. Early on, I had a bit of an ego and really wanted to talk about things. Eventually I figured out (on my own because Larry would have never said it to me) that Larry was the draw, and the best thing I could do was let him talk. Could I have disagreed more? Sure, but the problem there was that we naturally agreed on most things, and I wasn't going to do the First Take thing and purposely argue the opposing viewpoint.
I was Larry's sidekick.
My most recent Top 7 column for 411 listed the best sidekicks in pro wrestling. I mentioned in the intro that I was Larry's sidekick, and I thought I did a good job at it. There's nothing wrong with being a good sidekick. Ed McMahon made a career out of announcing Johnny Carson and laughing at some bad jokes. Arn Anderson was fucking great as Ric Flair's Enforcer. And Hey Now…Hank Kingsley!
The only problem is…what does a sidekick do when the main attraction leaves?
That's the part I need to figure out. It's gonna take some time. Larry had some serious health issues over the years, I knew that. I also knew that he kept coming back, seemingly stronger than ever. It seemed certain to me that out of the two of us, it was more likely he'd be writing something like this about me. Nothing about any of this makes sense.
The best thing about the Internet is that it introduces you to people that share your interests. I never met Larry in person. The closest we came to meeting was when Larry attended a CHIKARA show in Kingsport, TN. I gave some serious thought to making that town even though it was many hours and some strange roads away, but my car at the time didn't seem likely to make it. The car I have now wouldn't have made it either. Some things never change.
Thing is, even though I never met Larry in person, I can count him among the top five people that have helped me along my way. I can also count him among the best five friends that I've had. Most people only knew Larry through his reviews & columns. I got to know him through MSN Messenger convos & podcasts. I'm a very lucky man.
I just wish more of you got to know him like I did, and I hope I've done at least an adequate job here of describing his greatness. He had a family he adored, and I wish I got to know them better because they seem like wonderful people. I've met a lot of amazing people thanks to Larry, like my USB family of Dustin James, Jeremy Lambert & Todd Bergman. Too many to name here, and again, I hope nobody gets offended by being left out.
I made sure Larry knew how important he was to me. I've written about it multiple times & said it many times through the course of convos & podcasts. You never really know if that sinks through. Especially as a writer…we writers are a pretty self-loathing bunch. I hope he knew.
And I hope that someday down the road, we're in a better place sitting on that balcony drinking scotch & smoking cigars like Alan Shore & Denny Crane. Boston Legal was something else we shared a fandom of, and even if I can't claim to have a tenth of the charisma James Spader has on my best day, I always noted the similarities between the friendships between Denny & Alan and Larry & me. Denny & Larry were legends in their fields. Alan & I were controversial folks that had a tendency to make enemies and ramble through closings. Which I'm doing right now, now that I think about it. I don't want to end this column, because ending the column means I have to say goodbye to one of the best men I've ever known.
Goodbye, Larry Csonka. We were flamingos. Rest In Power, my friend.
A GoFundMe page is being run to help out Larry's family during this time, you can click here if you'd like to contribute, or click on the image below.