Cook's Top 5: 1990 Wrestling Memories
2020 marks my thirtieth anniversary of becoming a wrestling fan. I know what you're thinking right now…
2020 marks my thirtieth anniversary of becoming a wrestling fan. I know what you're thinking right now…
"Damn, Cook, you're old!"
Well, you're not wrong. It's somewhat amazing and disturbing to think that I've been watching pro wrestling in some form or fashion for thirty years, pretty much non-stop. Sure, there were times where my faith was shaken, and I've faded in and out on various promotions, but I've always answered the "You don't watch that stuff, do you?" question with "Yes, I watch that stuff".
Which wasn't always easy! Sixth grade sucked. The Attitude Era was pretty fun though, and ever since it's been a fine thing to admit to. I probably shouldn't have worn quite as many wrestling-related t-shirts when I still had a chance of attracting a mate, but hindsight is 20/20. What can ya do?
I can celebrate thirty years with the one thing that hasn't let me down as much as most things have.
Cook's Thirtieth Anniversary Celebration will be a big part of the next thirty weeks here at The Chairshot. Each week, we'll count down my five biggest wrestling memories from a year that I've been a fan. Most of them will be positive memories. Some will probably be negative, as everything isn't sunshine & butterflies. Some bad memories are impossible to shake. Fortunately, they're outnumbered by the positive.
You'll notice some of my watching patterns over the years. 1990, my first year as a fan, is a great example. As a six year old, my viewing options were limited to Saturday morning. WWF Superstars was the A-show that most things happened on, and was on at the most convenient time for me. Wrestling Challenge didn't feature as many interesting angles, and would often overlap with lunchtime or with my parents taking me out of the house for something or other. I didn't know there were other wrestling promotions yet, and wouldn't until 1992.
Here are my top 5 wrestling memories from 1990! These are among the first things I remember about the pro wrestling.
5. Dustin's 10 Minute Challenge
I just saw Dustin Rhodes in a match last week, and here he is back in 1990 making his "national" debut. Dustin came in to back up his father Dusty, who was having issues with Ted DiBiase, Virgil & Sapphire. The Million Dollar Man didn't have a whole lot of respect for young Dustin, and declared that he would have no problem beating Dusty's kid in under ten minutes. It turned not that it wasn't as easy as DiBiase thought, and Dustin lasted the full ten minutes.
This moment on the November 3 edition of WWF Superstars stood out to me for one main reason: the show didn't have a lot of ten minute matches!
4. Jake Roberts' Creepy Looking Eye
Jake The Snake was my first favorite wrestler. Looking back at these early years now it's easy to see why…he was constantly involved in interesting storylines that engaged viewers. The first one I remember involved Rick "The Model" Martel spraying Jake in the eyes with Arrogance, rendering him blind. This incident involved Jake going on the Brother Love Show and the Model messing with him, presenting him with a cane & yelling at him from both sides of the stage. The end result was Roberts grabbing Brother Love and hitting him with the DDT, which since it was 1990 and it was on carpet, pretty much killed Brother Love.
Jake's glasses came off during the segment, and they got an up close look at his eye, which was pretty gross and the type of thing that sticks with a kid. This moment on the October 27 edition of WWF Superstars stuck with me.
3. Earthquake Squashing Hulk Hogan
The Hulkster didn't appear on Saturday morning wrestling too often at this point. Any time he did was a special occasion, but the May 26 edition WWF Superstars wasn't too special for him. That was when he & Earthquake appeared in a face to face on the Brother Love show and it didn't go well for the young Hulkamaniacs out there. Earthquake attacked Hogan and hit him with several sit-down splashes, setting up their match at SummerSlam.
I can't say that Hulk was ever my #1 favorite wrestler, mostly because he didn't wrestle on the shows I watched. It was certainly put over as a big deal though, especially when Tugboat started asking people to send in "Get Well Hulk" cards in the ensuing weeks. I did not, as my handwriting at the time wasn't the best.
2. The Undertaker's Debut
Being six years old in 1990, I was obviously a true believer. Obviously all of this stuff was really happening. Even the stuff that doesn't look terribly believable can seem so to a six year old. So when I saw The Undertaker for the first time on the December 29 edition of WWF Superstars, it was a pretty scary experience! This gigantic pale guy wearing all black, nothing hurting him, dropping people on their heads, choking them…that's the kind of stuff that will give kids nightmares.
I don't remember if I had Undertaker nightmares or not, but I wouldn't be shocked if I did. Dude was scary.
1. Christmas 1990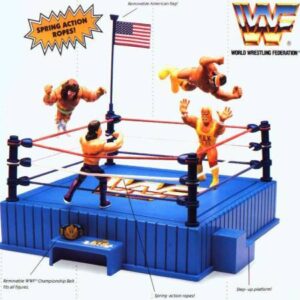 My first Christmas as a wrestling fan featured a good number of wrestling-related presents. Two of them immediately pop to mind. One is my Million Dollar Man Wrestling Buddie. I had seen fans with them on television and was insanely jealous, so I was super excited to get one myself. The Million Dollar Man and a stuffed bear that was around the same size were on the receiving end of tons of wrestling moves for the next couple of years.
My other major present: a wrestling ring for my action figures! I had already started collecting action figures like every six year old does, and the ring was exactly what I needed to take things to the next level. My action figure wrestling federation would be an ongoing obsession until the size of the figures changed & the ring got too small. I had another fed during the early part of the Jakks era, but then things got too expensive & intricate. Lord knows my parents had already spent enough on action figures, and I needed their money for other things.
There's some of my best memories from my first year as a wrestling fan. Join me next week when we look back at 1991! If you're feeling nostalgic, feel free to chime in with some of your own favorite memories in the comment section or on the social media!
King's WrestleMania Rewind: Charlotte Flair vs. Asuka from WrestleMania 34
Chris king is back with one of the most underrated matches in WrestleMania history–Charlotte Flair vs. Asuka!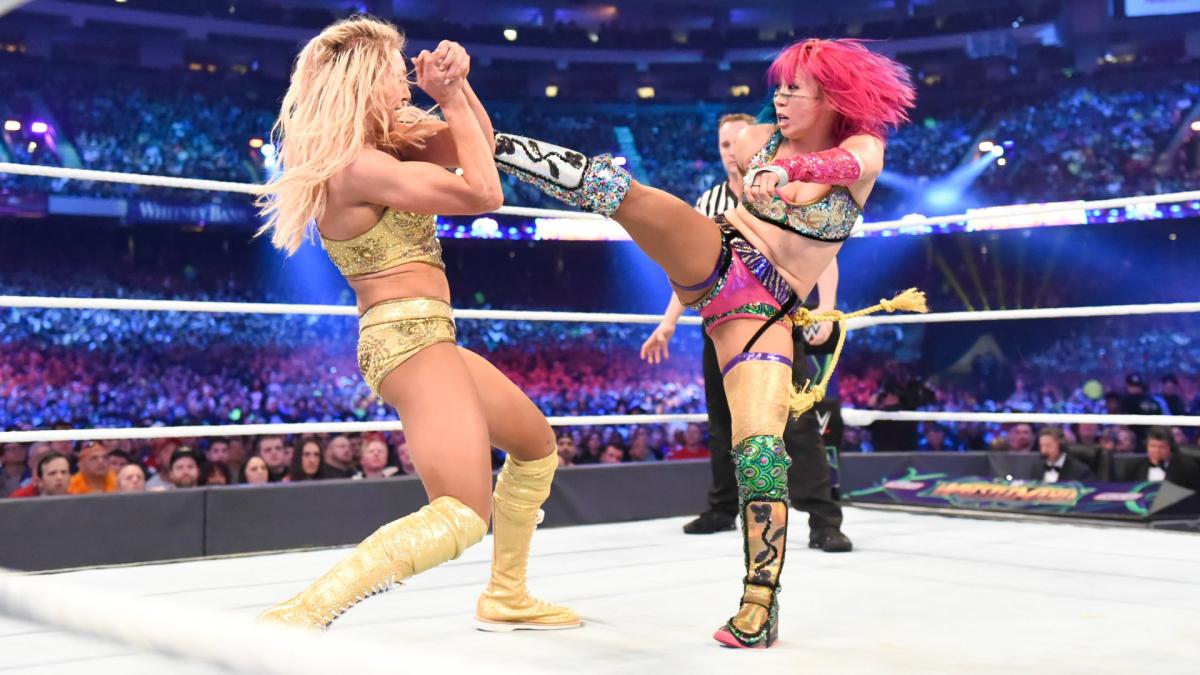 Chris king is back with one of the most underrated matches in WrestleMania history–Charlotte Flair vs. Asuka!
We look back at Charlotte Flair vs. Asuka at WWE WrestleMania 34. 'The Empress of Tomorrow' put her unprecedented and historic undefeated streak of 914 days on the line against 'The Queen's' SmackDown Women's Championship.
For years, this was considered a dream match while Asuka dominated the roster in NXT, while Flair won numerous championships on the main roster on both Raw and SmackDown. The Empress made her long-awaited debut on the September 11th episode of Raw and began to tear through the competition.
Asuka outlasted all twenty-nine other women in the historic first-ever Women's Royal Rumble match to challenge for the title of her choosing. At Fastlane, she made her choice.
The WWE Universe was so excited for this match myself included. Both superstars delivered a fantastic performance on the Grandest Stage of Them All executing counter after counter. Asuka showed off some nasty-looking kicks to her opponent, and Flair hit a thunderous Spanish Fly off the top rope. Flair was seconds away from defeat at the hands of The Empress but she locked in Figure Eight and Asuka was forced to tap out.
I can't even begin to explain how shocked I was at this outcome, as nearly everyone expected The Empress to continue her undefeated streak and walk away with the women's title. This controversial decision was the downfall of Asuka's momentum. She would ultimately win the SmackDown Women's Championship at the 2018 TLC pay-per-view in the triple-threat ladder match.
Fast forward to this year when Asuka has recently returned with her Japanese-inspired persona Kana. Kana is dangerous and ruthless and is heading into a championship with Bianca Belair at WrestleMania 39. The Empress has regained all her momentum and is highly favored to walk away with the Raw Women's Championship. Let's hope that Asuka and Belair can tear the house down and deliver an A+ grade match both women are fully capable of.
King: Dominik Mysterio Needs To Do This At WrestleMania
Chris King is here with what WWE should do with Dominik Mysterio at WrestleMania in his long-awaited match against his father Rey Mysterio Jr.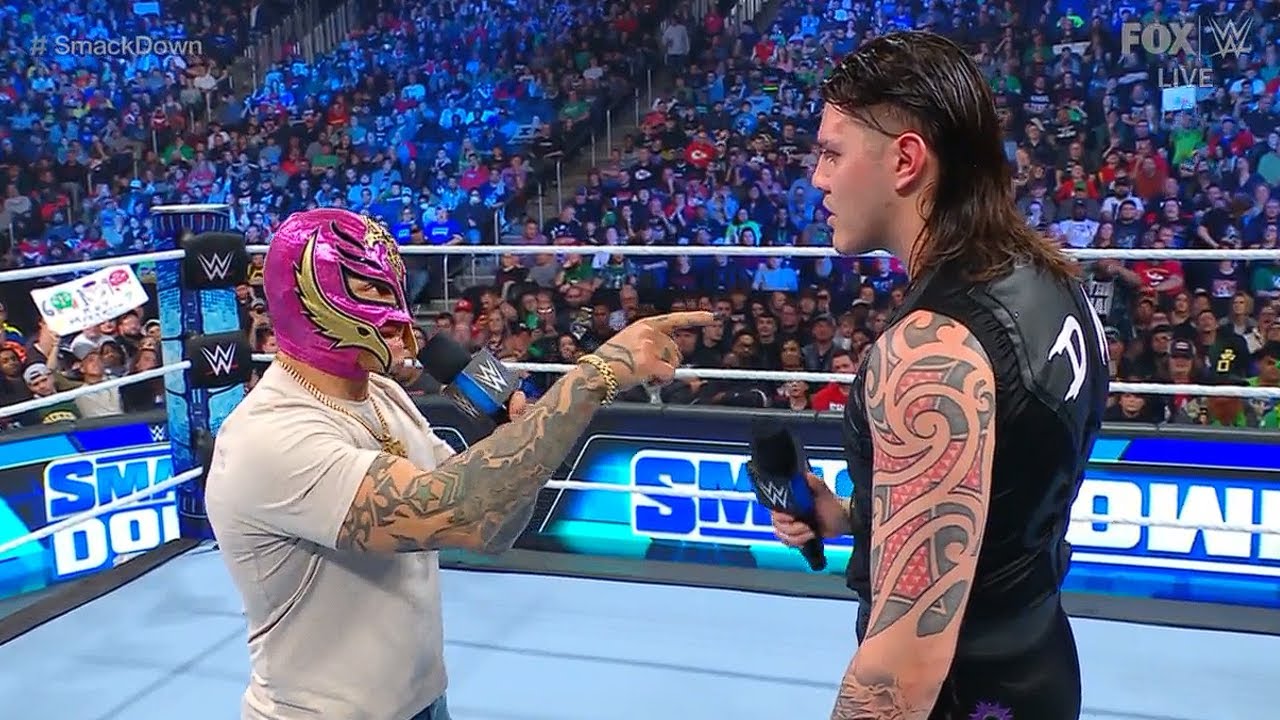 Chris King is here with what WWE should do with Dominik Mysterio at WrestleMania in his long-awaited match against his father Rey Mysterio Jr. 
On this week's episode of Friday Night SmackDown, Rey Mysterio finally snapped and beat some sense into his disrespectful punk-ass kid Dominik. The member of the Judgement Day came out to push his father again for a match on the Grandest Stage of Them All, this time with his mother and sister at ringside. The ungrateful punk told his mom to "Shut Up," as a father even I wanted to jump through the screen and whoop his ass.
Back in October of last year, Mysterio made the emotional decision to possibly quit the company but, instead, Triple H persuaded the Lucha libre superstar to move over to SmackDown to avoid his son. This came after Dominik shockingly turned on his father at Clash at the Castle. Mysterio did everything he could to refuse his despicable son's challenge for Mania but, a man can only be pushed so far. Mysterio will be inducted into the 2023 WWE Hall of Fame and I expect Dominik to embarrass his father during his speech to further this personal feud.
Yes, the WWE Universe hates Dominik and wants to see him get the ever-loving crap kicked out of him but, this feud is missing a special ingredient to capitalize on the biggest heat possible. Throughout this feud, Dominik has made mention of the legendary Eddie Guerrero on several occasions going back to the "iconic" 2005 feud.
I know WWE might not want to go this route but, Dominik MUST come out to Eddie Guerrero's theme at Mania. The disrespectful punk needs to come out in a lowrider to garner nuclear heat. It doesn't matter if The Judgement Day comes out and causes interference for Dominik to get the win, all that matters is that both superstars get the biggest payoff of this nearly year-long feud. Just imagine the Roman Reigns heat after he defeated The Undertaker and multiply that by ten. Dominik portrays the perfect heel and he truly is the missing ingredient that The Judgement Day needed to grow and evolve into a top faction.