Cook's Top 5: 1991 Wrestling Memories
Take a trip with Steve Cook down memory lane! Reminisce with some of these 1991 memories!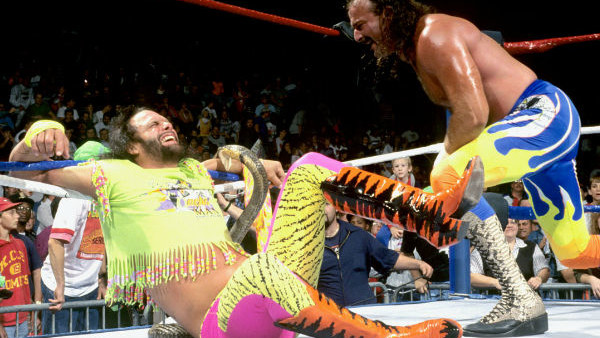 Welcome back to my Thirtieth Anniversary Celebration! In case you missed it last week, I decided to celebrate thirty years as a wrestling fan by listing my top five memories from each year. Last week we kicked it off with 1990, so this week we'll take a look at my 1991 memories.
Your 1991 memories may be different than mine, if you were watching (or alive) back then. My pro wrestling viewing was limited to WWF Superstars & WWF Wrestling Challenge on Saturday mornings. Prime Time Wrestling was on after my bedtime & All American Wrestling was up against Sunday Mass services. Other federations? I didn't know anything about non-WWF wrestling until 1992. We'll talk about that next week.
This week we're looking back at the best of 1991. Most of it was scary stuff! It makes me wonder if current feds are missing the boat by not having their bad guys do a wider variety of dastardly things, since that's a lot of what I remember of the first couple of years. Something to think about as we count them down.
5. Sgt. Slaughter burns a Hulk Hogan poster
The Sgt. Slaughter Iraq stuff played a lot better with me in 1991 than at any other point I've watched it. Like most youngsters during the first Gulf War, I was proud to be an American, and ready for the Hulkster to take the WWF Championship off the evil turncoat. Slaughter had a bunch of TV promos where he'd bury America and the February 24th Wrestling Challenge featured a classic example. Slaughter even went to the trouble to burn a Hulk Hogan poster, which meant that he meant business, by cracky.
As it turned out, people weren't really buying into WWF's attempt to profit off of the war. I dug it at the time. Thirty years later, I see what the critics were talking about.
4. Randy Savage proposes to Elizabeth
I've always been a sucker for a good love story. I didn't get to see Randy & Liz's entire story play out, but video packages helped fill in the blanks for me, so when the July 6th WWF Superstars rolled around and Randy popped the question, it was an exciting moment. The Match Made In Heaven…which wound up ending a couple of years later and might have colored my view on the validity of true love.
Maybe if I knew they had been married since 1984 I wouldn't have taken it quite as poorly.
3. Ric Flair attacks Roddy Piper at the announce booth
Chris Jericho wasn't the first top star to make a habit of appearing on commentary. 1991 saw both Randy Savage & "Rowdy" Roddy Piper spend several months in the WWF Superstars announce booth, calling the action alongside Vince McMahon. The boost of star power helped Superstars' status as the top Saturday morning show. It also led to both of them getting provoked into action by their rivals. The September 28th edition of WWF Superstars saw an appearance from the man that Piper had recently begun bad-mouthing on commentary, Ric Flair. Of course, Flair & Piper had a long-running history with each other that I was unaware of, but their WWF feud kicked off with quite the beat-down by Flair on Piper that immediately hatched my interest in the feud.
Also of note was McMahon getting waffled with a chair by Piper in the first time I'd seen him get physically involved. Vince was just the play by play announcer to me at that point, there'd been no hint of him being anything else on the shows I'd seen. Vince's involvement was a big part of making that angle memorable.
2. Jake Roberts' cobra feasts on Randy Savage's arm
For his part, Savage had become an announcer after being forced into retirement due to the results of WrestleMania VII. The involvement of Jake "The Snake" Roberts at the wedding reception at SummerSlam led to the Macho Man requesting that he be reinstated so he could wrestle Roberts. Jake wasn't impressed, and orchestrated an attack on Savage during the November 23rd WWF Superstars that aired days before the Survivor Series. After tying Randy in the ropes, Jake brought out a king cobra and had him take a bite out of the Macho Man. At the time, a big red x appeared, but viewers got the gist of what happened.
The Roberts/Savage feud didn't last long, but it featured some memorable moments. I didn't see This Tuesday in Texas until years later, so I can't honestly feature Elizabeth getting slapped as a memory of mine from 1991. The parents were never big on buying PPVs.
1. Undertaker locks Ultimate Warrior in a casket
Obviously the cobra moment was a pretty heavy deal. Something about the Ultimate Warrior being locked in a casket was even creepier to me though. April 13th's WWF Superstars featured the Warrior making an appearance in Paul Bearer's Funeral Parlor. It was always a sinister locale, made even more dubious when the Undertaker attacked Warrior from behind & forced him inside the casket while Paul Bearer locked it. As a kid that believed all this stuff 100%, watching people fail miserably at getting Warrior out of the casket for several minutes was a scary situation. As silly as it sounds now, it's one of those memories that has lingered with me for nearly thirty years.
Heck, for years I was afraid that somehow I would wake up in my casket after being declared dead, and be trapped inside like the Ultimate Warrior. That's some good nightmare fuel provided by pro wrestling. One wonders why I kept watching the stuff…
There's some of my best memories from my second year as a wrestling fan. Join me next week when we look back at 1992! If you're feeling nostalgic, feel free to chime in with some of your own favorite memories in the comment section or on the social media!